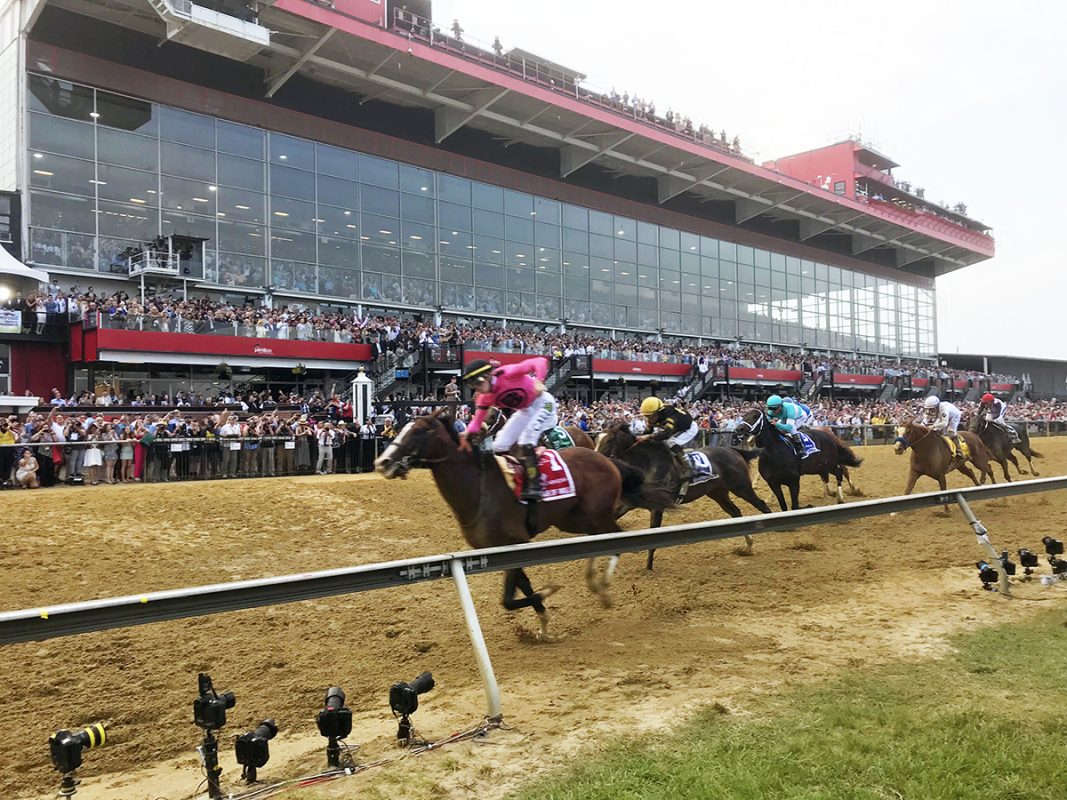 Corey McLaughlin
Say what you want about the water pressure and the 1980s-style décor at the 149-year-old Pimlico Race Course—and both are long overdue for upgrades—it was hard not to travel around the property on a sun-splashed Saturday, Preakness Day, and not feel nostalgic, and that the race really doesn't need to go anywhere else.
The annual scene, a rite of Baltimore spring, played out once more. From the crowded grandstands, where people bought refreshing Black-Eyed Susans and wore big, flowery hats that will probably go back in their closets for a while and maybe placed a bet; to the InfieldFest, where sunburned drinking-age kids did what they do; to along the rail near the start-finish line of the one-mile dirt oval, where a few fortunate adults put down their cocktails and positioned themselves before the main event's 6:48 p.m. scheduled post time to get a peak and take pictures or video of the running of the 144th Preakness Stakes.
It was sure worth watching. War of Will, the controversial seventh-place finisher of the Kentucky Derby two weeks earlier, won our race outright, and his redemption story set up a chance for a dramatic Triple Crown bid June 8 at the Belmont in New York. And everyone, all 131,256 estimated in attendance, got a big surprise when a horse with no jockey on it—Bodexpress, which bucked its rider John Velazquez from its back out of the starting gate—galloped down the homestretch, not just twice during the race as is required to finish it, but two more times afterward. "I think we've covered bizarre," said the winning trainer, Mark Casse, the 58-year-old raised in Florida who was thrilled to have won in Baltimore. "The Preakness has always been so big to me."
As we know by now, it might be one the last times the mix of party buzz, betting (a record $99 million wagered this year), and horse racing comes to the 110-acre plot of land in Park Heights. The track's owner, the Canadian-based Stronach Group, wants to move the second jewel of the Triple Crown from outdated Pimlico, which is open just 12 days a year, to a renovated year-round "super track" about a 30-minute drive south in Laurel, while city stakeholders want to keep the race right where it is. Complicating matters is that state law maintains the Preakness can't be moved from its current site for reasons other than "disaster or emergency."
At one point Saturday afternoon, a private plane flew overhead with a message trailing in the sky behind it: "Stronach Keep Preakness in Baltimore," paid for by a political communications firm. Meanwhile, new Baltimore City mayor Jack Young wore a yellow button with the same words on it, minus the surname of the track's owners, and he spoke about wanting to negotiate a "win-win" for both sides.
Unless you're directly in those political discussions—and Young, who took office 11 days ago, Gov. Larry Hogan, and Belinda Stronach haven't even had them yet—it's hard to know exactly what will happen. But the interests have said they want to talk, while a city-filed lawsuit hovers, and the public wonders. Stronach Group COO Tim Ritvo has said the race will be run at Pimlico next year, but after that, who knows?
In the meantime Saturday, we stayed in the present: a glorious 77-degree day, few clouds in the sky, a tradition-steeped event, and the people, the things of which Preakness discussions should be about. After all, what is a place without what happens there?
There was pageantry—like Navy Seals parachuting in from above with a giant American flag. And stories like this: Wouldn't you know, two 20-something kids, of those sunburned variety, snuck into the media tent after the race, despite the seemingly hundreds of security guards and the credential scanners in the infield, and sat in on the post-race press conference.
Not only did one of them, Ryan Donofry, 21, a recent Temple University graduate, wearing suspenders over a buttoned-up collared shirt like an old-timey reporter, rise from his seat, identify himself as from his hometown Springfield Sun newspaper outside Philadelphia, and ask Casse and War of Will's jockey, 24-year-old Tyler Gaffalione, a question ("How are you going to celebrate?"). But he and his friend, Liam Bradley, 22, took pictures with the winners after the Q&A ended.
"It was awesome," Bradley told Baltimore afterward. "We were in the infield and we ended up in here. Can't ask for more." Then the pair wandered away, wondering where to go, before ultimately heading to their resting place for the night. (They also kindly apologized if they'd had taken away an opportunity to ask a question.)
Hours earlier, Avla "Poppet" Potts, in her 80s, and who bred Preakness entry Alwaysmining, an 8-to-1 shot, at her longtime Fallston farm, sat in the box seats along the homestretch, eager to see what was going to unfold like the rest of us. Would the 3-year-old horse become the first from Maryland to win the Preakness since 1983? "We'll see how it goes," Potts said. Unfortunately, for locals, the horse finished 11th out of 13, and never really contended. Another rooting interest, Maryland-based Win Win Win, stabled at Fair Hill Training Center in Elkton, placed seventh.
A little more than an hour after the finish of the two-minute sprint, in Pimlico's barn area on the property's northwest edge along Winning Avenue, War of Will received celebrity-type attention, camera flashes popping as the sun set behind a giant thunderstorm cloud. Across the parking lot—fairly close to a long line of revelers seeking one more drink from a temporary bar, Alwaysmining ate hay alone in his stable, of course unable to comment. And in another corner, Casse, the trainer in a giddy mood, accepted congratulations on a makeshift stage, before heading off to dinner with his wife at Wicked Sisters in Hampden.
"The last two weeks have not necessarily been the easiest," Casse told a small crowd, referring to the Derby controversy after which some openly questioned whether his horse should have been declared the winner. (A decision by the steward, or a horse racing referee, disqualified apparent winner Maximum Security for blocking.) Casse spoke a bit more about that feeling earlier in the media tent.
"I felt like there was so much written, so much said about how our horse wasn't going to win [here]. I felt bad for him," he said. "I just wanted a fair shot." He got it, and, thankfully, so did we—to watch and enjoy what we hope is one of many more splendid days to come on Old Hilltop.