A handful of heroines work the Chesapeake Bay.
By Lydia Woolever. Photography by Justin Tsucalas.
---

Left to right, right to left, she moves her feet to a rhythm that became second nature long ago. Left to right, right to left, her worn-out boots do a waltz on the breaking waves.
The warm orange glow of an early-spring sunrise slowly spreads across her face, as beads of sweat begin to break along her brow.
Riding her boat on the mouth of the Patuxent River, just off Solomons Island on the southwest fringes of Maryland's Chesapeake Bay, Crystal Jordan's fancy footwork is pushing the pedals of a patent tong.
With each tap of her toes, she moves the cumbersome piece of machinery, swinging it over the side of the boat, splashing it into the water below, watching it dive down to the bottom until the line goes slack. With a pivot of her heels, the hydraulic claw digs up a heaping clump of oyster bed, which rises back to the surface and cascades onto the culling board like wet pocket change on a hardwood floor.
Within seconds, she assesses her treasure trove—discarding dead oysters and golf balls, saving old Coca-Cola bottles and medicine jars, finding the occasional arrowhead and shark's tooth, which she hands to Little Kevin, her right-hand man and 3-and-a-half-year-old son.
With a keen eye, she spies the market-size oysters—three inches from hinge to bill—and with a stone-skipping flick of her wrist, throws the others back into the bay.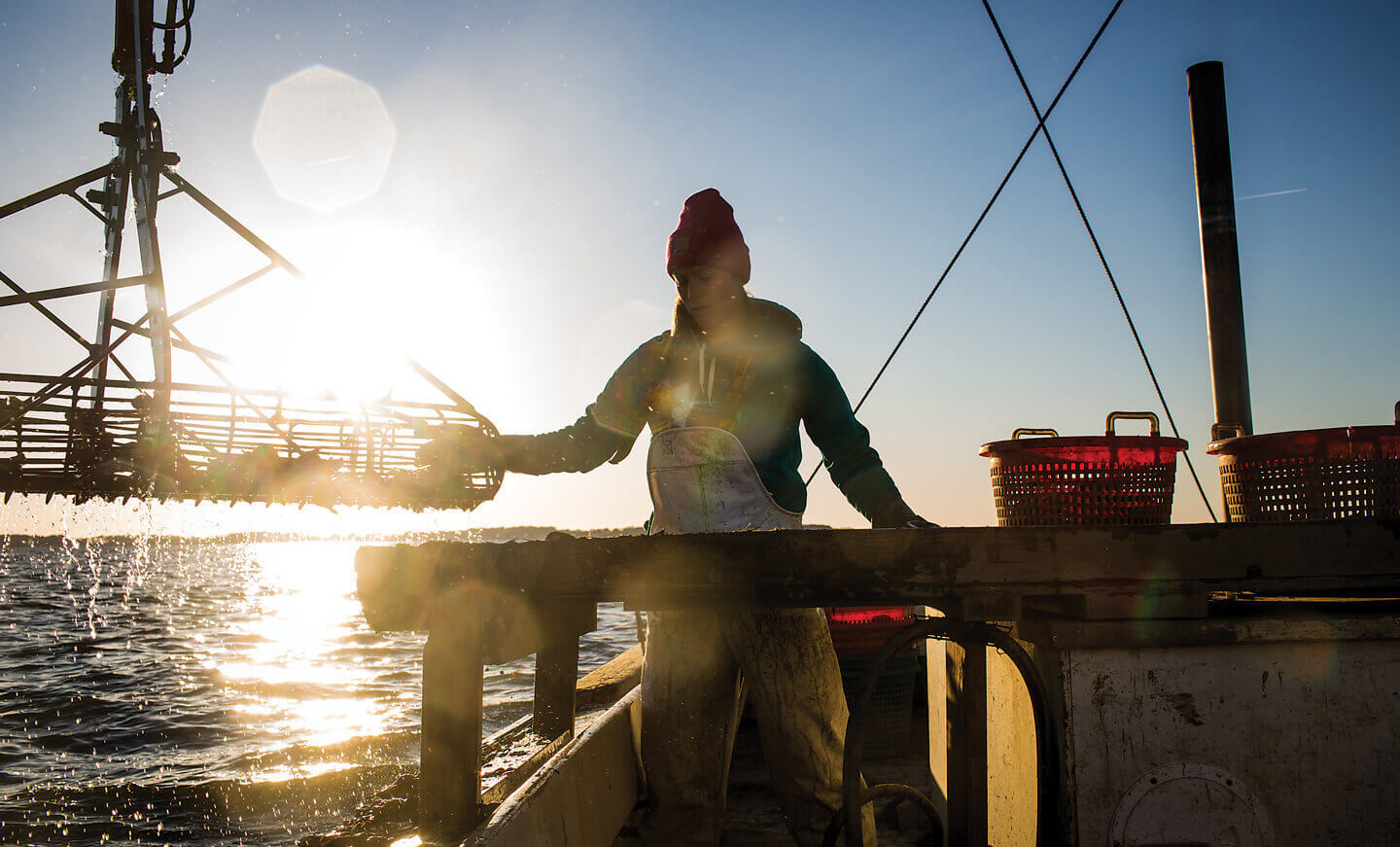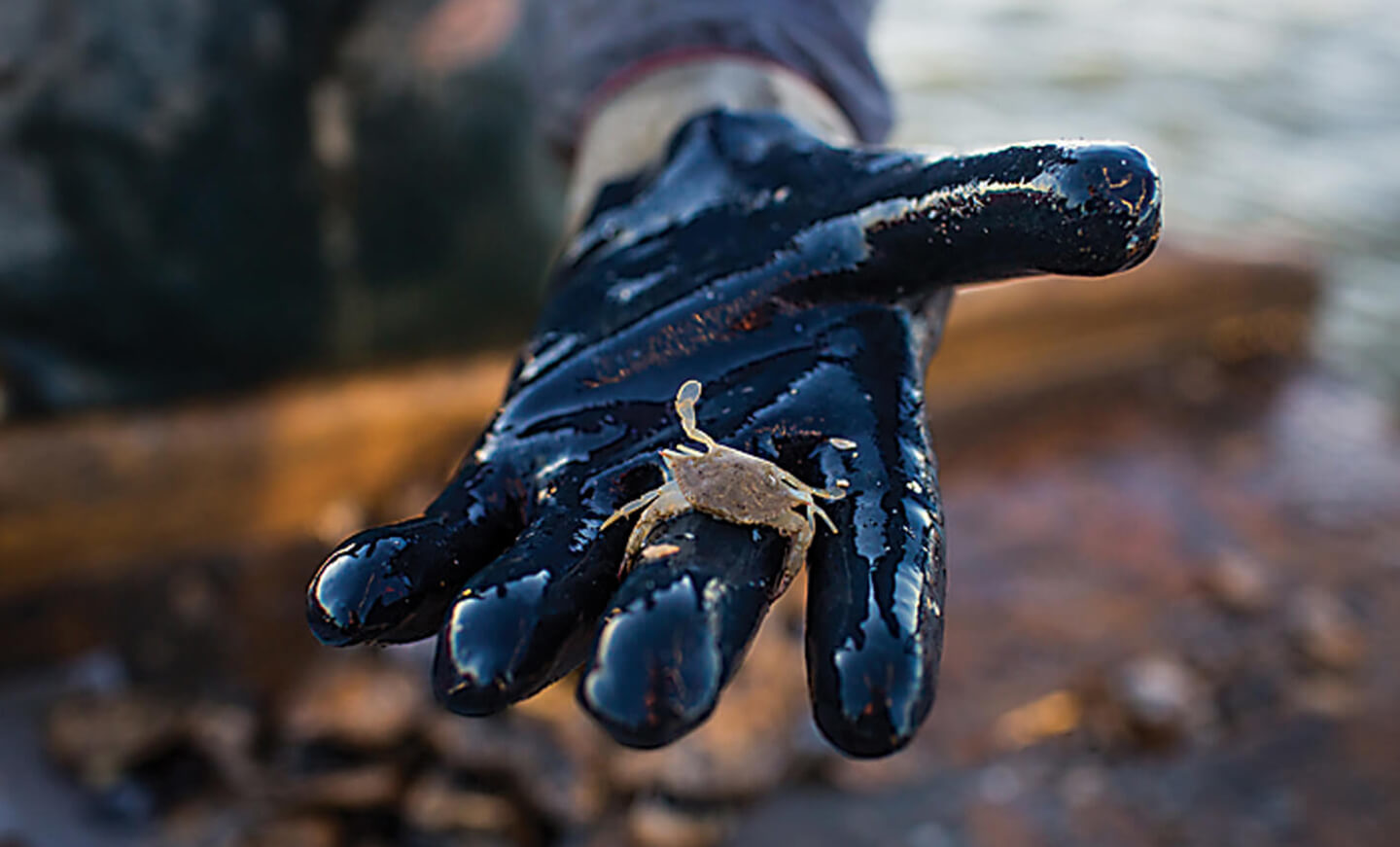 Crystal guides a patent tong onto her boat's culling board; baby crabs come with the day's catch.
At 30 years old, Crystal Jordan is part of a profession that has been all but overlooked on this estuary. She is a waterwoman, joining the ranks of the legendary watermen whose weathered faces have long been associated with working the Chesapeake Bay.
For those born and raised on these spits of tidewater, tradition is religion, and in that way, a woman's role has long been on land—tending to the children, keeping up the kitchen, taking care of the house.
"It's a cliche, but people thought a woman's place was in the home until not that many years ago," says Richard Dodds, curator of maritime history at the Calvert Marine Museum in Solomons. "It was the norm, it just was what it was, and the general expectation was that it wasn't the proper role for women to be out there working."
Some even thought it was bad luck—though, ironically, boats are often named after watermen's mothers, daughters, and wives.
Those women were also commonly tasked with the no-less laborious duties of shore work: gearing net, gathering bait, carrying the catch to buyers.
As charter boat captain Chuckie Clark of Rock Hall once put it, "Behind every good waterman, there's an even better woman." And when the opportunities arose, some also famously manned the crab-picking houses, and others, before that, beaconed the great lighthouses along the bay.
"In fishing communities like Hoopers Island, Crisfield, and Cambridge, the wives would get up around three or four in the morning to fix their husband's breakfast, and then, in the evenings, they would meet them at the dock to help clean up and prep for the next day," says Bill Brooks, fourth-generation owner of J.M. Clayton Seafood Company in Dorchester County.
"Women have always played a supportive role," adds Don Parks, lifelong Eastern Shore resident and author of Chesapeake Women. "Just as the men, they never saw it as a big deal. It was a means to make a living. They've done it for generations. It's just been the way of life."
But by the middle of the 20th century, after World War II and sea-change shifts in the workforce, some women started to break with tradition and work the water themselves, as captured by famed Sun photographer A. Aubrey Bodine. Most stood beside their fathers, brothers, and husbands, but in the decades that followed, a small number went out alone.
Waterwomen have always been a rare breed—a pearl in an oyster shell, a whale sighting in the bay—but start asking around these tiny shoreside towns and you soon find a web of working women, as interwoven and intricate as our estuary itself.
"Women have been fishing on the bay for two generations and more," wrote Lila Line in her 1982 Waterwomen, where she notes they then held 13 of 2,320 commercial fishing licenses in the state. At last count, some 34 years later, they now hold 566 out of 6,758.
"I wish I could tell you more, but documentation and evidence are hard to come by," concedes Dodds. "But I can tell you there haven't been many women working the water."
"This has always been an exception," says Pete Lesher, chief curator at the Chesapeake Bay Maritime Museum, "but the absence of evidence is not proof that it didn't or doesn't exist."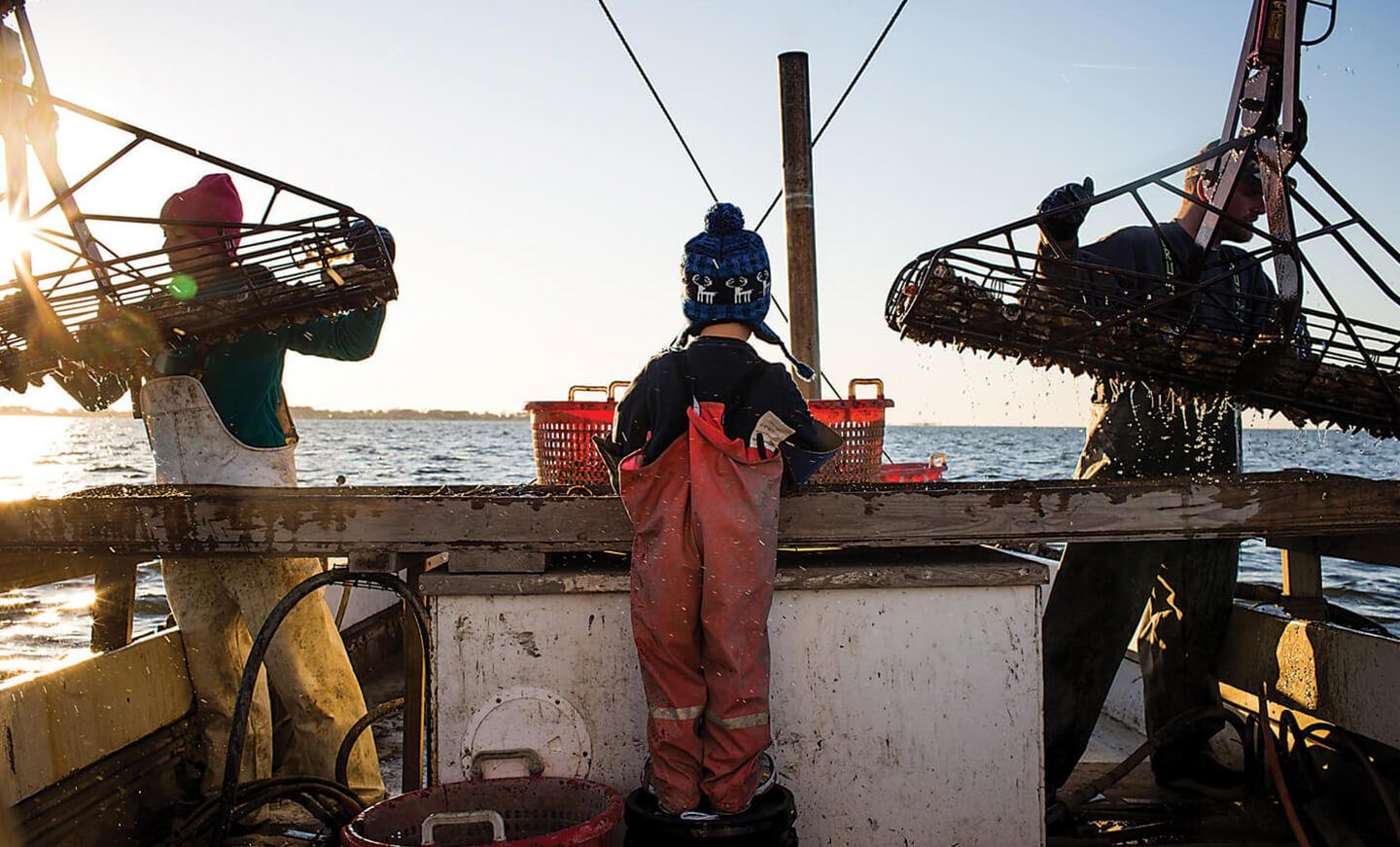 Today the family is working as one; her son helps basket the big oysters.
From the moment she could walk and talk, Crystal Jordan was a daddy's girl. She would wait for him on the front porch, knowing the rattle of his old truck's engine before it even pulled up the drive.
When he arrived, they'd go crabbing, out in the middle bay, even in the wind and rain. The few times he tried to leave her home, she raised so much teary hell, he had to turn around to get her. If he could do it, Crystal thought, she could do it, too.
Most watermen tell stories of the generations of men before them—their granddad, and his granddad, and his granddad before that—but few pass the trade onto their girls. For years, Crystal and her father followed the crabs, moving up and down the bay together, on weekends and all summer, from April through December.
"I absolutely loved the smell of the water, the breeze in my face, and the taste of salt on my lips," she says. "Not to mention the sunrises that took your breath away, no matter how many times you'd seen them."
When Crystal graduated from high school, she came onboard full-time as her father's first mate, learning the ins and outs of Some Beach, their 38-foot deadrise workboat named after a tongue-in-cheek Blake Shelton song. But a year and a half later, her dad was diagnosed with brain cancer. "You're up," he said, handing her the keys. "It's time to run the boat."
For the next year, they went out together every morning, until the day he passed away. "I watched and listened to anything and everything he ever taught me, but nothing can prepare you for losing your best friend," she says. "I was lost, broken. Many thought I'd fail."
But with the true grit of that same little girl who refused to be left on land, the then-20-year-old Crystal took over the captain's seat and weathered the squalls that stood ahead: the expense of buying new crab pots and expanding her aging rig, the days when the crabs weren't catching or she struggled to get into seafood houses because of her sex.
"But I'm not a quitter," she says. "I was determined to make my dad proud."
On the last days of this past oyster season, Crystal has already had a week of hitting her catch limits, so today is just about enjoying the morning sun and bringing in a few bushels. She steers east, out onto the open water, where the rising chop licks up at her wooden boat's white paint. Flecks of mud freckle her focused face, her skin still tan from last summer's sun. The warm weather is slowly working up the bay, and soon enough, the crabs will come with it.
By then, she and her husband, Kevin, also a full-time waterman, will be back on Deal Island on the Eastern Shore. Her tongs will come off the boat, replaced by wire pots, and six days a week, she will follow the crabs through winter, often with Little Kevin, just like she and her dad used to do.
His glasses still hang in the front window of Some Beach, and Crystal's amber eyes well at the thought of certain memories. But she knows he's still out there. There are too many miraculous moments to think he's not.
Like that one afternoon, when she pulled up a crab pot so packed, she could see their white bellies before they even broke the waves. And another morning, out in the middle of the lower bay, miles from shore and soaked in sunshine, when a flock of butterflies flew across her path. And a few years later, when she cruised up to her wedding ceremony in Some Beach, lifting her dress off the deck before stepping onto the dock.
To Crystal, "it was his way of walking me down the aisle."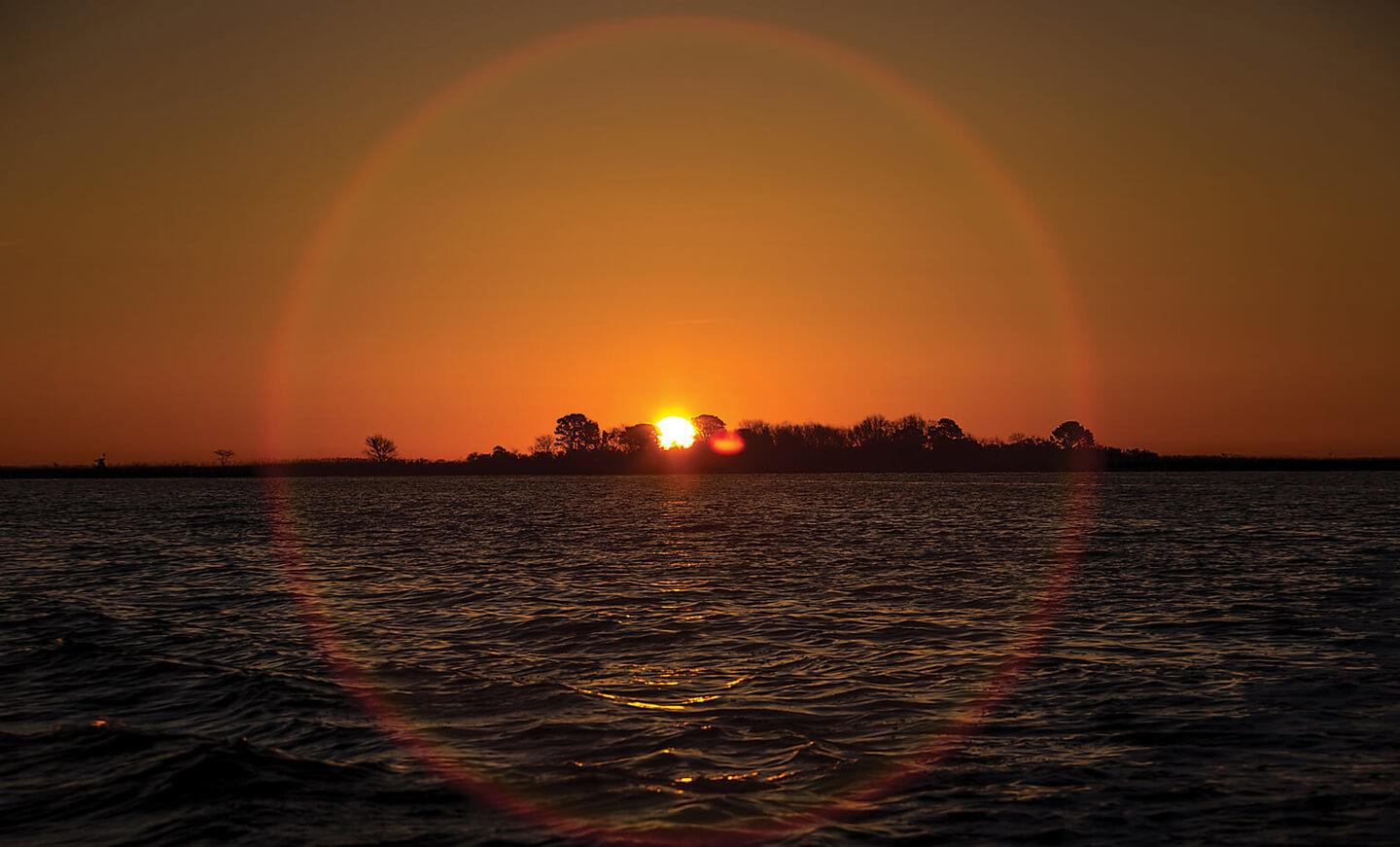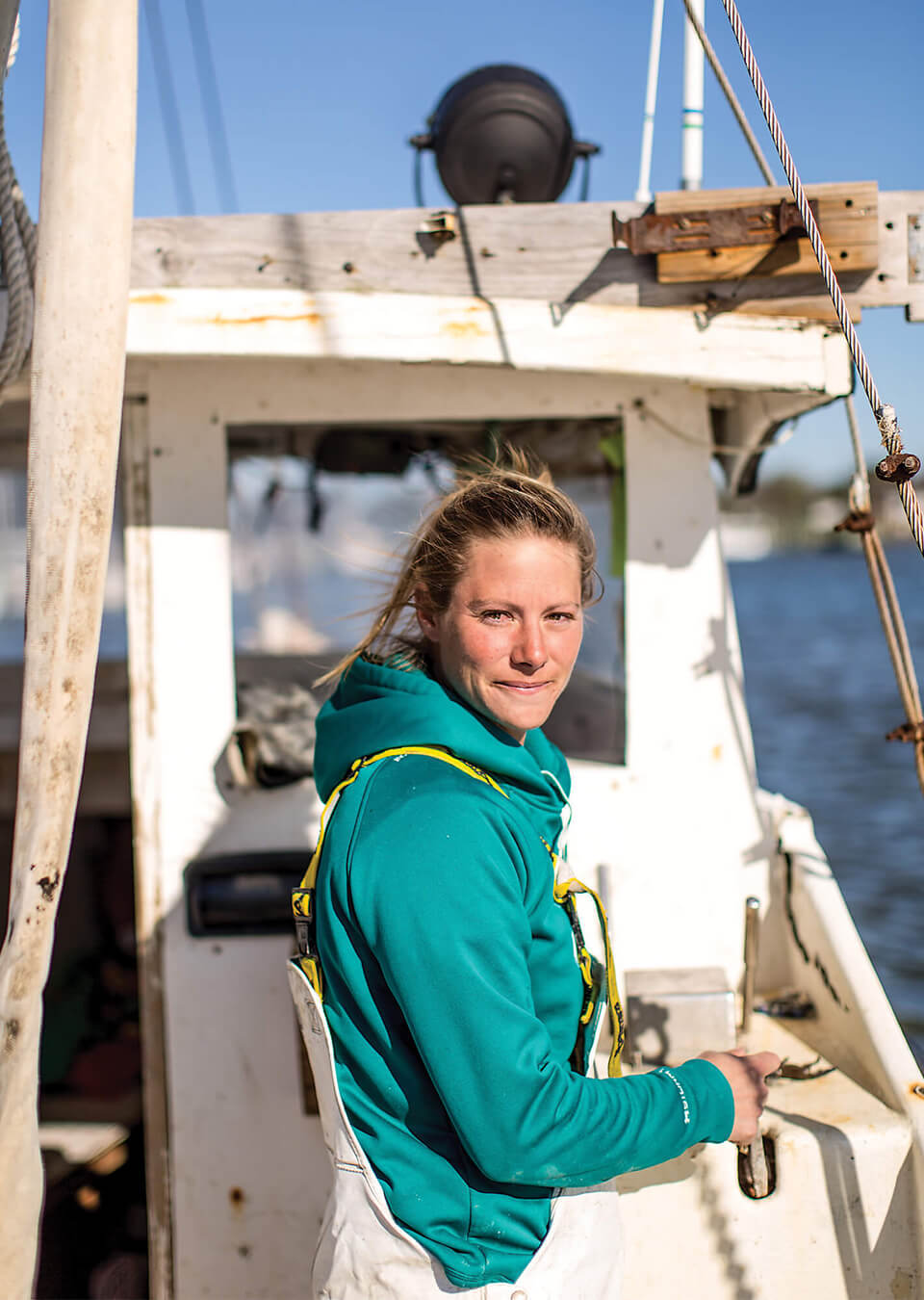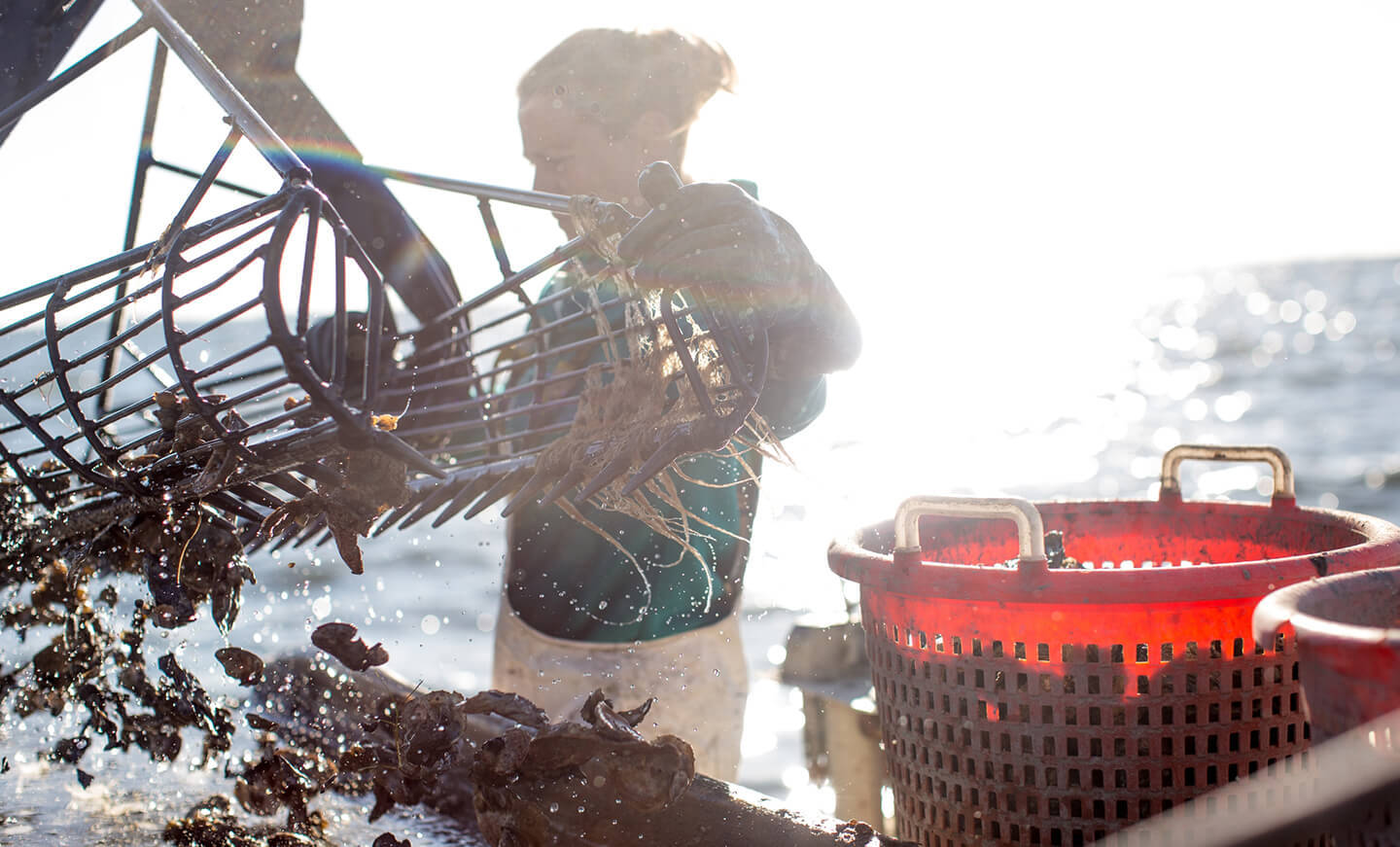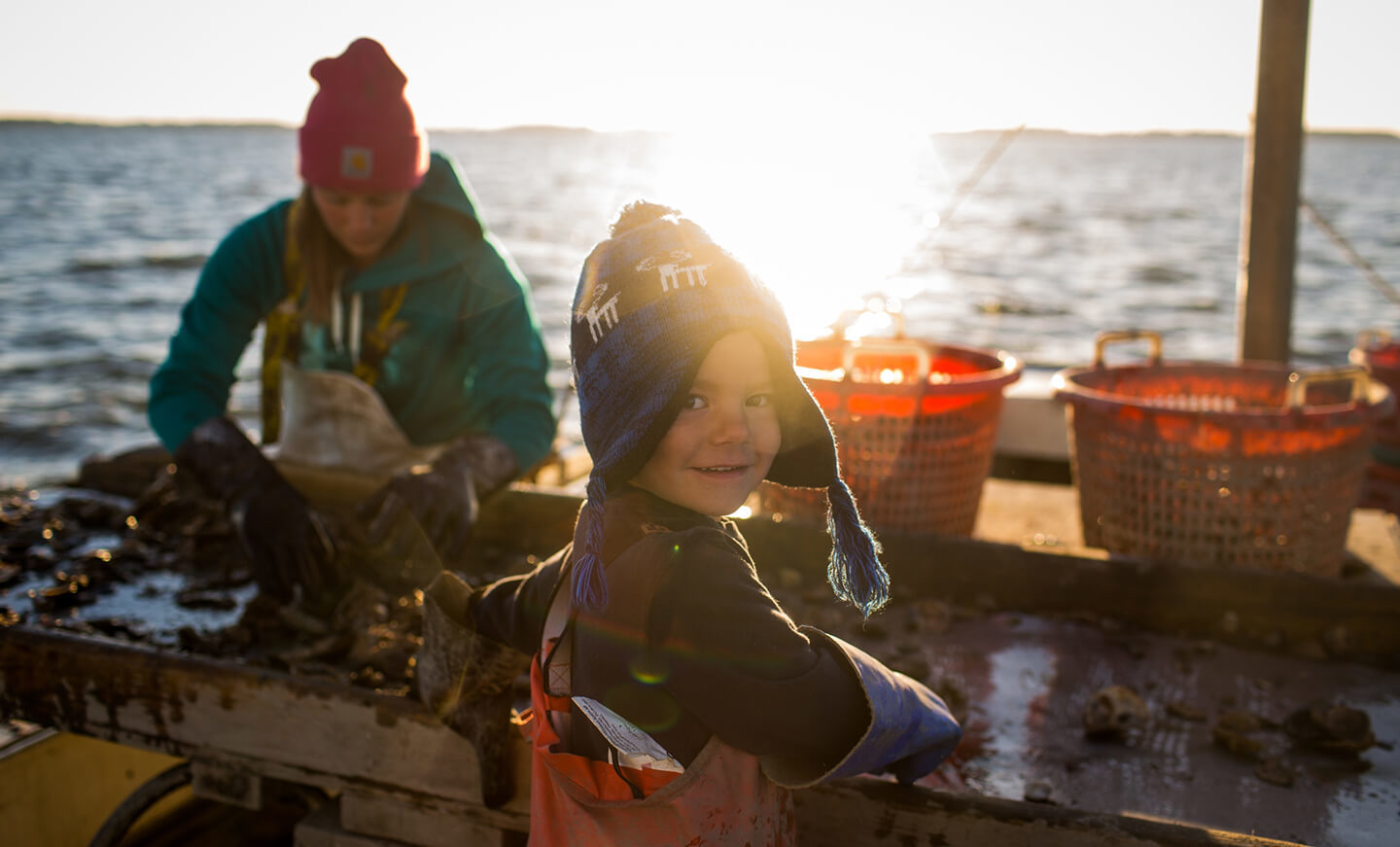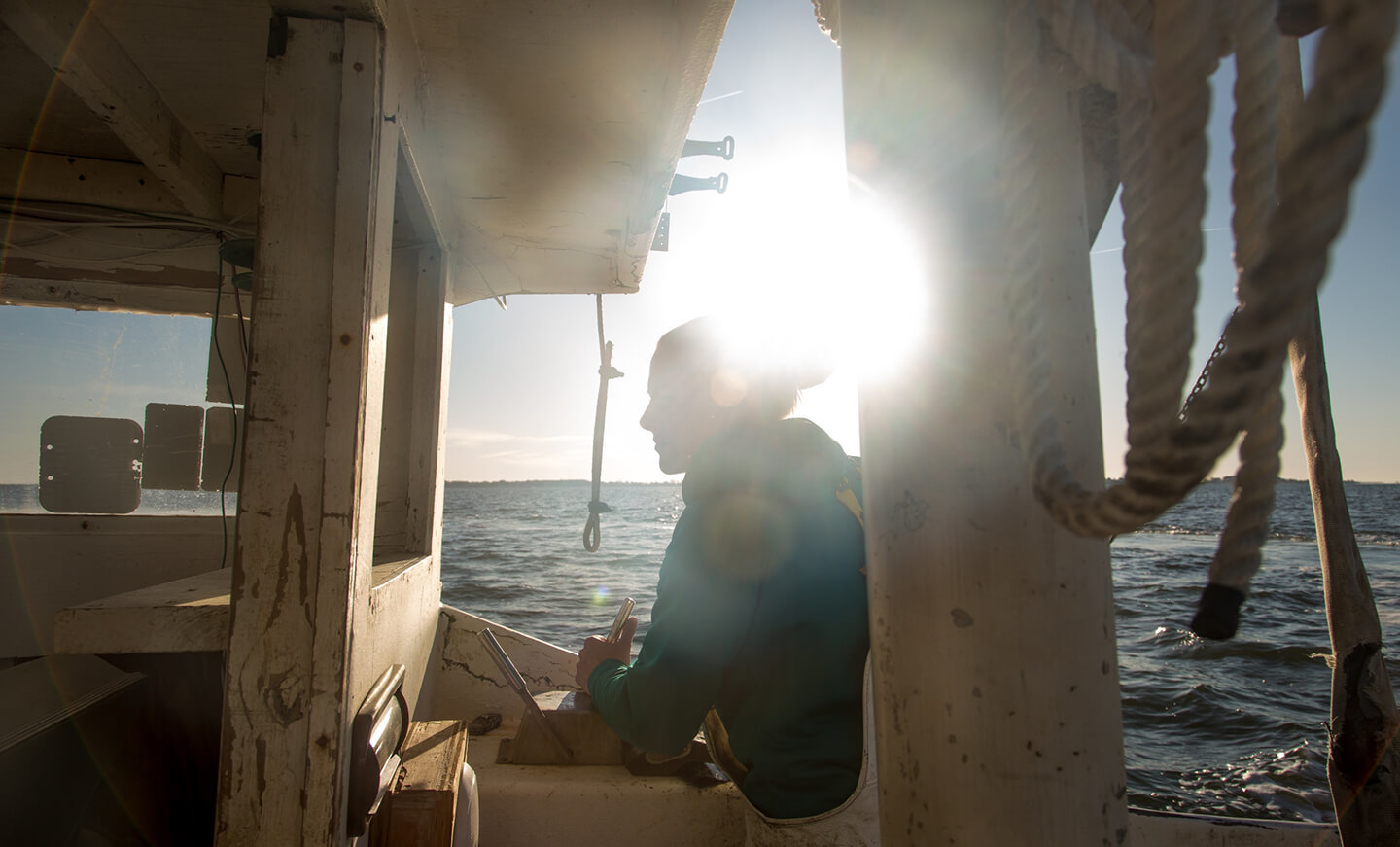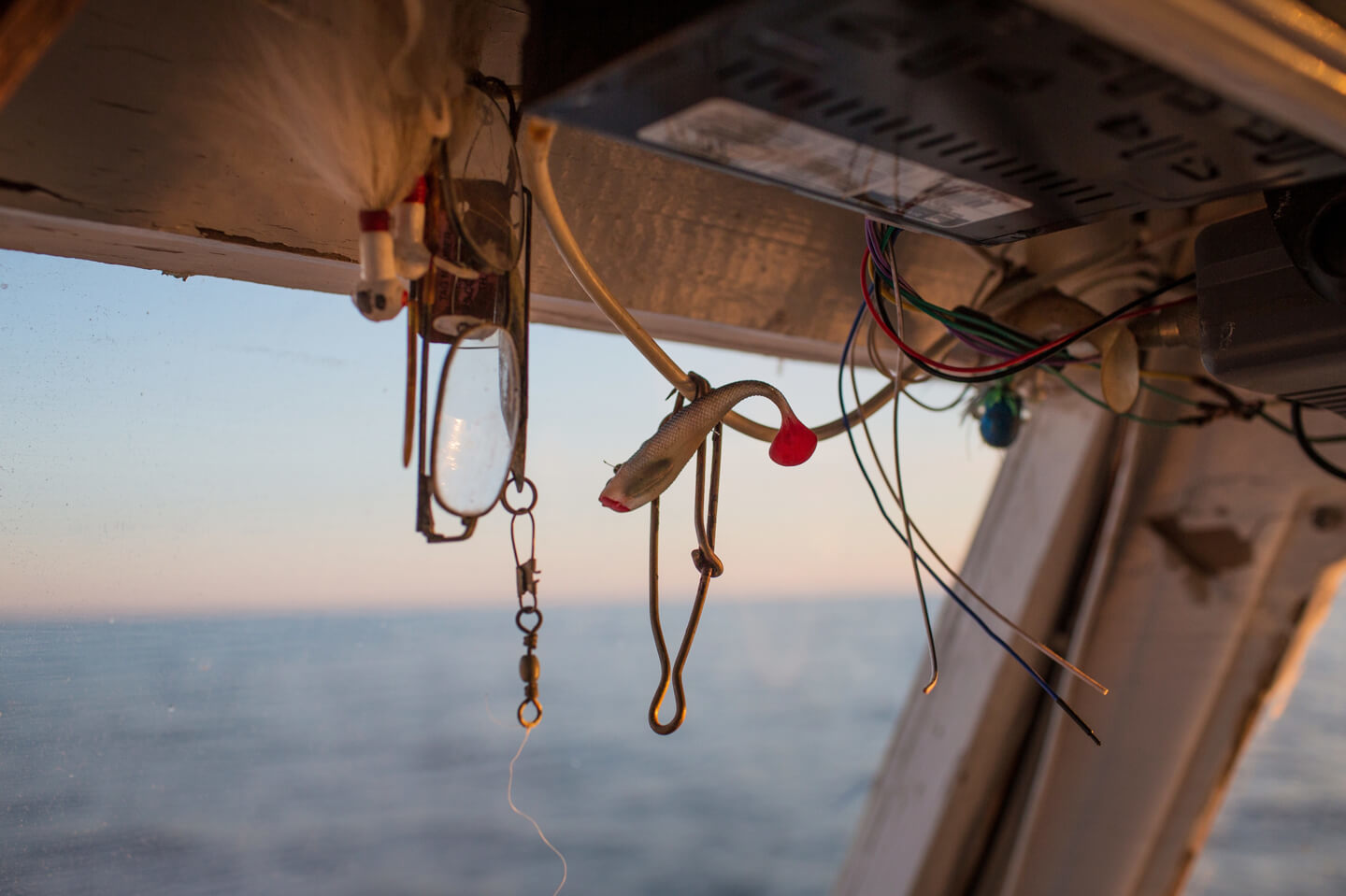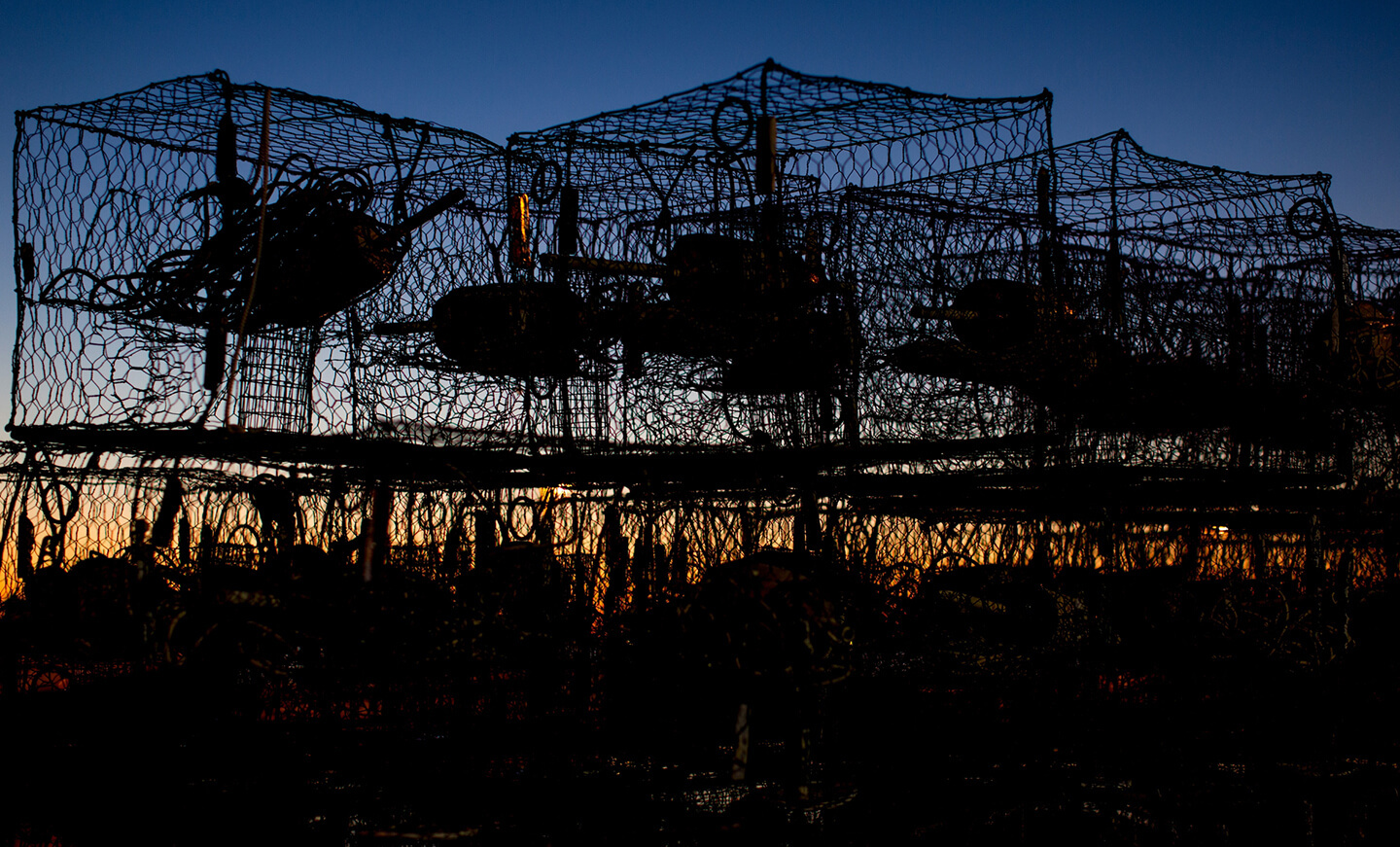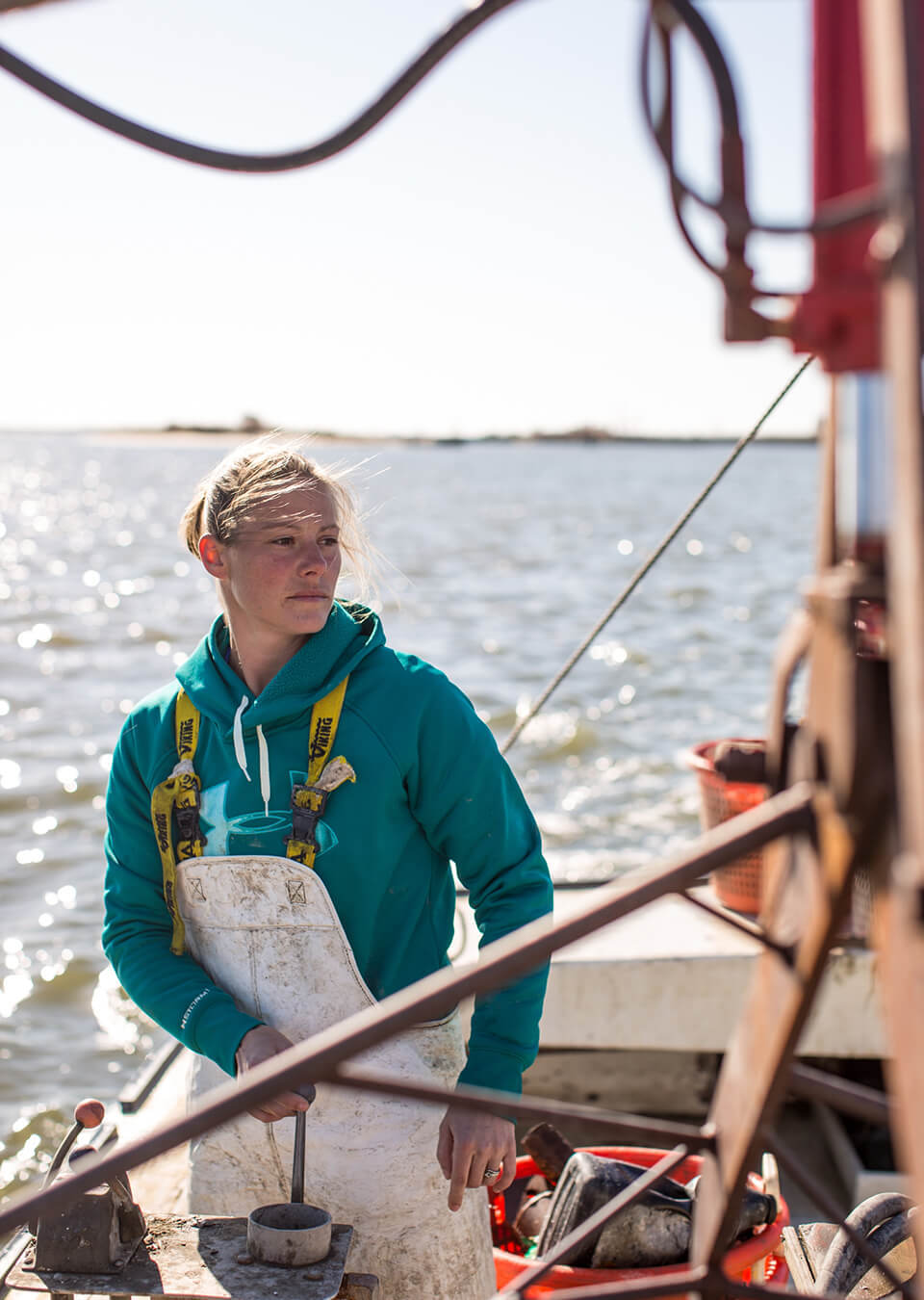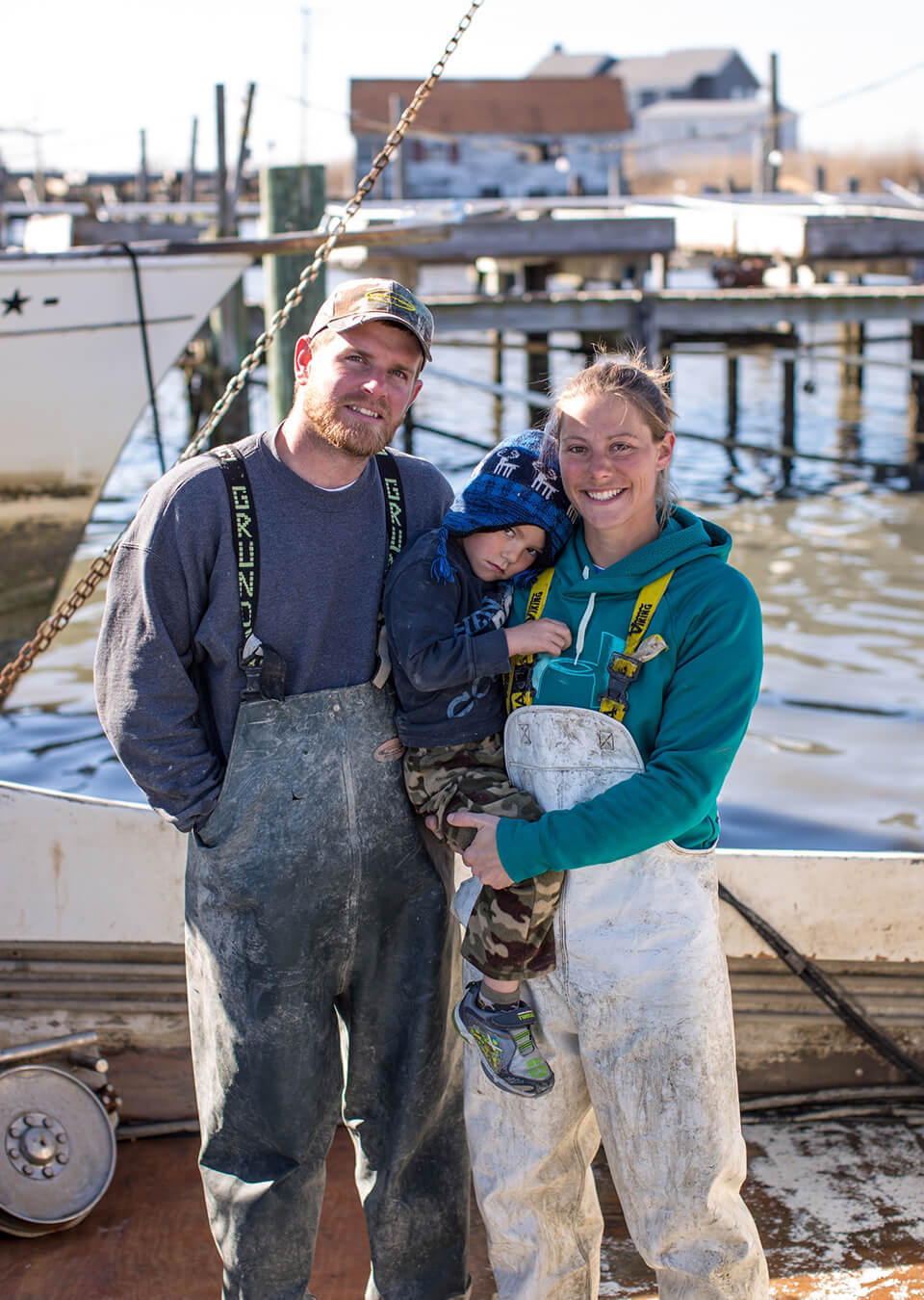 Many women are like Crystal, born into the bay by a family of watermen. "It has traditionally been a male's role, but also a family occupation," says Michael Steen, director of education at The Watermen's Museum in Virginia. "It's a hard world to break into. These communities are very close-knit."
Outsiders are often called "chicken neckers," which goes back to the old days when out-of-towners and amateurs used chicken necks for crab bait, rather than the true waterman's choice of eel.
Still, some newcomers boldly strike out on their own, partly thanks to the advent of aquaculture, or the practice of cultivating marine life, such as oysters. In its adolescence in the state of Maryland, aquaculture is unburdened by time-honored tradition, thus opening new doors and breaking down old barriers for women like Jill Buck.
On a calm gray morning at the end of April, Jill lifts a mucky rope from the bottom of the Patuxent River, just west of bite-size Broomes Island, her yellow oilskins slick with rain and white work boots splattered in mud.
At the end of the line is a black cage filled with baby oysters, one of about a thousand on her 15-acre lease. With the weight of her 5'3" frame, she hoists its heft over the side of the boat, opening the wire lid to even out the growing shells and harvest the big ones for market.
Jill pays no mind to the late spring rain. Her blue eyes stare straight ahead, standing out like marbles against the white of her teeth and the silver-gray backdrop beyond. On days like this, water and sky blend into one, with little horizon in sight.
At 49, she has only been out here for six years now, trading in a tobacco farm childhood and lifelong child-care career for the adventure of the bay. She's one of the many Maryland entrepreneurs getting into oyster farming, having found herself in a 9-to-5 job thinking: There has to be something more.
More, indeed. More mud, more muck, more rain, more headaches. Docking the boat too hard, filling the cages too high, losing income to ruthless poachers. "It was like learning a foreign language," Jill says. "I knew nothing. There was complete uncertainty."
She had her doubts, and so did others.
"When I first went out, I had people talking about me, looking at me like I'm a sissy—like girls can't do this sort of thing," she says. "But you have to prove yourself when you're a woman working the water. They're going to talk, until you earn that respect. And it's hard work—you definitely don't need a gym membership. But you have to have confidence."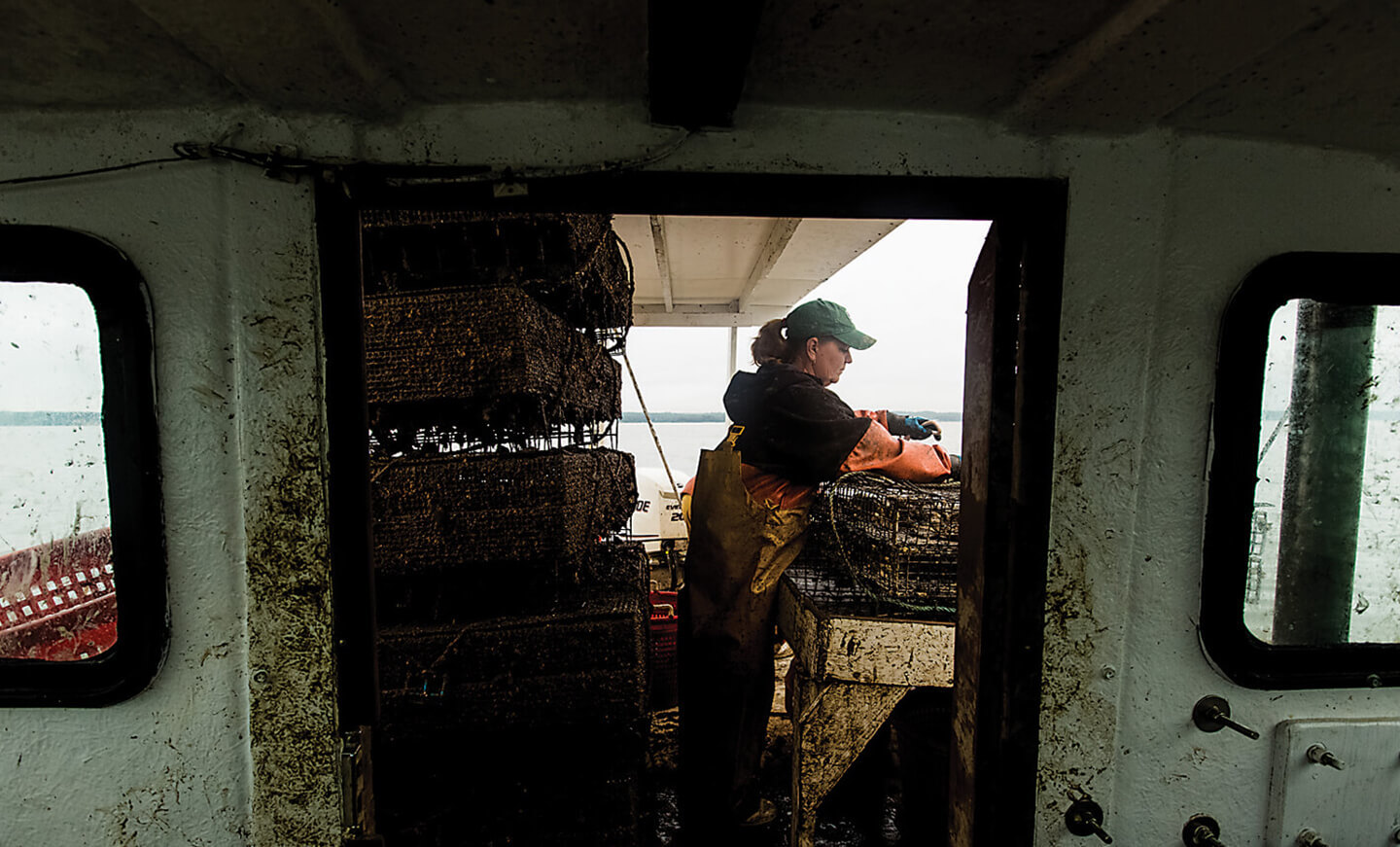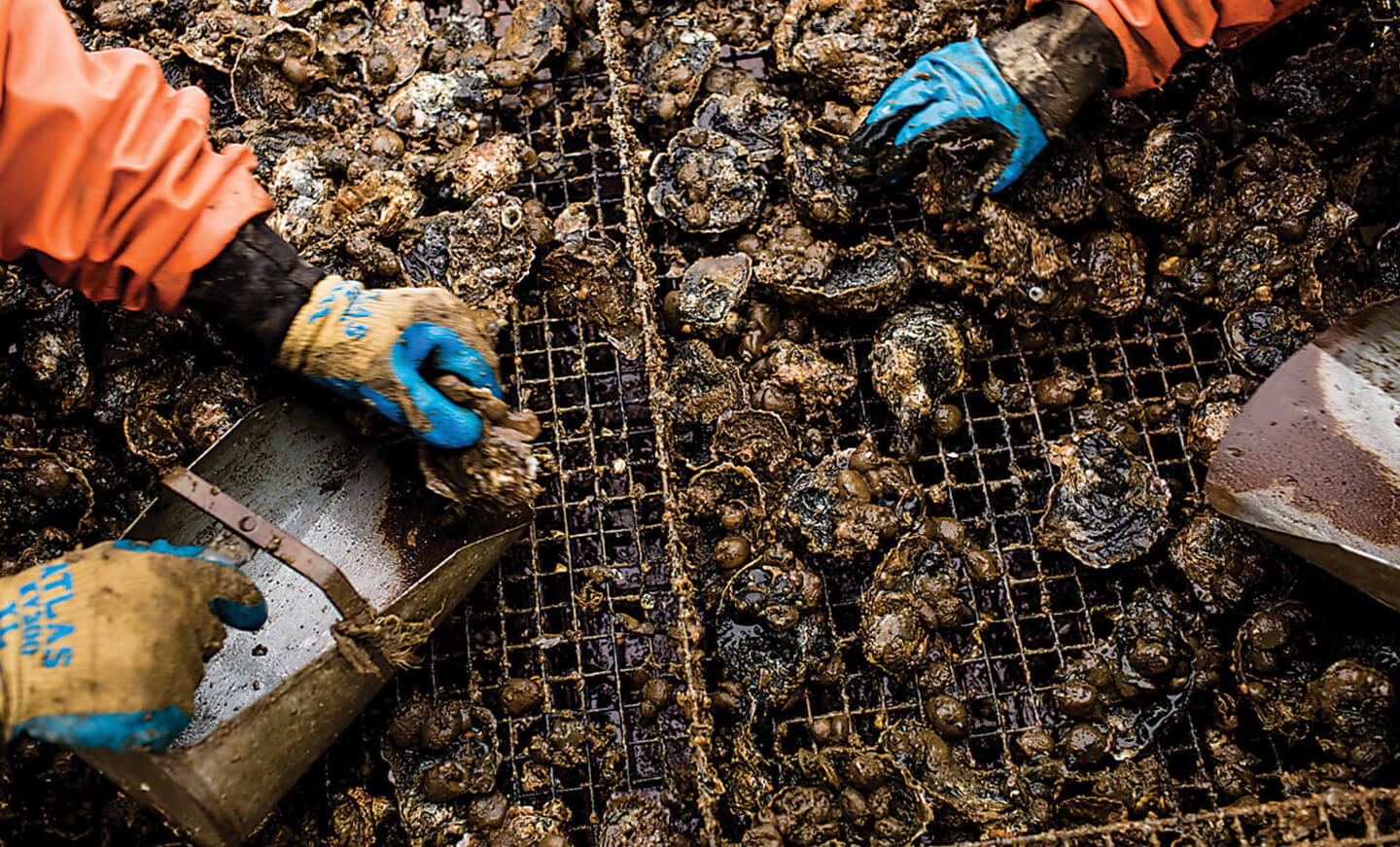 On her boat, Jill unhooks the lid of an oyster cage; she and a helper even out the shells and harvest those 3 inches or larger for market.
Eventually, she found her sea legs, and today, while her husband, Andy, finishes up his final years at the power plant, Jill runs the family business full-time until he joins her. During the summer, she trotlines for crabs, and in the winter, she dredges and tongs for wild oysters. She also raises her farmed oysters year-round, and on the side, works as a firefighter and EMT.
Some women disdain the word "waterwoman," feeling that, despite their equally hard work, it sets them apart from the men, but Jill embraces the term.
"It's too easy to go out there and become one of the guys," she says. "I still like girly things. I wear makeup on the boat. As long as I can, as dirty as I get, I'm still going to be a lady."
By 11 a.m., the boat is full throttle, cutting across the glassy river toward its front-yard dock, a few dozen oysters jangling in the baskets by Jill's feet. She loves the freedom of her work but is always at the mercy of the wind and tide, which today goes back out sometime before noon.
"Mother Nature dictates my schedule," Jill says, "and I'm pretty sure she doesn't like me."
But bad weather doesn't matter much when you're working on the bay. You add layers, you peel them off. You get dirty and wet. You deal.
"You can wake up in the worst mood, but the water is medicinal," Jill says. "We see something new every day. We're always bringing up all kinds of life: mud crabs, soft crabs, clams, eels."
"And if you're still feeling crappy?" she says, giving a knowing grin as she flies over the water. "Unhook the boat and go wide open for a little while."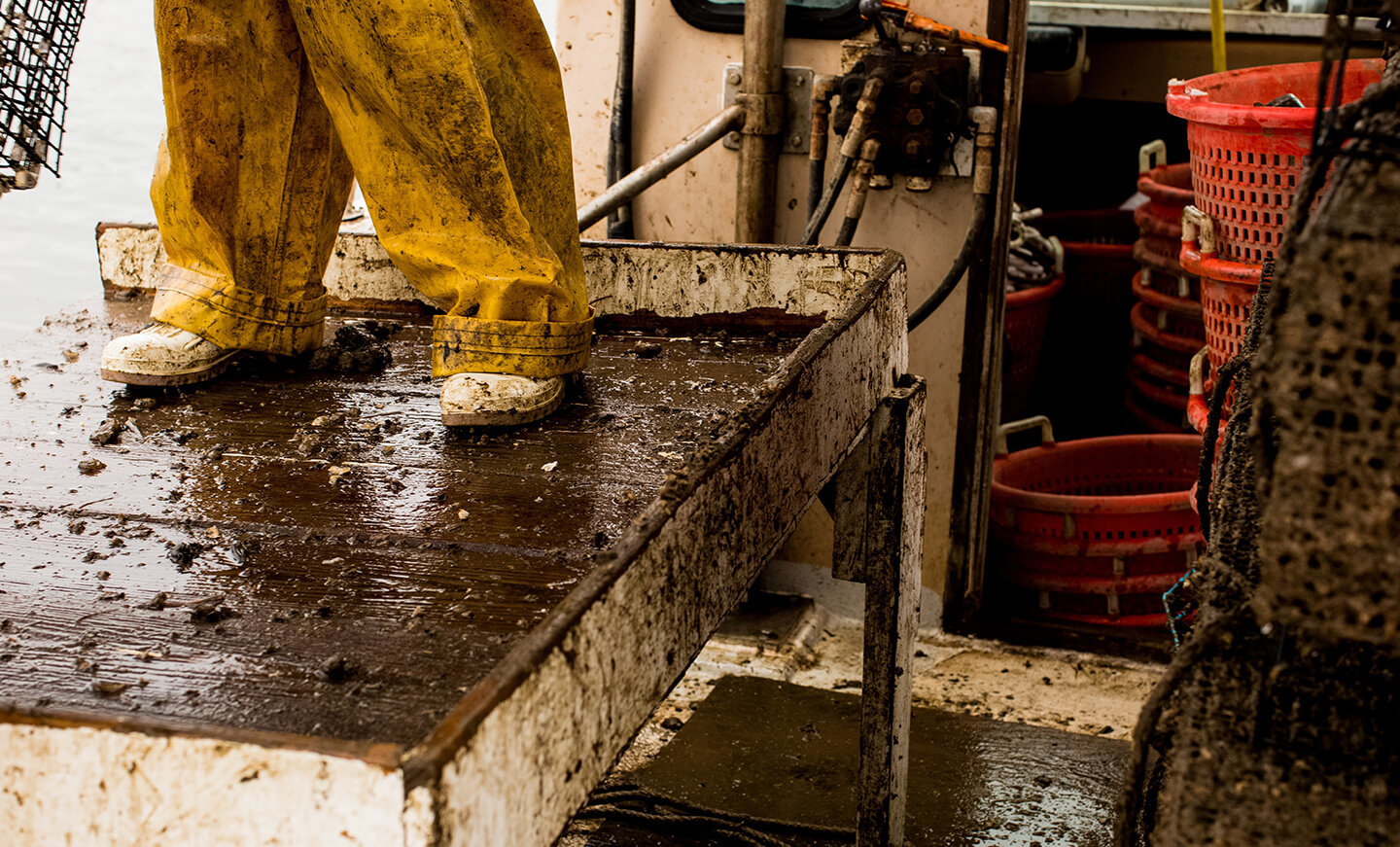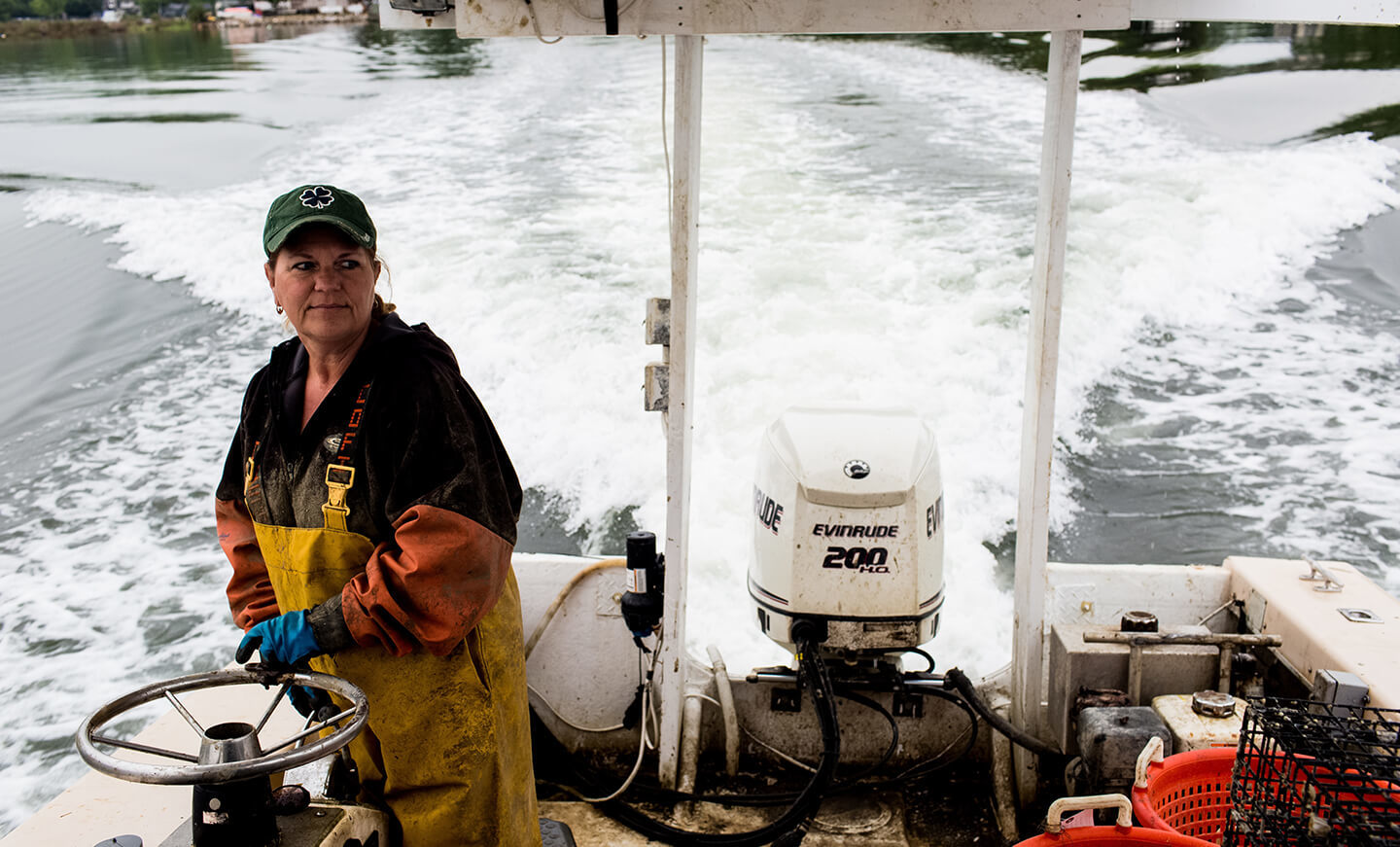 Like their male counterparts, women like Crystal and Jill are working to keep the seafood industry alive in these changing times. On these tiny edges of earth, watermen, let alone women, are considered a dying breed. Fewer and fewer young folks are following in their parents' footsteps, they say, and across the board, commercial licenses are limited, and equipment comes with quite a cost.
"It's hard to make a living on the water," says Steen from The Watermen's Museum. "There's less to catch and more regulations. The money's just not there."
Nonetheless, a few women are just starting out, and others are continuing the work of a lifetime. The tides change by the minute, but as sure as the sun will rise, Lois Lednum will be out on the water before it does.
At 4 a.m. in the middle of May, her 40-foot fishing boat, the Lois Ann, is heading out of its slip beneath the Tilghman Island drawbridge. At that time of day, everything is sapphire blue—the water, the sky, the other boats—all save for the white fog on the front lights and the little red glow of the heated cedar cabin. Inside, Lois keeps warm as her husband, Dickie, steers out into the morning night.
Before sunup, they've crossed the Choptank River and are set up just outside of Royal Oak. He guides the boat as she drops three trotlines into Irish Creek, each attached to weighted buoys and tied with orange bags of razor clams, every 11 feet. "Trick or treat bags," Lois calls them, as they disappear to the bottom, her eyes focused on their fall. A cool breeze picks up and laps across the water, a sign of coming rain.
Just after high school, Lois and Dickie were married at age 18. A lifelong waterman, he worked the bay while she stayed home, taking care of their four sons. But once the boys were grown, she woke with him before the dawn and took to the water, too.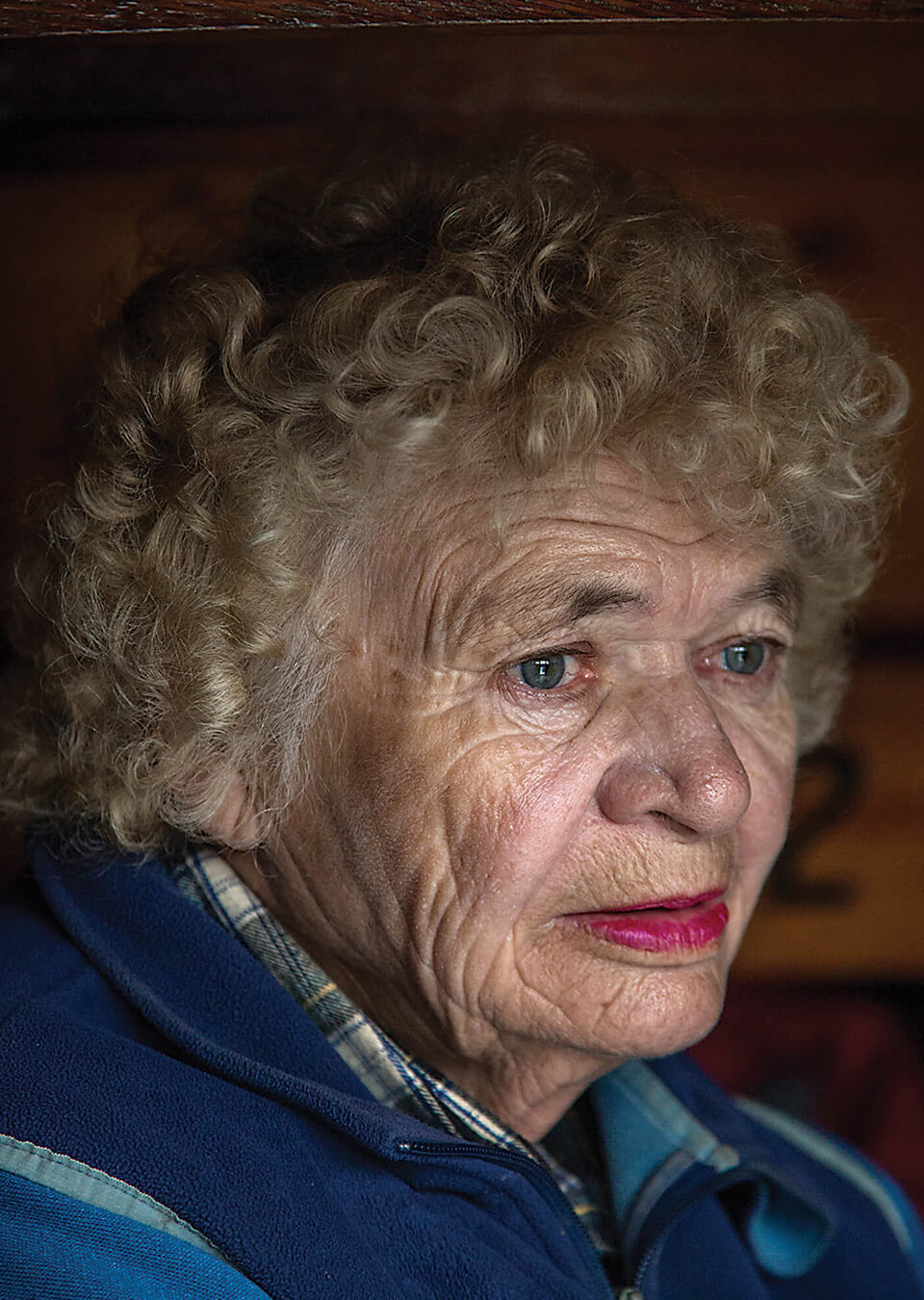 ---
For Lois, it was never a question.
"When our youngest turned 12, Dickie asked me about going oystering, and I said alright," she says matter-of-factly. "We figured we'd make more money, and more money is better for everybody. And back then, the money was good."
She liked to work, having grown up milking cows with her father on their family farm near Easton, and in no time, she was culling oysters and catching crabs, baiting line and fixing the boat, like she still does today at 75 years of age.
"I like to stay busy," she says. "I can't stand being cooped up inside."
On Sundays, their only day off in the summer, she tends to her growing garden and takes to the open road with Dickie on the backseat of their cherry-red Harley.
"And you know what she did yesterday?" he says, with proud disbelief. "As soon as we got off the boat, she went home and mowed the lawn."
With the trotlines set, Dickie hooks one over a roller on the starboard side of the boat and keeps a ready dip net as the orange bags begin to rise. Every few feet, a little white belly comes with them, dangling on the bait like a diamond earring.
In one fell swoop, he scoops the crabs out of the water and dumps them into the washtub at his side, where Lois, armed with her wooden measuring stick and steel tongs, picks up the skittering shells and places them into one of two baskets by size.
If they're too small, or too soft from their last shed, she plops their wriggling bodies overboard and calls out, "Go home, and grow up!"
She doesn't want to jinx herself, but she's only been bitten once.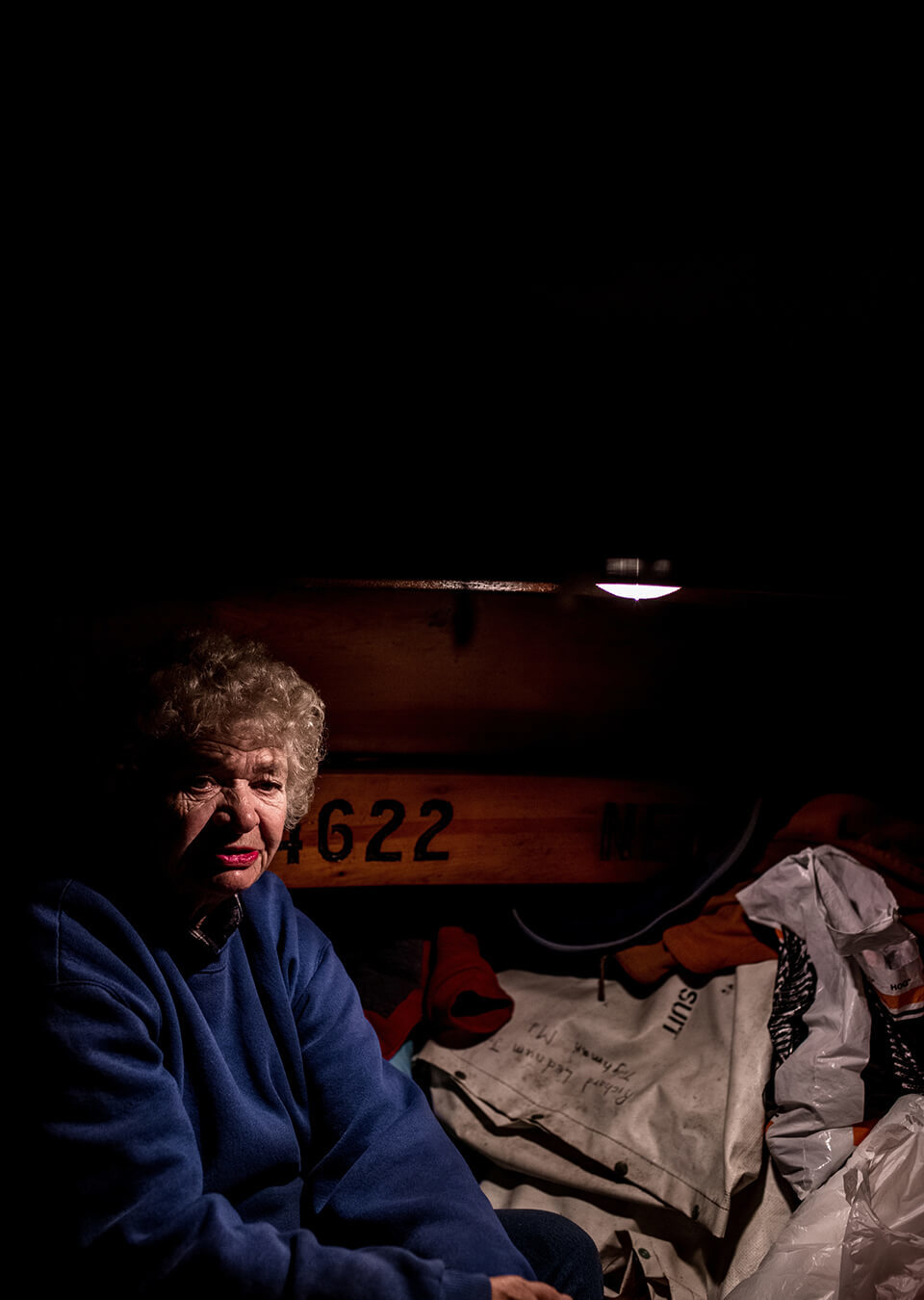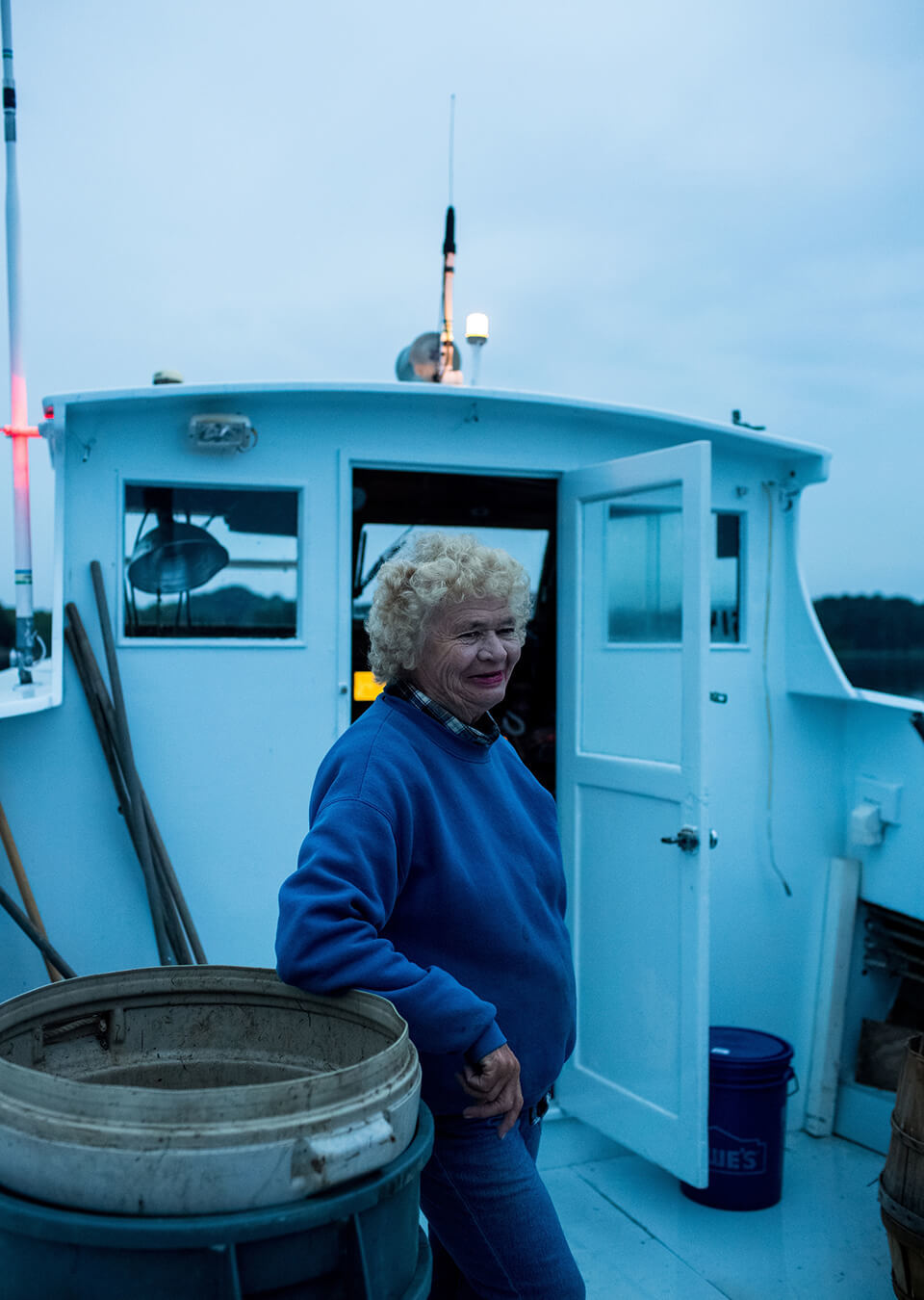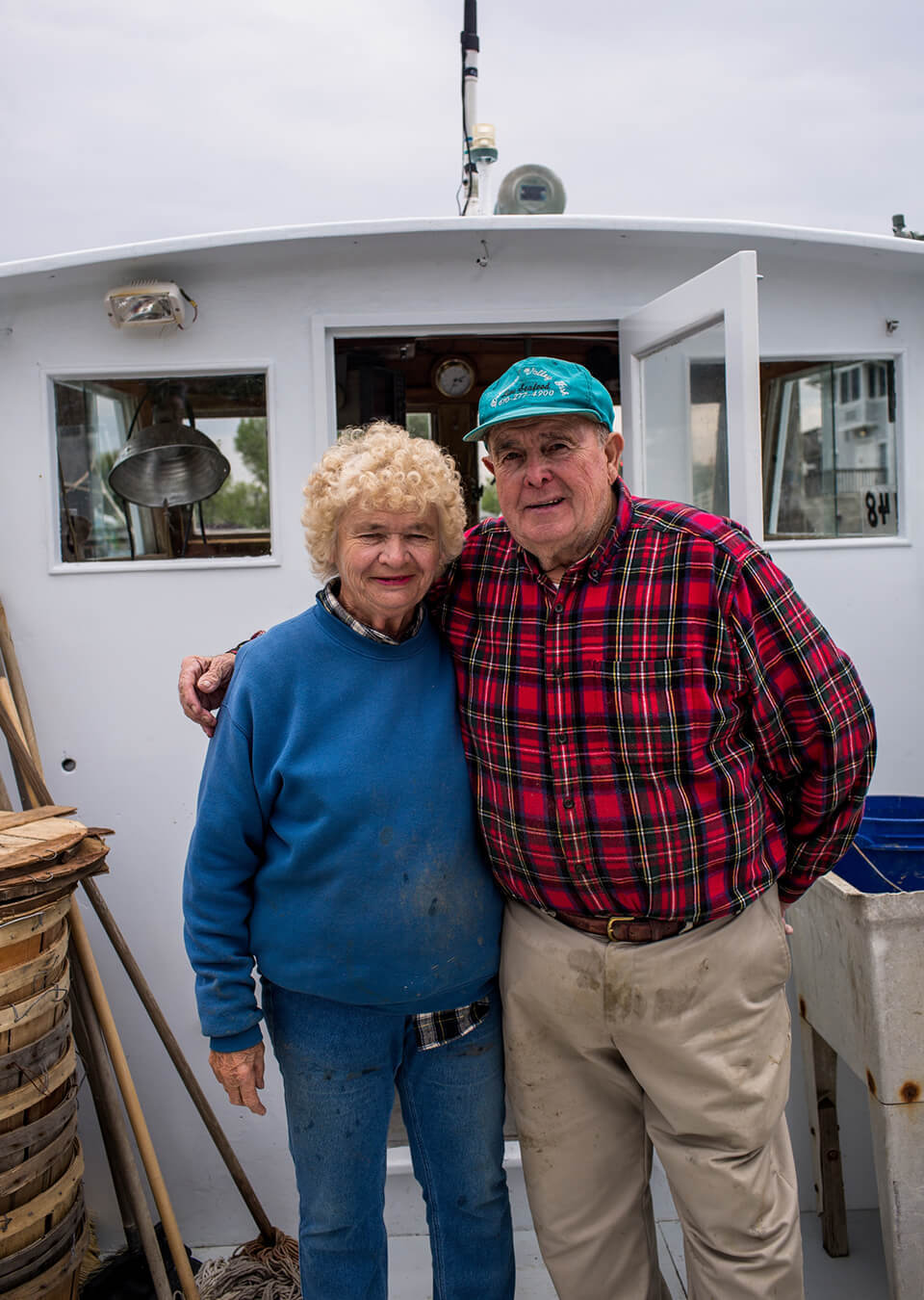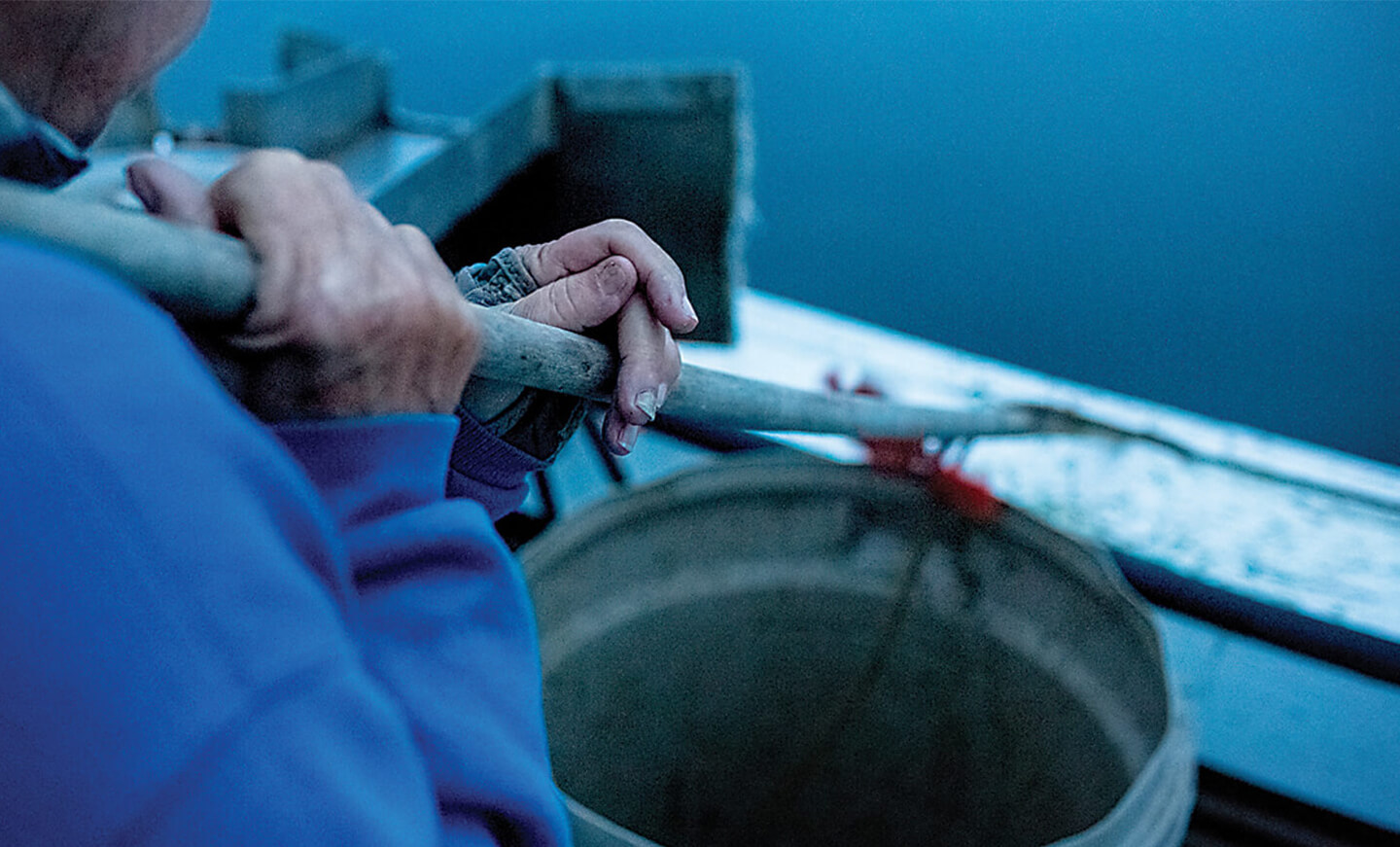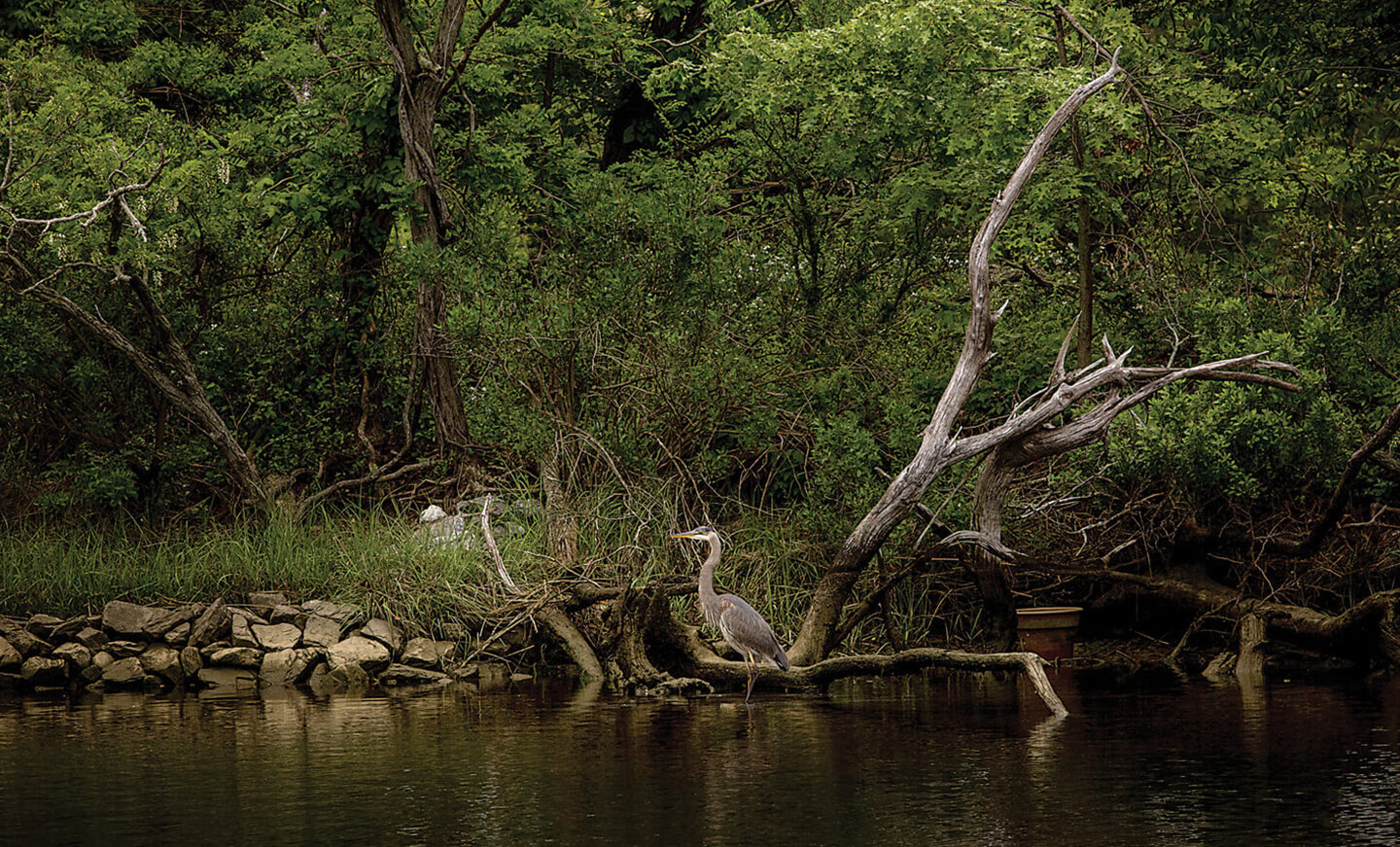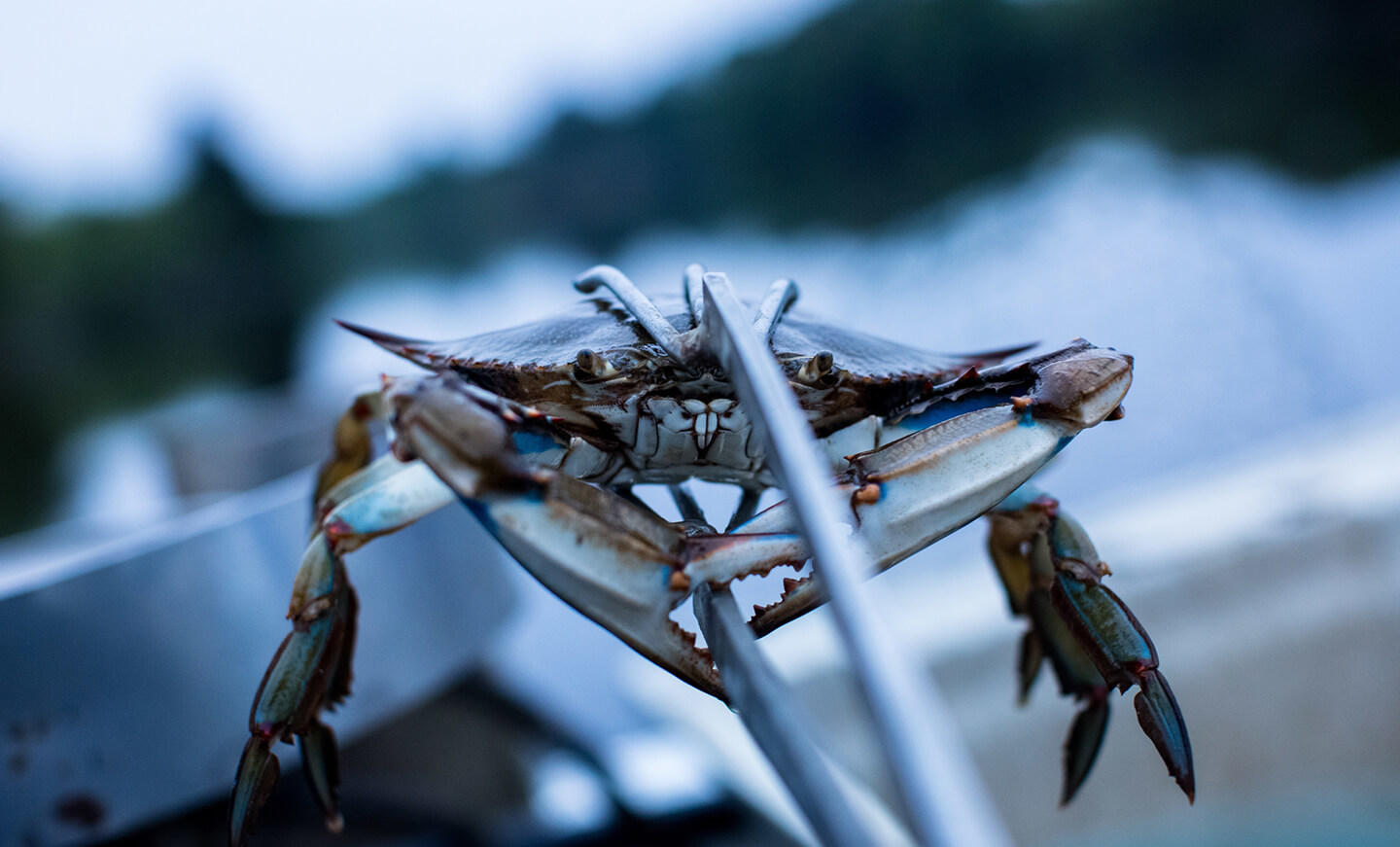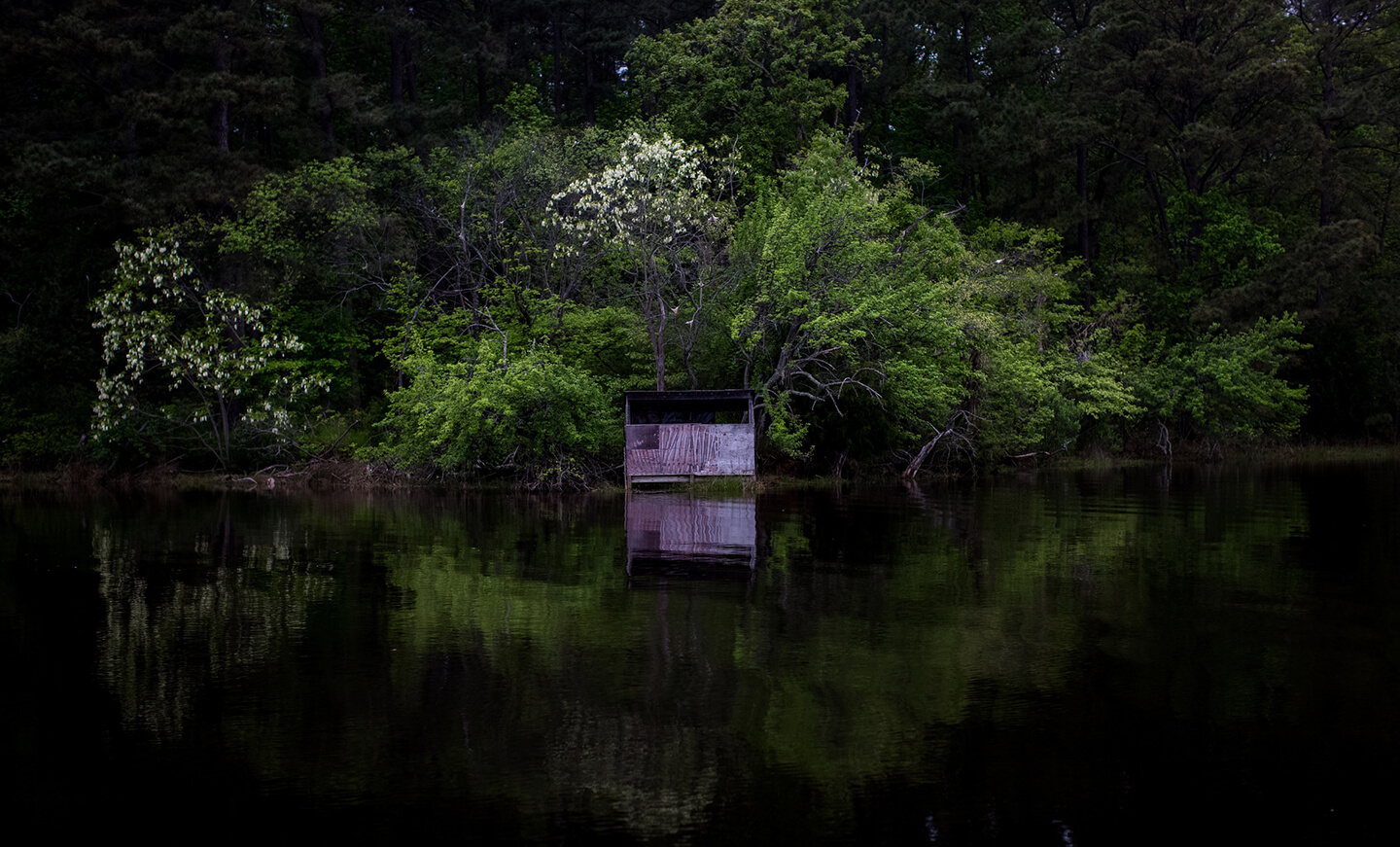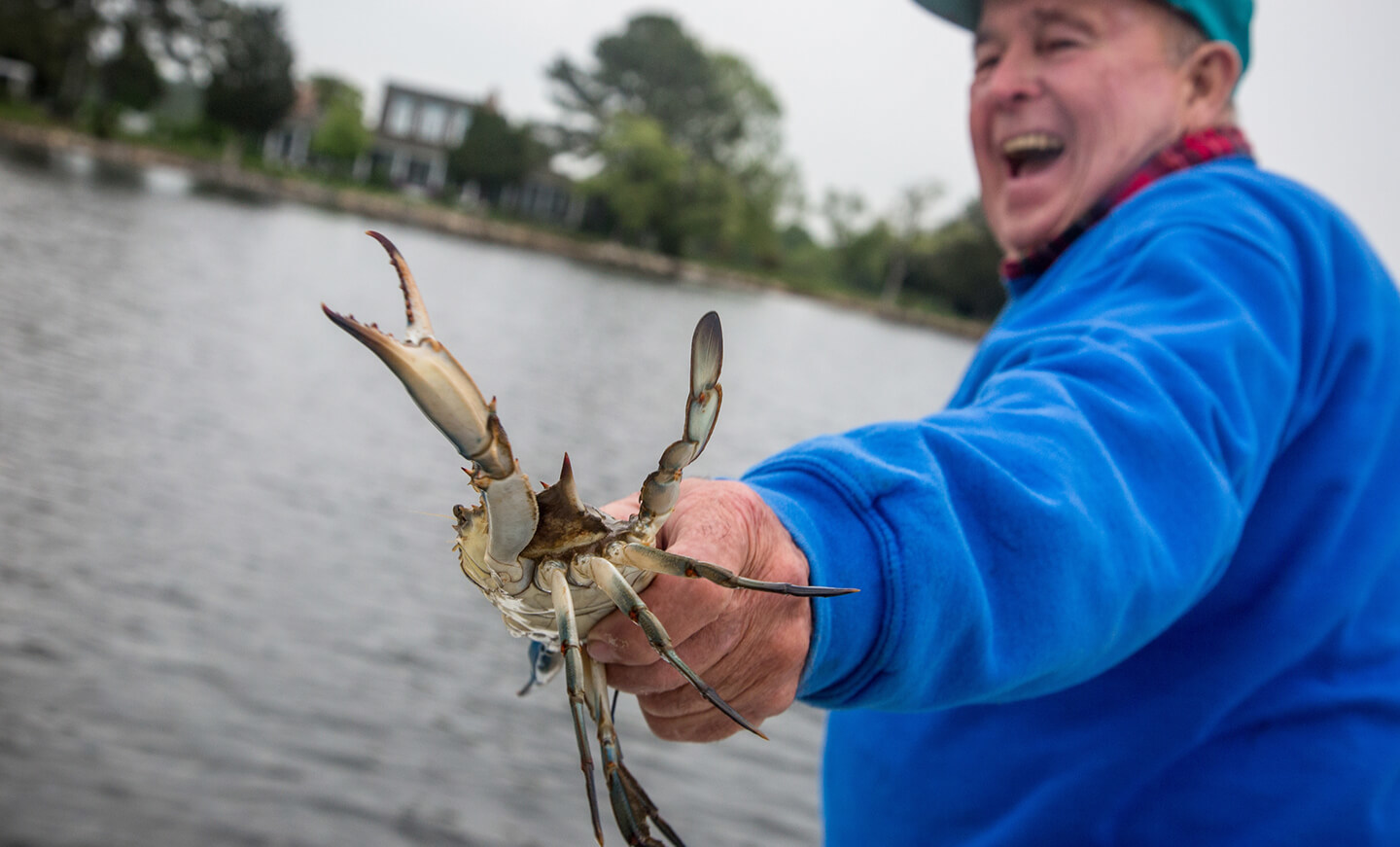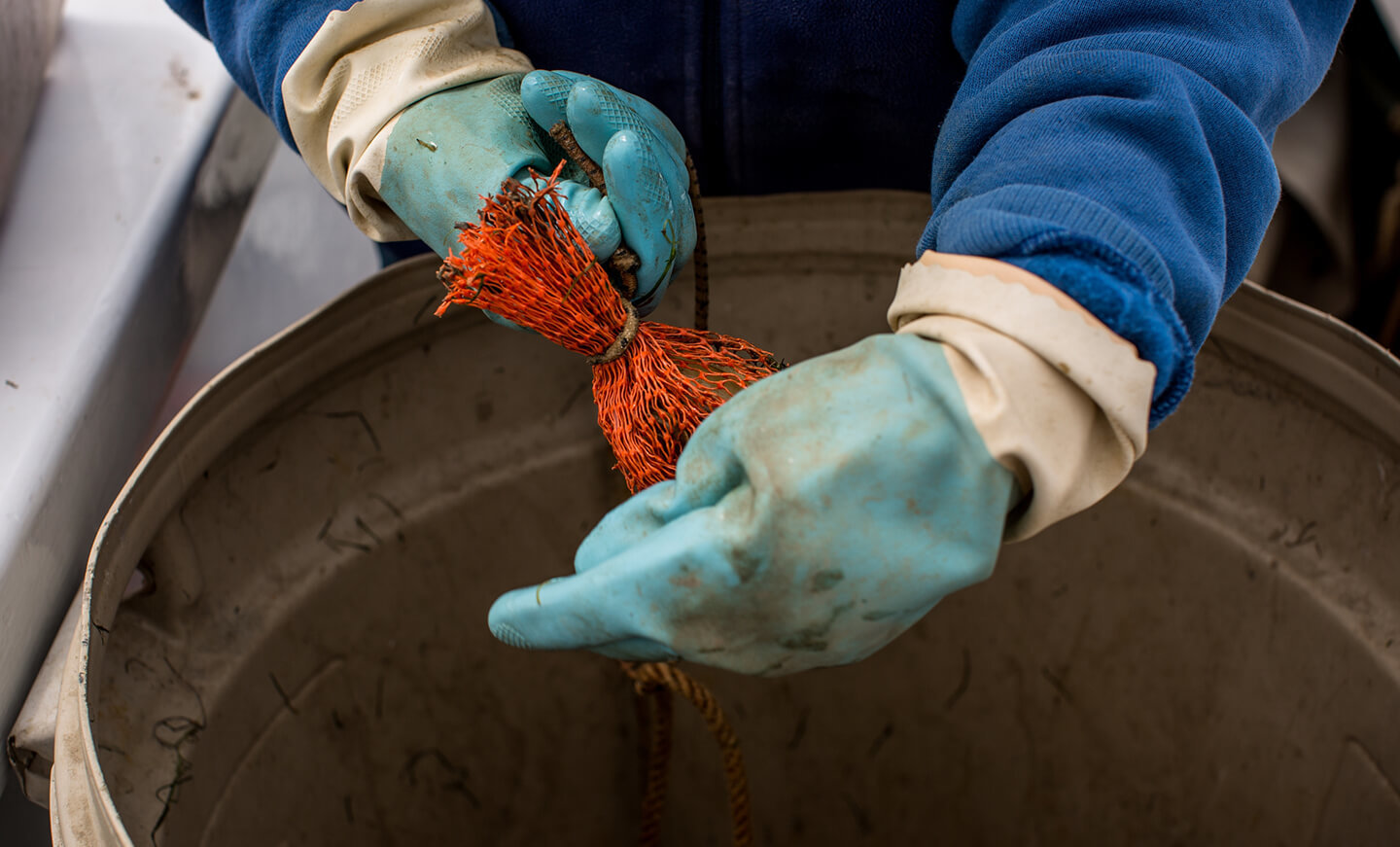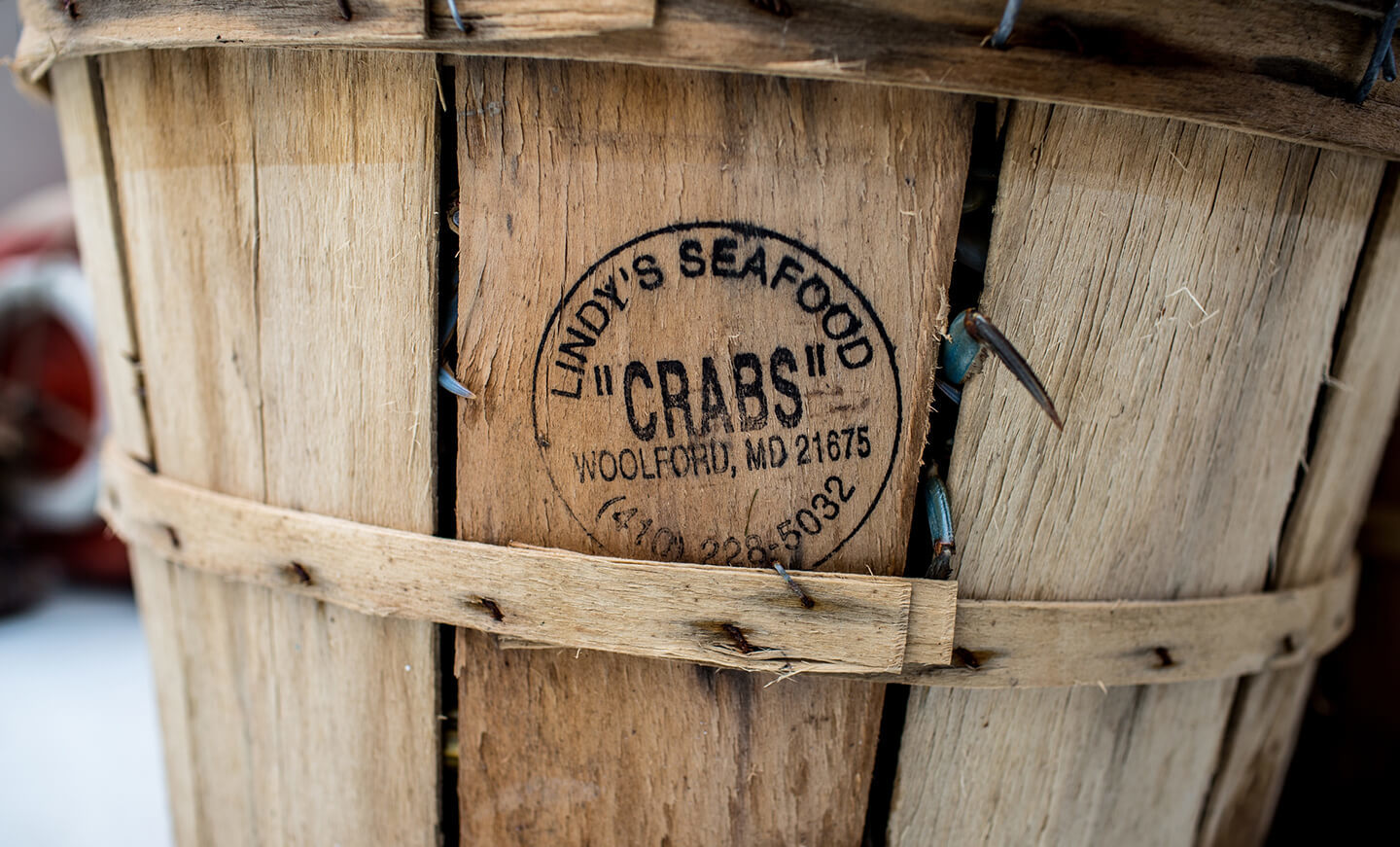 The day begins to break as Lois and Dickie run the boat over the lines. They work in quiet tandem, creating rhythms in their tasks. Back and forth, up and down, in and out, like the tides.
There's no radio onboard for playing Lois's beloved country music, but there's still a sort of soundtrack: the chug of the diesel engine, the shifting of gears, the chirp of chatty osprey, the sound of crab shells hitting the bucket with a whack.
Little hints of affection are exchanged—a smile, a "honey," a few good-humored jabs—and it's obvious that, without each other, the work wouldn't be the same.
"I tell him now he's a spoiled brat," she jokes. "He won't go out if I don't."
By 3 p.m., after dozens of runs, they've filled three bushel baskets, which they'll drop off for sale beneath the bridge. Dickie finishes his final line as Lois begins to delicately bag the next day's bait. Tomorrow, they'll do it all over again. And for the foreseeable tomorrows after that. For as long as they can, Lois says.
Her gray-blond curls blow in the breeze, and even after an accident with an oyster dredge left her with limited use of her left hand, her fingers move lithely, like she could do it in her sleep.
Every so often, despite the mud and muck, Lois's pink lipstick cracks into a gentle smile.
"They used to say that when the locusts were in bloom, the crabs would be catching," she whispers, looking off into the distance at white blossoms blowing in a nearby tree.
Water Works
Portraits of the women who work the Chesapeake Bay.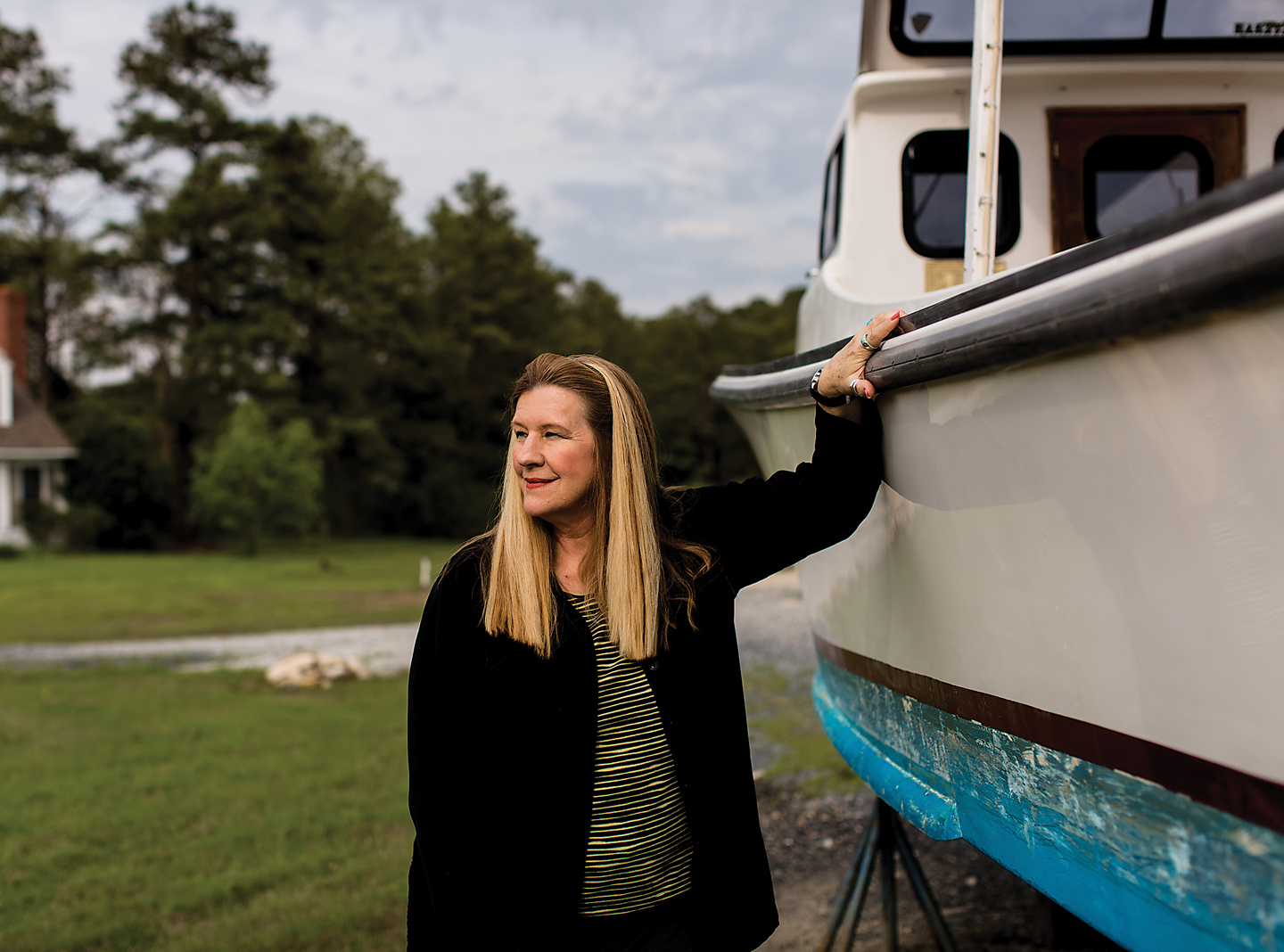 LAURA ERA
63, FORMER WATERWOMAN // EASTON
Laura Era spent 28 years culling oysters and clams beside her husband, Richard. "I won't make it sound like it was all romantic," she says. "It's damn hard work. Your shoulders are aching. Your hands are freezing. You get a mud facial every day." "It's a hard life, but it's so basic, and there's no prettier place on a beautiful day."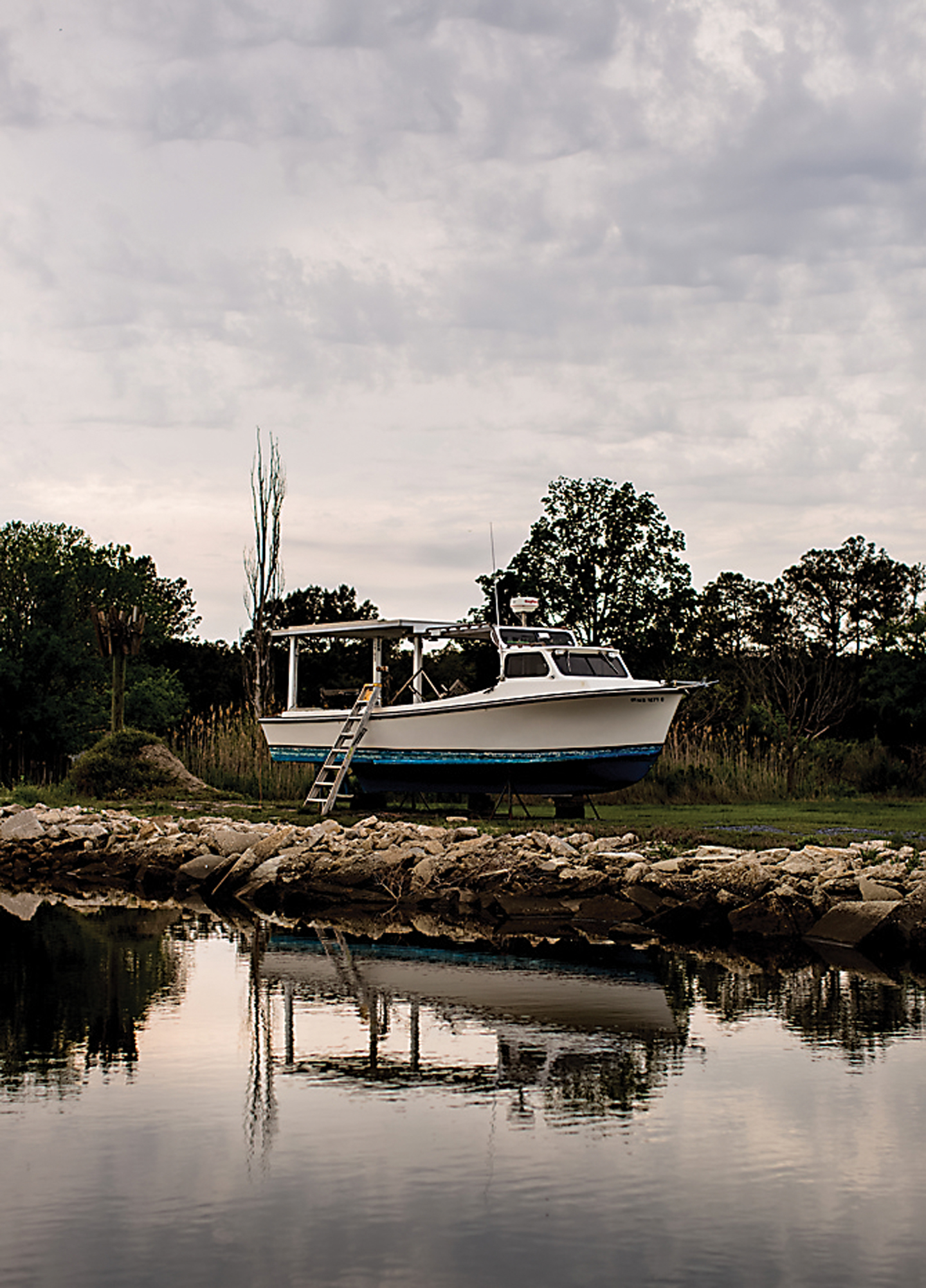 Richard's workboat waits for crab season. He still works the water, heading out onto the Little Choptank River from their quiet front yard dock.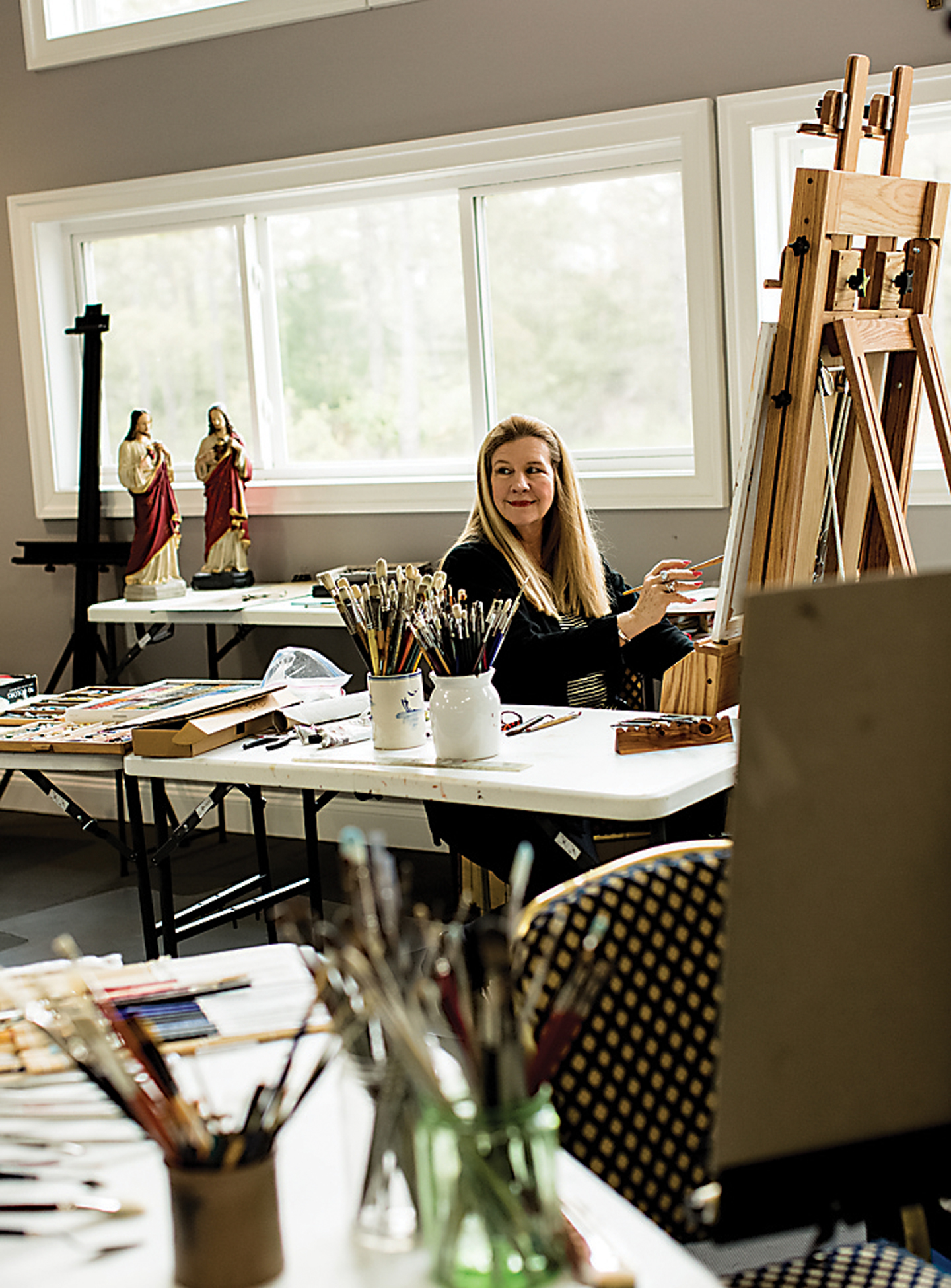 Having retired as a fine painter, Laura keeps a light-filled studio at her home, located just south of Cambridge in Dorchester County.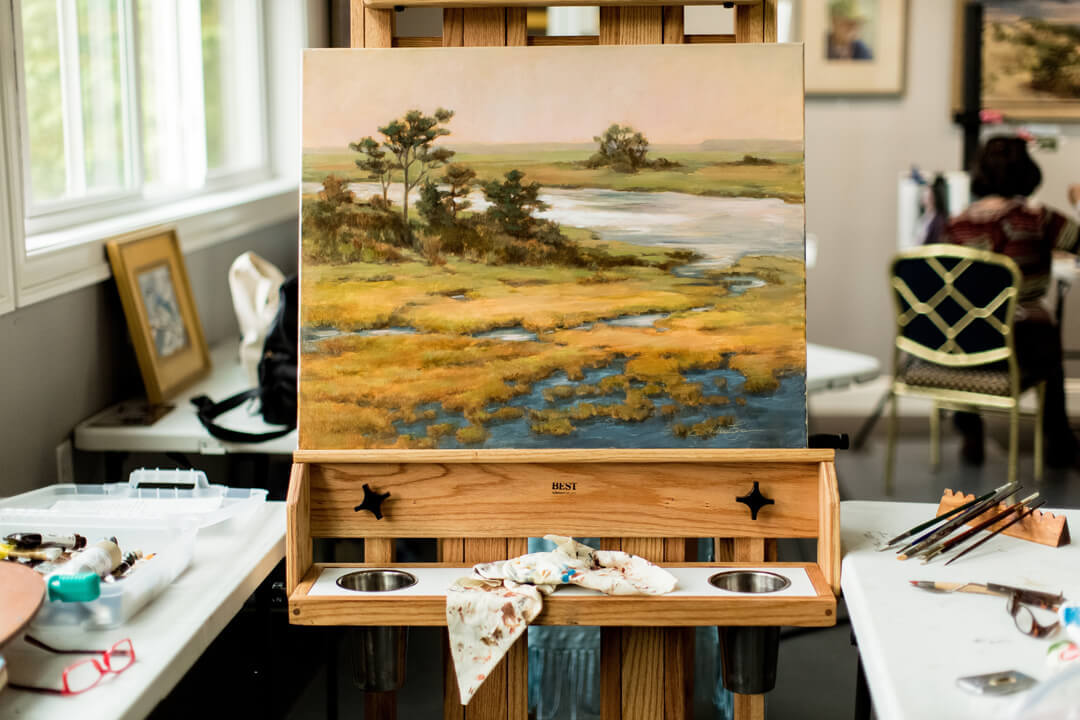 She also runs the esteemed Troika Gallery and Fine Art Studio in Easton, where she displays her own works in addition to other notable artists.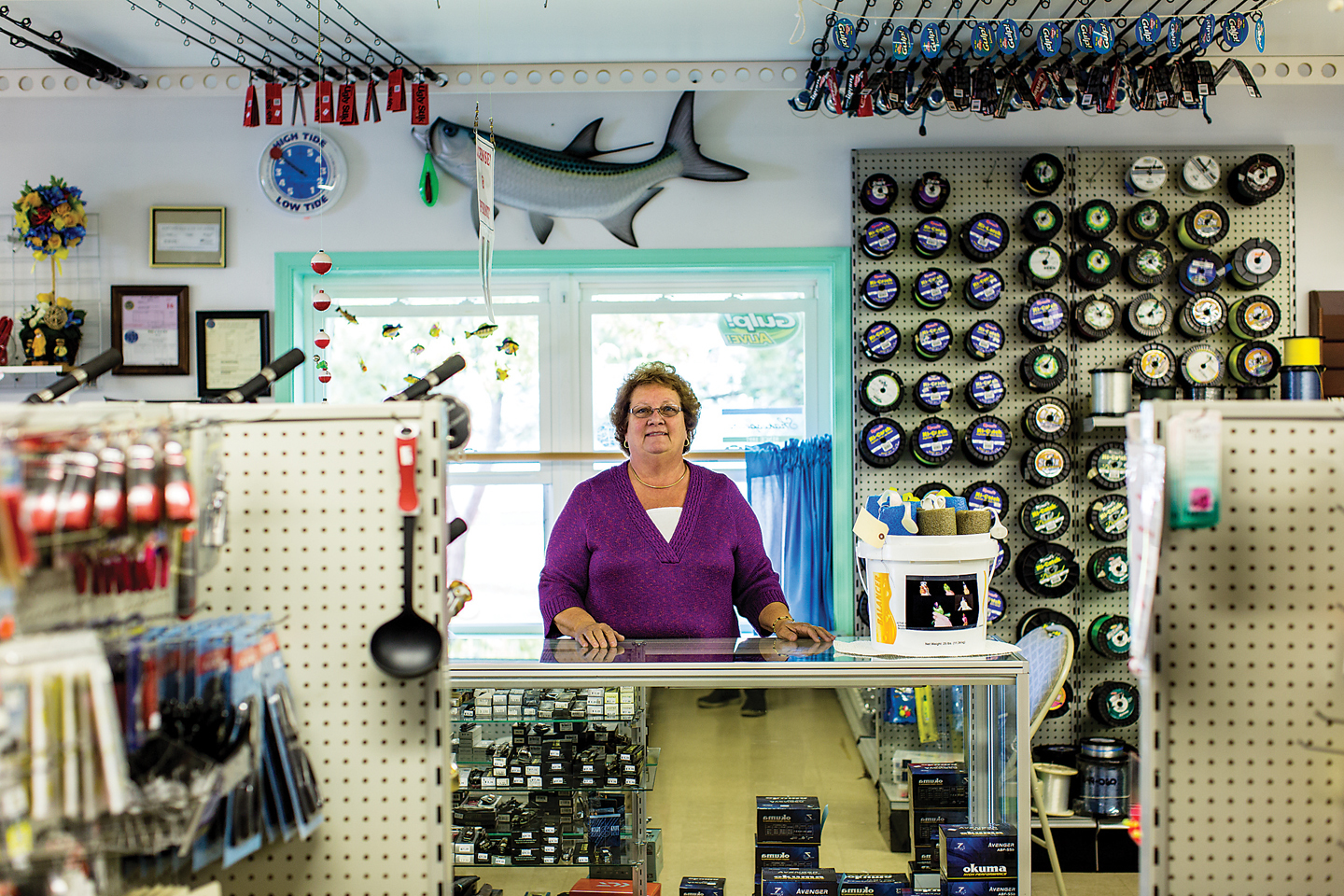 Peggy States Edwards
61, FORMER WATERWOMAN // ROCK HALL
Peggy grew up on a farm but quickly fell in love with the water after working with her husband, Carlton, on and off for 20 years. "You have the most beautiful days, and you're always with God," she says. "The sunrises, the sunsets, the moon over the bay. A lot of people don't get to see that part of life."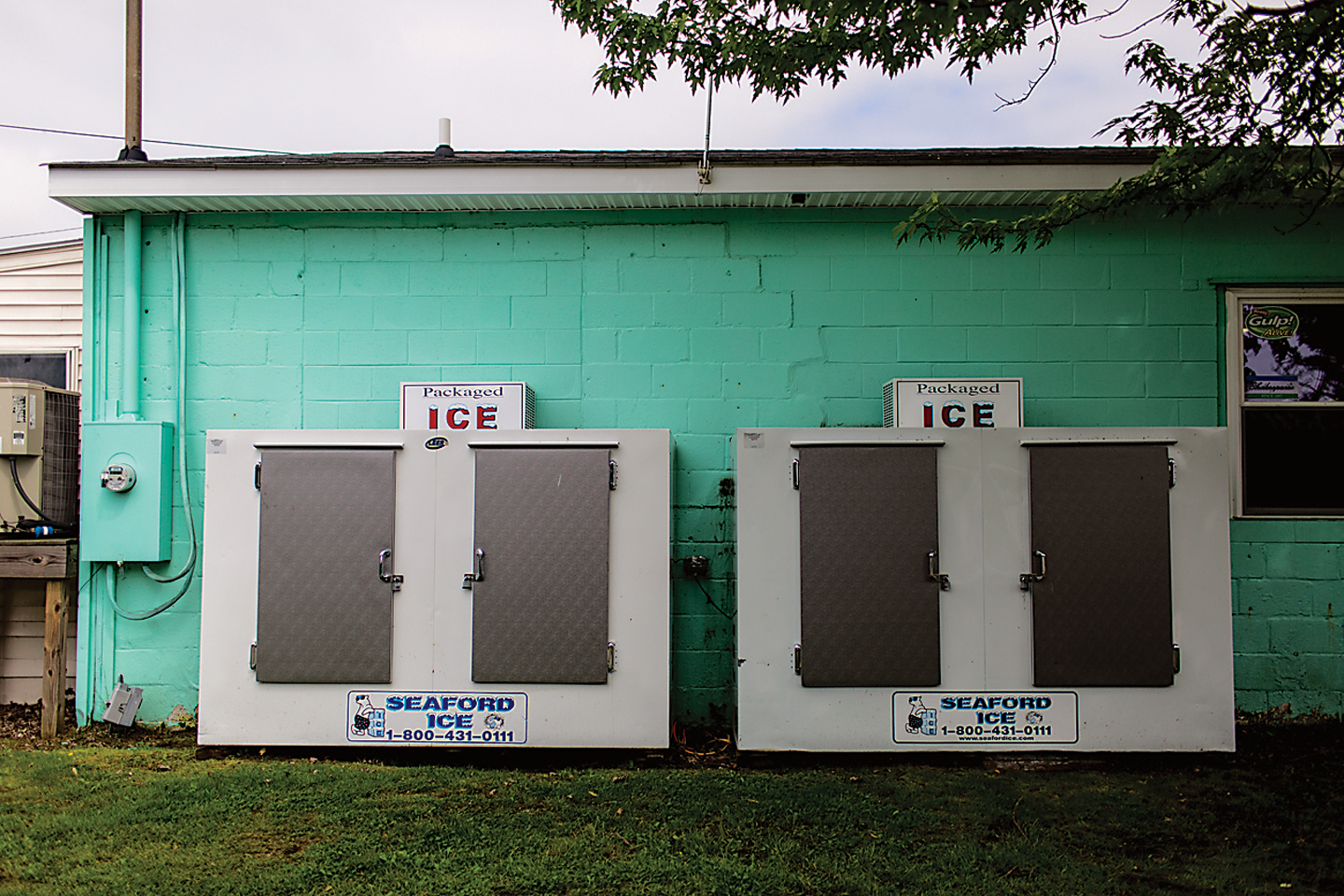 Two summers ago, just feet from the Rock Hall harbor in Kent County, she opened her very own tackle shop, Hook, Line-N-Sinker. Inside, she sells everything from fishing line and lures to reels and rods, and outside, two freezers keep ice cold for beer and fresh-caught fish.
"I can remember leaving out of this harbor and going out and fishing in the winter. We'd leave at 2 or 3 o'clock in the morning," Peggy says. "I learned a lot because I was an old farm girl. It was a different life I'd never seen before."
She also stocks locally made gifts and gourmet goods, which continue to be best sellers, especially during the holidays.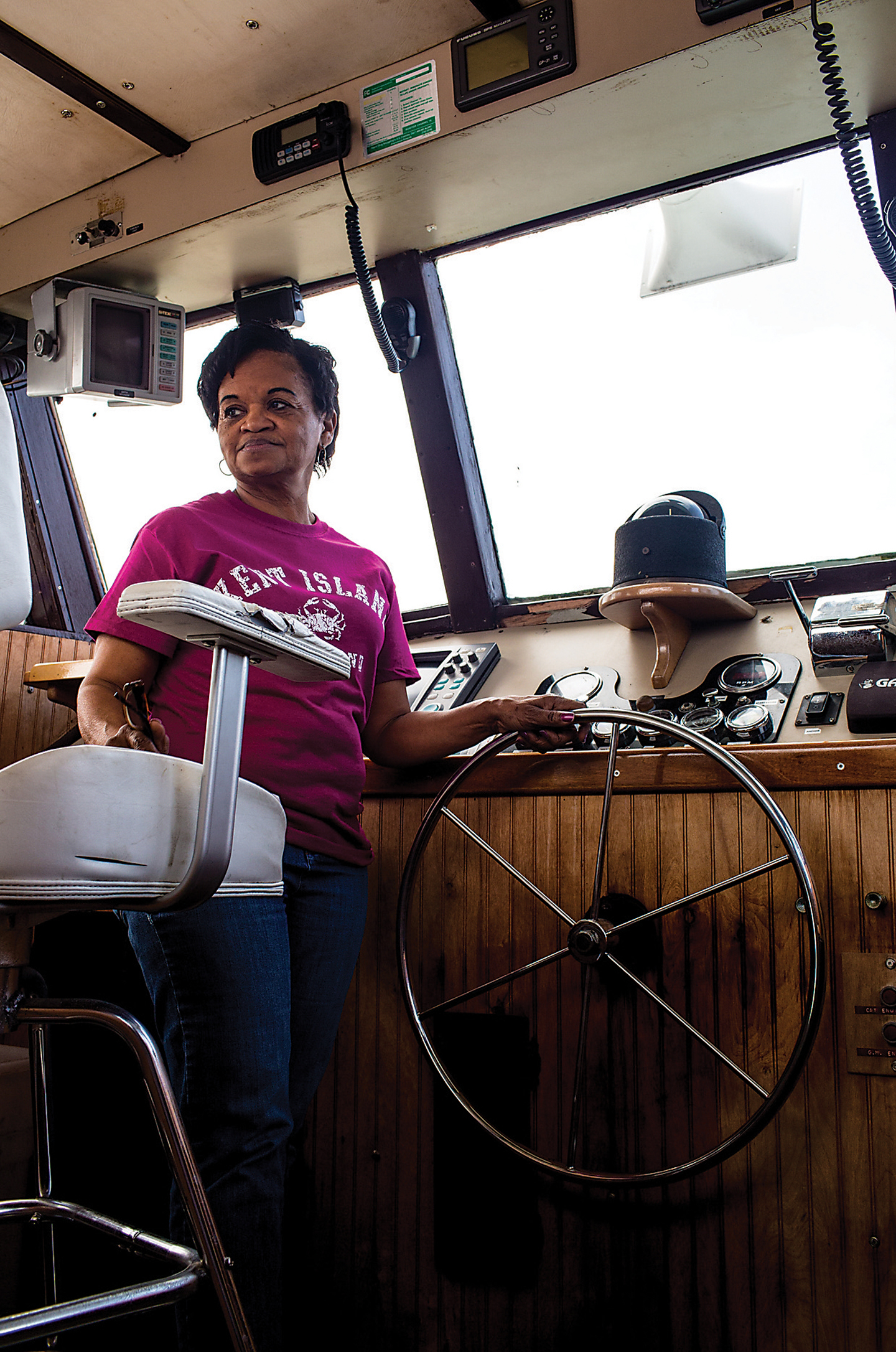 VERA MEREDITH
59, CHARTER BOAT CAPTAIN // GRASONVILLE
Growing up on the mouth of the Chester River, Vera Meredith now captains a 65-foot fishing boat along its marshy shores.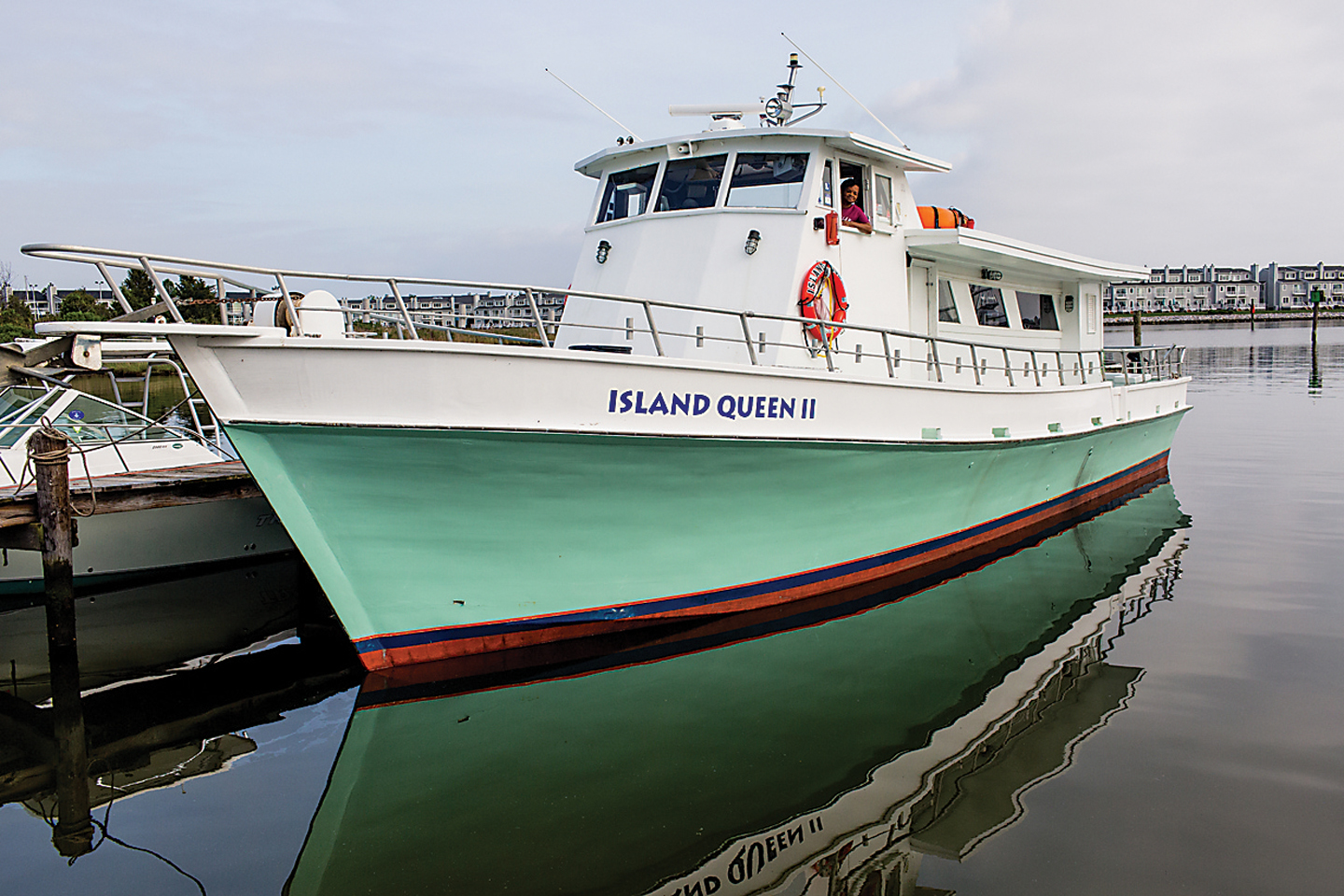 Most months of out the year, she captains the Island Queen II charter boat, carrying fishing parties up and down the bay to catch the likes of rockfish, catfish, and perch.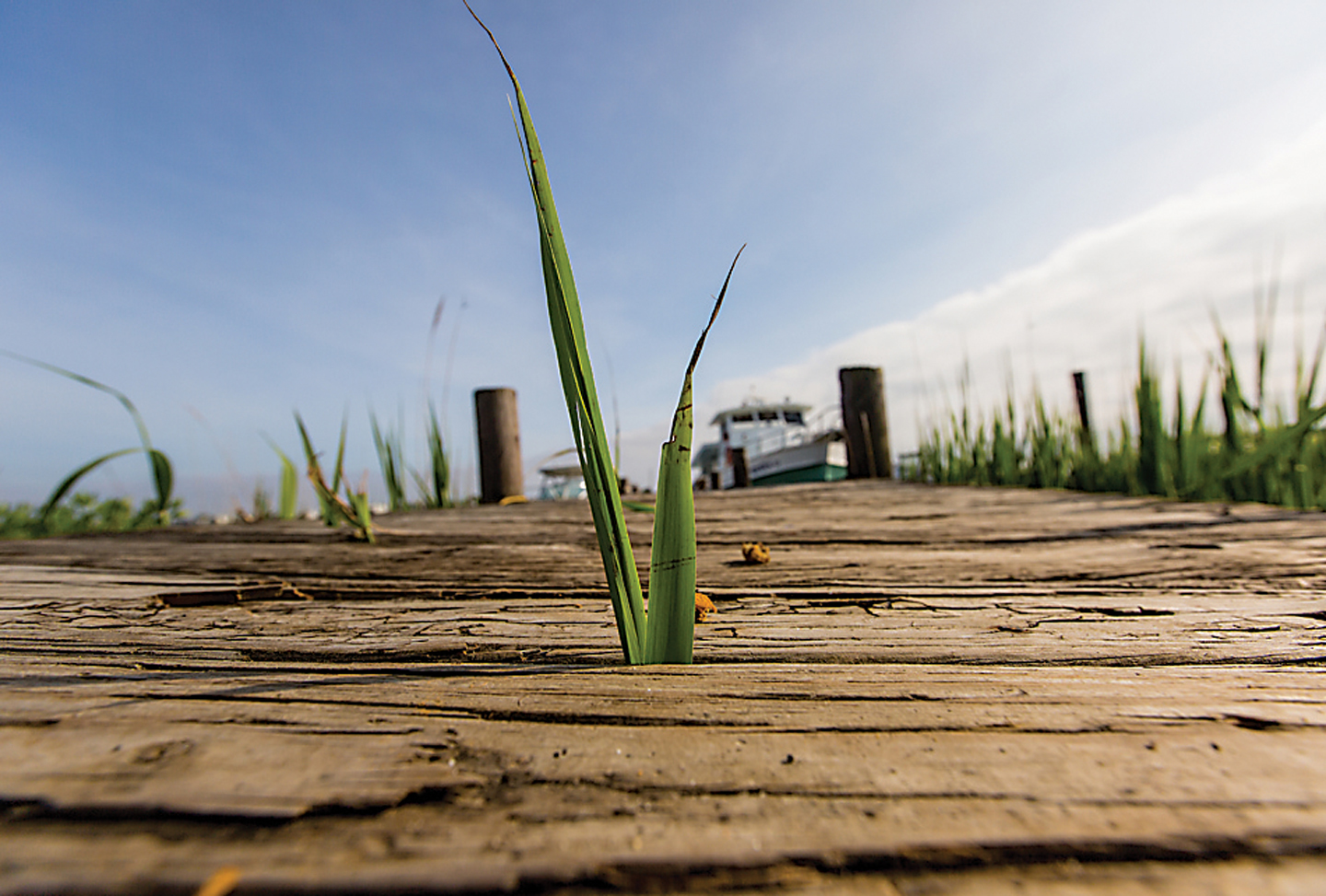 A blade of grass peeks through planks of the old dock at Wells Cove, just beneath the Kent Narrows drawbridge in Grasonville.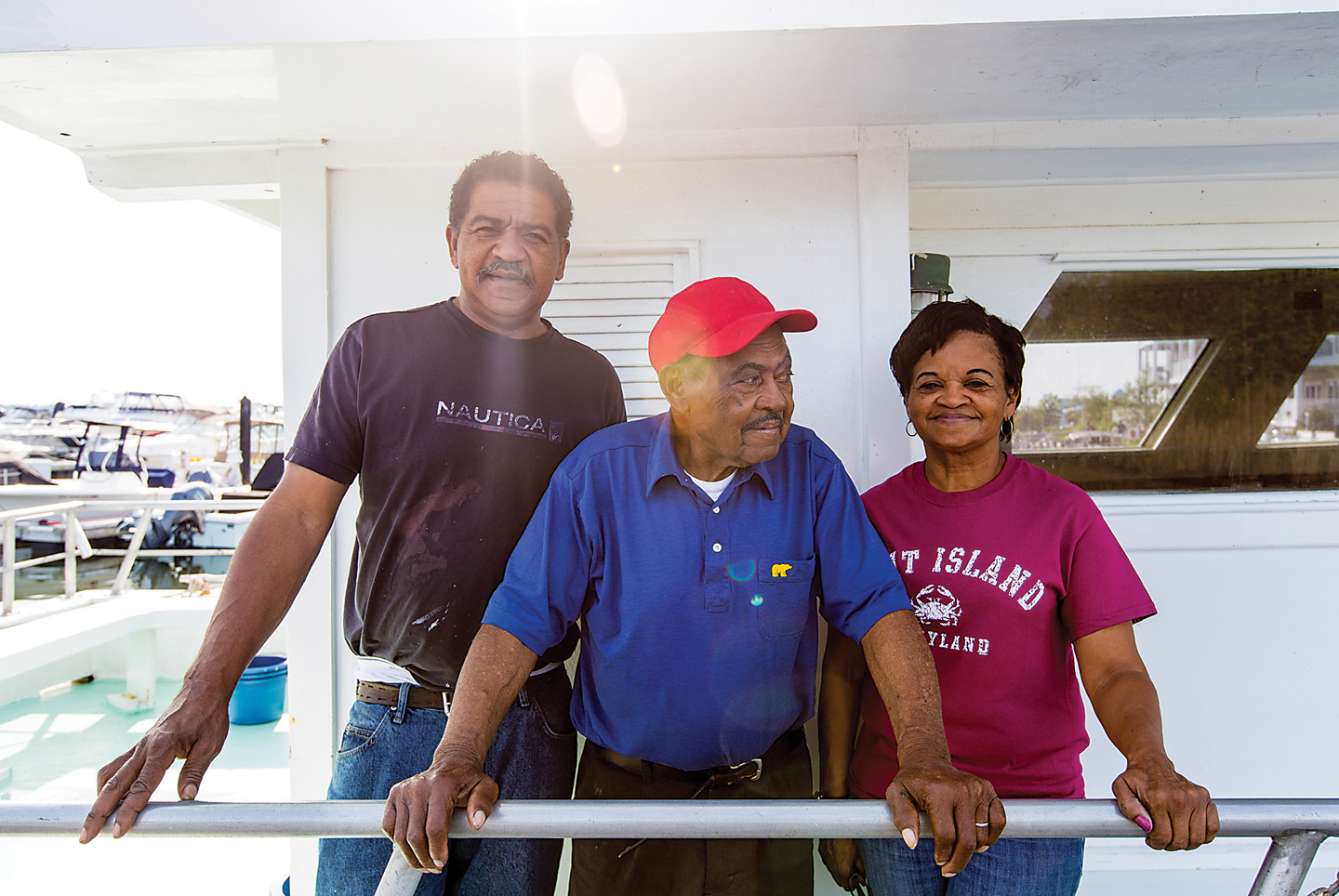 She runs the boat with her father, Elkridge, pictured center. "Ever since I was a little girl, I went out on the boat with my dad," Vera says. "Today, he's always with us, and never lets us go without him." Her brother, Tyrone, pictured left, keeps his own boat in a nearby slip.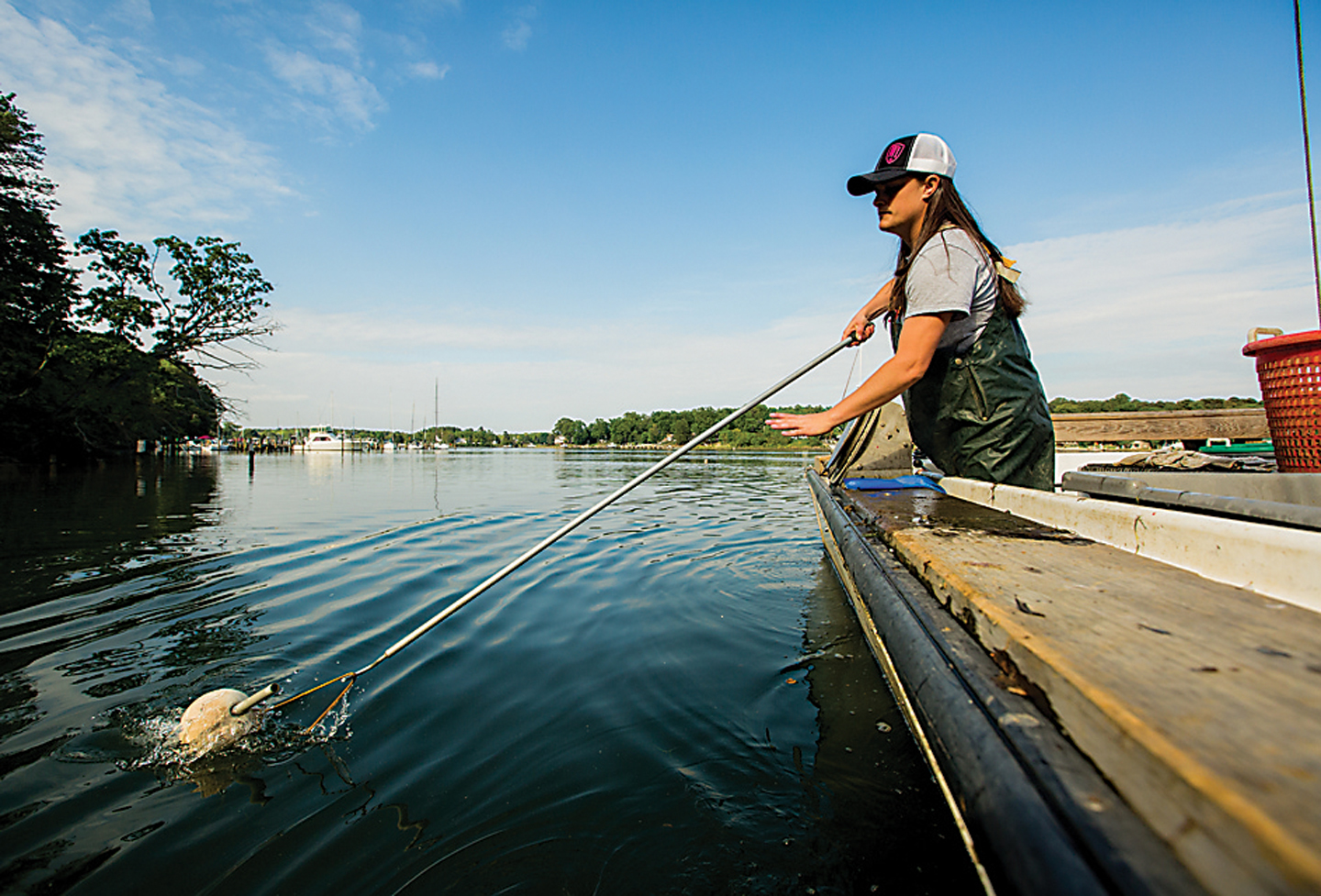 RACHEL DEAN
34, WATERWOMAN // SOLOMONS ISLAND
Even with a teaching job at the local high school, Rachel works the water every day, oftentimes alongside her husband, Simon, brother, Jason, and even sometimes, her mom and dad. "We're first-generation watermen," Rachel says. "My dad didn't do it, his dad didn't do it, and we probably wouldn't be able to do it if we didn't have each other. It takes a family, it really does."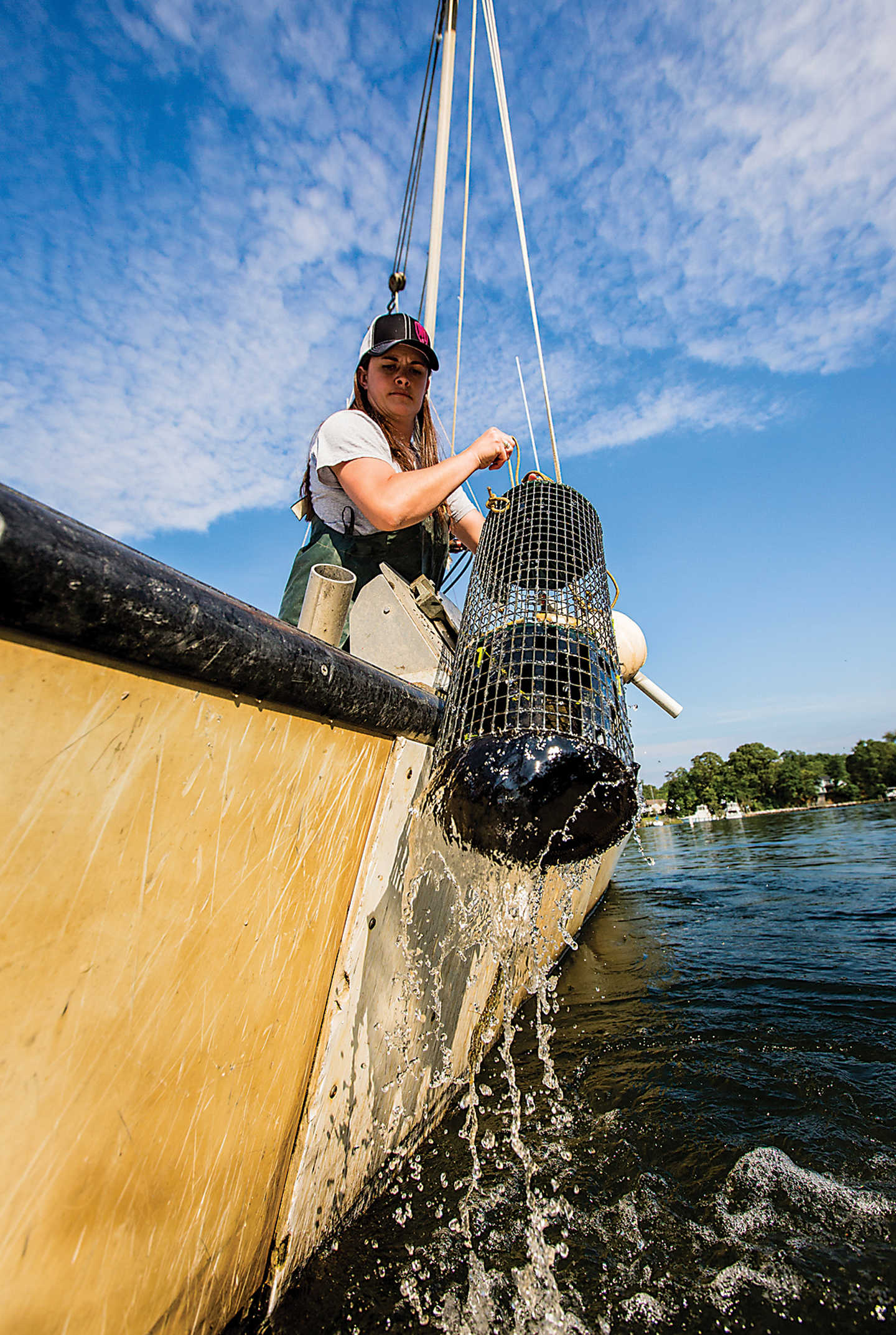 During the slow spring, Rachel kills time before the crab and rockfish seasons by potting for eel, which will be sold to local buyers to be marketed as food and bait. "You can't just say I'm going to be an oysterman, or a fisherman, or a crabber," she says. "You have to do a little everything to get by."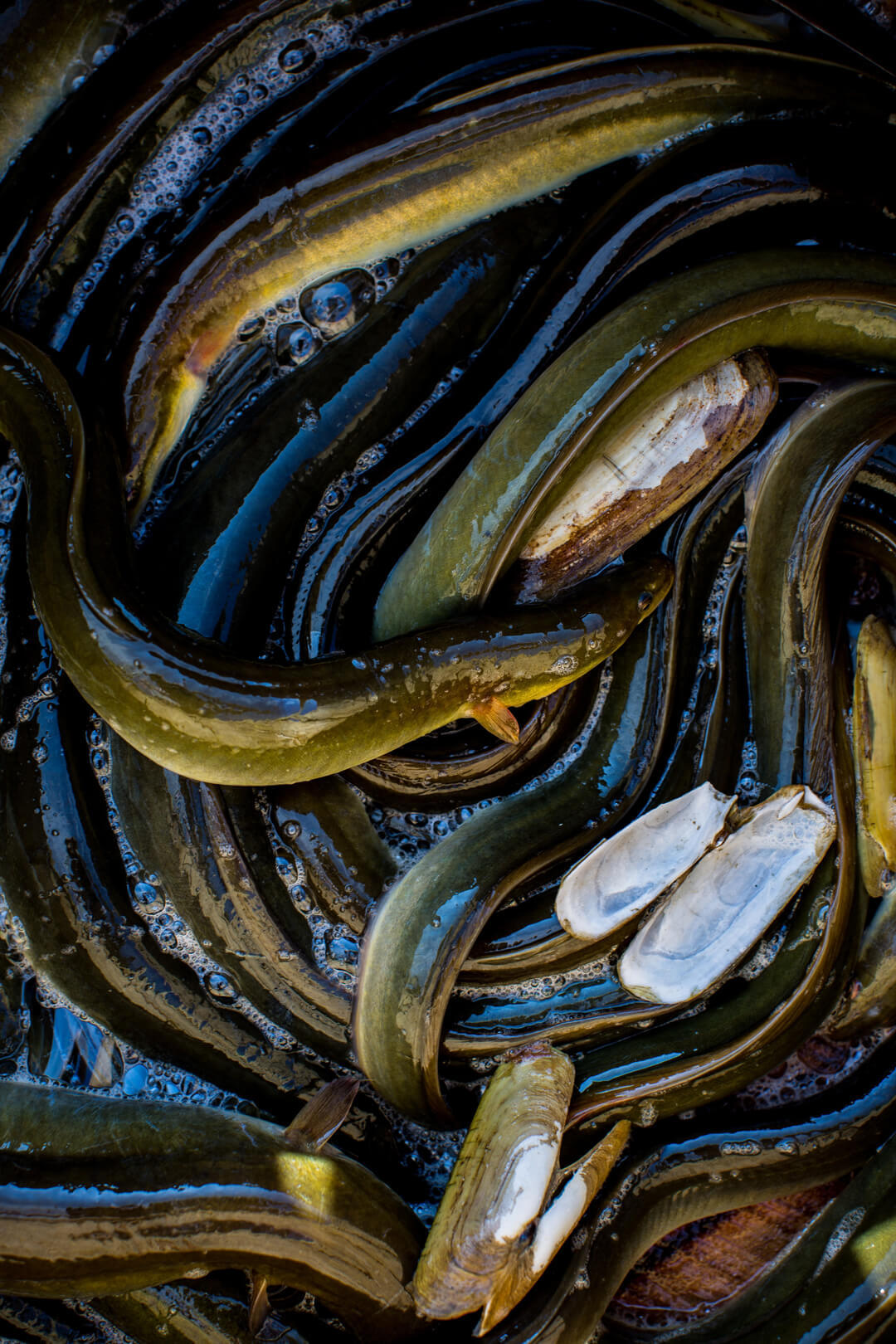 Razor clams are used as bait for the eel. Before long, the snake-like fish transforms the onlooker's opinion from squeamish fear to total fascination.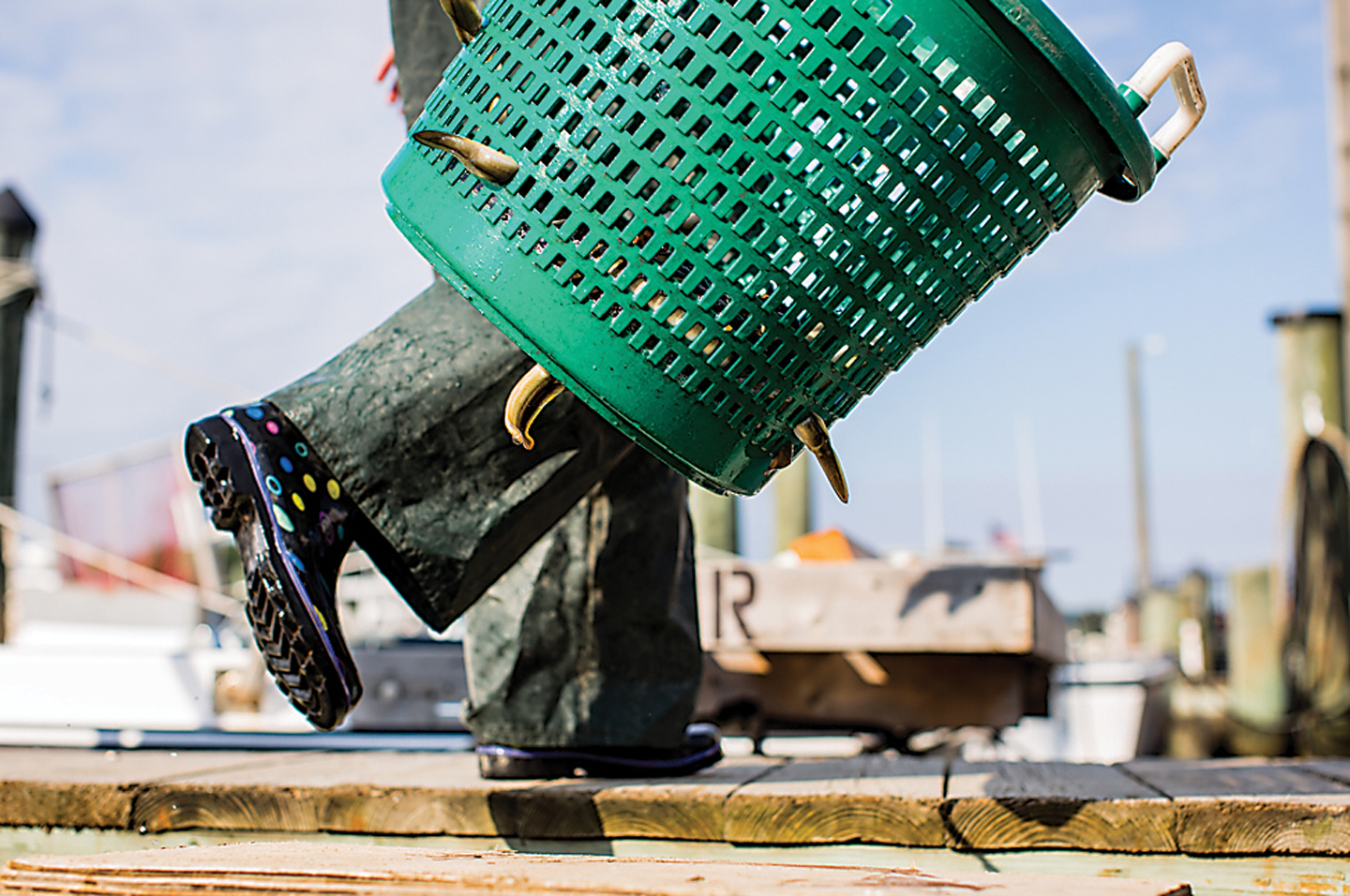 Slippery and fast, the eels attempt a last escape.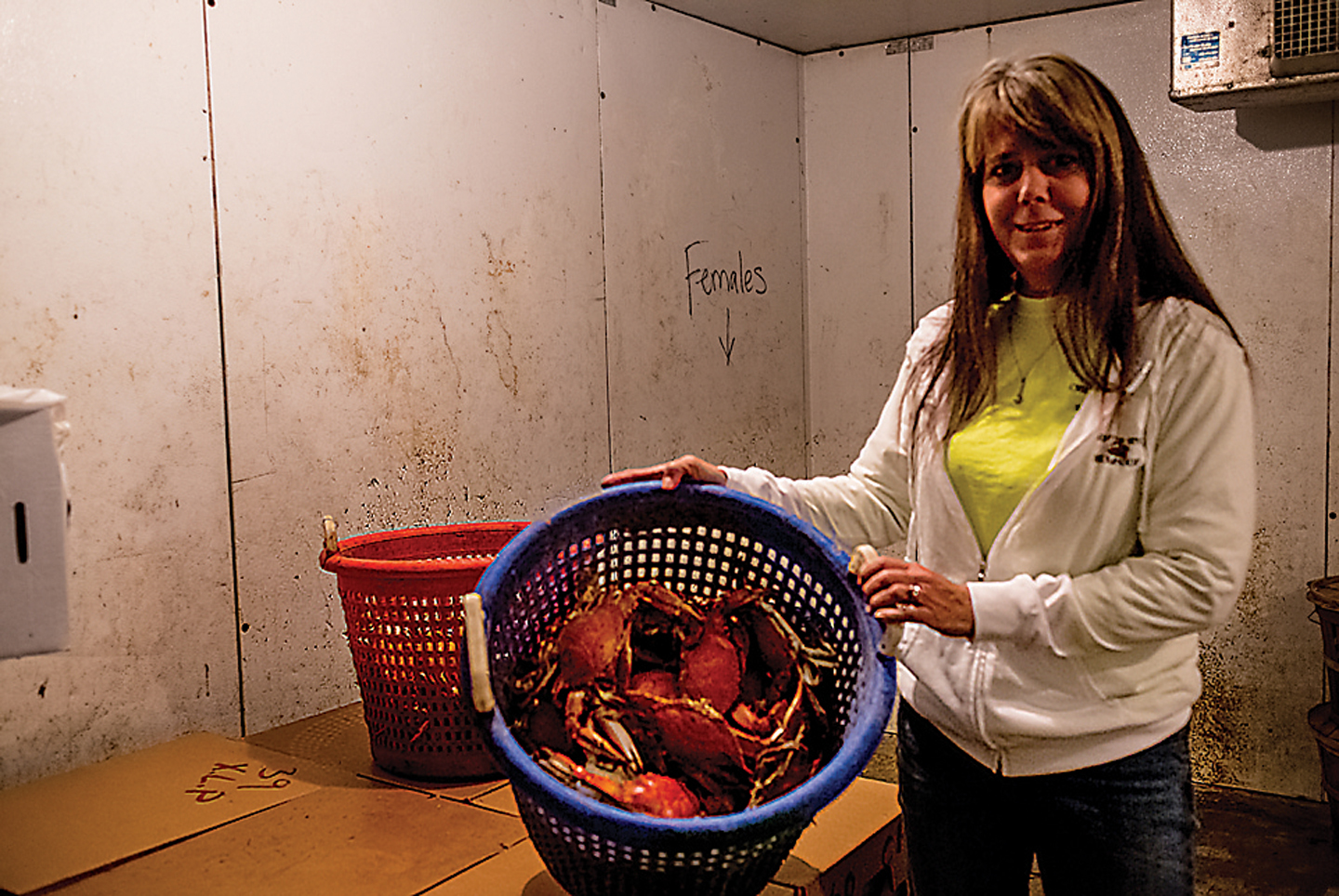 SHEILA STRONG LINGERMAN
48, FORMER WATERWOMAN // ROCK HALL
After a lifetime on the water, Sheila now works on land, shedding soft crabs and running a successful seafood shop out of her backyard with her husband, Chris. "If we didn't have this place," she says of Chester River Seafood, "I'd want to be out there."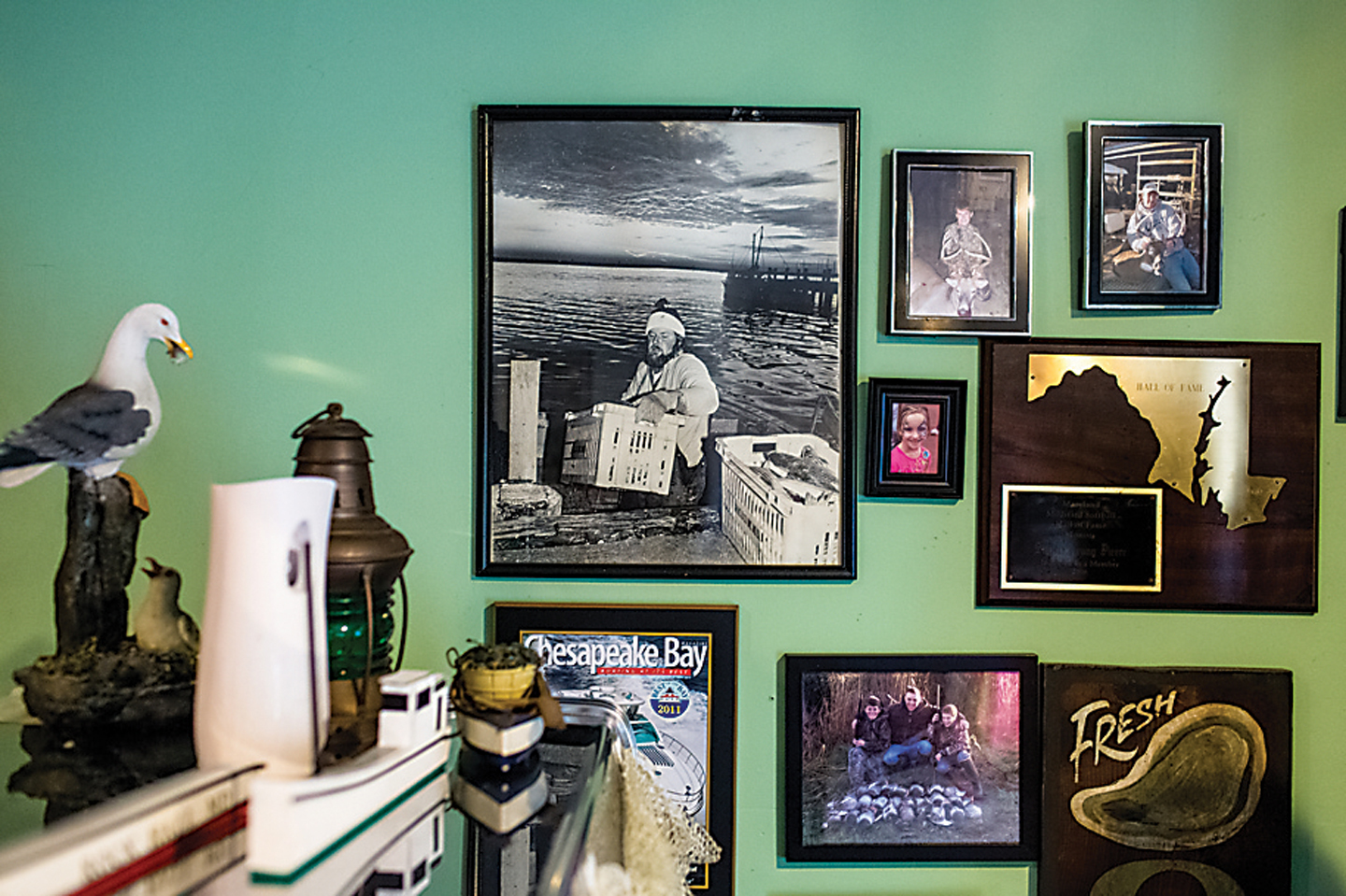 Inside, old photographs hang above a large cooler case, filled with soft crabs, oysters, and all kinds of fish.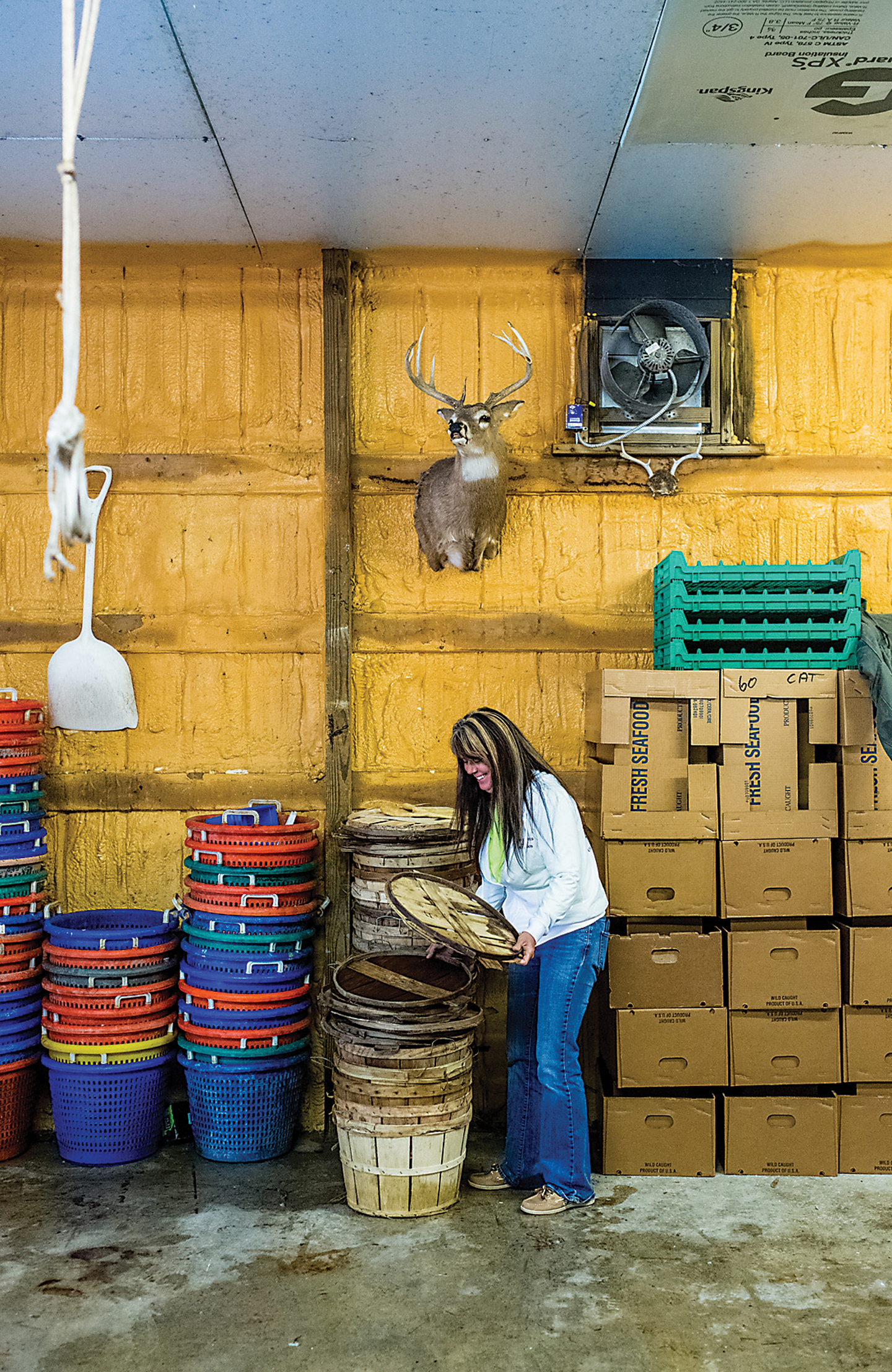 As they get ready for crab season, the smell of Old Bay hangs in the air.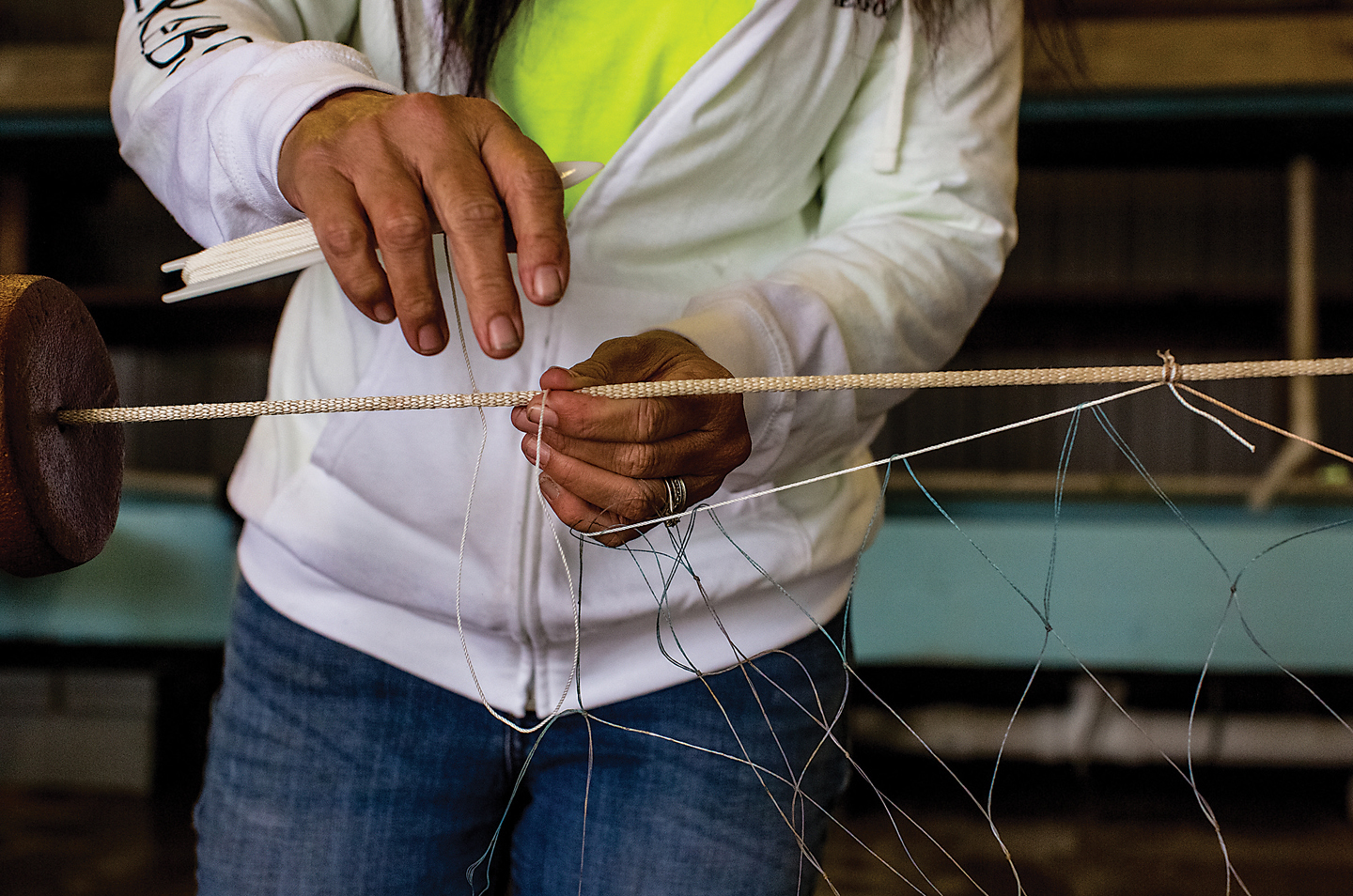 In the meantime, Sheila partakes in an age-old piece of shore work: gearing net, which will then be used in the state's annual spring rockfish survey. She is one of the last women in Rock Hall who knows how to do the dying trade.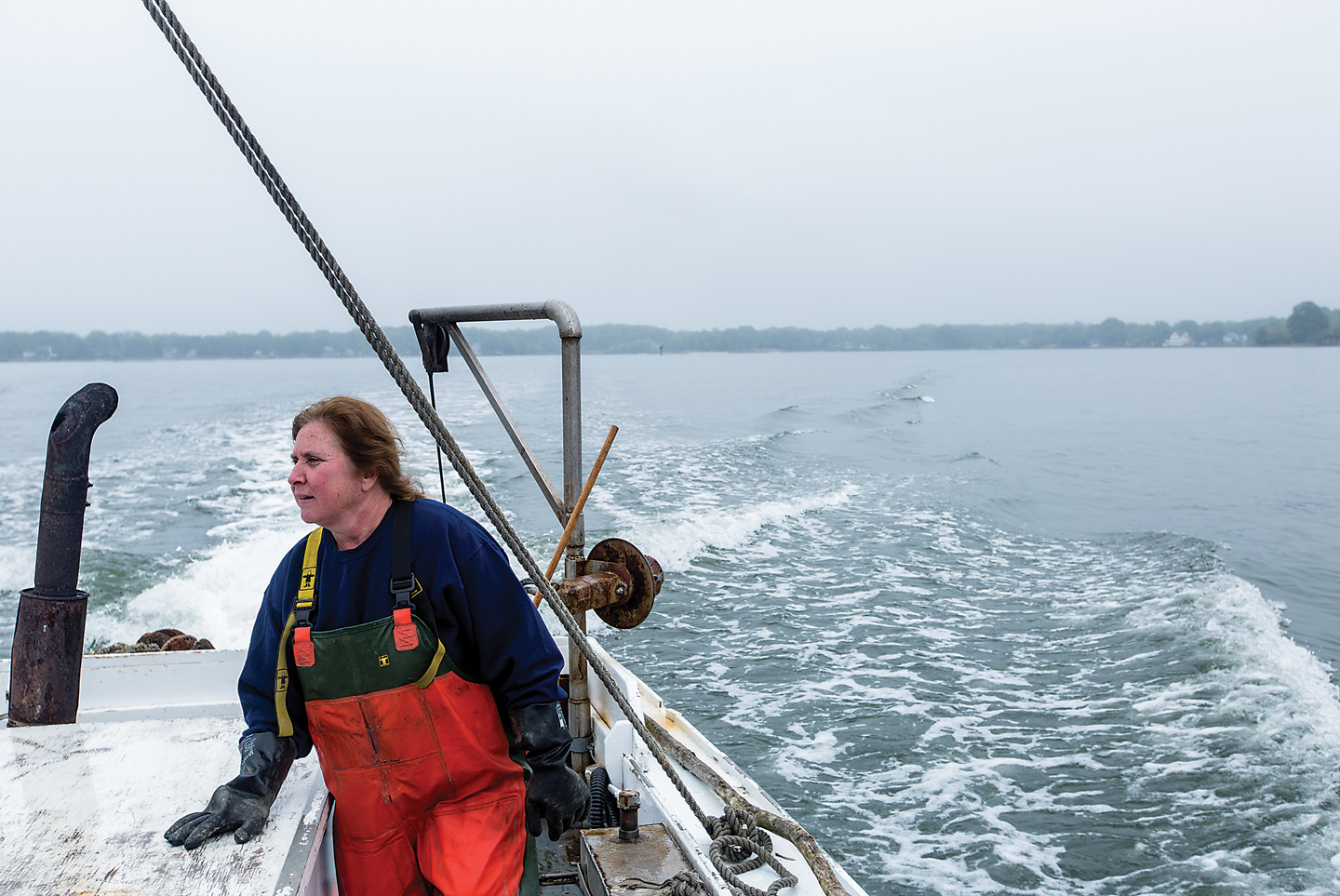 TERRY WITT
56, WATERWOMAN // SHADY SIDE
Both born into multigeneration families of watermen, Terry and her husband, Rob, are now embarking on a new tradition with their growing oyster farm. Year-round, they cultivate "spat-on-shell," meaning oysters grown on river bottom on top of other shell. Up and down the West River, not far south of Annapolis, the couple moves along its leases, with Rob working the power dredge and Terry culling the catch.
"I always said I was not going to marry a waterman," she quips. "Talk about eating words." "And not only did you do that," Rob says with a laugh, "but now you are one!"
caption needed 46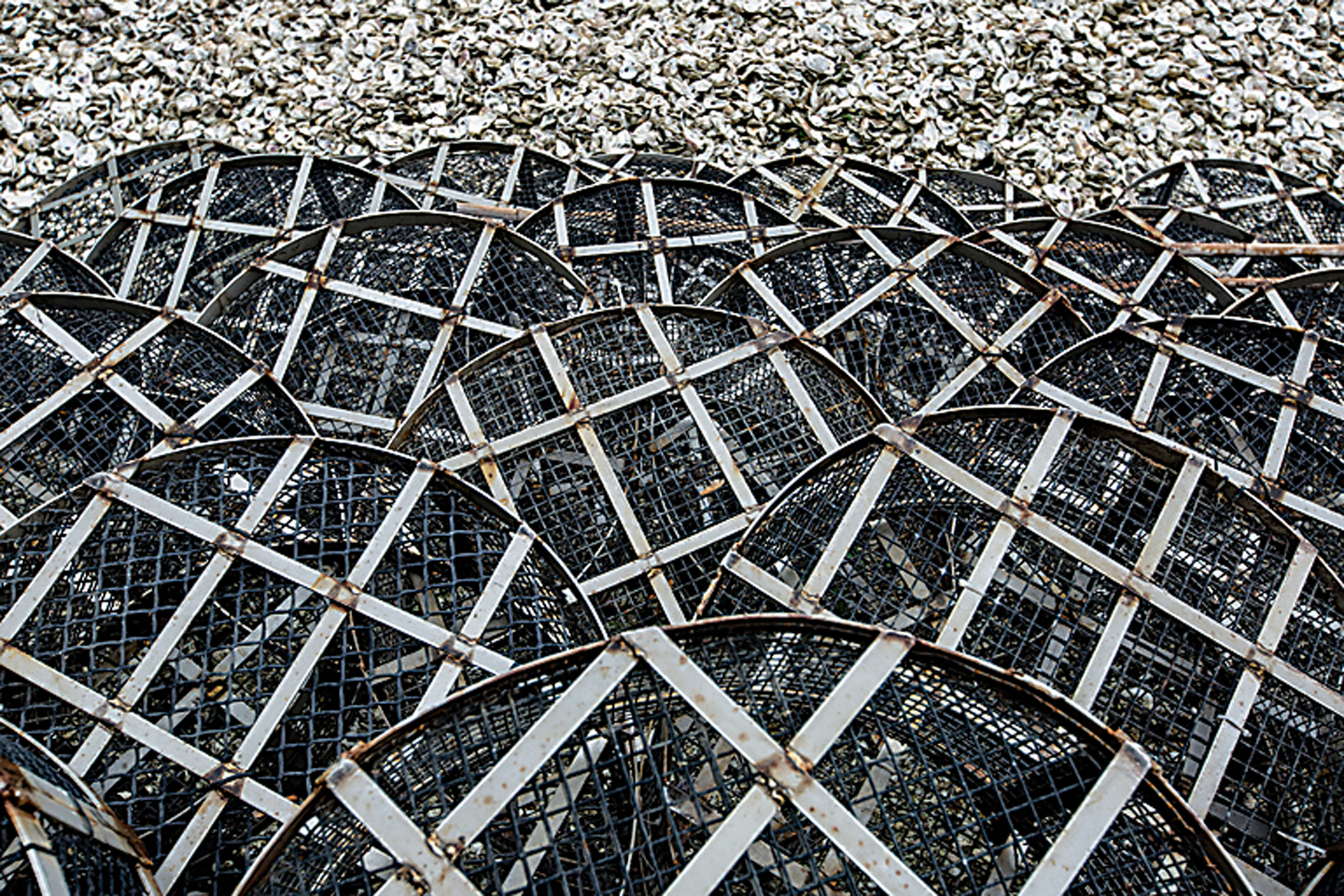 Stacks of cages line their front yard, ready to carry spat, or baby oysters, to the river bottom of their oyster farm. Year-round, they cultivate "spat-on-shell," meaning oysters that are grown on top of other shell.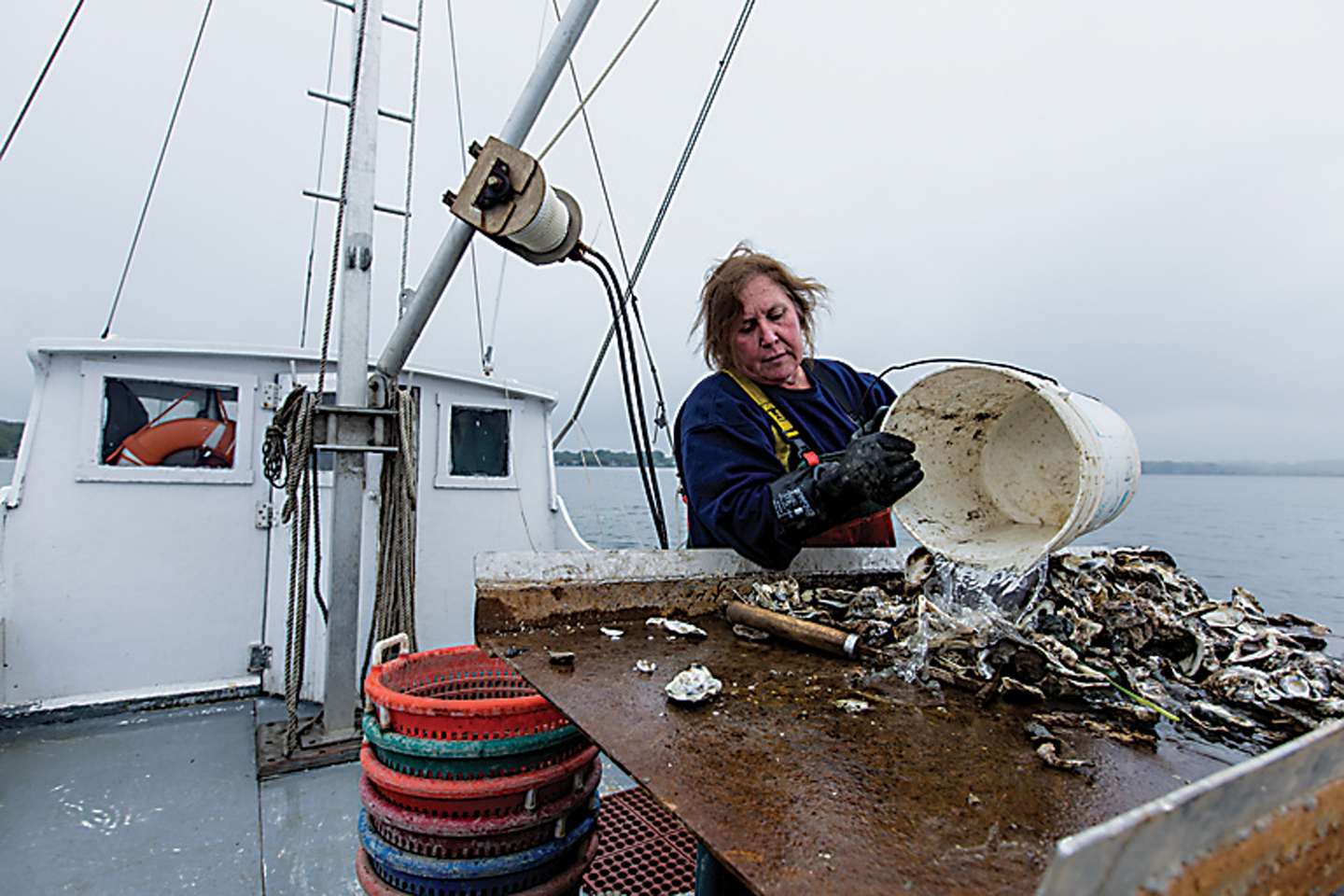 Up and down the West River, not far south of Annapolis, the couple moves along its leases, with Rob working the power dredge and Terry culling the catch.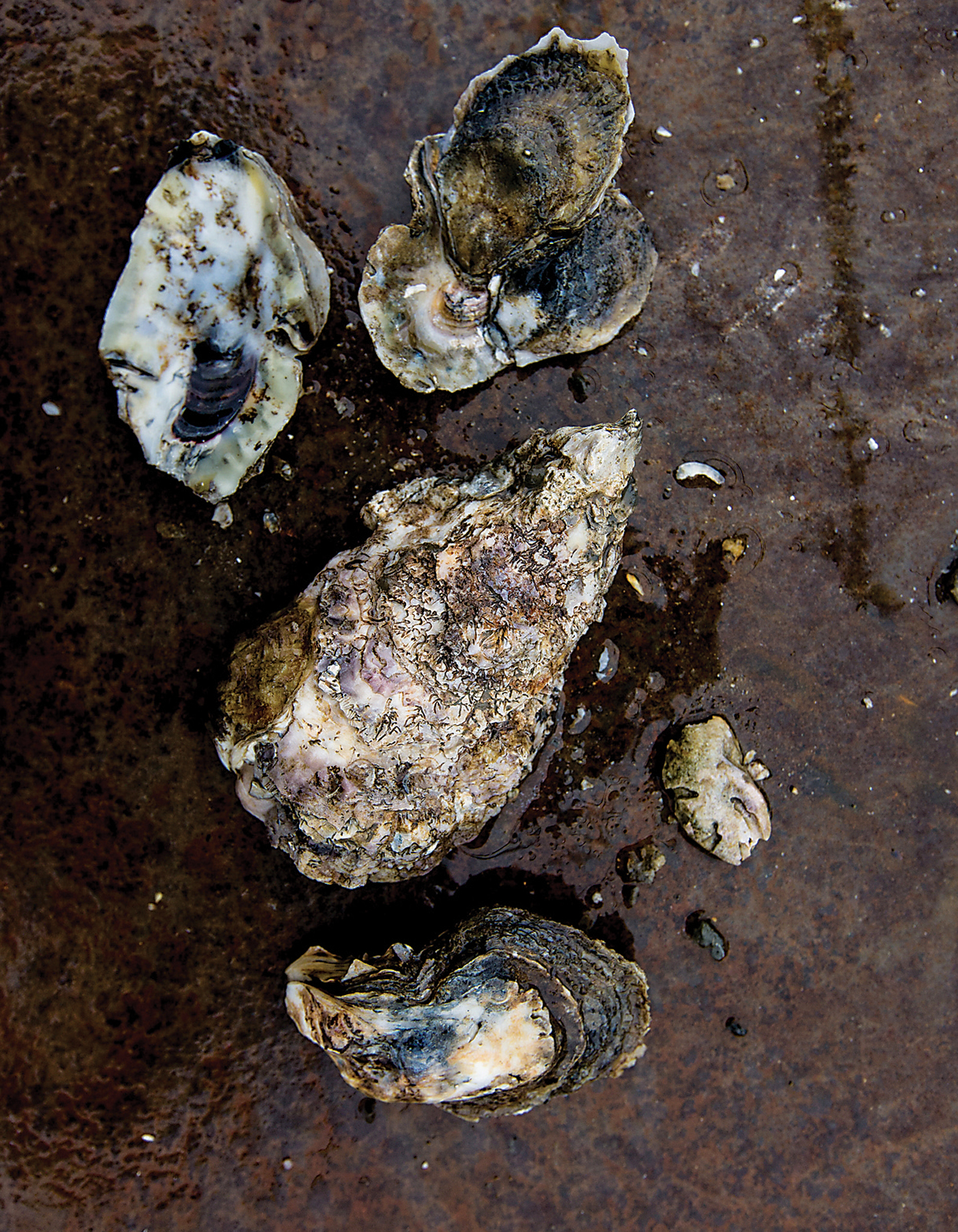 A sign of hope for the Chesapeake Bay, as small oysters grow larger and new oysters attach to old shell.