A handful of heroines work the Chesapeake Bay.
By Lydia Woolever. Photography by Justin Tsucalas.
---

Left to right, right to left, she moves her feet to a rhythm that became second nature long ago. Left to right, right to left, her worn-out boots do a waltz on the breaking waves.
The warm orange glow of an early-spring sunrise slowly spreads across her face, as little beads of sweat begin to break along her brow.
Riding her boat on the mouth of the Patuxent River, just off Solomons Island on the southwest fringes of Maryland's Chesapeake Bay, Crystal Jordan's fancy footwork is pushing the pedals of a patent tong. With each tap of her toes, she moves the cumbersome piece of machinery, swinging it over the side of the boat, splashing it into the water below, watching it dive down to the bottom until the line goes slack. With a pivot of her heels, the hydraulic claw digs up a heaping clump of oyster bed, which rises back to the surface and cascades onto the culling board like wet pocket change on a hardwood floor.
Within seconds, she assesses her treasure trove—discarding dead oysters and golf balls, saving old Coca-Cola bottles and medicine jars, finding the occasional arrowhead and shark's tooth, which she hands to Little Kevin, her right-hand man and 3-and-a-half-year-old son. With a keen eye, she spies the market-size oysters—three inches from hinge to bill—and with a stone-skipping flick of her wrist, throws the little ones back into the bay.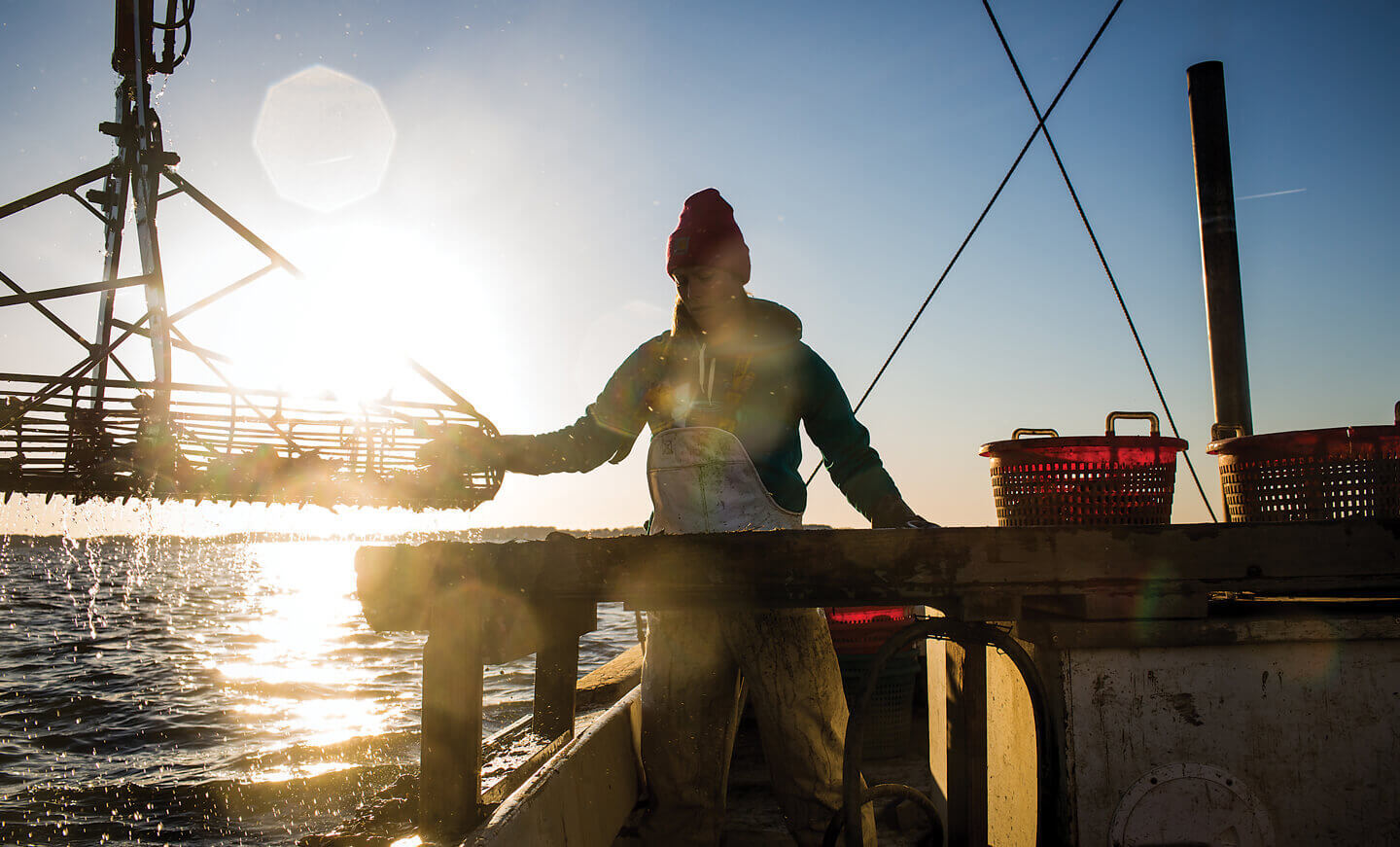 Crystal guides a patent tong onto her boat's culling board; baby crabs come with the day's catch.
At 30 years old, Crystal Jordan is part of a profession that has been all but overlooked. She is a waterwoman, joining the ranks of the legendary watermen whose weathered faces have long been associated with working the Chesapeake Bay.
For those born and raised on these spits of tidewater, tradition is religion, and a woman's role has long been on land—tending to the children, keeping up the kitchen, taking care of the house. "It's a cliche, but people thought a woman's place was in the home until not that many years ago," says Richard Dodds, curator of maritime history at the Calvert Marine Museum. "It was the norm, it just was what it was, and so the general expectation was that it wasn't the proper role for women to be out there working." Some even thought it was bad luck—though, ironically, boats are often named after watermen's mothers, daughters, and wives.
Those women were also commonly tasked with the no-less laborious duties of shore work: gearing net, gathering bait, carrying the catch to buyers. As charter boat captain Chuckie Clark of Rock Hall once put it, "Behind every good waterman, there's an even better woman." When the opportunities arose, some also famously manned the crab-picking houses, and others, before that, beaconed the great lighthouses along the bay.
"In fishing communities like Hoopers Island, Crisfield, and Cambridge, the wives would get up around three or four in the morning to fix their husband's breakfast, and then, in the evenings, they would meet them at the dock to help clean up and prep for the next day," says Bill Brooks, fourth-generation owner of J.M. Clayton Seafood Company.
"Women have always played a supportive role," adds Don Parks, lifelong Eastern Shore resident and author of Chesapeake Women. "Just as the men, they never saw it as a big deal. It was a means to make a living. They've done it for generations. It's just been the way of life."
But by the middle of the 20th century, after World War II and women's entrance into the workforce, some ladies began to break with tradition and work the water themselves, as captured by famed Sun photographer A. Aubrey Bodine. Most stood beside their fathers, brothers, and husbands, but in the decades that followed, a small number even went out alone.
Waterwomen have always been a rare breed—a pearl in an oyster shell, a whale sighting in the bay—but start asking around these tiny shoreside towns and you soon find a web of working women, as interwoven and intricate as our estuary itself. "Women have been fishing on the bay for two generations and more," wrote Lila Line in her 1982 Waterwomen, where she notes they then held 13 of 2,320 commercial fishing licenses in the state. At last count, some 34 years later, they now hold 566 out of 6,758.
"I wish I could tell you more, but documentation and evidence are hard to come by," concedes Dodds. "But I can tell you there haven't been many women working the water."
"This has always been an exception," says Pete Lesher, chief curator at the Chesapeake Bay Maritime Museum, "but the absence of evidence is not proof that it didn't or doesn't exist."