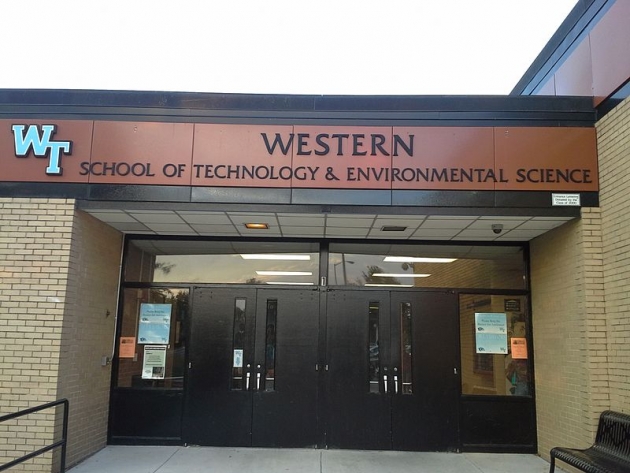 Wikipedia Commons
Congrats to Catonsville's Western School of Technology and Environmental Science.
The Maryland State Department of Education
announced today that the Baltimore County high school is among six schools selected as a 2014 Maryland Blue Ribbon School.
Schools earning Blue Ribbon recognition this year—based on state and national requirements for high achievement and significant improvement—include Western,
Linthicum Elementary School in Anne Arundel County, Cashell Elementary School in Rockville, Robert Goddard French Immersion Elementary/Middle School in Prince George's County, Frost Elementary School in Allegany County, and Northern Garrett High School in Garrett County.
A magnet school focusing on cutting-edge technological career and experiental science programs,
Western has been recognized previously as a top performing high school by the Washington Post, US News & World Report, and Newsweek.
Western joins Dulaney, Eastern Tech, and Towson as Baltimore County Blue Ribbon high schools in recent years. Overall, 20 Baltimore County public schools have earned Maryland Blue Ribbon recognition with 16 of those going on to earn national Blue Ribbons as well, according to a Baltimore County Public Schools (BCPS) press release.
"Earning Maryland Blue Ribbon status reinforces the many positive things that are taking place at our school," Western Principal Murray Parker said in a statement. "I am extremely proud of this accomplishment because it rests on the collaborative efforts of our students, parents, faculty and staff. Congratulations to all Western Tech community members."
Western is now a candidate for a national Blue Ribbon designation, with those schools to be announced by the U.S. Department of Education in September 2014. Nice work Wolverines!