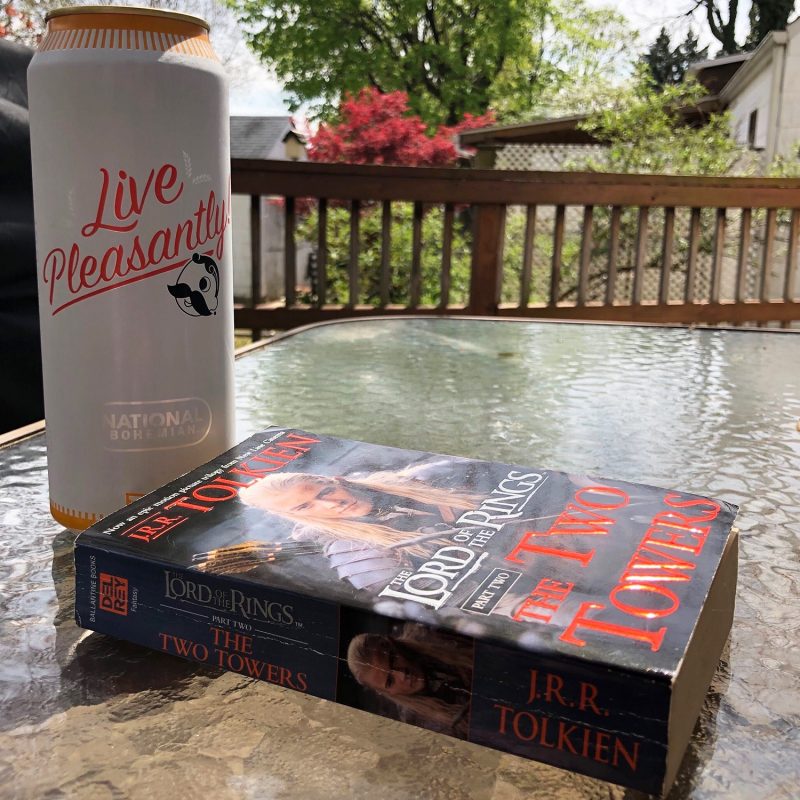 Photo by Deb Best
As we roll through week 11 (yes, you read that correctly) of quarantine, you've probably blown through a good chunk of your watchlist, read a stack of books you never thought you'd have time to crack open, or picked up a new hobby or two. If you're in need of some more inspiration while we await the next phase of Governor Hogan's reopening plan, here are a few ways that Baltimore staffers have been passing the time at home:
Deborah Best, Advertising Operations Manager
In addition to enjoying the extra time with my baby son, this has become a time to revisit old epics! My husband and I have rewatched (among other things) the first six Star Wars movies, and I'm two-thirds of the way through a re-read of The Lord of The Rings trilogy. It's somehow fitting and comforting to visit tumultuous times in imaginary lands.
Amanda Brown, Director of Marketing and Audience Development
I started making bracelets and keychains inspired by my son, Harrison, who a few months ago asked to make rainbow bracelets for our whole family. Friends then started asking for them, so I bought more sophisticated beads and, at night when the kids went to sleep, I started playing around with things (glass of wine in tow).
It quickly became something I looked forward to doing every night—it's helped me to wind down, relax, use my creative energy, and most of all, it's been an amazing distraction. My talented husband kindly said, "I'm going to take pictures of a bunch of these bracelets for you, you should start an Instagram account." And that I did! I've been using a platform we used a bit at the magazine to schedule posts, did some hashtag research, and have been getting orders from both friends and family I know, as well as those I don't. Many are ordering for gifts and sending directly to loved ones as an "I miss you" gesture.
I've really enjoyed bringing some bright colors, fun, and smiles to people during this unbelievable challenging time.
Ron Cassie, Senior Editor
In lieu of actual baseball, I started reading the old daily game accounts of the 1970 Baltimore Orioles in April. Right now, they're in first place in the AL East and Boog Powell looks like he could win the MVP award. Ain't the beer cold? Can't wait to see how the rest of the season turns out.
Lauren Cohen, Digital Senior Editor
After 11 weeks I finally finished all seven seasons (plus the Netflix mini-series) of Gilmore Girls. The famous mother-daughter banter has provided many much-needed laughs throughout the lockdown. I'm also enjoying going on walks, getting out of my comfort zone in the kitchen (cocktails included!), and hanging around our backyard fire pit.
Emily Kunisch, Marketing Coordinator
I've been diving into some great books—like Valentine and one of my favorites, Cat's Cradle. I'm also in the midst of an A24 movie marathon, watching some greats like Midsommar, Lighthouse, and Hereditary (with just 88 movies left to watch!)
Angeline Leong, Assistant Art Director
I've been a bit hooked on River Monsters, pun intended! Nature is wild. Pun also intended. Besides that: I've been cooking quite a bit more since I'm quarantining with a couple of friends. Learning new recipes has been fun—I even made (and tried) gnocchi for the first time a couple of weeks ago.
Jane Marion, Food and Dining Editor

With the help of my daughter, Sophia, I have Marie Kondo-ed my closet. I am also re-growing scallions, binge-watching Mad Men and drinking martinis (they go together), and developing a huge crush on Chris Cuomo. It's an odd assortment of activities that provide escape—and a sense of comfort and control.
Jennifer Marsh, Senior Account Executive
I've been eating lots of cheese, talking to my cats like they are people, and learning how to TikTok! Watch out!
Linda Mileto, Integrated Advertising Executive
I'm a little late to the party but, I binge-watched The Handmaid's Tale and loved it! I've also been playing H-O-R-S-E outside and spending a lot of time in the garden, as well.
Zach Papesh, Finance Manager
During quarantine, I've been binge-listening to Audible audio books. Specifically, the Jack Reacher series by Lee Child and the Mitch Rapp series by Vince Flynn.
Stephanie Shapiro, Director of Advertising

I've watched Unorthodox, Ozark, Hollywood, and Dead to Me all on Netflix. And I've been playing Hearts with cards.
Michael Teitelbaum, President
I take a one-hour walk every day to separate the work day from my evening. Otherwise they just blur together. Besides that, I'm doing a lot of Facetiming/Zooming with my brand new grandbabies.
Max Weiss, Editor-in-Chief
Like everyone else, I've been watching lots of TV during the dog days of quarantine. My favorite, so far, was Mindy Kaling's Never Have I Ever (Netflix), about Devi (Maitreyi Ramakrishnan), a brainy Indian-American teenager grieving the death of her father, crushing on a popular boy, bonding with (and fighting with) her two best friends, and clashing with her strict mother.
Another one I loved was also on Netflix: Unorthodox, which takes you deep inside Brooklyn's cloistered Hasidic Jewish community. We follow Esther (Shira Haas), who tries to escape this oppressive community. It's exciting, involving, and manages to show compassion for all involved. Then there's Normal People, on Hulu, an adapation of Sally Rooney's great novel about star-crossed lovers. The two young actors are amazing, they create an intimacy that almost makes us feel like voyeurs.
The final show I've been digging is Hulu's Mrs. America, about the fight for the Equal Rights Amendment and emergence of Phyllis Schlafly (a deliciously icy Cate Blanchett), who mobilized an army of housewives to oppose the ERA. Once you get past Rose Byrne's bad wig as Gloria Steinem, it's pretty riveting stuff.
Oh, favorite new musical discovery: King Princess, who writes dreamy, smart, complex pop music.
Lydia Woolever, Senior Editor
The Sunday edition of The New York Times has been a guidebook through these strange times—a constant source of inspiration, from the words to the photography to the special feature sections, and a reminder of the growing importance of the work of newspapers, and magazines. I've also been giving all of the belly rubs to my dog (who doesn't know what he did to deserve this extra time at home together) and taking advantage of spring produce from the farmers market (lots of radishes, garlic scapes, and strawberries these days).