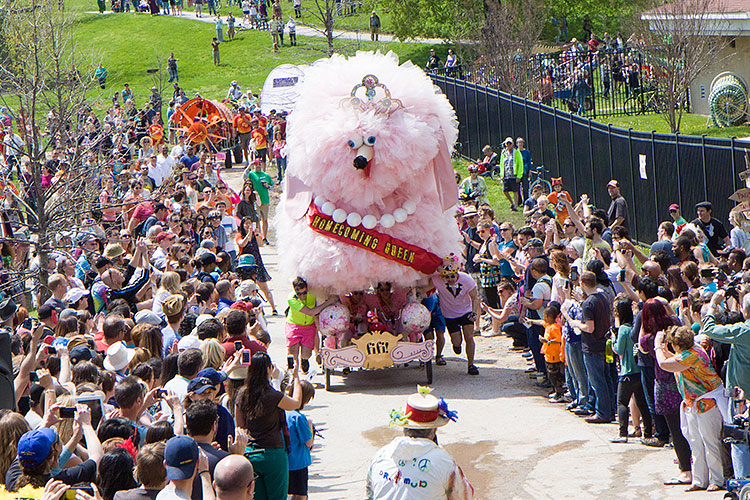 baltimoreyouaremarvelous.blogspot.com
Bicycling literally makes us happier, which we know, because, well, science. For starters, it helps us avoid the stress of driving. But bicycling also boosts happiness levels because it helps us sleep better, improves our skin, strengthens our heart, promotes brain health and gives us more energy, according to researchers.
There are also other reasons, specific to Baltimore, why it's good for our state of mind. Pedaling downtown alongside a 15-foot pink poodle and her friends is bound to make anyone smile, for example, and discovering the city's amazing urban green spaces by bike enables us learn more about our community. Also, the fresh peaches at the Civil War Century are the best thing ever—although you do have to wait 'til September for those.
So with summer here, consider these seven rides our local favorites this month:
June 14: Tour dem Parks, Hon!—13th annual ride connects bicyclists with Carroll, Patterson and Herring Run parks as well as some tucked away gems. There are 14, 25 and 35-mile options, with registration offered online until midnight Thursday or in-person Sunday morning—all in support of Baltimore City parks programming. The event starts early at Druid Hill Park. If you hustle, you can finish and still make it to the next ride on this list.
June 14: American Visionary Arts Museum Kinetic Sculpture Race—free, 17th annual, amphibious art-bike extravaganza kicks off at 11 a.m. and pretty much lasts all day as it hits Federal Hill, Canton and Patterson Park. Join for some or all of the fun. Check the spectator's guide for details.
June 17: Bike Through History Series NCR Trail—this is a guided tour offered for six more successive Wednesdays through July on the Torrey C. Brown Rail Trail, formerly known as the National Central Railroad trail. Each tour, this one starts in Monkton, is led by a Maryland Park Service volunteer and local history expert and tackles about 10 miles on the trail.
June 20: Bikes & Beer—First-time event in Baltimore features a 15-mile ride, starting from Union Craft Brewing in Woodberry, trekking through the city to Heavy Seas Alehouse in Upper Fells Point. Riders will get a chance to taste two new beers at Heavy Seas—as well as down a full pint—before heading back to Union Craft for live music, food trucks, games and prizes. A portion of the proceeds will benefit Bikemore and Bike Maryland.
June 26: Baltimore Bike Party—the last Friday of every month event is always a recreational ride/costume party on wheels. Generally about 12 miles or so, each month there's a different theme—June is "Baltimore Boastin' & Maryland Mania!"—and meet-up begins at 6:30 p.m. at St. Mary's Park. (Below photo courtesy of O'Doherty Photography.)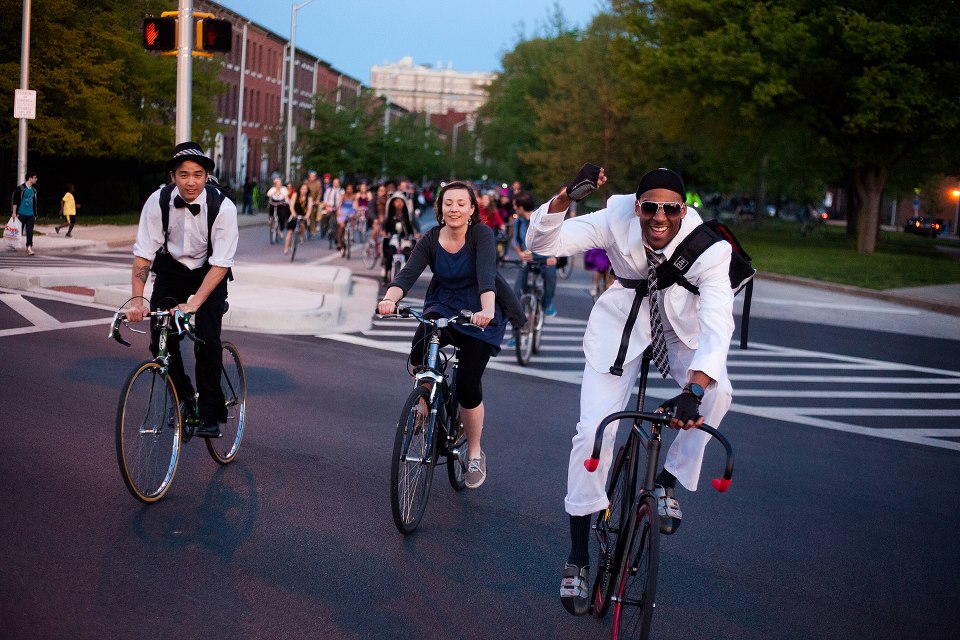 June 27: 45th Annual Flatlands Tour—a non-supported (meaning bring plenty of water and spare tubes), but awesome Baltimore Bicycling Club ride that starts in Chesapeake City in Cecil County and explores much of the Delaware River wetlands. Routes vary from 35, 54, 63 and 77 miles to a full century ride. Just $5 for BBC members and $6 for non-members.
June 27: Two Rivers Bike Ride—opportunity to pedal the gentle rolling hills of Maryland's Eastern Shore while checking out the scenic Corsica and Chester rivers in Queen Anne's County. Multiple distances offered, with the longest route leading through Tuckahoe State Park. This isn't far from Baltimore, about 60 miles to the start in Centreville.
*We also want to note that there are a number of informal, but regular Baltimore group rides, including the women-only Crank Mavens Monday Night Riders, the Thursday Night Indeterminately Named Baltimore Social Bike Rides, and Fun On Bikes! Weekend Distance Rides.
*Nearly all local bike shops organize group rides of one sort or another, too. The Biking in B-more meetup.com group is another good place to find rides, especially recreational-paced rides.
Just pedal.