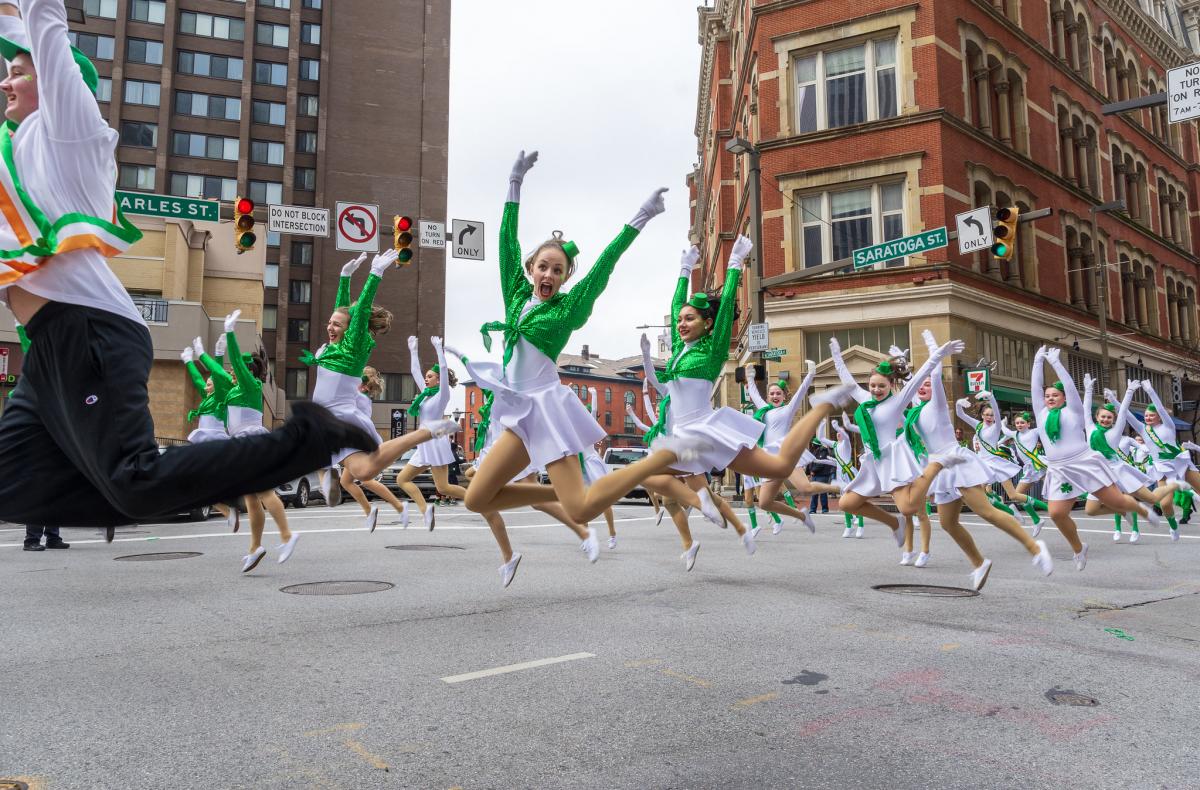 —Photography by Chuck Patch via Flickr Creative Commons
Charm City transforms into Emerald City every March—no, not because a little girl with ruby slippers follows a yellow brick road here—but because the area's spirited St. Patrick's Day shenanigans begin leading up to March 17. Whether you're embracing your inner leprechaun this year, want to share in some Irish traditions, or are just in it for the beer—also a tradition—here are some events that might have you feeling lucky as we approach the holiday.
Bar Blarney
3/10-17: An Poitin Stil
This Irish hangout in Timonium has announced eight days of Irish-themed events and celebrations in honor of St. Paddy's. More information will be posted on their Facebook page as the holiday nears. 2323 York Road, Mar. 10-17. 410-560-7900.
3/12: Federal Hill Irish Stroll
Visit some of Federal Hill's fan-favorites to celebrate St. Paddy's the right way: with beer. Sip on $3.50 Bud Light and Michelob Ultra, as well as $4.50 White Claws and Hoop Teas. Irish eats, free souvenir koozies, and loads of green beads can be found at Mother's Grille, Banditos, Pub Dog, and more. Registration at top of E. Cross Street and Mothers Grille parking lot, Mar. 12, 1-9 p.m., $12-20.
3/12: Power Plant Live's St. Patrick's Day Bar Crawl
Lucky you—this downtown bar district wants to buy your first drink. Tickets include access to all venues, live entertainment, and exclusive themed drink specials. Mosaic Nightclub and Lounge, PBR Baltimore, Angels Rock Bar, and more are participating. 34 Market Place, Mar. 12, 12 p.m., $14.95 or $9.95 Early bird. 410-727-5483.
3/12-19: Looney's Pub
Looney's is chock full of Irish appreciation this year, hosting three different events. Part one of their St. Patrick's Day bash with Social Drinking kicks off at the Perry Hall location on Mar. 12 at 6 p.m. Then, on the day of the holiday, rock out with The ShamRogues, a Baltimore Irish Party band, in Bel Air at 11 a.m. and Perry Hall at 5 p.m. Part two of the bash resumes at the Bel Air location on Mar. 19 at 6 p.m. Multiple locations including 8706 Bel Air Road, Mar. 12-19, 443-725-7324.
3/12: Baltimore Shamrock Crawl in Fells Point
Raise a glass with your crew as you enjoy cover-free access to more than 10 of the best bars in Fells, such as Fells Point Tavern, The Point, Barley's Backyard, and The Rockwell. Tickets include a refillable signature Shamrock mug, drink specials, a raffle entry for prizes, and live DJs. Sip specialty drinks like $3 Miller Lites and $4 Shamrock shots. Multiple locations including 1738 Thames St., Mar. 12, 1-9 p.m., $20 online, $40 day of.
3/12, 3/17, and 3/19: St. Patty's Pub Crawl
Drink and be merry in the name of St. Patrick with Luckie's Tavern and various venues. Tickets include wristbands for entry into participating bars, a digital pub crawl map and exclusive drink specials. 10 Market Place, Mar. 12, 17, 19, 5 p.m. $14.99.
3/17: Hard Rock Cafe
This world-famous eatery will be overflowing with St. Patty's spirit this year. From 1-4 p.m., a live band will be performing. Enjoy the live music while sipping on their all-day drink special called The Mule. 601 E Pratt St., Mar. 17, 410-347-7625.
3/17-20: CVP's St. Patrick's Day and Weekend
All weekend long, this Towson stalwart will feature live music, yummy holiday food, and drink specials. Look out for $5.17 Jameson Crushes, Car Bombs, and Irish Cold Brews, as well as $3.17 Bud and Bud Light, White Claws, Jameson Orange, and Guinness pints. 19 W. Pennsylvania Ave., Mar. 17-20, 410-821-8155.

3/17: The Canton Local
Head to this Canton watering hole to enjoy brunch with traditional Irish staples, drink specials, indoor and outdoor bar, giveaways, and a "Whiskey Wheel" showcasing their selection of over 15 Irish whiskeys. 801 South Decker Ave., Mar. 17, 8 a.m – 11 p.m., 667-212-5888.
3/17 and 3/19: Delia Foley's Sixth Annual St. Paddy's Party
Naturally, this South Baltimore pub is hosting two days of festivities. St. Patrick's Day at Foley's will include all-day drink specials and live music. The following Saturday, the pub's annual Charles Street block party will return with four live bands, four bars, Guinness on draft, and a Crush station featuring icy Jameson and Absolut drinks. There will be a $10 cover on Saturday, which includes your wristband and a commemorative koozie for the first 500 guests. 1439 South Charles Street, Mar. 17 and Mar. 19, 443-682-9141.
3/19: Kegs and Eggs Rally 2022
If you didn't drink at least one green beer, did you even celebrate St. Paddy's? To make sure you celebrate accordingly, Power Plant Live has you covered with another event full of Irish craic. Tickets include five drink vouchers for Angry Orchard, Blue Moon, Leinenkugel's, Miller Lite, and Vizzy products, as well as one food voucher for a breakfast sandwich. Venues include Underground Pizza Company, Kraken Axes, Luckie's Tavern, and more. Expect DJs, games, confetti cannons, green beer, and festive inflatables to boot. 34 Market Place, Mar. 19, 11 a.m. – 4 p.m., $40.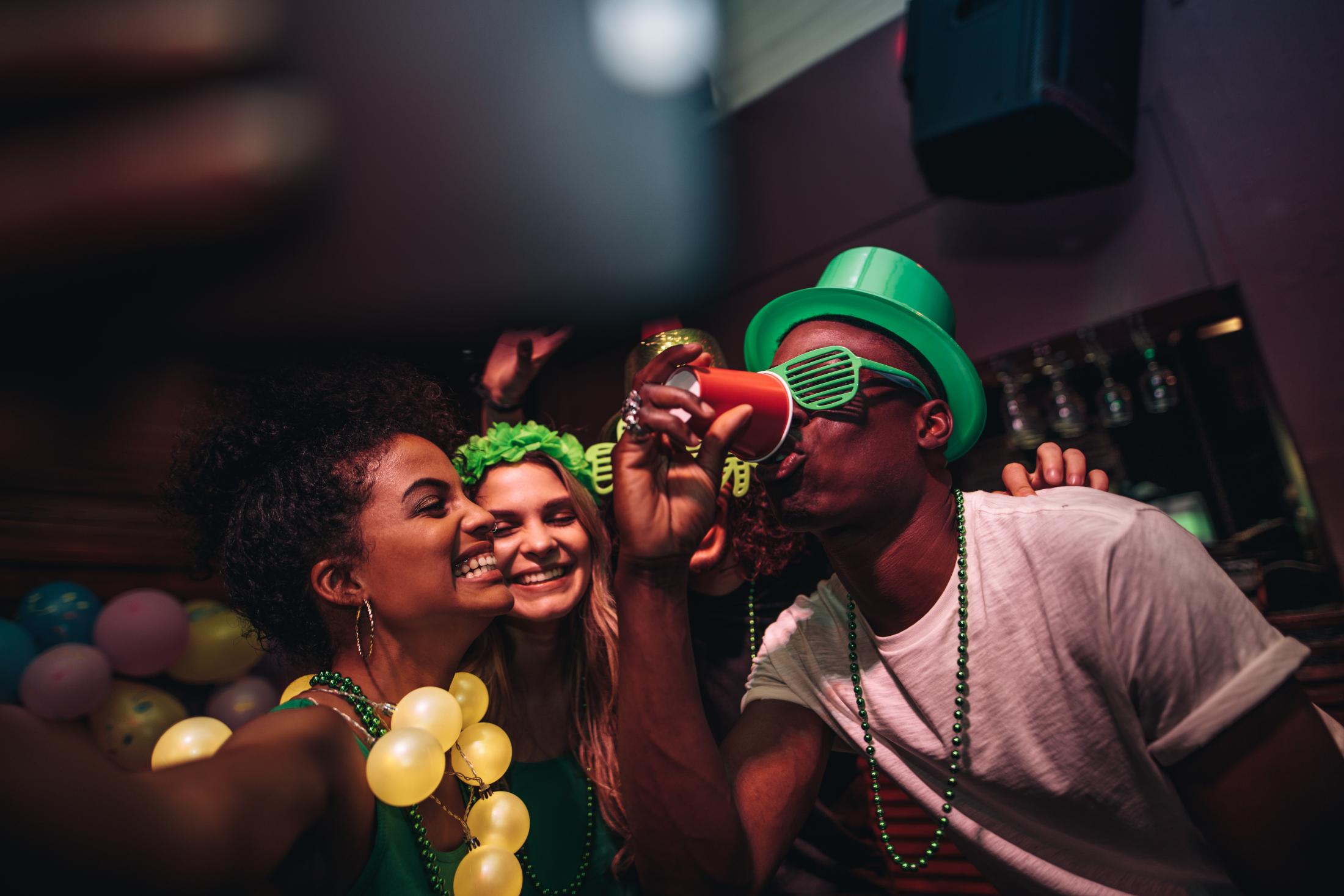 Gigs to Make You Jig

3/12 and 3/17: Claddagh Pub's 27th Annual Meet in the Street
Claddagh Pub is once again filling the Canton's O'Donnell Square with the sounds of music groups from across the East Coast, such as Love Seed Mama Jump, Kristen and The Noise, Crushing Day, and Doc Marten and The Flannels. Rain or shine, this show will go on beneath Claddagh's outdoor pop-up tents. 2918 O'Donnell St., Mar. 12 and Mar. 17. 410-522-4220. Free.
3/12: Celtic Woman
The Hippodrome presents Grammy-nominated Celtic Woman, an all-female Irish group, as part of their country-wide tour for their new album, Postcards from Ireland. Honor Irish music and culture through the silvery harmonies of the ensemble. 12 N Eutaw St., Mar. 12, 7-10 p.m. Tickets start at $50.
3/12: Knollwood Association's Celebration in Towson
Be delighted by the Irish tunes of Laura Byrne's flute. The Baltimore-based Byrne has performed throughout North America and Ireland. Eats provided by pizza parlor Well Crafted Kitchen will be on hand at the event. Weatherbee and Fairway, Mar. 12, 1 p.m. Free.

3/17: St. Patrick's Day with O'Malley's March
Stomp your feet to the melodies of this American Irish folk rock band, fronted by our own former mayor Martin O'Malley, at Zen West. Remember to wear green to avoid getting pinched. 5916 York Road, Mar. 17, 7-10 p.m.
3/17: Slim Eddy at the Cat's Eye Pub
Get your green on and at this Fells Point bar to see Slim Eddy, a local rock band, perform while indulging in drinks and delicious food off of the pub's menu. 1730 Thames St., Mar. 17, 9:30 p.m., 410-276-9866.
3/19: Racers' Cafe in Parkville
If you're looking to celebrate in the county, all-day holiday specials and live music are in store at this craft beer hub in Parkville. Whiskey Train Duo, a Maryland acoustic band, takes the stage at 7 p.m. Take advantage of $7 Irish mules and Irish Whiskey Crushes, $6 car bombs and Jameson orange bombs, $4 Smithwicks and Guinness drafts, $5 green tea shots, $3 Guinness Blonde drafts, and $2 domestic cans. 7732 Harford Road, Mar. 19, 7 p.m., 410-665-6000.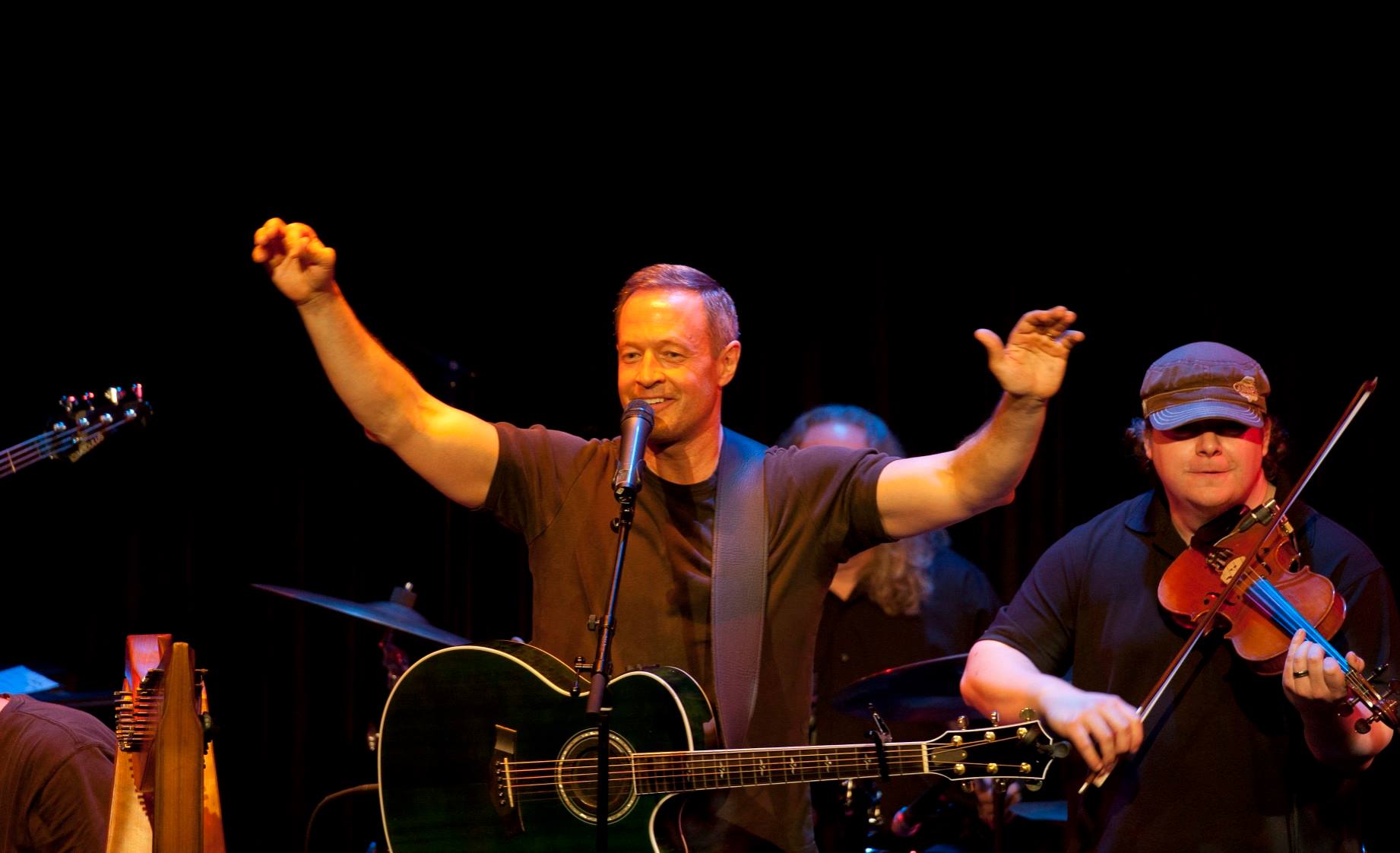 Outdoor Festivities
3/11: Team Training Party with Anytime Fitness
Anytime Fitness in Timonium wants to get you up and moving on St. Patrick's Day. Members and non members are welcome to come and shake their shamrocks, but must be 18 or older and sign up in advance. Prizes for the best green garb and drinks/snacks are provided after the workout. 55 W Aylesbury Road, Mar. 11, 7 p.m., 410-308-2348.
3/13: Under Armour Kelly Benefits Shamrock 5K
This is your chance to lead the St. Patrick's Day parade among fellow marathoners in a sea of green through the streets of Charm City. You can even purchase a virtual ticket and race anywhere if you won't be home for the holiday. Charles and Mulberry, Mar. 13, 1-4 p.m., $50.
3/13: St. Patrick's Day Parade
For more than 60 years, lads and lasses have lined the sidewalks to be transported over the rainbow at this lively march. Watch as performers ( think: traditional Irish jigs, tunes on the bagpipes, Poe, and The Oriole Bird) take stride through the streets of Mt. Vernon sparkling from head-to-toe in green. Washington Monument, 699 N. Charles St., Mar. 13. 2 p.m. Free.
3/18: Baltimore Road Runners Club 5K
Lace up your running shoes and embark on this fourth-annual run through Patterson Park. Then, decompress with a post-race beer in the courtyard behind Patterson Park Public Charter School. 2601 E Baltimore St.,Mar. 18, 6:30 – 8:30 p.m., $20 for members, $35 for non-members.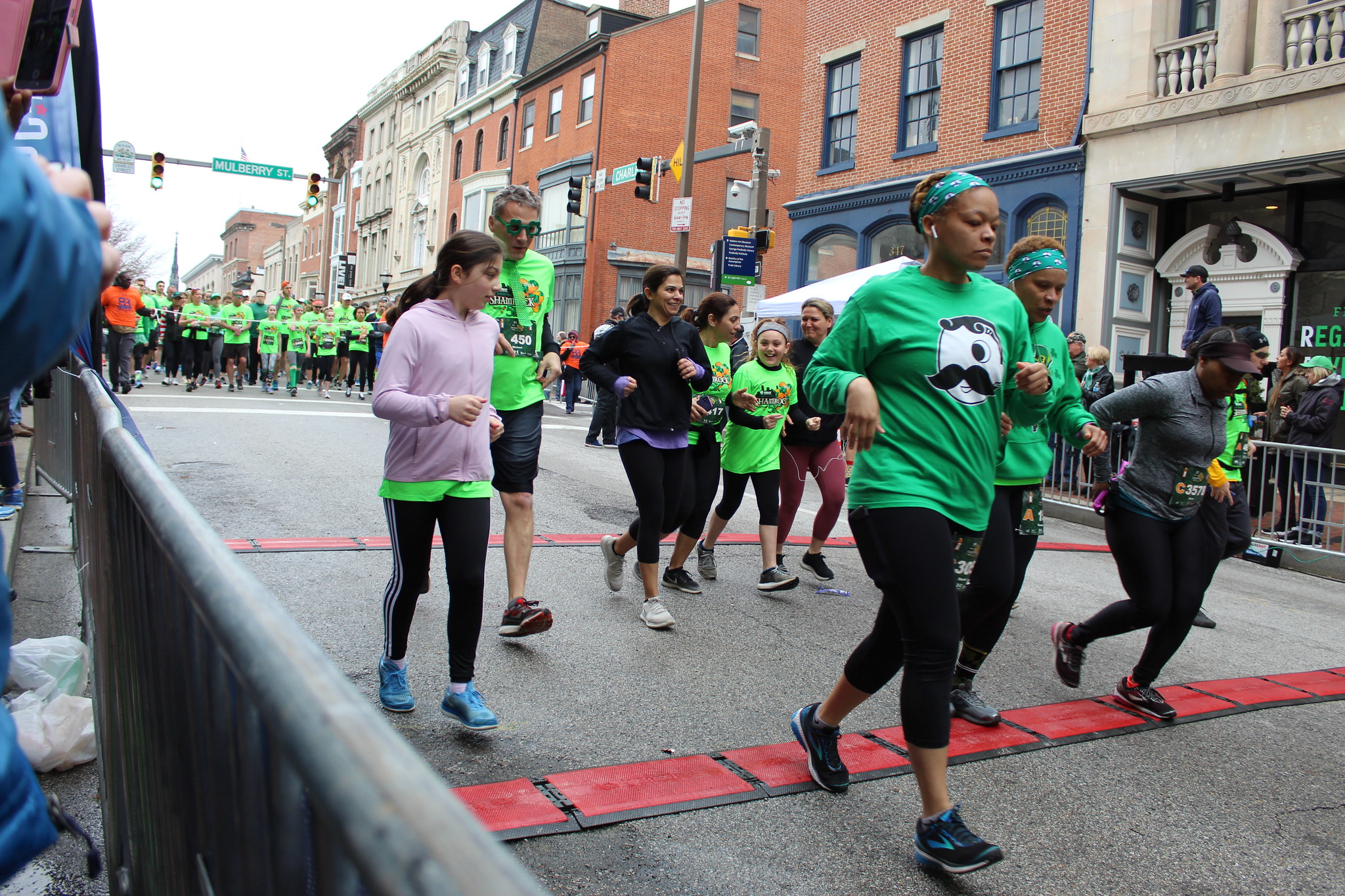 Irish Eats and Drinks
3/3-3/27: Guinness Open Gate Brewery
St. Patrick's Day is a month-long celebration at the U.S. home of Guinness in Halethorpe. The three-story facility features limited-edition Irish beer releases every Thursday in March, as well as live music, trivia nights, and an immersive Irish Village across their two-acre lawn. A secret menu includes special deals and items, but must be ordered in Gaelic, so start practicing! Here's a hint: to access the secret menu, follow and DM @GuinnessBreweryUS on Instagram with a four leaf clover emoji. Menus are inspired by traditional Irish fare such as corned beef and cabbage and shepherd's pie. On Sundays, indulge in a four-course ticketed beer dinner series for $100 per person. Performances include traditional Irish dancers and The 19th Street Band, starring an Ireland native on the guitar. The lawn has a heated tent and fire pits to keep customers warm. 5001 Washington Blvd., Halethorpe, Thurs.-Sun., Free entry (guests under 21 require a 21+ chaperone), 443-575-6893.
3/17: B.C. Brewery Fundraiser
B.C. Brewery in Hunt Valley is dedicating a portion of their St. Paddy's sales to Ari's Bears. Started by Ariella Stein, who passed away from Ewing Carcinoma in 2019, the organization gives teddy bears to children fighting cancer. So, celebrate with beer and bites for a good cause. 10950 Gilroy Road, Mar. 17, 5 p.m.
3/17: St. Patrick's Day Luncheon
Join The Maryland Ladies Ancient Order of Hibernians, a local sisterhood of Irish Catholic women who walk the parade each year, at Bluestone in Timonium. Reservations are due by March 8 to attend and experience the special menu featuring crab cakes and firecracker salmon. 11 W Aylesbury Road, Mar. 17, 12 p.m., 410-561-1100, $37. 
3/17: Angle Inn's Annual St. Paddy's Party
This Baltimore bar and restaurant welcomes all lucky leprechauns to enjoy traditional Irish fare such as corned beef or ham platters and sandwiches. The Boh Tini's, an acoustic duo of Baltimore brothers, will be performing from 5-9 p.m. Drink specials include $9 Irish car bombs, $4.50 Jameson shots, and $6 Jameson bombs. 5805 Odonnell St., Mar. 17, 2 p.m. 410-633-6242.
3/17: Schola's Cuisine of Ireland
Kevin Dundon, Ireland's newest celebrity chef, will guide you through the creation of authentic Irish cookery. Learn to prepare smoked salmon on Irish brown bread and Guinness-braised short ribs with carrot and parsnip puree, among other dishes. A decadent dessert includes Irish pancakes stuffed with apples and Nutella and brown bread ice cream. 916 N Charles St., Mar. 17-18, 6 p.m. 443-714-7516, $80 per day.
3/17 and 3/19: Craft Your Own Cocktail Class at Sagamore Spirit
Toast to the luck of the Irish with Sagamore Spirit Distillery this year. Concoct two holiday-themed cocktails while getting the chance to sample some of Sagamore's products. Tickets include a fun welcome cocktail, shopping discounts, and more. 301 E Cromwell St., Mar 17 at 6:30, Mar. 19 at 11 a.m., 410-624-7488, $30.