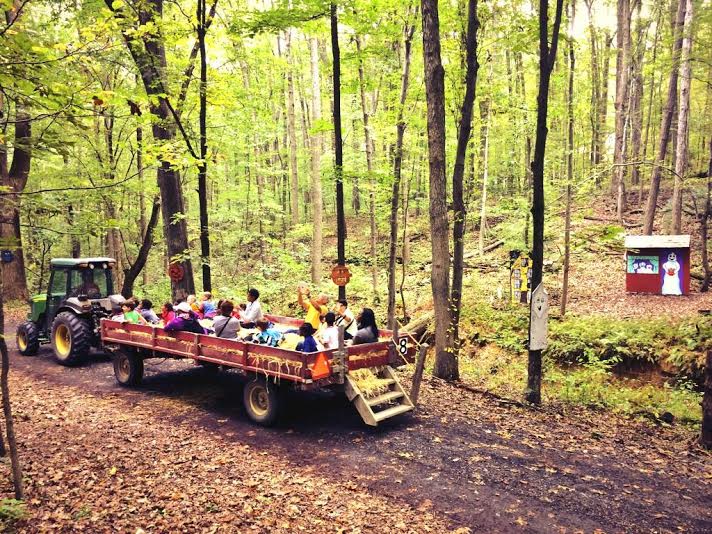 Courtesy of Butler's Orchard
Fall festival season is officially upon us, and what better way to celebrate than by running through pumpkin patches and grabbing a cup of warm cider. Before this enchanting season passes us by, be sure to indulge in the best fall activities at these festivals in the coming weeks.
Sugarloaf Craft Festival 2200 York Road, Timonium, 410-252-0200. Art lovers, you're in luck. Visit this festival at the Timonium Fairgrounds Oct. 10-12 to find unique creations from over 250 top artisans. Spend the day browsing fine artwork like pottery, sculptures, jewelry, and home décor while listening to live music. Interactive demonstrations will also be available throughout the festival's run for visitors to take part in.
PumpkinFest 11201 Garrison Forest Road, Owings Mills, 443-738-9200. This family-friendly event, held from Oct. 11-12 at the Irvine Nature Center, provides a great opportunity for kids to learn about Irvine's environmental philosophies while partaking in family fun. The festival features pumpkin painting, hayrides, cooking demonstrations, scarecrow making, and alpacas for children to meet up close.
Butler's Orchard Pumpkin Festival 22200 Davis Mill Road, Germantown, 301-972-3299. Enjoy all of the traditional autumn activities at Butler's Orchard every weekend in October. Some of the enticing attractions at this seasonal event include corn hole, face painting, pony rides, and a straw maze. Enjoy all of the fun that the event has to offer while indulging in unique festival food offerings like pit beef sandwiches and apple-cider donuts.
Autumn Glory Festival15 Visitors Center Drive, McHenry, 301-387-6171. This huge community celebration, held in Garrett County from Oct. 8-12, combines every imaginable festival activity with the spirit of autumn. The five-day-long itinerary features a farmer's market, fine arts exhibits, a car show, daily crafts, and even an ice cream eating contest to close out the festival's run.
Harbor Harvest 400-500 Block of Light St, 443-743-3308.The Waterfront Partnership of Baltimore will be hosting this free family event on Oct. 19 from 10 a.m. to 2 p.m. at West Shore Park in the Inner Harbor. All of the classic attractions like a petting zoo, hay-maze, and pumpkin decorating will be available in addition to a kid-friendly, interactive, science and live music performance from The Curiosity Crew. Local food trucks will also be in attendance for visitors to indulge in hometown fall flavor.
OktoBEARfest1876 Mansion House Drive,410-396-7102. Live music, German-inspired food, and lots of beer will all be available at this cant-miss event at The Maryland Zoo in Baltimore on Oct. 18. Tickets include an unlimited sampling of more than 30 seasonal brews, a commemorative sampling glass, and all-day access to the zoo.
ArBOOretum 4915 Greenspring Ave., 410-367-2217. The Cylburn Arboretum will be hosting this Halloween-themed night of fun on Oct. 24 from 5:30 to 8 p.m. Highlights will include a pumpkin-carving contest, carriage rides, a trick-or-treat nature trail, crafts, and a costume contest for kids. Be sure to check out Cylburn's spooky garden and historic haunted mansion for some pre-Halloween thrills.
Hereford Fall Festival 200 Mt. Carmel Road, Parkton,443-375-0293. More than 150 food and craft vendors will be featured at this Baltimore County festival held on Oct. 18 and 19. Unique featured attractions include chainsaw and hand-wood carving presentations, monster truck rides, and signature wine tastings from local wineries. Grab one of the festival's mouthwatering snacks like fresh-popped kettle corn or creamy crab dip and enjoy the weekend's full lineup of live music.
Fall Harvest Days 500 South Center Street, Westminster, 410-386-3880. The Carroll County Farm Museum will be featuring special autumn entertainment on Oct. 18 and 19 from 10 a.m. to 5 p.m. Visitors can enjoy museum tours, food and craft vendors, live music, and even learn how to make their own apple butter.