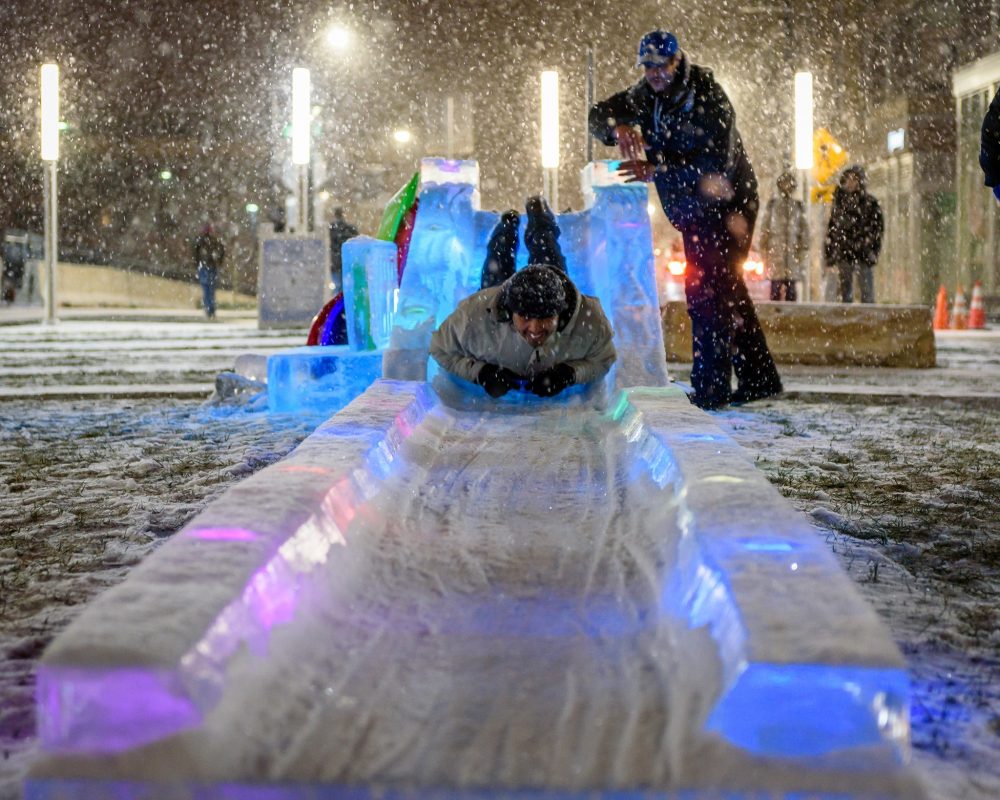 Harbor Point Ice Festival
Lace Up Those Skates
12/07: Skate with Santa
Looking to switch up the visit to mall Santa? Catch him taking a break from his busy toy-making schedule and skating around the Inner Harbor. The first 100 kids to skate will receive a Christmas hat perfect for keeping warm and being festively fashionable. Inner Harbor Ice Rink, 201 E Pratt St, 2p.m.-4p.m.
12/10: SkateFest
The Baltimore holiday season isn't complete without an evening gliding around the ice rink in the Inner Harbor. Bring family and friends for $10 dollar admission, including skate rentals, and hit the ice on this special night benefiting Special Olympics Maryland. Inner Harbor Ice Rink, 201 E Pratt St, 6 p.m.-8p.m.
12/22: Chanukah on Ice
Start the Chanukah festivities before sunset with an afternoon on the ice with the Downtown Baltimore Jewish Community Center. Make arts and crafts with the kids and skate to Chanukah music before heading to McKeldin Square for the Baltimore Chanukah Festival and Menorah Lighting Ceremony. Inner Harbor Ice Rink, 201 E Pratt St, 2p.m.-4:30p.m.
12/01-1/5: Outdoor Rooftop Skating Rink
Take your skating skills to the top of the Four Seasons Baltimore's Harbor Terrace-turned-outdoor ice-rink. Decked out with twinkling lights, festive music, and wintery decor, the rink also offers tasty treats like European-style hot chocolate and hot toddies. Four Seasons Hotel Baltimore, 200 International Drive, 2p.m.-7p.m.
Sip Spirits in the Snow
12/7: Holiday Spirits on the Rocks: A Drinks Party
Party amongst in the presence of art at the Walters Art Museum's festive cocktail tasting. Test traditional and creative cocktails mixed by bartenders from the Baltimore Bartenders' Guild while strolling through the Walters' new exhibition Designing the New. Proceeds benefit the Walters' exhibitions and education programs. Walters Art Museum, 600 N. Charles St. 7p.m.-10p.m. (410) 547-9000
12/7: Ugly Sweater Bar Crawl
Don't let your gaudiest sweater go to waste. This costume-friendly Power Plant Live bar-crawl features five bars and an after party along with complimentary drinks, a $500 costume contest, and professional photographers to capture the holiday cheer. 10 Market Place, 4p.m.-12a.m. 410-223-1105
12/7: Sharp Dressed Man Holiday Party
If you prefer blazers over ugly sweaters, Christopher Schafer Clothier is hosting its third Sharp Dressed Man Holiday Party. Pay any amount at the door, with proceeds benefiting the shop's recycled suit program to dress those in need. Come out for a night of funky tunes, tasty food and drinks, and try your hand at a raffle for a custom, top-of-the-line CSC suit. Christopher Schafer Clothier, 1400 Aliceanna Street, 7p.m.-11p.m.
12/11: Cookies & Cocktails: A Tour Through Harbor East
Finish up your holiday shopping on this tasty quest for treats and hot drinks through Harbor East. Stop by the holiday-themed cocktail bar for a signature drink and then browse around neighborhood shops. Participating retailers will feature unique cookies in their stores and $10 reserves your spot on the tour. Limited on-site tickets are available. 650 S. Exeter Street, 2nd floor, 6p.m.-9p.m.
12/14: Pet Photos with Santa
Arguably, dogs and cats don't know what holidays are. But, at this event, you can make the holidays better for furry friends rescued by Maryland SPCA—which is partnering with Union Craft Brewing to host a pet-centered holiday gift drive. Bring your own pets to meet Santa, swipe a new toy at the "flea-less" holiday market, and make the most of "Yappy Hour" to grab a craft beer and some delicious food for yourself. 1700 W. 41st St., 12-3p.m.
12/14: Baltimore Santa Crawl
Get out that Santa suit, throw on a pair of reindeer ears, or dress in your elf get-up for this night of holly jolly drinking. The costumed excursion celebrating the holiday season features stops at ten Fells Point bars, DJs, all-day discounted drinks and holiday shots, and a refillable Santa mug. Varying check-in bars, 1p.m.-4:30p.m.
12/19: CityLit Holiday Happy Hour
Baltimore book-lovers and writers come together at this vibrant celebration of the literary life at the Motorhouse. Grab a half-priced happy hour drink and toast to another successful year of writing, meet and greet other local writers, and celebrate all the 2020 writing endeavors that lie ahead. Motorhouse 120 W. Baltimore Avenue, 5p.m.-8p.m.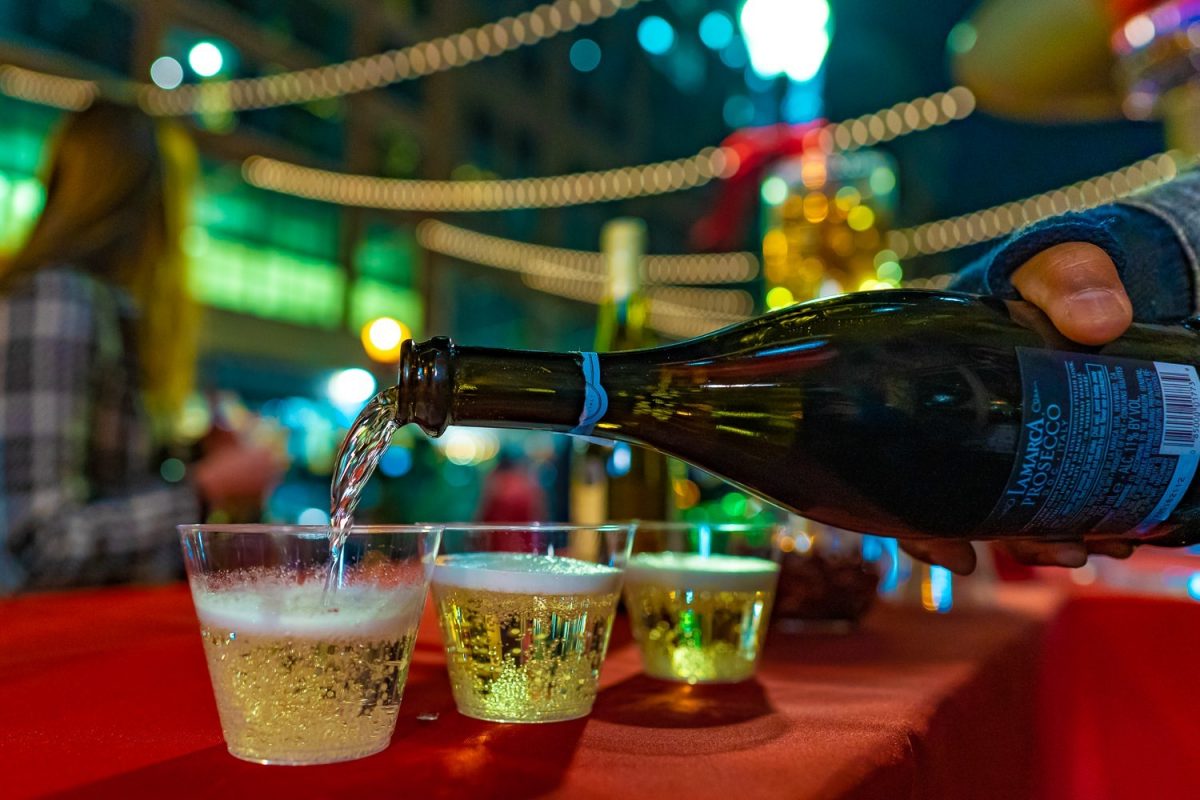 Have Some Festive Family Fun
12/7: 32nd Annual Baltimore Parade of Lighted Boats
Boats covered in colorful lights arranged in holiday scenes float by at the 32nd-annual Baltimore Parade of Boats. More than 50 vessels parading through the Inner Harbor and Fells Point will be visible from any area where you can see the water—starting at the Anchorage Marina on Boston Street. The event includes carols hosted by a local choir and a grand ornamental Christmas tree. Anchorage Marine, 2501 Boston St. 6p.m.
12/7: Olde Tyme Christmas
Highlandtown brings a day of non-stop Christmas celebration starting with a friendly visit from Santa Claus himself. Catch St. Nick's arrival in Fell's Point via tugboat, grab breakfast with him, and snap a picture with him and the family. The celebration also includes a 15-batch eggnog tasting and contest, a festive family fun-zone complete with face painting and DIY ornaments, "carole-oke", and the lighting of the tree at Broadway Square. Broadway Square, 9a.m.-6p.m.
12/8: Patterson Park Pagoda Lighting
Come watch the stars and snowflakes that dress the Pagoda blink on for the fifth-annual lighting at Patterson Park. The community kick-off takes the celebrations into the night with live music and food trucks. Bring the whole family to meet Santa and other holiday characters, squeeze in some Christmas shopping with local gift vendors, or donate what you can at the toy drive. Patterson Park Pagoda, 2601 E Baltimore St. 4:30 – 6:30 P.M.
12/12: Enoch Pratt Free Library Holiday Celebration
The Enoch Pratt Govans Branch invites the whole family to make fresh holiday crafts during this evening of holiday cheer. As you craft, snack on refreshments and listen to a performance by the Friends School of Baltimore's chorus. The holidays are the best time to give your local library some love. Enoch Pratt, Govans Branch, 5714 Bellona Avenue, 6p.m.-7:30p.m.
12/1-12/15: Festival of Trees
Decorations 200 years ago may not have featured twinkling electric lights and animatronic Santas, but you can bet holiday decor looked just as magical at the historic Museum of Frederick County History residence when it was built in 1820. Head to the museum to explore a sea of trees decorated by friends, neighbors, and local businesses—and vote for your favorite. 24 East Church St., Frederick 21701, Wed.-Sat. 10a.m.-4p.m., Sun 1-4p.m.
12/28: Kwanzaa Celebration
African dance, drumming performances, and an African marketplace celebrating the principle of Ujima—collective work and responsibility—make up this joyful Kwanzaa celebration at the Reginald F. Lewis Museum. Come for the dancing and shopping, or the learning through workshops, lectures, and craft activities that teach principles of Kwanzaa like unity, self-determination, and creativity. The Reginald F. Lewis Museum, 830 East Pratt Street, 11a.m.-4p.m.
12/21-1/1:12 Days of Science
Tis the season to experiment. Explore "Sweet Street," a massive candy village, gaze into the stars with the help of gingerbread astronomers, or celebrate a New Year's Eve countdown and ball drop (12 hours early, so you can get your little ones back in bed before the evening festivities start). Head downtown to the Maryland Science Center to check out the full festivities. 601 Light St., Tue.-Fri- 10a.m.-5p.m., Sat. 10a.m.-6p.m., Sun. 11a.m.-5p.m.
1/11: Harbor Point Ice Festival
At that time of year when Baltimoreans typically stay inside to avoid the blustering wind and bitter cold, the Harbor Point Ice Festival gives us the chance to wrap up, come together and warm our hearts in a magical winter wonderland. Kids and grown-ups alike will marvel at the incredible ice sculptures, enjoy live music and food vendors, and kick off the New Year with an afternoon of fun. 1310 Point St., 12-6p.m.
See a Merry Performance
12/12: The Stoop Holiday Hootenanny: An Evening of Stories and Music
Come together with your friends and neighbors at York Road's Senator Theater for an evening of cocktails, a bluegrass performance from local father-son duo Ken and Brad Kolodner, and some good ol' fashioned Baltimore City storytelling. This Stoop stomp is sure to keep you inspired throughout the season. The Senator Theatre, 5904 York Road, 7p.m.
12/12-12/15: Cirque Nutcracker
Tchaikovsky's staple holiday ballet The Nutcracker gets a high-flying and humorous twist from the talented Troupe Vertigo. Acrobats, jugglers, strong-men, and aerialists join the Baltimore Symphony Orchestra's live accompaniment to perform scenes of imaginative and inspiring choreography. Join them at the BSO for a jaw-dropping night of family entertainment. Meyerhoff Symphony Hall 1212 Cathedral Street, various times
12/13: Moscow Ballet's Great Russian Nutcracker
If a masterful and traditional ballet-experience is more your style, the Moscow Ballet brings three companies of 36 award-winning Russian ballerinas and dancers each—as well as Ballet Masters hailing everywhere from Moscow to Kyoto—to create an innovative show of flying puppets, vibrant colors, and rose-shooting cannons. Hippodrome Theatre, 12 N Eutaw St, varying times
12/20: A Gospel Christmas
Baltimore Plays, a series that showcases Baltimore's most talented independent acts, rings in the Christmas season with songs of faith, hope, and holiday cheer. Gospel singer-songwriters Marc Avon Evans, Kevin Jackson, and Soul Centered bring their talent to lift the spirits at Creative Alliance. Creative Alliance, 3134 Eastern Avenue, 8 p.m.
12/21: Holiday Spectacular
Nothing rings in the holiday season like tap-dancing Santas. The exciting new program at the Meyerhoff Symphony Hall transports you to a holiday haven, featuring the fan-favorite Santas, an audience sing-along, and a few other musical surprises. Stay in the holiday spirit and check out the opportunities for family photos, holiday cookies, and ornament shopping in the lobby. 1212 Cathedral Street, 7p.m.-10p.m.
12/6-12/24: A Christmas Carol
This twist on the holiday classic places Ebenezer Scrooge in Victorian Baltimore. Revisit the classic story—with Chesapeake ghosts of Christmas past, present, and yet-to-come—and celebrate local history in this unique adaptation. Chesapeake Shakespeare Company Theater,7 S. N Calvert Street, 2p.m.
12/28: WWE Live Holiday Tour
Gift the wrestling fans in your life a chance to see their favorite WWE superstars live at Royal Farms Arena featuring Seth Rollins, Kofi Kingston, AJ Styles, Becky Lynch, Roman Reigns, Charlotte Flair and more. Don't miss the chance to see the over-the-top smackdowns in person. Royal Farms Arena, 201 W Baltimore St, 7:30p.m.
Sprint Into 2020
12/7: Jingle Bell Run 5K
Get your jingle on at this celebration of feeling good while doing good, where 100 percent of your registration fee supports the work of the Arthritis Foundation. Say yes to living life to the fullest and beating arthritis for good while you strut your stuff in your favorite holiday costume. Plus, refresh yourself with the brisk harbor breeze along this circuit starting at Rash Field. 201 Key Hwy, 8:00 a.m.
12/7: Patterson Park 5K and Homebrew Tasting
Are you a runner, sipper, or just someone who wants to support educational opportunities for kids in Baltimore? If any of these apply to you, check out B More Global's fun run—which will wind its way through Patterson Park and end up at a beer garden celebration. With live music, a homebrew tasting, and cash prizes for the top finishers, there's something for everyone in this packed day of festivities. Patterson Park, 2601 E. Baltimore St., 11a.m.
12/8: Chanukah Hot Chocolate
How do you make a delicious cup of hot chocolate on a cold winter's day even more tempting? Well, have it waiting for you on the finish line of a 5K, of course. This course starts at the Jewish Community Center of Greater Baltimore and winds through scenic (mostly flat) local neighborhoods. Check out a great way to kick of Chanukah that's fun for everyone! 3506 Gwynnbrook Ave., Owings Mills, 7:30a.m.
12/8: Homewood Holiday 5K and 2.5K Relay
Winding a path along the edge of Wyman Park, climbing the long slope up Charles Street, and finishing at the Homewood Field 50-yard line, this course will offer you a beautiful views of the Johns Hopkins campus. Stick around after the race for a celebration with beer (race participants get a complimentary mug), costume contest, and live music. 111 W. University Parkway, 9:45 a.m.
12/8: Winter RUNderland
Starting at Charm City Run in Fells Point and finishing at the store's location in Locust Point, this course around the promenade will feature holiday-themed stops and end in a hot chocolate party. Don your ugliest sweater or grab a Santa hat, because your fellow runners will be decked out in holiday gear to celebrate the season. Plus, donate new and gently used winter gear to Back On My Feet Baltimore. 1500 Thames St., 10a.m.-12p.m.
12/15: Holiday Hustle 5K
With the chaos of wrapping up the year, wrapping up gifts for friends and family, and all the other plans that pop up, the holidays certainly demand some hustle. Head to Harford Community College for this race supporting local nonprofit Harford Family House to help families in need get through their own holiday hustle. 401 Thomas Run Rd., Bel Air, 9-11a.m.