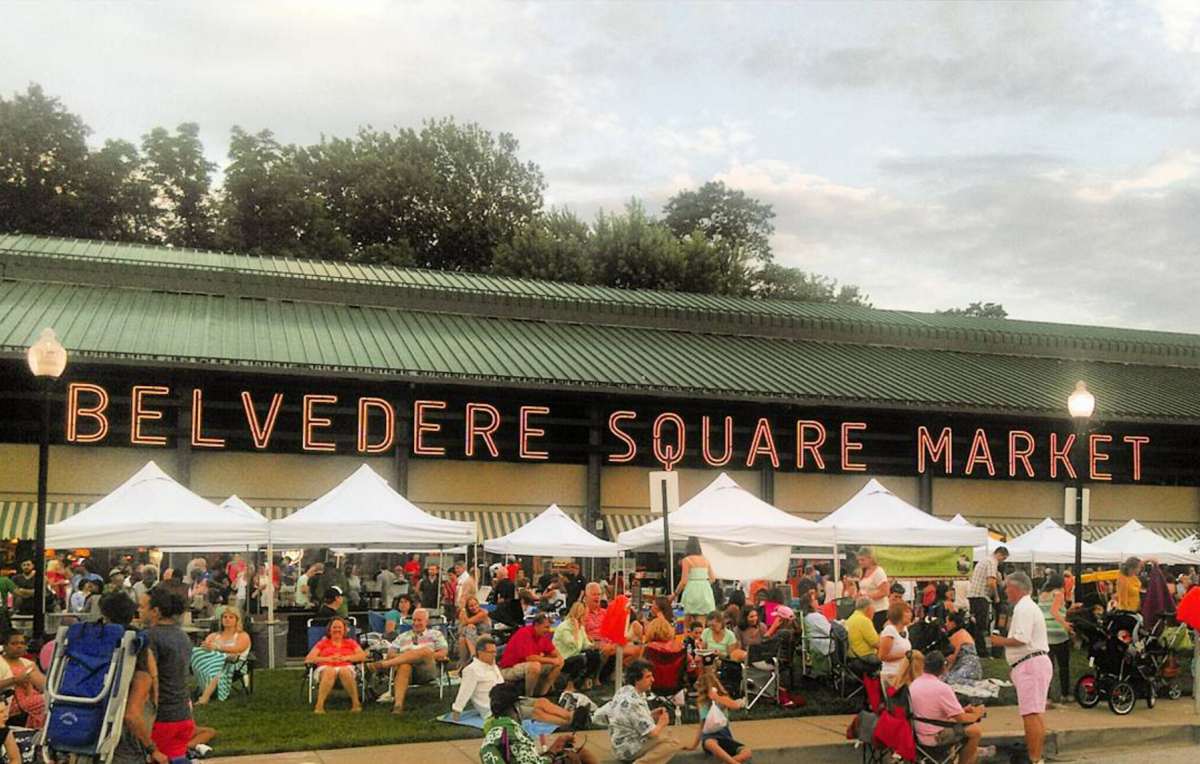 Courtesy of Qualityinaction via Instagram
Not only is Memorial Day an occasion to honor the men and women who have served our country, but the beloved three-day weekend is also a great opportunity to get a taste of all of the exciting outdoor events to come as our Charm City summer officially kicks into gear. In between partaking in habitual MDW traditions—like sipping beers with bears at Brew at the Zoo and browsing handcrafted knickknacks at the Sowebohemian Arts Festival—squeeze in some extra fun at these five area events.
Celebrate the return of the season at Summer Sounds at The Square
5/27: As temperatures rise, local bands are starting to make their rounds, providing sunset soundtracks at various outdoor concert series. Now in its 13th season, this fan-favorite Friday-night bash returns Memorial Day Weekend, combining live performances with eats and drinks from some of Belvedere Square Market's best vendors. Crack open a can of Summer Shandy from Atwater's, feast on crawfish from Touloulou, sip on kombucha from Hex Ferments, and treat yourself to Mexican ice pops from Pure Chocolate by Jinji while getting down to covers by local '80s rockers The New Romance. Belvedere Square, 529 E. Belvedere Ave., 6 p.m., 410-464-9773
Channel your inner sci-fi nerd at Balticon 50
5/27-30: With an exclusive appearance by Game of Thrones creator George R. R. Martin on the books, the Baltimore Science Fiction Society is clearly pulling out all of the stops for Balticon's 50th anniversary this year. The region's largest sci-fi convention is returning to the Inner Harbor Memorial Day Weekend with a four-day lineup full of panels and presentations exploring the latest in anime, comics, and gaming. Meet authors and artists, attend film screenings, and browse limited-edition artwork. For all of the GoT fans hoping to catch a glimpse of the guest of honor: Martin will be attending a special Feast of Ice and Fire Dinner on May 26. Renaissance Harborplace Hotel, 202 E. Pratt St., Times vary, $35-70, 410-563-2737.
Run in the annual MCVET race to benefit local veterans
5/29: Curate a playlist full of high-energy anthems, lace up your running shoes, and head to the War Memorial Plaza downtown to embark on this race overlooking the scenic Inner Harbor skyline. Participants can choose to partake in either a 5k or 10k course, (through Mt. Vernon and along Key Highway to Fort McHenry) followed by a post-race party with refreshments, music, a live auction, and awards. All proceeds will benefit the Maryland Center for Veterans Education and Training, which helps local veterans in need get back on their feet. War Memorial Plaza, 101 N. Gay St. 7:30 a.m. $25-35. 410-576-9626
Sway to the sounds of bluegrass bands at Delfest
5/26-29: If you're down for a mini road trip sans beach traffic, head to this weekend-long music festival held at the Alleghany Fairgrounds in Cumberland.Now in its eighth year, the concert started by legendary country musician Del McCoury boasts a jam-packed lineup spanning three stages. Spread out a blanket, throw on some sunnies, and jam to the fingerpickin' sounds of The Travelin' McCourys, Sierra Hull, Bruce Hornsby & The Noisemakers, Railroad Earth, Cabinet, Keller Williams, Elephant Revival, Fruition, and more. The family-friendly event also features tons of food vendors, its own arts and crafts fair, and a kids area equipped with hula-hooping, face-painting, and various interactive workshops. Allegany County Fairgrounds, 11400 Moss Ave., Cumberland. Times vary, $60-200
Honor the fallen at the Annapolis Memorial Day Parade
5/30: As it does every year, the Annapolis community is coming together to commemorate local veterans with its annual patriotic parade. Grab a lawn chair; don your best red, white, and blue gear; and head to downtown Annapolis to watch everything from floats and color guards to music groups and marching bands pass by. The parade steps off at 10 a.m. sharp, and follows its traditional route down West and Main streets. A memorial ceremony on the waterfront at Susan Campbell Park will follow the festivities. Amos Garrett Blvd & West St., Annapolis, 10 a.m., 410-263-7996