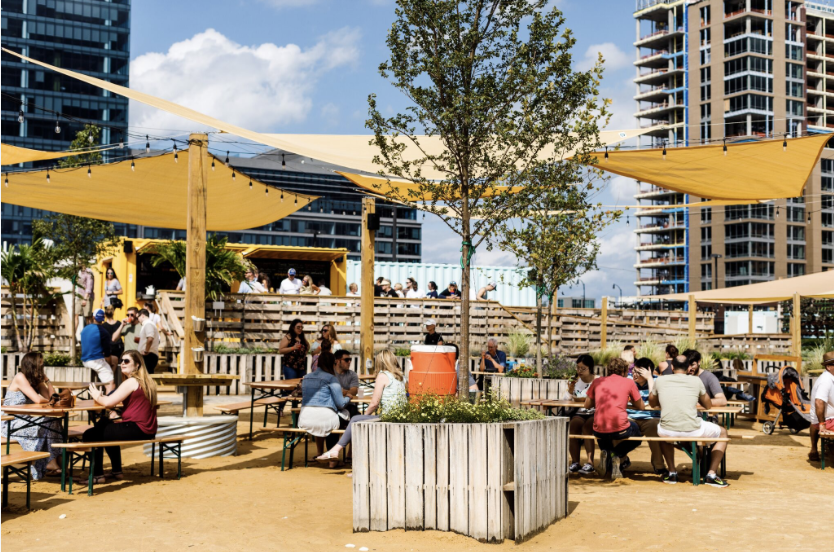 Julie Hove Andersen
When Corey Polyoka started to configure the beach furniture, recycled shipping containers, and vintage 1968 Safari Airstream trailer at Sandlot last spring, he knew he had something special. But he didn't anticipate just how much his urban island concept would catch on with locals.
On opening day last June, hundreds packed the 40,000-square-foot, open-air oasis to sip slushies, sample skewered snacks, and challenge friends to yard games while soaking up sunshine on the border of Fells Point and Harbor East.
"That first day was incredible," says Polyoka, managing partner of Spike Gjerde's Foodshed restaurant group, which operates Sandlot, as well as other restaurants like Woodberry Kitchen and Parts & Labor. "I'm an operator, so in my mind I quickly realized, 'Wow I'm not sure if we were quite ready for that.' But then seeing how people were enjoying it on social media and making their way down there a lot last summer was really amazing."
Polyoka is hoping to keep that momentum going this year, as he and his team gear up for Sandlot's second season opener on Saturday, May 5. This time around, the beachfront hangout is upping its game with additional seating and shaded areas, expanded food and drink offerings, weekly live music, athletic programming on the sand, and even more community events. 
"There's more of everything at Sandlot this season," Polyoka says. "I think toward the end of last year we really found our groove. We're excited to start there and pick up where we left off."
Beginning this weekend, the outdoor eatery and rec yard will be open from 4-11 p.m. on weekdays, and 11 a.m.-11 p.m. on weekends until late October. Here's what to look out for as the season kicks into gear. 
Expanded Eats
Larger Focus on Seafood: In keeping with Foodshed's sustainability mantra, the food program will serve more seafood this year. "We're so close to the water and connected to the bay," Polyoka says. "So it made sense to focus the menu around fish and shellfish coming out of the Chesapeake." Though fan-favorite snacks like garlic and herb fries, soft pretzels, ice cream, and pulled pork sandwiches will remain, Polyoka is hoping to incorporate more fish into Sandlot's skewers, burgers, and nachos this season. He is also looking forward to hosting more waterfront crab feasts as the summer goes on.
Karma Farm at Harbor Point Growing On-Site Produce: Last month, farmers from Monkton's Karma Farm began installing two hoop houses and a hydroponic unit on the Harbor Point land surrounding Sandlot—making it even more convenient for the kitchen to source local ingredients. The farm will provide greens and fresh vegetables for the culinary team, while also hosting a weekend produce stand at Sandlot for visitors to purchase items like fresh herbs, cucumbers, peppers, eggplant, and tomatoes.
Beach Flag Service Model: Table service will have a fun twist this season. In order to streamline wait times, each outdoor table will have its own custom-made flag that diners can raise when they're ready to order. The model was inspired by a trip that Polyoka took to Florida with his family last summer. "We were on the beach and our cabana had a flag next to it," he recalls. "After raising it a few times it dawned upon me. I was like, 'This would work great for us.'"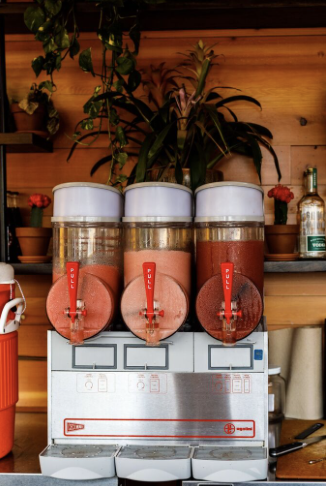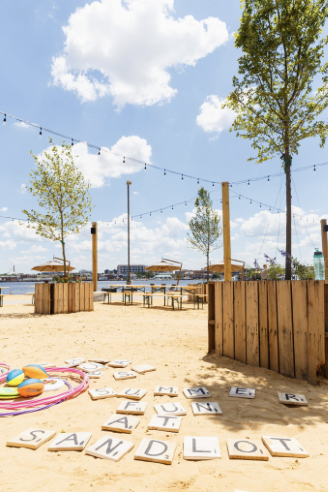 Beach Beverages
Soak Up The Sun by The Brewer's Art: Later this month, Sandlot will introduce its own exclusive beer in collaboration with The Brewer's Art. The brew, fittingly dubbed Soak Up The Sun, is a light-bodied saison made with Choptank hops and lemon peel from The Brewer's Art co-owner Tom Creegan's lemon tree. Creegan says that it was "overwhelmingly fun" to partner on a brew for the waterfront spot. "We're such a fall-winter place," he says of his dimly lit brewpub in Mt. Vernon. "We love finding ways to have fun outside. And Sandlot is such a different thing for Baltimore. If you can't make it to Ocean City for the weekend, you can do a little bit of that right here after work." An official Soak Up The Sun release party will take place on Sunday, May 27.
Old Westminster Wine in a Can: When Drew Baker of Old Westminster Winery (OWW) first began toying with the idea of canning wine last year, Sandlot was one of the first spots that came to mind. He remembers running the idea by Polyoka, who was naturally enthusiastic about the prospect of offering 100-percent Maryland wine at the island hub. "That was one of the first major greenlights for us," Baker says. "The Foodshed group has a tremendous support of local agriculture right down through their wine program, however Sandlot was always tough for them because they have a glass-free policy." Old Westminster began canning wines last fall and is looking forward to offering its varieties at Sandlot for the first time this summer. (OWW is even hosting a "Can Jam" party at the beach on May 19th to celebrate.) The spring line—featuring a semi-sweet white and sparkling rosé—will be offered at Sandlot until June 19th, when OWW debuts its summer releases.
Bottled Kombucha Cocktails: Aside from additional satellite bars to minimize lines, the beverage program now boasts two new slushie machines with more flavors, and a signature bottled cocktail that combines local Counterpart Kombucha with vodka and fresh herbs. "They're going to hit that vodka soda kind of ABV," Polyoka says. "We think it's going to be a nice addition especially for the warmer weather."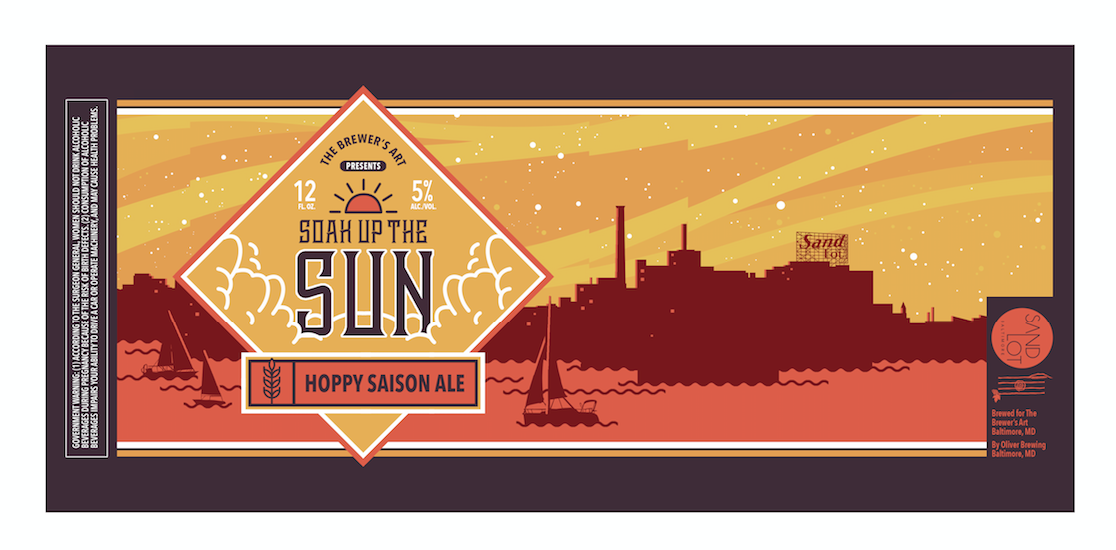 Seating and Shade

Beach Chairs: To accommodate the crowds, staffers have added more lounge seating and outdoor patio furniture on the beach. They've also invested in massive outdoor fans to help visitors stay cool during summer scorchers.
Summer Shade: Speaking of heat waves, the team is making it a priority to add more shaded sections this year. In addition to installing heavier cloth over the garden area near the decks, there will also be increased shade over the shipping containers for diners waiting in line for food and drinks.
New Covered Structure: Sandlot's new building, which Polyoka describes as a "vintage metal carport," will act as a permanent rain and shade structure. The building will be able to seat 40-50 guests and will also be available to be rented out for private parties.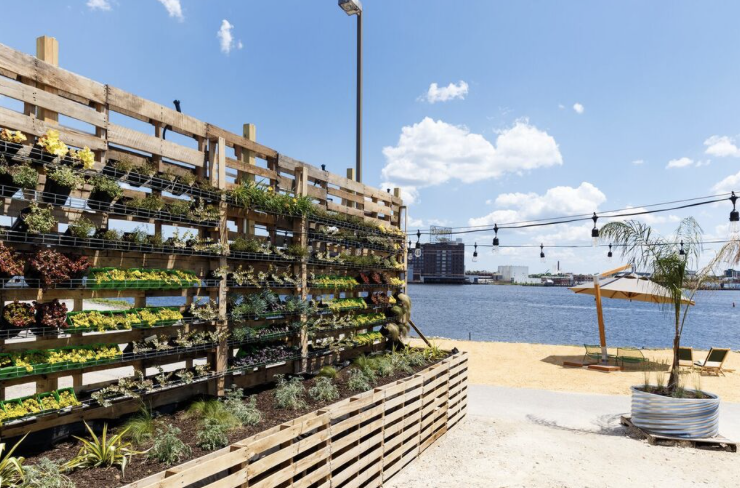 Upcoming Events
5/5: Opening Day Pig Roast and Monument City Pagoda  Release Party
Sandlot's opening day bash will double as a release party for the new Pagoda Pale Ale from Monument City Brewing in Highlandtown. Plus, the team is roasting a full pig to celebrate. Snack on special pulled pork tacos and sandwiches while sampling beer and dancing to live music from Mike McHenry and DJ Kev. 

5/10: Baltimore Teachers Happy Hour
After the final bell rings, all teachers are invited to head over to Harbor Point to receive 15-percent off of their bar tabs during happy hour when they present their school ID's. 
5/13: Mothers' Day with B. Willow and Charm City Meadworks
Celebrate mom at this flower-filled event with Remington plant shop B. Willow. There will be bouquet-making stations for little ones, and a specialty mead from Charm City Meadworks for moms to sip while their kiddos participate in the craft. 
5/26: King of The Castle Competition
Show off your skills in the spot's first-ever sandcastle competition later this month. Participants will have four hours to build their structures while spectators enter to win raffle prizes and sample Monument City brews throughout the day. The contest is open to professional and novice sculptors of all ages. "I was happy that Sandlot became such a family place last year," says Polyoka, a father of four. "It was something I was really hoping we could do, and it was always great to see kids there playing in the sandboxes. I think that's one of the things we really got right."