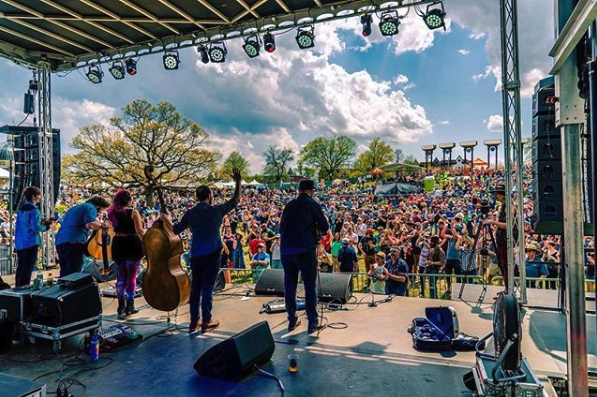 Courtesy of Charm City Bluegrass
EAT
April 26: Clavel + Well Crafted Kitchen Collaboration
Union Craft Brewing, 1700 W. 41st St. 5-10 p.m. Free.
Nothing warms our local foodie hearts like seeing Charm City eateries team up to create kick-ass menus that combine the best of both culinary worlds. This week in dream collaborations: Acclaimed Mexican restaurant Clavel will collaborate with the pizzeria Well Crafted Kitchen to serve up drool-worthy mashups such as wood-fired pizzas with taco toppings and house-made pretzels served with guacamole. Be sure to get to Union Craft Brewing early to sample items from the pop-up menu—including Clavel's signature tacos and ceviche—because we can almost guarantee that they'll sell out before 10 p.m.
DRINK
Sagamore Spirit, 301 E. Cromwell St. 12-5 p.m. Free
On the eve of its two-year anniversary, local whiskey distillery Sagamore Spirit has plenty to celebrate. Last week, its flagship rye whiskey was named the best in the world at the San Francisco World Spirits Competition, and now the Port Covington-based team is ready to revel in its big win with an afternoon of live music, local eats, and, of course, top-notch cocktails. Find a spot on the distillery's waterfront lawn to enjoy the sights and sounds of spring and raise a glass to another year of award-winning whiskey
SEE
Aliceanna Street / Harbor East. 12-5 p.m. Free-$40.
New York Fashion Week may still be a few months away, but, luckily, the streets of Harbor East will be filled with enough runway-worthy looks this Saturday to tie fashion queens over until then. During this annual celebration of all things stylish, grab a street-side cocktail, shop the sales at some of the luxury neighborhood's best boutiques, and sample bites from area restaurants. At 2:30 p.m., the streets will turn into a high-fashion runway, with locals modeling spring and summer styles from Harbor East shops that are sure to serve as future outfit inspiration.
HEAR
Druid Hill Park. Fri. 2-9:30 p.m, Sat. 10 a.m.-10 p.m. Free-$72.
Since its inaugural show in Union Craft Brewing's parking lot back in 2013, this finger-pluckin' festival has boomed into a two-day extravaganza packed with performances by some of the biggest names in the regional bluegrass scene. This weekend, experience a little slice of Americana heaven with sets by hometown heroes like The Bridge and Charm City Junction, along with out-of-towners such as Steep Canyon Rangers and Jeff Austin. Ahead of the festivities in Druid Hill Park, read up on the history and rebirth of bluegrass in Baltimore.

DO
Creative Alliance, 3134 Eastern Ave. 8 p.m.-12 a.m. $50-55.
Follow the yellow brick road, or, as it will be known during this enchanted affair, the majestic land of Oz! Don your best Tin Man or Dororthy-inspired outfit for the Highlandtown arts center's biggest bash of the year, featuring live music by local band Jonathan Gilmore & The Experience, performances by drag queen Betty O'Hellno, a silent auction, and plenty of food and drinks. Jump into your ruby slippers and prepare to dance the night away.