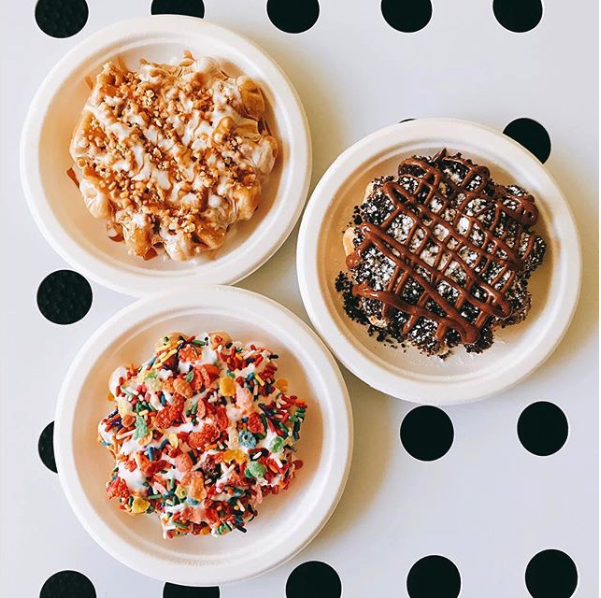 Courtesy of Waffie
EAT
Waffie, 839 W. 36th St. 5-10 p.m. Free.
Last week, Yelp confirmed what Baltimoreans have known since Waffie opened last January: the waffle-crazed dessert shop is one of the top 100 places to eat in the U.S. This Friday, the Hampden staple known for its creative confections will serve up a dessert edition of its signature French toast waffles topped with locally-made Taharka Brothers Ice Cream and homemade whipped cream. Start your weekend off with a sugar buzz and raise your waffle to one of the city's not-so-hidden gems.
DRINK
Union Craft Brewing, 1700 W. 41st St. 12-6 p.m. Free.
Henry "Zadie" Benesch, who has been a Union Craft Brewing volunteer employee since his grandson, Adam, opened the popular spot in 2012, may very well be the world's oldest brewery worker. In honor of his landmark 99th birthday, Union is throwing an all-out bash featuring a few of Zadie's favorite things for only 99 cents—Blackwing Lager, coffee from Vent Coffee Roasters, and ice cream scoops from The Charmery. Stop by to wish him a cigar-filled birthday and honor his likeness by creating a Zadie mask and participating in a box-folding competition.
SEE
Maryland Art Place, 218 W. Saratoga St. Tues.-Sat. 12-4 p.m. Free.
After his daughter, Elisif, died of a heroin overdose five years ago, Baltimore artist Peter Brunn felt compelled to explore his new understanding of love and the countless ways to express it. The resulting project, Beyond Beautiful: One Thousand Love Letters, is composed of hundreds of drawings by Brunn inspired by actual love letters that embody all of the messiness and mystery of love. In conjunction with the exhibition, four programs at Maryland Art Place featuring poetry, music, and storytelling performances will take place over the next two months.
HEAR
Impact Hub, 10 E. North Ave. 6-10 p.m. Free.
Throughout the past few years, Baltimore's spoken word poetry teams have proven that they're a force to be reckoned with. As defending champions of The Brave New Voices International Youth Poetry Slam Festival, DewMore Baltimore is seeking out the best poetic talent to lead the team to victory again this summer. On Friday, pack Station North's Impact Hub to cheer on 12 local youth poets as they perform original spoken word poetry to compete for one of the six spots on this year's lineup and the chance to represent Charm City on the national stage.
DO
War Memorial Plaza, 100 Holliday St. 11 a.m.-2 p.m. Free.
A lot has changed since the initial Women's March in 2017, which drew hundreds of thousands of people to the streets to protest the inauguration of President Donald Trump. But the Baltimore Women's March stays true to its purpose of harnessing the power of local women to create transformative social change. This Saturday, craft an inspirational sign and head to the War Memorial Plaza downtown to peacefully protest nationwide issues like reproductive freedoms and equal pay, as well as topics like how to help women and families living in poverty.