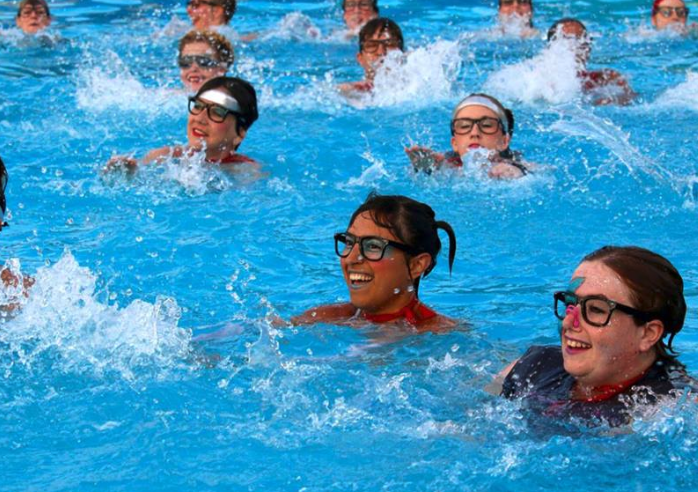 Fluid Movement
Five things to eat, drink, see, hear, and do with your Charm City weekend.
 EAT
Fort McHenry, 2400 E. Fort Ave. 4-8 p.m. $45-75.
With summer almost halfway over, be sure to get BBQ fix this weekend with cookout fare, local brews, and Chesapeake Bay crabs at the fourth annual, all-you-can-eat feast. Located on the historic grounds and breathtaking waterfront of Fort McHenry, experience Maryland at its finest with live bluegrass tunes by the Eastport Oyster Boys, kids' activities, and neighborhood vendors from Locust Point. Proceeds benefit education and youth employment at this hallowed national monument.
 DRINK
Blue Pit BBQ & Whiskey Bar, 1601 Union Ave. 4-8 p.m. Free. 
We don't know about you, but our favorite drinking buddy just happens to have four legs. This Saturday, beat the heat (though luckily it's going to be a cool low-80s compared to last weekends high-90s) with cold brewskis, grilled meats, and happy-hour specials for you and your pooch on the back patio, all while helping homeless cats and dogs. With raffles and giveaways, the evening will support the Baltimore Animal Rescue and Care Shelter (BARCS) in its mission of rescuing thousands of animals each year.  
 SEE
July 29-30: Druid Hill Park, 800 Wyman Park Dr. 5 & 7 p.m. Aug. 4-6: Patterson Park, 148 S. Linwood Ave. Fri. 9 p.m., Sat. 7 & 9 p.m., Sun. 5 & 7 p.m. $10. 
One of the city's most weirdly wonderful summer events is the Fluid Movement water ballet. This summer, the avant-garde group delves into the 16th-century Renaissance with "Sharkspeare," where the aquatic ballerinas re-imagine Shakespearean classics such as Hamlet, Macbeth, The Tempest, and A Midsummer Night's Dream. Expect loads of glitter and good times as the local troupe fuses Old English prose with Baltimore swimming pools.
 HEAR
Merriweather Post Pavilion, 10475 Little Patuxent Pkwy., Columbia. 6-11 p.m. $41-56.
When we heard about Fleet Foxes' new album—their first in some six solid years—we knew what would be on our Spotify all summer long. The indie Seattle group delivered with a wide, lush, folk-driven feat, and a few songs that are almost too pretty to listen to ("Third of May/Odaigahara"). And then when we found out about their mid-summer concert at Merriweather, we didn't think things could get better until we heard they were performing with Baltimore's very own Animal Collective. The experimental indie-pop stars will be performing their latest as well, The Painters, full of Day-Glo trips and the rattling rhythms we've come to know and love. 
 DO
Maryland State Fairgrounds, 2200 York Road, Timonium. 11 a.m. Free-$60. 
The area's best food trucks will all converge on the Maryland State Fairgrounds this Saturday for the second annual Trifecta Food Truck Festival. There's a stellar lineup of mobile kitchens where guests can enjoy gyros from Greek on the Street, pulled pork sandwiches from The Smoking Swine, slices from Dizzy Cow Pizzeria, tacos from Mexican on the Run, cupcakes from Icedgems Baking, and burgers from Kooper's Chowhound, and shucks from The Local Oyster. To wash in all down, there will be craft beer from Dogfish Head and Evolution Brewing. But that's not the only thing on the menu, as the event will feature a pie-eating contest, dunk tanks, moon bounces, a mechanical bull, and music from local acts like the All Mighty Senators and Cris Jacobs.