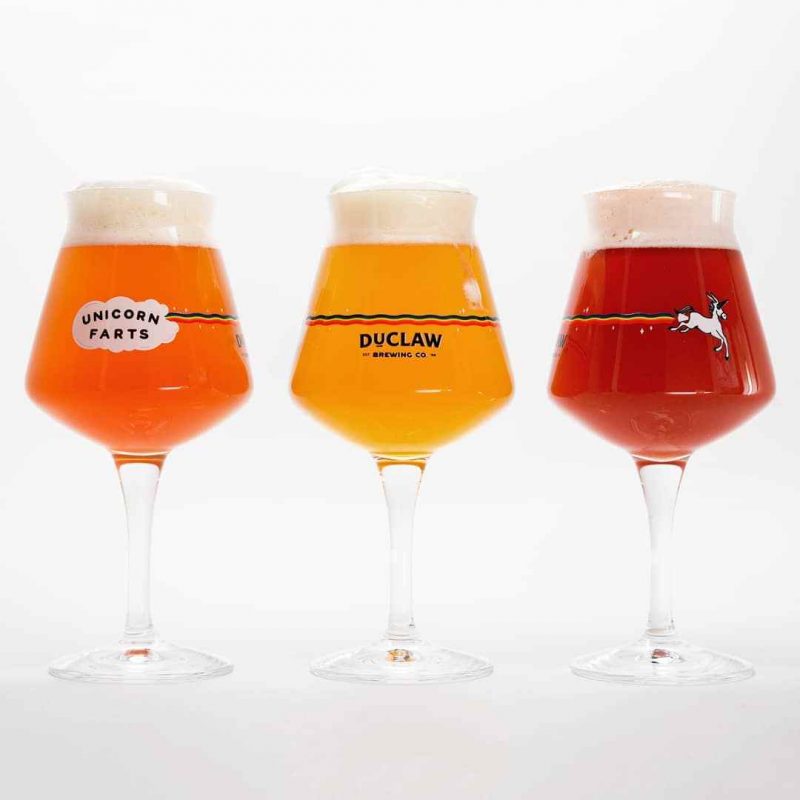 Courtesy of DuClaw Brewing Company
Between the parades, restaurant specials, and pub crawls in our St. Patrick's Day Roundup, it might be hard to come out the other end of this weekend without feeling a bit green. If you want to avoid the shamrock-clad crowds, check out these alternative events happening around town.
EAT
El Bufalo Tequila Bar & Kitchen, 2921 O'Donnell St. 11 a.m.-3 p.m. $20
We can't think of a better way to start the St. Patrick's Day weekend shenanigans than with a good ol' fashioned drag brunch. After noshing on Tex-Mex brunch dishes like spicy chorizo omelets and breakfast tacos, dance along with local queens like Sarah 'Nade, Virya Shavasana, and Victoria Bohmore as they sashay around El Bufalo Tequila Bar & Kitchen. With bottomless mimosas, tequila sunrises, and Bloody Marys flowing throughout the show, you're guaranteed to be dragging your feet once it's time to go back out to the Canton Square.
DRINK
DuClaw Brewing Company, 8901 Yellow Bright Rd. 2-3 p.m. Free.
This weekend marks the release of DuClaw Brewing's unicorn-themed beer in support of the city's LGBTQ community, and their team of brewers is kicking off the celebration (literally) with an ode to Baltimore Pride's annual high-heel race. Venture out to Rosedale to participate in a one-of-a-kind 20-meter dash to honor the brand-new glittery ale, Sour Me Unicorn Farts, and then spend the rest afternoon enjoying live music and eats from local food trucks. Show the crowd of onlookers what stilettos are made for and trade in your sweat for 16 ounces of shimmer at the finish line.
SEE
Creative Alliance, 3134 Eastern Ave. 6-8 p.m. Free.
Before Station North's worker-owned Red Emma's Bookstore Coffeehouse, there was Louie's, a beloved bookstore cafe which was the first of its kind when it opened in 1981. This Charles Street staple served as a hub for Baltimore's artist community, and now, 20 years after its closing, 25 of Louie's previously featured artists are hanging their masterpieces on the walls of the Creative Alliance to revive the glory of this cultural epicenter. Whether you're a former patron or just want to revel in this piece of local history, experience its opening on Saturday night and stick around for eats by James Beard Award-winning chef Spike Gjerde and tunes by Ava Oelke with Swing Theory.
HEAR
Metro Gallery, 1700 N. Charles St. 8 p.m. $10.
Heavy thunderstorms are in Friday's forecast, but don't let that stop you from jamming out with this righteous Baltimore-based septet during the release party for their first full-length album, Overgrown. Pack the Metro Gallery to hear bold anthems and vulnerable ballads from this rising Americana-folk group as well as sets by local artists Caleb Stine and Cora Sone that will have you rockin' no matter how loudly the thunder rolls.

DO
Downtown Sailing Center, 1425 Key Hwy. 9-11 a.m. Free.
Who knew mollusks needed gardening? This Saturday, head down to Lighthouse Point to help ensure that the 250,000 oysters planted around the Inner Harbor are living their best lives. Show your appreciation for these Chesapeake Bay VIPs by cleaning out their cages and learning about how important they are to the ecosystem. And though you're bound to get dirty (RIP to your T-shirt), the day's work will leave you feeling happy as a clam.