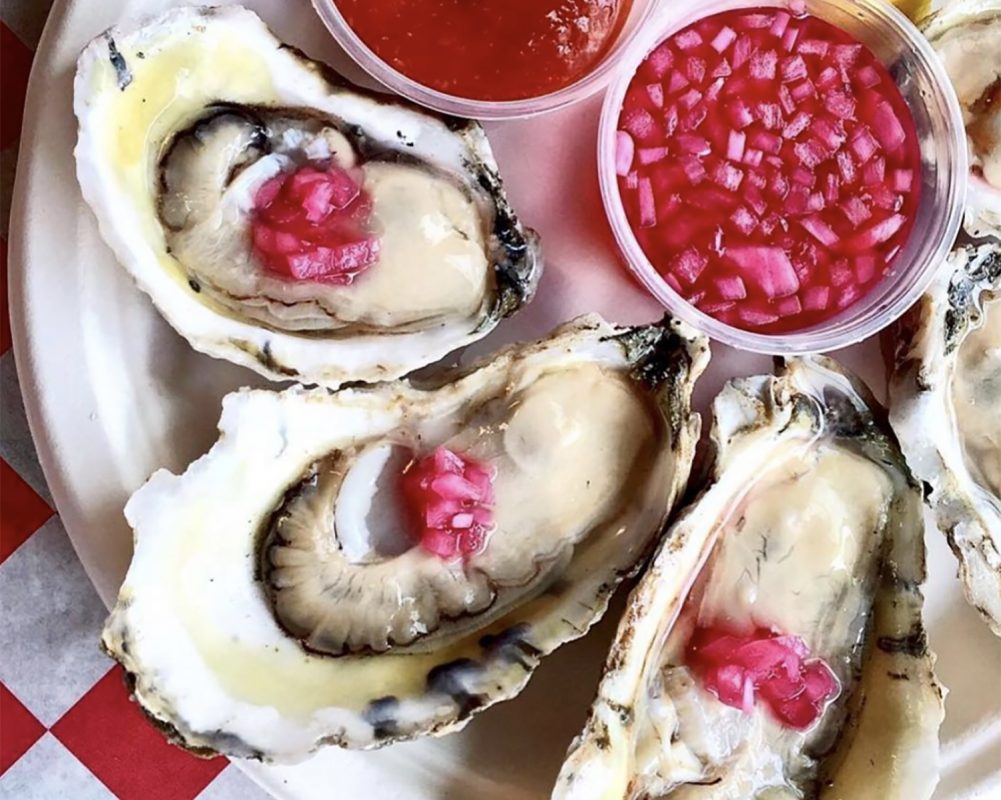 The Local Oyster
EAT
Union Craft Brewing, 1700 W. 41st St. 12-5 p.m. $15-50.
This annual oyster palooza checks all the boxes for a standout day of shucking, slurping, and sipping. Let's go down the list: Bivalves from the bay sourced from regional farms; superior shuckers from The Local Oyster and True Chesapeake Oyster Co.; the fan-favorite oyster-eating contest; live funky sounds by Rufus Roundtree and Da B'more Brass Factory; and tons of beer from host Union Craft Brewing. Need we say more?
DRINK
Max's Taphouse, 737 S. Broadway. 11 a.m.-2 a.m. Free.
For almost 35 years, Max's Taphouse has been a mecca-like destination for local beer lovers, with thousands of bottles in its collection and a draft list so long that it practically nudges you to try something new. This weekend, the Fells Point staple will temporarily add nearly 100 rare and obscure beers to its menu, with more than 60 deep-cut drafts and a growing list of bottles and cans. Take this opportunity to sip on something new because, who knows, "That's the Kind of IPA That Makes You Wish You Spoke French" or the "Sierra Nevada Bigfoot 2009" could be your new favorite beer.
SEE
Nov. 14-Dec. 1: Aladdin
The Hippodrome Theatre at the France-Merrick Performing Arts Center, 12 N. Eutaw St. Times vary. $52-175.50.
On the heels of the live-action version of this classic Disney film, the story of Aladdin will come alive on The Hippodrome stage—minus the presence of Will Smith. Bring the whole family to the historic downtown theater to experience the adventures of a street urchin who falls in love with the princess of Agrabah, with plenty of songs, colorful characters, and romance to keep audience members of all ages entertained. Catch this eye-popping musical during its almost three-week run and get ready to go on a magic carpet ride for the ages.
HEAR
Ottobar, 2549 N. Howard St. Sat. 8 p.m., Sun. 7 p.m. $15-50.
Whether you were in the crowd at the Talking Heads' 1983 performance at Hollywood's Pantages Theater or have watched the concert film "Stop Making Sense" a few times over, we can almost guarantee that you've never experienced the legendary show like this before. For two nights at the Ottobar, more than 25 Baltimore musicians and performers—including the likes of Landis Expandis on the drums and Jasmine Pope and Amy Reid as guest vocalists—will perform a full-throttle rendition of the epic concert with a light show and lamp-dancing included. Pack the Remington club for this do-good show, with a portion of the proceeds benefiting the Baltimore Harm Reduction Coalition.
DO
Belvedere Square, 540 E. Belvedere Ave. 12-3 p.m. Free.
Get into the (early) holiday spirit this Saturday at Belvedere Square's family-friendly market, packed with handmade gifts by local artists and makers. In between browsing through wares by vendors such as Scarvelous and Allison Fomich of Tigerlillyshop, grab a sweet treat from Sofi's Crepes or Chocolate by Jinji, bop along to live music, and spend the afternoon reveling in the start of this chilly holiday season.