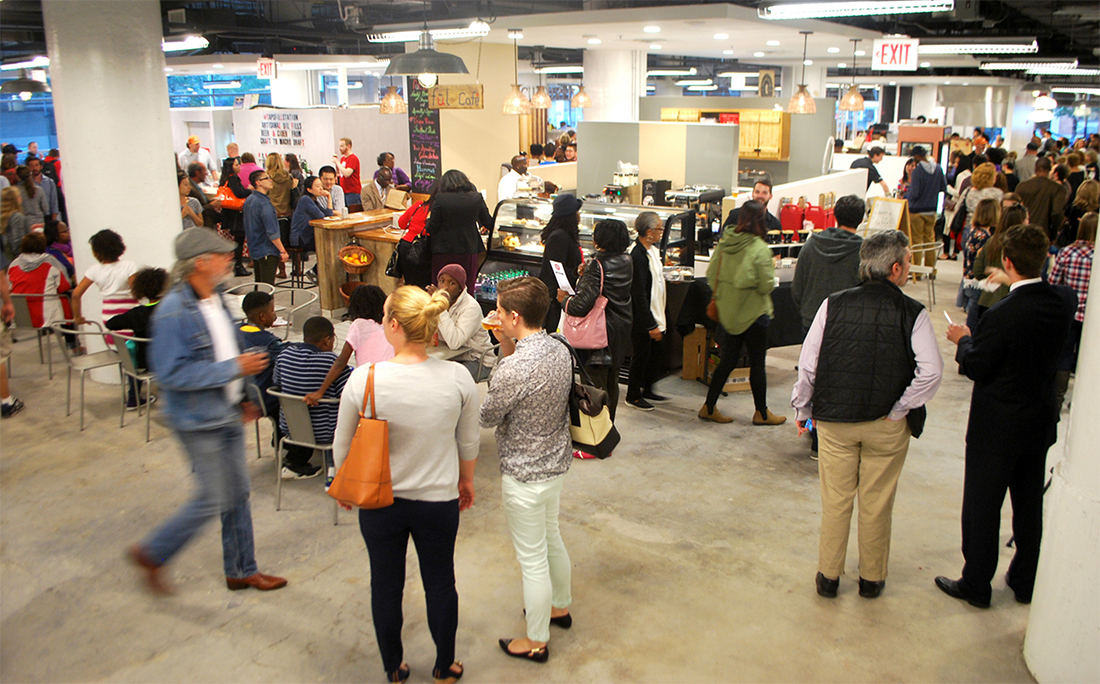 via Facebook.
Five things to eat, drink, see, hear, and do with your Charm City weekend.
EAT
Mount Vernon Marketplace, 520 Park Ave.
7-11 p.m. Free
We can't
believe it's been a year since our new favorite hangout was born. At the Mount Vernon Marketplace, we've found ourselves playing Ping-Pong and taking shots of
fire hooch from Pinch Dumplings, dancing to Rob Macy's Save Your Soul mixes
with Taps Fill Station beers in hand, and indulging in one too many (if there
was such a thing) oysters and shrimp salad sandwiches at The Local Oyster.
Within 12 short months, the food hall has become a neighborhood staple, be it
for business lunches, first-date dinners, or happy hours with friends. This
weekend, celebrate this awesome addition to our city, with a big birthday cake
from Edible Flavors, live music by the one and only Rufus Roundtree and Da
B'more Brass Factory, and food and drink specials all night.
DRINK
Das Bier Haus, 1542 Light St. 10:30 a.m.-9 p.m. Free.
Das Bier Haus
has been a welcome addition to the band of sports bars that make up Federal
Hill (we even named it "Best Beer Bar" this year).
With a wide selection of German ales, sausages and schnitzel, and boots to
boot, the South Baltimore beer hall has quickly become a gathering grounds and
brunch destination for the local community. This Saturday, toast the month of
October (and the end of Baltimore Beer Week) with giant steins, a bevy of
bratwurst, and Bear Pong tournaments towards the end of Light Street. Engage in
a sausage- eating contest, play a round of cornhole, and enjoy up a cool,
alfresco, fall day.
SEE
MICA Brown Center, Falvey Hall Auditorium, 1300 W. Mount Royal Ave. 7:30-10 p.m. Free-$5.
For the fifth
year, the Maryland Institute College of Art and the Maryland Film Festival
present the Sweaty Eyeballs, a showcase of independent animations. These
narrative, experimental, and music video works were made by local, national,
and international artists using a variety of techniques—including stop motion,
hand drawing, and CGI. In this weird and wonderful display of creativity, see short
films by MICA alum-turned PBS design Lauren Puglisi, Los Angeles-based animator
Miranda Javid (who has shown at the BMA and who recently made this mesmerizing
music video to the new
single "Become Younger" by Baltimore band Peals), Sundance Film
Festival-awarded Korean filmmaker Kangmin Kim, and German illustrators Volker
Schlect and Alexander Lahls.
HEAR
Merriweather Post Pavilion, 10475 Little Patuxent Pkwy., Columbia. 1 p.m. $55-175. 410-715-5550.


Even the most serious country music haters are now putting on their cowboy hats for the boot-scooting Southern genre that's made its way into the mainstream. Don your bandanas and cutoff jeans to hear big names like the party-starting Little Big Town ("Pontoon," "Day Drinking") and up-and-comers like the dynamic duo LOCASH (which is one-part Baltimore native). After 15 years, local country music radio station 93.1 FM has turned this swaggering Southern music festival into a favorite fall tradition.
DO
Locations & times vary, starting at 7 a.m. $15-280. 410-605-9381.
Marathon masters, after months of training, it's the day you've all been waiting for—the Baltimore Running Festival is finally here. Whatever your abilities, hit the pavement with everything from a 5K race to 26.2 miles through the heart of Baltimore City. Test your endurance or run for one of many great causes, including the Kennedy Krieger Institute or One Love Foundation.