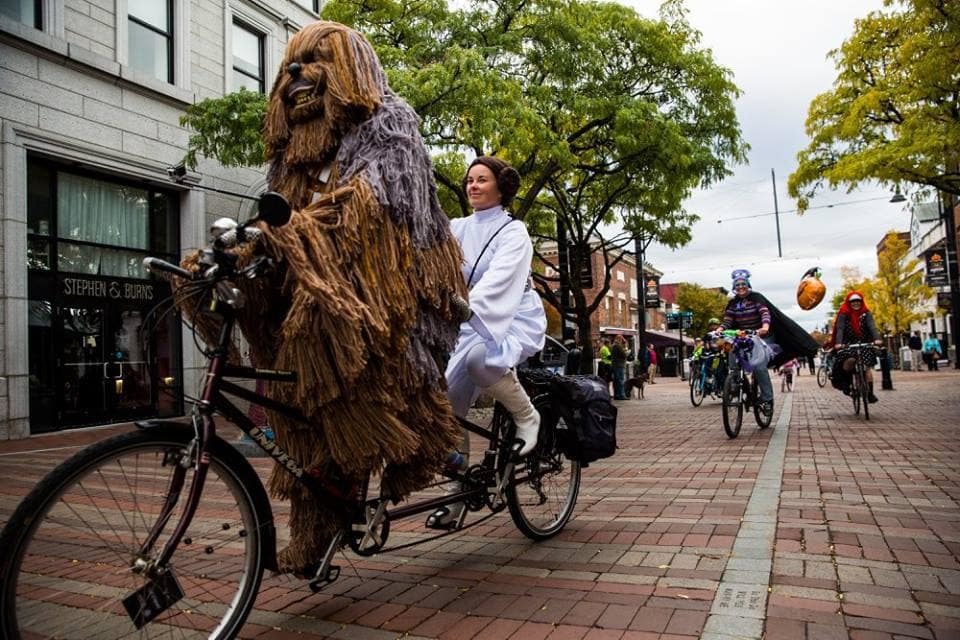 Courtesy of Baltimore Bike Party
EAT
The Charmery, 1700 W. 41st St. 3-5:30 p.m. $30.
Who ya gonna call for ice cream and a movie? Kick off the second season of the Charmery's full-sensory movie experience this Halloweekend with a showing of Ghostbusters, the family-friendly film about a team of scientists that team up to battle supernatural spirits. This Sunday, head to the ice cream factory to enjoy treats like a self-serve popcorn bar, a spook-tastic specialty punch, and snacks to fit a few special scenes while taking in this 1980s classic. And remember: Never. Cross. Streams.
DRINK
Monument City Brewing Company, 1 N. Haven St. 12-7 p.m. Free.
There are plenty of fall festivals happening around town this weekend, but this one-day beer fest stands out among the pack with its top-notch eats, entertainment, and specialty cask lineup. Stop by the Highlandtown brewery on Saturday to carve a pumpkin, play carnival games, nosh on lunch by Snake Hill and the From the Heart food truck, and, of course, sip on seasonal brews all afternoon long. The best part? The proceeds from this fall extravaganza will support Rails-to-Trails Conservancy's efforts to build a bike route behind the brewery.
SEE
Creative Alliance, 3134 Eastern Ave. 7:30 & 10:30 p.m. $12-15.
We're already shivering with antici…pation for this interactive screening of the weird and wild cult classic at Creative Alliance. Tighten your garters for a night filled with the traditional movie callbacks and costume contests, as well as special burlesque, drag, and tap performances by beloved local drag queens Betty O'Hellno, Venus Fastrada, and Baby. Come up to the Highlandtown lab and see what's on the slab during this Halloween tradition that's sure to leave you wanting more, more, more.
HEAR
Cafe Hon, 1000 W. 36th St. 8 p.m.-12 a.m. Free.
One of the city's most beloved fall traditions turns 20 this year, and to celebrate, there will be even more parade floats, glowing sculptures, and dance parties than ever before. After spending the afternoon in Patterson Park for the annual Lantern Festival, join thousands of onlookers and watch people of all ages parade through the park holding glowing lanterns and marching alongside community bands.
DO
Paca & Camden Sts. 8 a.m. $60-280.
Every year, hundreds of novice and avid cyclists don their Halloween costume a few days early and take a glow-in-the-dark ride through the streets of Baltimore. This annual bike ride starts at St. Mary's Park, winds through Charles Village and Belair, and ends at Monument City Brewing with a big she-bang of an after-party. Reward yourself with some extra calories from Dizzy Cow Pizzeria, Farm to Charm food truck, and plenty of brews before heading home for the night.