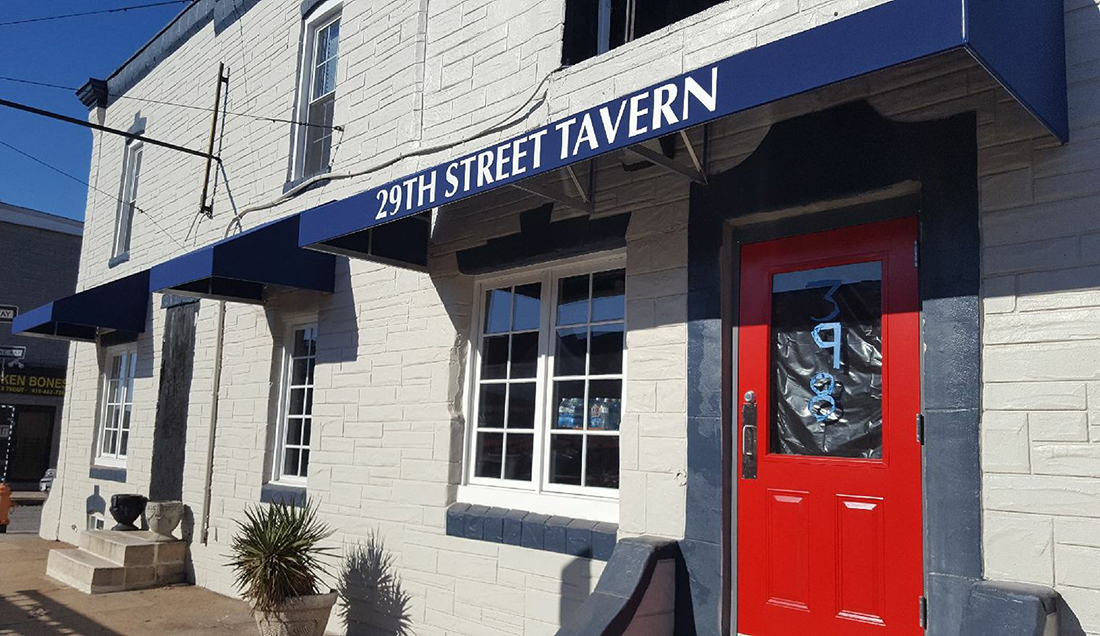 Swallow at the Hollow
Aaron Reinhart knows a thing or two about cleaning up a space. After decades in the service industry—working at the Sheraton in Towson, Bill Bateman's for a stint, and being the general manager at Ryan's Daughter—he purchased Swallow at the Hollow in February 2011. He had already operated the place for 18 months and knew he wanted to keep the regulars happy, but also hoped to attract new customers, so he placed a greater emphasis on the food, completed cosmetic renovations, and added some warmth back into the old college bar.
Now, he's hoping to take that same approach to Long John's Pub on the corner of 29th Street and Miles Avenue in Remington, which he is renaming 29th Street Tavern. While there has been plenty of clean up and restoration, Reinhart's plan is to respect the history of the building and the character of the neighborhood as he opens the door to his new bar next week.
"When I checked this place out, I thought, 'Wow, it's almost identical to the Hollow,'" he said. "They were both two combined buildings, both had that same crappy-looking carpet you'd stick to if you tried to take a step, same neon. Both should fill that role of the perfect neighborhood watering hole."
As was the case with his Belvedere Square bar, Long John's needed work, including ripping up six layers of rug, linoleum, and concrete to make the floors even. There were renovations done to the bathroom, small kitchen, and walls, which are now a mix of the original knotty pine and exposed brick. The bar tops (which were discovered to be authentic shuffleboards) needed to be stripped of plastic and sanded down.
"I didn't want to change too much about it—I just wanted to change the cleanliness," Reinhart said. "I know some people are worried about Long John's changing. But I want to maintain the history."
The space at 398 W. 29th Street used to be called Hoover's Stag Bar and then changed to Long John's Pub 40 years ago. But, somewhere along the way, the space traded as 29th Street Tavern, which Reinhart and his manager found out while doing payroll paperwork. 
"I was toying around with names, but accidentally stumbled across that one," he said. "Nothing against fancy cocktail bars, but I just want a simple concept with decent food and drinks. There's nothing wrong with a plain old bar."
To start, Reinhart says that there will be Natty Boh and Monument City 51 Rye on tap (his two biggest best sellers at Swallow at the Hollow). The menu will be similar, too, with burgers, wings, and cheesesteaks, and new additions like a Powerhouse wrap. He'll keep the sale of packaged goods because that's what local residents want.
"For me, it's more about being grateful to be in the neighborhood and asking people what they want," he said "We'll give it a whirl and see how it goes."
Though his initial plan was to open on his birthday, January 7, Reinhart says a more realistic goal will be early next week with likely little fanfare.
"People keep peeking in, saying how excited they are, and asking about a grand opening party," he said. "All I really want to do is get the sign up and open the doors."