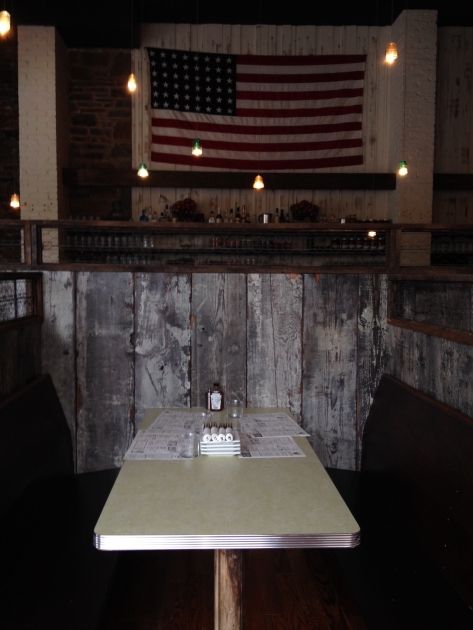 Photo by Suzanne Loudermilk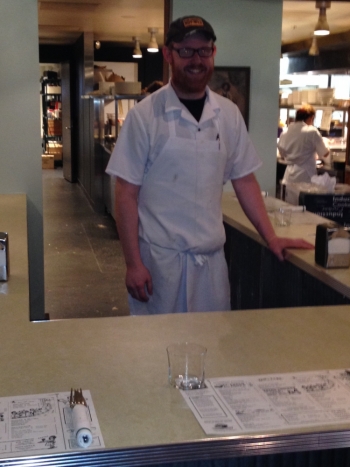 It was the night before opening and all through the house all the staff was scurrying, even the chef. Shoo-Fly Diner, which officially opens to the public at 4 p.m. on Friday, is already in business, hosting a reception tonight before the re-opening of the nearby Senator Theatre.
Starting tomorrow, the new Belvedere Square restaurant will be open from 4 p.m.-1 a.m. seven days a week. There's welcome valet service in the parking-challenged area. And just drop in. Reservations aren't accepted at this time.
Owners Spike and Amy Gjerde have had quite a week. Besides opening their third restaurant, they were named one of Martha Stewart's American Made Tastemakers for their farm-to-table ethos. The editors cited the couple for their commitment to staying local and for their in-house canning program, which will now be done at Shoo-Fly Diner.
I had a chance to walk through the multilevel space and pick up a menu today. As I got a glimpse of the refurbished rooms, Chef Opie Crooks, pictured above, was working with the crew in the open kitchen on the first downstairs level, which overlooks two horseshoe counters for diners.
Take a few more steps down, and you'll find a carpeted children's room with toys, games, and a pinball machine. Thank you, Spike and Amy! The bar and booths, pictured top, are located on the entrance level. If you continue upstairs, there is a dining room with tablecloths, pictured. But it still has a laid-back vibe, suitable to the comfort-food menu.
Here's a sample of the offerings:
Fried-chicken supper with braised greens, cornbread, and pepper gravy, $24.
Cast-iron catfish with cole slaw and malt mayo, $13.
Chesapeake crab roll, $16.
Shoo-Fly burger, $12.
Snacks like a pickle jar, $5; picnic eggs with bacon, $4; and a potato-cheese pierogi, $7.
Shakes and slushes to drink, $5-7. Don't worry. There are adult beverages, too.
And "Kid Stuff" like griddled PB&J and mac 'n' cheese.
There's no website yet, but you can find Shoo-Fly Diner at 501 E. Belvedere Ave. The phone number is 410-464-9222.
Many Baltimoreans, including me, remember when the building was Hess Shoes. Yes, the sliding board is still there. And, no, we can't use it. But thanks for the memories.