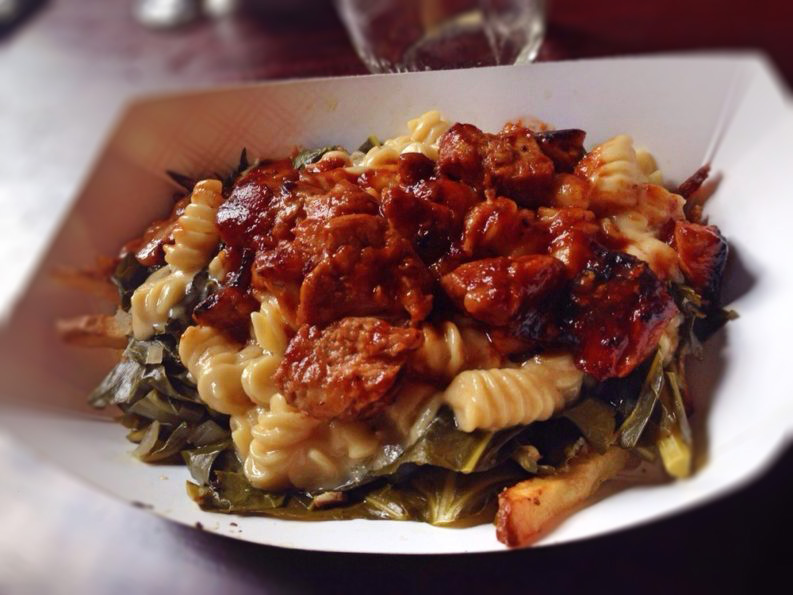 Courtesy of Yelp
Celebrity chef Guy Fieri can't seem to resist the Baltimore food scene.
In addition to opening his own burger joint inside Horseshoe Casino last fall, the fun-loving, spiky-haired star has showcased Charm City staples such as Slainte, Clementine, Joe Squared, and Swallow at the Hollow in previous seasons of his long-running Food Network series Diners, Drive-Ins, and Dives (DDD). And next month, we'll be able to add two more restaurants to the running list of local hotspots that have been featured on the show.
Alewife, the Westside beer bar famous for its burgers and fries, and Miss Shirley's, the brunch spot best known for its benedicts and Bloodies, will both be featured in the 24th season of DDD, which is set to premiere on Friday, Jan. 1 at 10 p.m.
Alewife's executive chef Chad Wells explains that each time the show films in Baltimore, the producers ask the featured chefs where they like to eat, which, in turn, helps the crew to scout new locations for future episodes.
"Several other places in Baltimore had mentioned us," Wells says. "So they called and we went through the entire screening process, which took hours of interviews. Then they go through all of the food items, send what they're interested in to Guy Fieri, and he ultimately picks what you prepare on the show."
Alewife's segment will highlight Wells' signature wild boar sliders and pork belly mac and cheese fries.
"It's pretty cool that they picked those two items because we don't consider ourselves to be a stuffy fine dining restaurant. We're a beer bar and we like to have fun," Wells says. "They're both fun dishes that you can enjoy with friends while kicking back and listening to The Ramones in the dining room."
According to a synopsis posted on Food Network's website, we'll get to see Fieri hit yet another local favorite as he chows down on crab cake po'boys and coconut cream French toast at Miss Shirley's in an episode airing on Friday, Jan. 15 at 10 p.m.
"It was a blast working with the crew, who were all very down-to-earth, complimentary, professional, and fun," says Brigitte O. Bledsoe, Miss Shirley's corporate executive chef. "We are just one of many incredible Baltimore restaurants that have helped to boost Maryland to the top of the culinary scene. We're so honored to be welcomed into the Triple-D family."
Alewife will throw a viewing party in honor of the episode's premiere, complete with a Fieri-inspired cocktail, draft specials starting at 10 p.m., and, of course, plenty of wild boar sliders and pork belly mac and cheese fries to go around. Wells adds that, while he is eager to hear everyone's thoughts on the episode, he's most excited to witness his 3-year-old son's reaction to seeing his dad on the big screen.
"I have the utmost respect for [Fieri]," he says. "He's so much fun to work with and it's awesome to see someone in his position who really has a passion for helping smaller businesses on such an amazing scale. Baltimore's food culture is very unique compared to other places, and right now is an awesome time for it to be getting so much attention."