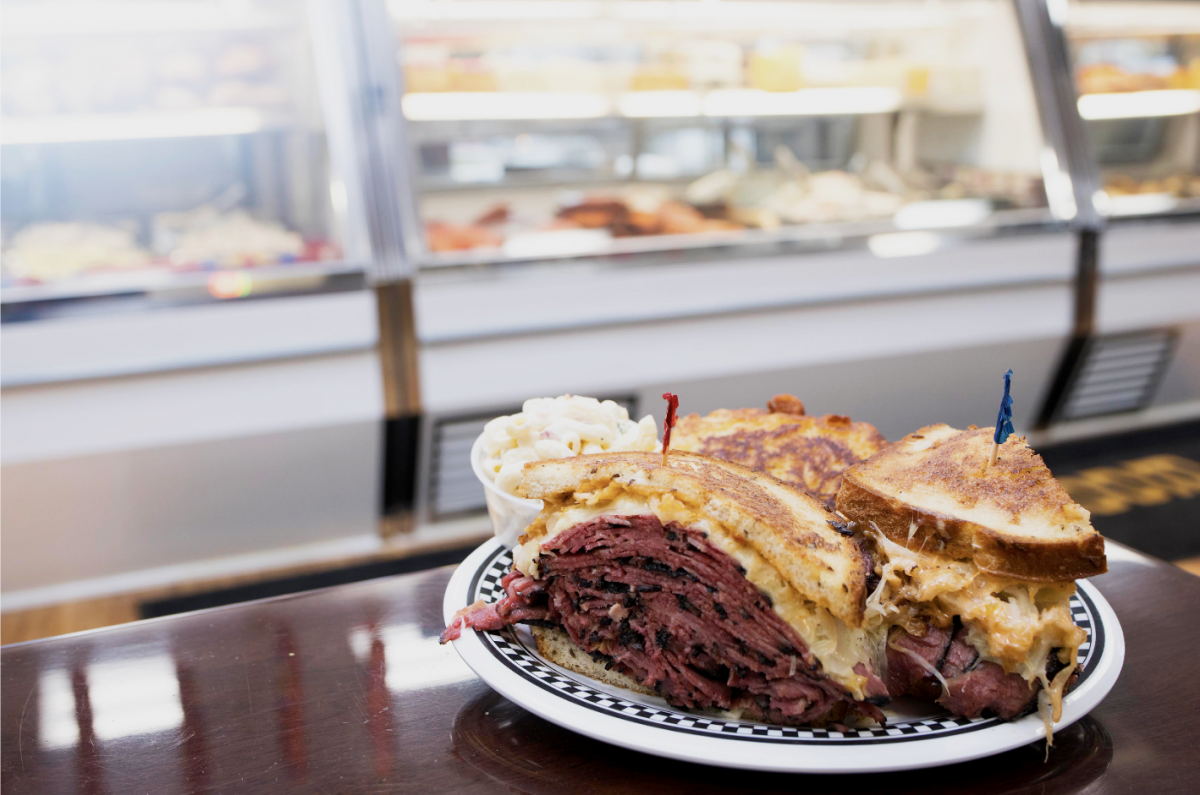 Photography by Christopher Myers
At the newly opened AJ's Deli inside Mount Vernon Marketplace, purists will recognize the classic fried bologna hot dogs and pastrami sandwiches. But the modern-industrial looking stall, which highlights eight bar seats equipped with charging stations for phones and laptops, also offers beer and wine, a potato-latke eggs benedict, and sandwiches filled with "tuna-cado" salad—a healthier version of traditional tuna mixed with avocado as a binding substitute.
"Mayonnaise-heavy deli sandwiches are of a bygone era," says AJ's owner Alan Morstein, whose concept mirrors a deli he formerly operated in Ocean City more than 35 years ago, but with an updated twist. "It's all part of this new wave of delis."
The vibe at AJ's is indicative of a larger trend across the country. As old-school Jewish delis continue to shutter their doors, new ones are modernizing their menus in order to change with the times. At the weeks-old Call Your Mother Deli in Washington, D.C., an Instagrammable wall mural greets diners looking to sample dishes like whitefish croquettes and a bagel schmeared with candied salmon cream cheese, crispy shallots, and micro radishes.
"There's a whole different style now," Morstein says. "It's not like what my parents used to take me to, and it's not like what I used to take my kids to. It's where my kids are taking me now."
Diners across the country began to take a hard look at what the future held for old-school sandwich shops two years ago, after the iconic Carnegie Deli in New York City sliced its final corned beef-on-rye. Since then, owners have repeatedly cited retirement and the rising costs of quality meats and ingredients as part of the reason for the dwindling number of delis.
"I don't think we're going to see any more real, full-service delis open very often, if ever again," says Alan Smith, owner of Lenny's Delicatessen in Owings Mills, which also has a spinoff inside Horseshoe Casino. "It costs a lot of money to do it, and you need a lot of help."
Baltimoreans started to feel the void in the spring of 2017, when Lenny's closed its 26-year-old Lombard Street location on Baltimore's famed "Corned Beef Row"—a once-bustling food district that now houses its last remaining delis, Attman's and Weiss.
When Smith was approached by the nearby Helping Up Mission about taking over the space last year, he decided that it was the right time to close the Lombard Street staple and focus his energy on his other two locations. Soon after, Suburban House shuttered in Pikesville, and, just last month, Mueller's Deli closed in Northeast Baltimore.
"I don't think delis are closing down because of lack of business, I think it's because people don't want to get into the business anymore," says Neil Parish, who opened The Essen Room in Pikesville last fall. "Back in the olden days, it was much easier to get product and to get help to make the product. Finding help is next to impossible now. People are using pre-cut nova because they can't find anyone to slice it."
In a time when many new deli owners are updating their dishes, Parish decided to go back to basics with a menu highlighting old-world items like kugel, knishes, and kreplach. Though he says he is constantly given feedback about his prices, he sticks to the philosophy that quality "always wins out."
In fact, many of the remaining family-owned eateries are committed to upholding the time-honored traditions established by delis of yesteryear. Smith, for example, says that the menu in Owings Mills hasn't changed since Lenny's first opened its doors in 1985, and he doesn't plan to modernize anything any time soon.
"It's hard work, but I'm not tired of doing it," Smith says. "We have no plans to go anywhere. It's all I've ever done—I don't know how to do anything else."
And while the city may never return to the heyday of traditional delis operating around every corner, with a few standbys still going strong, a classic corned beef sandwich won't ever be hard to come by.
"I don't believe that the concept of a Jewish deli is dying," Parish says. "Where other guys are going out, there are still some of us left who really want to spread the message."