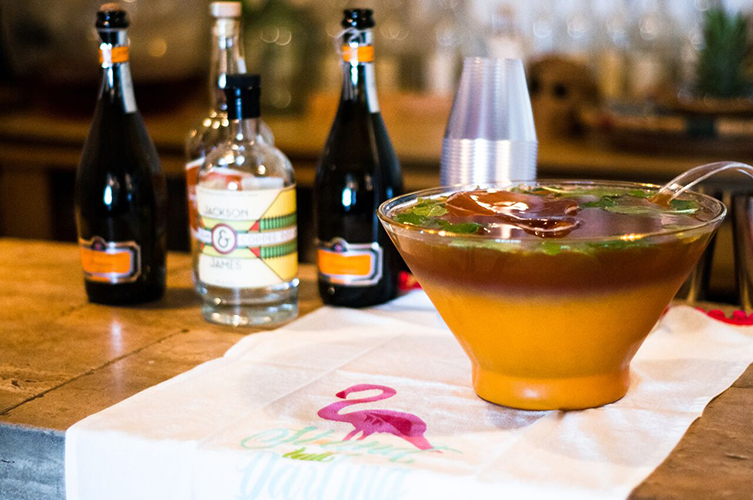 Baltimore Cocktail Week
Typically, the annual Baltimore Cocktail Week kicks off with a cocktail competition. But rather than pitting local bartenders against one another, organizer Ginny Lawhorn is taking a more collaborative approach this time around.
"In the face of the heartbreaking number of restaurant closures in the last year and a half, I didn't feel like we needed another competition," says Lawhorn, the co-owner of Sticky Rice, who started the event in 2015. "There's more of a desire to create a community conversation and focus on cultivating small businesses, whether it's engaging in them as consumers or supporting the jobs that they create."
This year, the weeklong initiative happening July 30-August 4 will launch with an across-town happy hour at five bars scattered from Hampden to Canton, including Holy Frijoles, The Red Star in Charles Village, Sticky Rice, Bartenders Pub, and The Regal Beagle. On Monday, July 30 from 4-10 p.m., each spot will create a specialty drink using a certain spirit, and a portion of the final sales will be donated to local nonprofits.
"Baltimore has so many unique communities," Lawhorn says. "People become so comfortable exploring their own, but sometimes it's nice to engage customers and try to get them just a neighborhood away."
The inclusive feel of the kick-off happy hour is fitting for this year's theme, "Better Together"—which Lawhorn says will be an undertone in all of the Baltimore Cocktail Week meetups. From a special brunch to a conversation about collective bargaining, the daily events (many of which are open to the public) will address subjects like sustainability, innovation, and wellness in the hospitality industry.
Feminism will also be a topic of discussion, as five female industry leaders gather for a "Badass Business Babes" panel at Waverly Brewing on July 31 at 7 p.m. Admission to the talk is $25 with all proceeds being donated to House of Ruth. Panelists will include Lane Harlan of Clavel and W.C. Harlan, Judy Neff of Checkerspot Brewing, Carrie Podles of Alexander's Tavern and Papi's Tacos, Emily Lerman of Mera Kitchen Collective, and Paige Baskauskas of Opici Wines.
"It's going to be great to hear everyone else's opinions about working in the hospitality industry from all sides," says Baskauskas, a wine sales representative for Opici. "This is a great event to show everyone that we're educated when it comes to our craft. We know what we're doing and we want to expand on that even more."
The week continues with a free, all-day series of wellness workshops at R. House in Remington on August 1. Led by our own local "healthtender" Amie Ward, the gathering will begin with yoga followed by a series of conversations about nutrition, sobriety, and sexual assault prevention.
Another industry trend being represented is sustainability, which will be addressed at a get-together at Foraged in Hampden on August 2. Six national brands, including Bombay Sapphire and Sierra Nevada, will present local bartenders with information about how to minimize their ecological footprints.
"It's not a secret that we're a wasteful industry," Lawhorn says. "It's a lot of packaging and food waste. But where do you start? Paper straws and compostable to-go containers are amazing. It's all about focusing on that next step to lower your environmental impact."
Later that day, Ceremony Coffee in Mt. Vernon will host "Punch with a Purpose," a collaborative cocktail class that will teach consumers about the versatility of different spirits by creating a seasonal punch. "It's super fun to dump bottles in things," quips Lawhorn. "It's also exciting to be able to engage a beautiful space like Ceremony in a different way for an evening conversation."
Closing out the week will be a Baltimore Cocktail Week collaboration with the Fells Point Farmers' Market on August 4. Attendees will be able to sample sips from eight neighborhood bartenders and vote for their favorites. The winner will be the signature cocktail at the End of Summer Soiree at the Sagamore Pendry on August 23.
In keeping with the "Better Together" theme, Lawhorn says she hopes that the weeklong initiative sparks a sense of community engagement in patrons and bartenders alike.
"There's something so important about conversations next to your friends at a bar stool, or across the bar with a bartender," she says, "and what that can mean to cultivation of ideas and a sense of community in a city."