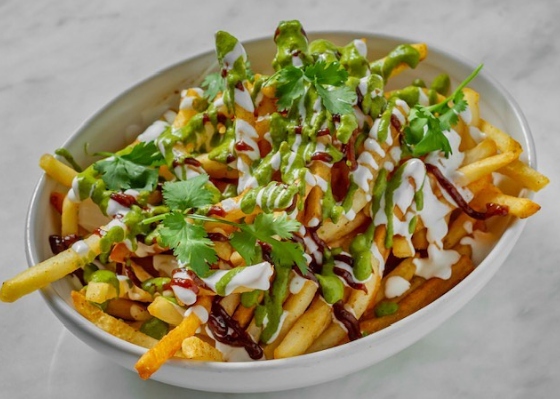 The Bollywood Fries at Good Ducking Burger. —Courtesy of Good Ducking Burger via Instagram
OPEN
Good Ducking Burger: This new ghost kitchen concept from chef Ashish Alfred marries his Indian roots with the French techniques you might find at his famed Duck Duck Goose in Fells Point. Hot-ticket items available to order via UberEats include the Delhi Hot Fried Chicken Sandwich made with deep-fried butter chicken on a brioche bun; the Walks Like a Duck Burger with pulled duck confit and barbecue duck jus; and the Bollywood Fries, which are double-fried and topped with tamarind chutney, cilantro chutney, yogurt sauce, and chaat masala.
"Good Ducking Burger came up as a way for me to express both who I am and what I know how to do," Alfred said in an Instagram video introducing the concept. "I think chefs are always dying to find a way to express where they come from and find a way to put that on a plate. For me, I found a way to do it between two slices of bread."
Easy Like Sunday: Sean and Anna MacCuish and Antonios Kokolis have brought the Easy Like Sunday brunch concept—which Anna and Sean launched in Charlotte, North Carolina—to the Village of Cross Keys. Anna is the eldest daughter of Andrew "Andy" Farantos, the owner of the iconic G&A Restaurant, which recently relocated to White Marsh after almost a century in Highlandtown. At Easy Like Sunday, patrons can expect all-American breakfast, brunch, and lunch comforts with fun twists. (Think: blueberry ricotta lemon pancakes, a variety of eggs Benedict options, a fried chicken sammy with a maple dijon aioli, and a short rib hash.) On the beverage side, gourmet coffees, cocktails, and craft mimosas (including a sampler to try all three signature purees—twist our arm!) are on offer. 
MA'EDE Ethiopian Market & Cafe: Pigtown is home to this new Ethiopian market and cafe from owner Emu Zenebe, who previously owned two local spots, Elfegne Ethiopian and Ebenezer, according to the Baltimore Business Journal. The new Washington Boulevard eatery opened on March 25, offering Ethiopian fare, coffee, spices, and imported goods. Favorites include traditional injera (pancake-like Ethiopian flatbread) platters with vegetarian salads and stews. 
CH-CH CHANGES
JBGB's: Hard as it might be to believe, this Remington pizza palace and butcher shop is coming up on its second birthday. Earlier this week, management took to social media to announce some changes on the horizon for the butchery side of the operation as the spot moves into its next year. Though the restaurant will remain unchanged (long live the white sausage and red pepper pie!), the butcher shop will only be open on Fridays, Saturdays, and Sundays through May 2 while the team prepares to unveil a new concept up front. Though the butchery's new name is still under wraps, the post shared that it will prioritize the highly requested subs and sandwiches served at JBGB's sister shop on Falls Road. Despite changes to the menu, whole-animal butchery will still remain a focus, and fresh cuts of meat will continue to fill the cases daily when the shop reopens full time.
COMING SOON
LB Skybar: Soon, Baltimoreans will once again be able to enjoy the dynamite views from the 19th-floor rooftop of the Lord Baltimore Hotel. The downtown hotel announced that its LB Skybar will reopen to the public for the first time since the 2019 season on Friday, April 28. Expect specialty sips, canned cocktails, and local beers, plus light fare like "Pie in the Sky" pizzas and grab-and-go food options.  "Whether a visitor is enjoying Baltimore for the first time or they're a longtime member of the Baltimore community, we are excited for everyone to enjoy the panoramic views of the city," said Sheila Wiegandt, managing director of the Lord Baltimore Hotel, in a press release.
If you're looking for a new staycation spot—the hotel is launching an overnight package tied to the LB Skybar, dubbed "Touch the Sky." It'll be available Thursday through Saturday nights and include an overnight stay, late check-out, welcome gift from local MFG Toffee & Bark Co., $50 dining credit, and two local beers at the LB Skybar. 
Verde Opening Pizza Truck in South Baltimore: Canton's popular Neapolitan pizza joint is opening a food truck across the harbor. The restaurant announced earlier this month that it will launch its wood-burning, pop-up pizza truck, Key Neapolitan by Verde, at 1302 Key Highway—a lot that used to be a gas station. SouthBmore.com reports that the former gas station will also be home to Crushed Velvet, a fluffy shaved ice (the Hawaiian kind—different from snowballs) concept from Riverside couple Kate Shotwell and Mack Fowler. Both hope to open in mid-May.
EPICUREAN EVENTS
5/3: Afro-Mexican Pop-Up at Clavel with H3irloom
Chefs David and Tonya Thomas, the couple behind H3irloom Food Group, plan to serve a special menu at Clavel on May 3 to celebrate Afro-Mexican cuisine and culture. The duo will serve braised Berber lamb tacos with their signature Sosu hot sauce, slow-cooked black-eyed peas, and Capirotada bread pudding with sweet potato and mole. The collaborative menu will be available for dine-in only, and no tickets or reservations are required. 
5/11-29: Wine Village in Baltimore
The makers of the Inner Harbor's popular winter Christmas Village are debuting a brand new spring pop-up event at West Shore Park. Perfect for a Mother's Day or Memorial Day Weekend outing, the two-week fête is modeled after wine events that are common in villages across Germany's wine regions in April and May. Expect nearly two dozen vino varietals from around the world (and some closer to home); European bites like bratwurst, crepes, Belgian fries, and Danish stroopwafels; beautiful blooms and flower beds; a historic carousel; local artists and makers; movie nights; live music and stage performances; and games for kids and adults. Hot commodities will surely be the traditional German-style "wein bowles" (boozy wine coolers,) as well as the ice-cold wine slushies topped with wine-marinated fruit.
"We look forward to debuting something new and exciting that will welcome Baltimore back out under the blue skies along the waterfront," said project manager Ronja Baumann, in a press release.