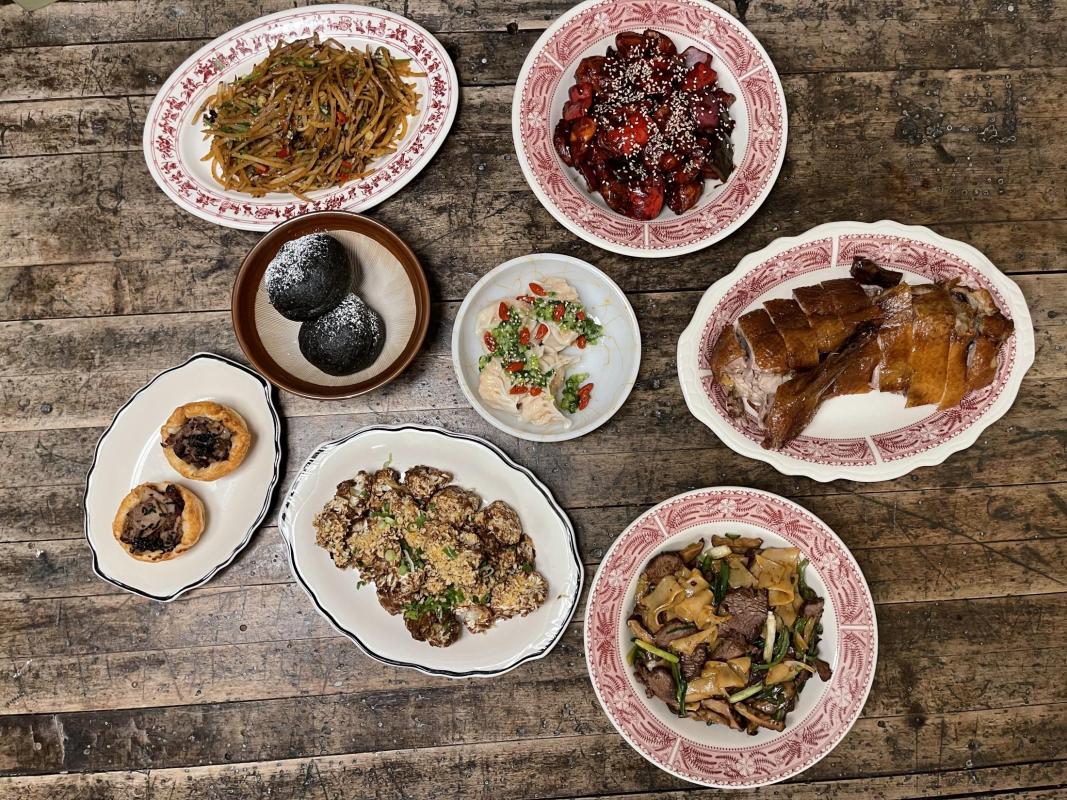 Dishes from NiHao's special Christmas menu. —Courtesy of NiHao Baltimore
We've made it to crunch time. Christmas Day festivities are close enough to taste. But there's still lots to do between shopping, wrapping, cleaning, and welcoming guests—which means that, for some of us, a home-cooked meal may not be in the cards this year. Or perhaps it was never in the holiday playbook (reservations, please!) But if there's one thing we can count on, it's our trusted local eateries, many of which will remain open on Christmas Eve, Christmas Day, and Boxing Day (Dec. 26) so we can spend more time enjoying the things that matter most.
Below, see our list of open spots to help you celebrate the holiday without the cleanup.
Ananda: Head to this enchanting spot in Maple Lawn to ring in Christmas Eve or Christmas Day with classics such as lamb vindaloo and Dharamshala duck served with cauliflower, corn khichdi, and seasonal polenta.
Cindy Lou's Fish House: From 5-10 p.m. on Christmas Day, the beloved waterfront eatery in Harbor Point will boast its standard offerings. Look out for backfin crab fluff, rib eye steak with Dijon bourbon butter, lobster po'boys, and rockfish bites.
Cinghiale: Celebrate Christmas Eve with a "Feast of Seven Fishes" at this Harbor East go-to, which will also serve up tasty bites like grilled magret of duck with braised fennel and a roasted beet salad tossed with fresh chive and parmigiano.
Cosima: Look out for plates like Calamari Ripieni stuffed with housemade sausage and spit-roasted chicken with rosemary whipped potatoes to complete your Christmas Eve, thanks to this swanky Falls Road favorite in Hampden.
Four Seasons: Few things are as jolly as a Christmas Day brunch—especially by way of this upscale downtown hotel. Secure a spot on Tock ahead of time to feast on winter-ready favorites in Four Seasons' Cobalt Ballroom (highlights from a menu by Chef Norma Whitt and team include a seafood raw bar, roasted lamb and made-to-order omelets,)
Gunther + Co.: Ring in Christmas Eve with tasty a la carte specials at the Brewers Hill fixture. Plus, be sure to pair your bite of choice with trendy pours (such as Frogs Leap Sauvignon Blanc) from the restaurant's wine selection.
Johnny's: This Christmas Eve, enjoy a lavish prix-fixe dinner at the Roland Park eatery, complete with dishes such as seared gulf shrimp with stir-fried vegetables and cream of mushroom soup with tangy goat cheese and chives.
The Manor: This posh Mount Vernon dining haunt is celebrating Christmas Eve with prix-fixe favorites such as butternut squash soup, Anjou pear and blue Cheese salad, and mouthwatering braised short rib a la Creekstone Farms.
NiHao: Reserve a spot on Tock to munch on on NiHao's famous Cantonese duck (served half or whole,) plus tasty sides including mustard green-stuffed shrimp dumplings, cumin-seasoned lamb buns, and charred tangerine beef.
Petit Louis Bistro: Switch things up on Boxing Day and head out to this French-inspired Roland Park spot, which will highlight favorites such as house-cured salmon served on a grilled baguette with crème fraîche, brothy escargots, and crackly duck confit.
True Chesapeake Oyster Co.: While closed on Christmas Day, this beloved Jones Falls seafood gem invites its guests to "feast on fishes" on Christmas Eve. Chow down on chicken-fried blue catfish served with swiss chard, herby roasted half-shell oysters, and steamed middleneck clams.