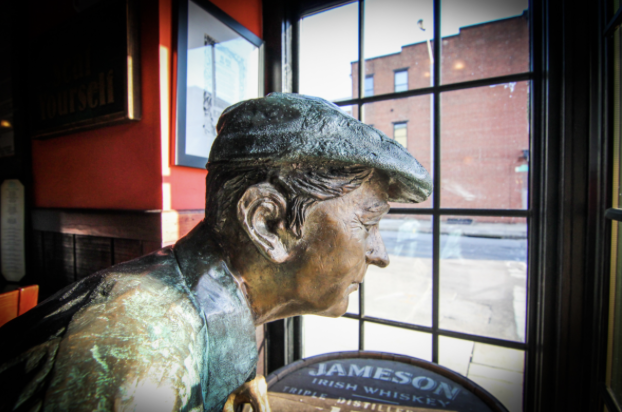 Courtesy of Delia Foley's Irish Pub
Some of the casualties of Baltimore's recent string of restaurant closures were our traditional Irish pubs. Within the last few months, The Harp poured its last pint of Guinness in Perry Hall, Ryan's Daughter held its final jam session in Belvedere Square, and regulars said an emotional goodbye to Butchers Hill mainstay The Life of Reilly. Some are still also feeling the loss of Patrick's of Pratt Street, considered to be the oldest Irish pub in America, which closed for good in the summer of 2016.
Although some of the greats have gone by the wayside, a handful of the area's most authentic Irish pubs are still going strong. But what exactly makes a great Irish pub? For Dave Niehenke, who has owned Mick O'Shea's in Mt Vernon since 2002, it's all about consistency.
"It's kind of like a good pair of jeans," Niehenke says. "They're comfy and sturdy. You always know what you're going to get. If I go travel to another city and I see two bars, and one of them is an Irish pub, I'm going to go there because I find it more comforting and welcoming. It's rarely ever the shiniest thing on the block, but it's always solid and reliable."
Paul Sellers, manager of Claddagh Pub in Canton's O'Donnell Square, had a similar experience while visiting New York City during the holidays this winter.
"I found myself going inside of every Irish pub I saw because I just felt more at home there," he says. "The people are more real. I just like it better that way. And we try to make sure the people around here feel the same way."
One way that Claddagh incorporates that Irish feel is through its interior, which highlights dark woods, strung lights, and vintage Guinness posters. Sellers continued the theme with Claddagh's recently-debuted outdoor patio, which features decorative maps and imported furniture that pay homage to Cork—a city in Southwest Ireland.
"All of the decor is authentic to Irish culture," Sellers says. "From the Harp and Smithwick's signs, to all of the Ireland soccer jerseys on the walls."
Delia Foley's in Federal Hill boasts a similar feel, which co-owner Andrew Carter says only furthers the bar's inviting atmosphere.
"Everything from the decor, to the Guinness Club where people can put their names up on the wall, it all just has this feel-good vibe," Carter says. "This isn't just some bar that you go to after midnight on a Friday or Saturday. This is that bar you go to hang out with your friends for happy hour any day of the week."
Of course, tradition also plays a significant role in Baltimore's Irish pubs. When Bill Mitcherling opened An Poitin Stil in Timonium in 1999, his goal was to commemorate the history of Baltimore's Irish community.
"The whole idea was to bring a little bit of Ireland to Baltimore," Mitcherling says. "And to honor the traditions of the Irish and the state of Maryland dating back to the time of the B&O Railroad. With the music and the aesthetics of the place, it's typical for people to come in here and say they feel like they're back in Ireland."
Live music is also an integral part of any Irish bar. While Mick O'Shea's continues to be a home for Irish and Gaelic bands, it's also become a popular venue for local performers of other genres.
"Years ago it was Irish music on the radio 24-7, and always live Irish bands on the weekends," Niehenke remembers. "But a lot of those bands that used to play here have since retired. We still feature the traditional Irish music, but also do more local music now, everything from reggae to rock and R&B."
Another way to stay true to the authentic concept is through sports. Patrick Russell, owner of Sláinte Irish Pub in Fells Point, says when he was in Ireland doing research prior to opening the bar in 2004, he was inspired by the sports pubs of Galway and Belfast—where spirited fans backing different teams gathered to watch matches together.
"A lot of pubs here are trying to become either a Liverpool or a Chelsea supporter," Russell explains. "So whenever a team scores, you're all very happy for each other but you can't throw it in the face of your adversary. In Ireland, what makes it such an amazing environment is the banter that goes back and forth between opposing fans. When you watch a soccer match at Sláinte, Thames Street literally erupts."
Although authenticity remains a priority, many pub owners are also making it a point to adapt with the times. Says Russell: "You have the younger generation coming up and they're not quite understanding what it's all about."
In an effort to accommodate the newest wave of bar-goers, Russell has diversified the food options at Sláinte to include more European gastropub-style dishes like poutine, Scotch eggs, and a hearty gumbo—which was featured by Guy Fieri on Diners, Drive-Ins, and Dives in 2014.
"When people want to go out to eat together, it's tough when you have an isolated menu," he says. "We started to include more eclectic offerings, so that not everyone who comes in here has to be in the mood for Shepherd's Pie or corned beef and cabbage. And I've seen a lot of guys in the industry that are doing the same thing."
At Delia Foley's, Carter is in the process of modernizing the bar's look with new doors that lead out to  Charles Street. But he's hoping to do it in a way that preserves the spot's Irish charm.
"Instead of the steel garage doors, which give it a little less of an Irish feel, we decided to do accordion-style doors," he says. "It's a way for us to get with the modern times and adjust accordingly."
Even in the midst of all of the changes, local pub owners assure that a warm atmosphere and top-notch service will always remain a priority.
"The one thing that Irish pubs are known for, it's an Irish word called the craic," Niehenke says. "It roughly translates to good times with friends and good conversations. And that's what we try to continue."