Behind-the-Scenes: The Making of Our July Crab Cover
We got down and dirty to create our July cover.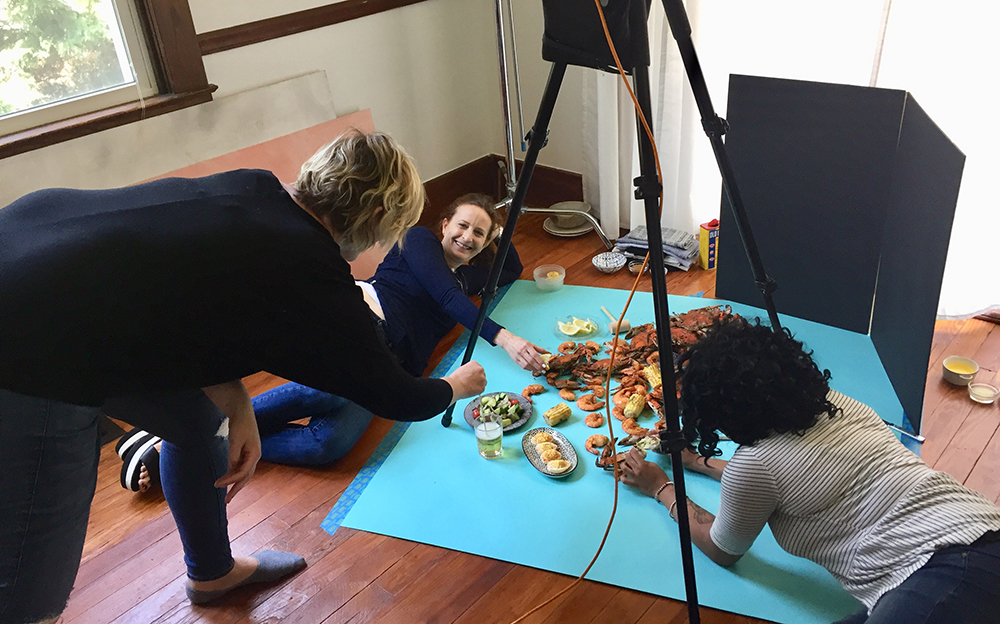 My car was so steamy I feared the cops might flag me down. This was my first thought as I pulled out of Conrad's Crabs & Seafood Market in Parkville with two dozen blue crabs, a tin of crab dip, deviled eggs, pints of cucumber tomato salad, two dozen steamed shrimp, and other foods to form a delicious crab feast. A graduate degree in journalism, and a childhood spent in Philadelphia, had not prepared me for the life of a crab wrangler. And, yet, here I was—with Old Bay in Smell-O-Vision in my sedan.
Our crab cover shoot wasn't until the next day, so I rearranged my refrigerator jettisoning expired condiments I never needed in the first place (banana ketchup, really?), moved a shelf and hauled the steaming box of crabs and other items into cold storage.
The next day, my car still smelling of seafood seasoning, I piled everything back into the trunk, and drove the steamy subjects and accouterments to photographer Kate Grewal's bungalow in Towson.
Kate, creative director Amanda White-Iseli, and food and prop stylist Giulietta Pinna, carried props, including ceramic bowls, table ware, decorative craft paper, a variety of utensils, serving bowls, and other items from the trunk of her tiny car to Kate's dining-room-cum-studio. "Why is it that food stylists always drive the smallest cars?" mused Amanda.
In the four hours that followed, with crabs splayed on top of blue seamless paper taped to Kate's floor, Giulietta got down on hands and knees to glam up her subjects on set—hand-selecting the biggest boys, wiping away crab spice with a Q-Tip, and positioning the pile just so to create our mouth-watering cover image.
Also on hand was our designated "hand model" Catina Smith, a cook at Magdalena and Kate's good friend. Giulietta and I got in on the act, spread out across the floor pretending to crab cracks, wield mallets, and squeeze lemons. As we contorted or bodies into Twister-like positions, we agreed that it's true what they say about modeling—it's harder than it looks, especially when you have to lay on a floor.
Meanwhile, I also shucked ears of corn on Kate's lawn and browned corn fritters and lobster mac-and-cheese with a blow torch. Kate served us fruit and granola when she wasn't shooting. Amanda gave artistic direction. ("That crab is bothering me off to the side," she said. "It looks like it wants to join the whole pile.") Within hours, team had shot the cover, a crab feast spread and a variety of sides for our page highlighting ways to make your accompaniments special.
While I try not to eat the props on most shoots, I'm a sucker for sides. I taste-tested the lobster mac and cheese from Stone Mill Bakery, moved onto the cucumber salad from Conrad's, the corn fritters from Gourmet Again, and the potato salad from Graul's.
By the afternoon, the shoot was done and what was many months in the planning had finally come to fruition. The feeling of seeing the magazine print, published, and soon online was almost as satisfying as the food from the feast. Almost.