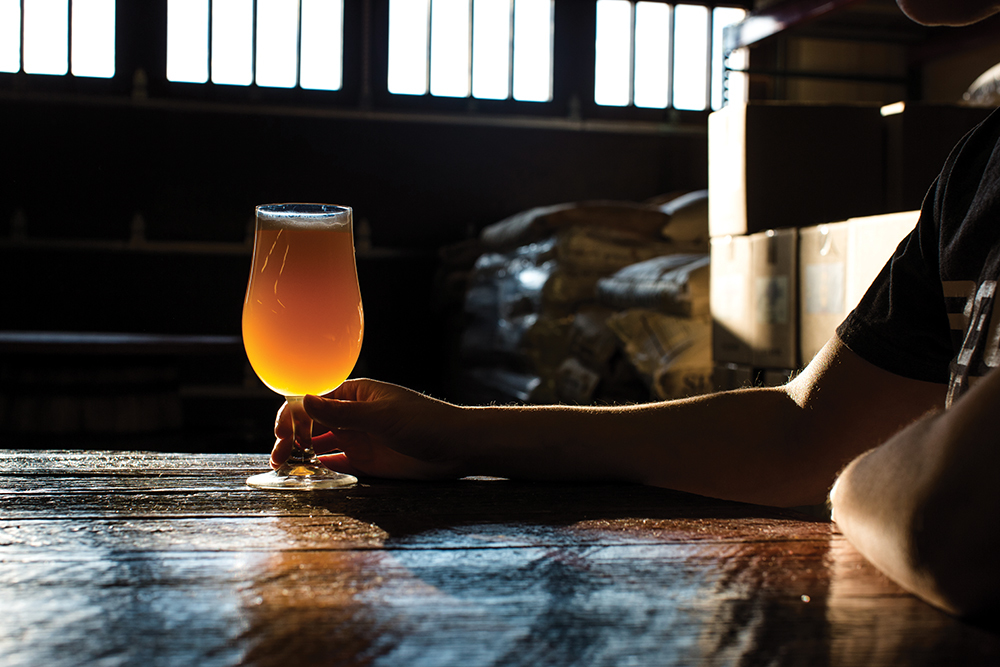 Justin Tsucalas
Hard to believe that it was a decade ago when friends and beer lovers Joe Gold and Dominic Cantalupo founded Baltimore Beer Week. Back in 2008, there were only three such events in the country. But it's safe to say that the craft beer landscape, both nationally and locally, has grown exponentially.
That growth and evolution will be on full display at the 10th annual Baltimore Beer Week, which runs October 12-21 this year. Of course, there will be plenty of pub crawls, tap takeovers, beer-pairing dinners, and the like but breweries and bars have gotten more creative than ever this year.
"Dominic and I are just the marketing arm behind this," Gold said. "Like Restaurant Week, it's the venues who are doing all the work. They dream all of these wacky, creative things up."
While it's nearly impossible to choose from the hundreds of sud-soaked events throughout the city, we thought we'd narrow it down to some of the most creative and exciting beer-themed bashes this year.
Baltimore Beer Legends Hall of Fame
October 12, 11:30 a.m.-1:30 p.m., Mt. Washington Tavern
Mix and mingle with local beer aficionados, and enjoy a lunch paired with some of Baltimore's best beers while three local beer legends get inducted into the hall of fame: former Sun feature writer and beer expert Rob Kasper, Fells Point craft beer bar Max's Taphouse, and iconic former Baltimore beer brand National Bohemian.
Das Bier Oktoberfest
October 13, 12-6 p.m., M&T Bank Stadium
Like in years past, kick off the multi-day beer celebration at this festival. With more than 150 international, domestic, and local Maryland beer and wine, the festival will feature plenty to drink and many German beer hall sights and sounds.
Disc Golf in Druid Hill Park
October 13, 9 a.m., Druid Hill Park
Play this single-round, 18-hole tournament in one of Baltimore's most beautiful parks. Different holes will be sponsored by Peabody Heights, Oliver Brewing, Union Craft, Whitey's Liquors, and The Brewer's Art. Proceeds will benefit No Kid Hungry Maryland.
'80s Night
October 13, 7-10 p.m., Mahaffey's Pub
Don your best perms, leg warmers, neon track suits, and shoulder pads for this '80s-themed dance party at Mahaffey's. There will be themed music all night, beer from RAR Brewery, and prizes awarded for best dressed male and female.
Brewmore Movie Screening
October 14, 3 p.m., Parkway Theatre
Directed by Nick Kovacic, Brewmore dives keep into the history and revitalization of craft beer in Baltimore by speaking with experts and brewers alike. Enjoy craft beer from Monument City, Union Craft, and others in the lobby before the movie begins.
Beyond The Gates: History and Beer Study
October 16, 6-10 p.m., The James Joyce Pub
Get to know your Irish history as Guinness experts discuss the new Open Gate Brewery & Barrel House in Haltethorpe, the brand's legacy, and what innovations they're brewing. Guests will also get to sample Guinness Blonde and a brand new release.
Small Brewery, Self-Distribution Night
October 16, 6-11:30 p.m., The Brass Tap
As the event says: "Skip ahead of your local hipster, meet them now, so you can say you knew them before they hit it big." Get a chance to know some of the smaller batch and self-distributing breweries on the Maryland scene like Denizen's, Checkerspot, Brookville Farms, Crooked Crab, Tall Tales, and Peabody Heights.
Build Your Own Beer Dinner
October 17, 5 p.m., R. House
The drinkers become the planners in this outside-of-the-box event from Sierra Nevada Take your pick from the 11 vendors inside the Remington food hall R. House as you pair dishes with various craft beers.
Homebrew Extravaganza
October 17, 6-9 p.m., Checkerspot Brewing
For nearly a decade, local beer experimenters have been gather to show off their home brewed creations. This year, try nearly 40 of them in South Baltimore where 100 percent of the proceeds will go to BARCS (there will even be dogs from the shelter there)! There will be prizes and food from Mexican on the Run.
Celebrating Women in Brewing
October 18, 6-11:30 p.m., The Brass Tap
Stop by to meet and greet with some of the biggest names in brewing. Female owners and brewers from Union Craft, Checkerspot, Guinness, Charm City Meadworks, and more will be on hand to share their wisdom and show off their beers.
World of Beer Turns Five
October 20, 12-8 p.m., World of Beer
This McHenry Row beer mecca is celebrating a big milestone by tapping a collaborative birthday beer with Key Brewing, Monument City, and Oliver. There will also be a beer stein holding contest, build-your-own-brat bar, live music, and, of course, a birthday cake cutting.
Runner's Appreciation Day
October 20, 12-7 p.m., The Brewer's Art
For those also interested in shedding calories, The Brewer's Art will reward any runners who bring in a participations medallion to the bar with access to a secret menu and 26-cent drafts.
Mardi Gras!
October 21, 11:30 a.m., Mahaffey's Pub
Close out Baltimore Beer Week by watching the Ravens take on the New Orleans Saints and sampling beer from the bayou (Abita) and some from our own backyard (Hysteria). Wear your purple beads and enjoy New Orleans-themed food.