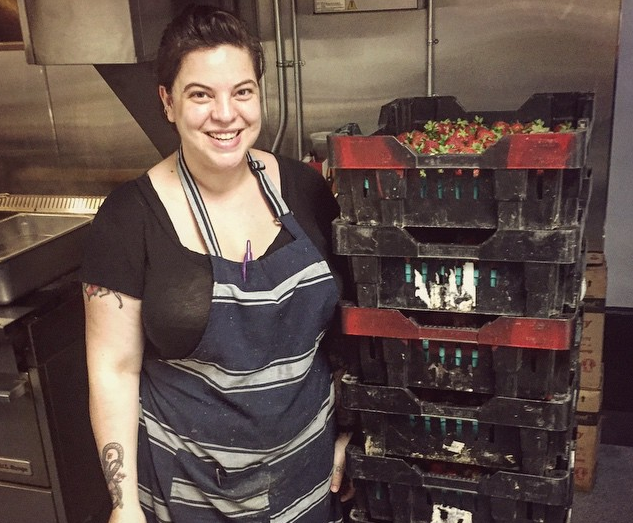 Courtesy of Sarah Acconcia
If you're a Food Network junkie, prepare to see a familiar face grace your screen tonight.
Our own Sarah Acconcia—executive chef at Bookmakers Cocktail Club—will be featured on tonight's episode of Beat Bobby Flay, a weekly series that pits chefs from different cities against one another in hopes of going head-to-head with culinary all-star Bobby Flay.
Although the details of the chefs' concoctions are under wraps until the episode airs, its synopsis reveals that Acconcia—whose resume includes stints at local hotspots like Woodberry Kitchen, Maggie's Farm, and Le Garage—will compete against Dallas-based Top Chef alum Tre Wilcox in the first round.
Acconcia, who says that Food Network initially approached her about being on the show, first familiarized herself with Beat Bobby Flay prior to when filming began in March.
"I don't really watch that much TV, but I liked [Beat Bobby Flay] more than other food shows because it was more of a professional competition than a reality TV show," she says. "Even with the people who lose, they don't make them look bad, it's still more about being a good cook and not so much about the drama."
The guest judges for tonight's showdown include Food Network veterans Sunny Anderson and Giada De Laurentiis.
"It was really cool to have such well-respected chefs taste my food," Acconcia says.
She also notes that an added perk of the "fun and challenging" experience included a meet-and-greet with Michelin star holder chef April Bloomfield.
Beat Bobby Flay airs tonight at 10 p.m. on Food Network.
If you find yourself strolling around Federal Hill, be sure to stop into Bookmakers and watch the competition unfold on two screens with sound in the downstairs bar. Acconcia will be whipping up some surprise dishes for tonight's menu, as well.