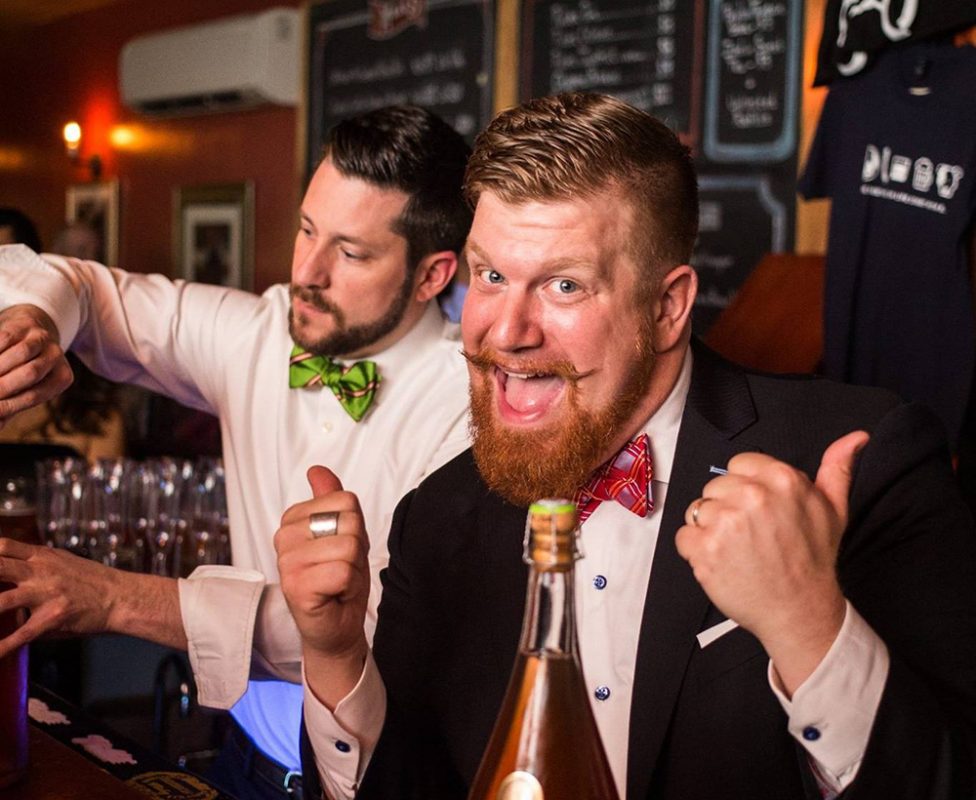 Brian O'Doherty
Brendan Dorr, head bartender at B&O American Brasserie and president of the Baltimore Bartenders' Guild, is well regarded as the godfather of the cocktail scene in town. Since the mid-2000s, Dorr has been managing bars and consulting on drink recipes, all the while dreaming of starting his own place.
"It feels like forever," Dorr says with a laugh. "But I didn't just want to open another bar in Baltimore. I want it to make national headlines."
Next spring, Dorr and his bartending business partner Eric Fooy, will open the doors of Dutch Courage, a gin bar at 2220 North Charles Street in the Old Goucher neighborhood. The space was built in 1851 and features crown molding, marble fireplaces, ceiling medallions, and a 1,000-square-foot courtyard out back.
"We've had this concept for a long time, but we knew we couldn't put it just anywhere," Dorr says. "This place—and in the neighborhood—are pretty spectacular."
Dorr says that he was drawn to the neighborhood because of the work being done by Old Goucher Community Association president Kelly Cross, who has helped to establish businesses like Brown Rice and a beer garden from Clavel's Lane Harlan, slated to open in 2018.
"There are so many great businesses that Kelly has brought to the neighborhood and we wanted to be a part of that," Dorr says. "It's exciting that Lane is opening a cool beer garden—we're rife for that kind of outdoor space. We'll be around the corner and be able to send each other guests."
As for Dutch Courage, the 1,500-square-foot interior will be divided into an upbeat main bar room on one side and a relaxing parlor on the other. Dorr and Fooy are thinking the cocktail menu will take a cue from Anvil Bar & Refuge in Houston, which has a list of 25 classic cocktails and 10 rotating seasonal drinks on the menu. There is no plan to put in draft lines, but bottled and canned beer will be available. The owners are applying for a live music license to offer the occasional jazz trio for guests.
"Gin is a bright, fresh spirit so we want to the bar to have a bright, upbeat vibe," Dorr says. "We want to bridge that gap between classic cocktail bar and something more modern. We will have something for everybody in all price ranges so anyone will feel welcome."
There's talk of opening earlier on Fridays and Saturdays for happy hour in the courtyard, which the owners are excited to turn into a lush garden for possible chef pop-up events. The bar itself won't have a kitchen, but there will be snacks like crostini, nuts, crudité, and meat and cheese plates. Dorr says his "fingers-crossed timeline" is six months, but more realistically, Dutch Courage will take nine months to get through the construction and permitting process.
As for the name, Dorr's love of history and, of course, cocktails played a role. During the Thirty Years War in the 17th century, British soldiers said that drinking Hollands gin gave them strength and confidence going into battle—"pretty much like liquid courage," Dorr says. The title seems fitting for the pair, who are finally opening a space of their own.
"It's funny, I go back and forth between being super excited and overwhelmed," Dorr says. "Yesterday I felt like I got to open one of my stocking stuffers and this morning it was back to, 'Oh man, we've got a lot of work to do.'"