Life of Bryan
Top Chef runner-up Bryan Voltaggio joins Baltimore's culinary scene.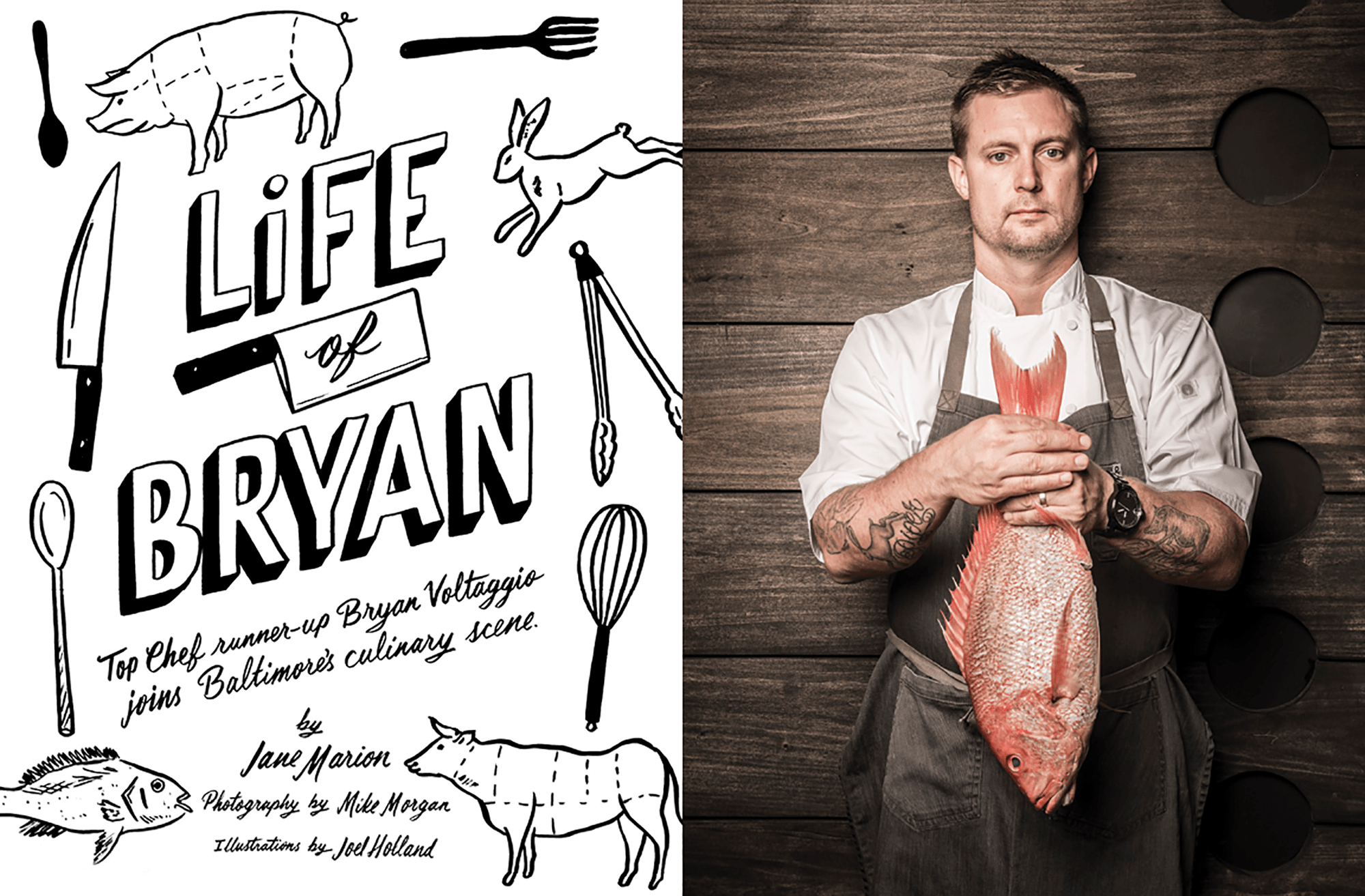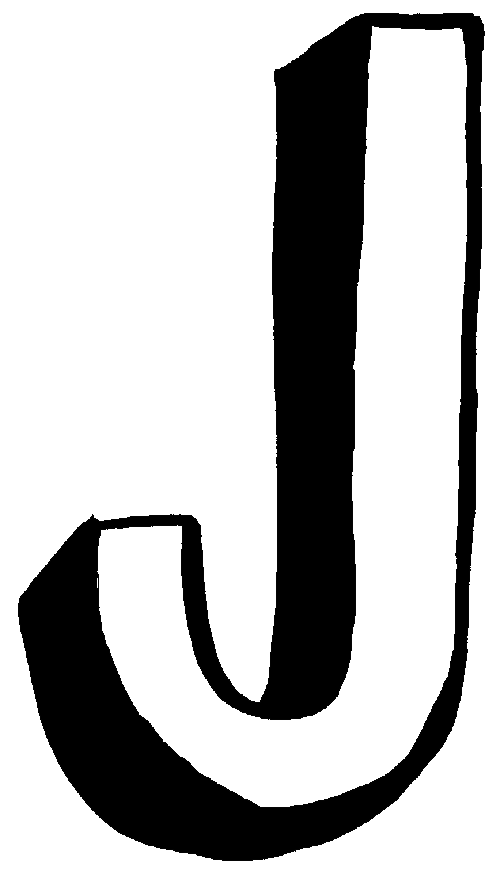 Just before the start of dinner service on a balmy summer's night, Bryan Voltaggio sits in a booth among the white calla lilies and stylish neutrals in the dining room at Aggio, his modern Italian restaurant in Power Plant Live! It's a rare moment of respite for the James Beard Award-nominated chef and Top Chef runner-up. While the accomplished 38-year-old has been on a roll, opening six restaurants in six years, and still continuing to add to his culinary canon, his latest iteration—open since late June—is particularly personal.
"I've always looked to Baltimore as a city I grew up in, even though I've never lived here," notes Voltaggio, who appeared on season six of Top Chef in 2009 and its spinoff, Top Chef Masters, in 2013. "We frequented it so much on weekends—I felt like it was part of my childhood and my life. We'd go to Little Italy and the Inner Harbor, and I used to see the Orioles at Memorial Stadium. I love Baltimore—I wanted to be in the spot that was part of where I grew up."
And although he presides over an ever-expanding empire with establishments throughout the Mid-Atlantic (he is the executive chef and co-owner of Aggio, Lunchbox, and Range—all in D.C.—as well as Frederick's Volt and Family Meal, which is set to open in Baltimore this year and in Ashburn, VA in 2015), the Frederick-born chef insists that his new Aggio is not just another flash-in-the-pan project. "This did not come on a whim," says Voltaggio, who commutes almost daily from his home in Frederick. "I want to be a part of the fabric of Baltimore. I'm not Guy Fieri opening up at Horseshoe [Casino]. I'm going to be here. I'm going to cook here. I want people to understand that this is not an aside—this is who I am."
---
---
Staying true to himself has always worked well for Voltaggio. In fact, it was key to his Top Chef success five years ago, when he went from obscurity to celebrity-chef fame. Though the Culinary Institute of America (CIA) graduate didn't take top toque on the cooking competition (he famously lost to his younger brother, Michael), the look-alike siblings were the clear stars of the show. Yes, Voltaggio's boyish good looks, baby-blue eyes, and ability to show 'em the old razzle dazzle while cooking for the cameras helped lead to Emmy gold (Top Chef took a statue for Outstanding Reality-Competition Program that year), but he had something even more rare in the anything-but-authentic universe of reality TV: real talent.
"I didn't go on TV to be a TV personality. . . . I went on to cook. I was a cook before I went on the show, and I'm a cook now."

"What you saw on the show was very much who he is," says Voltaggio's wife, Jennifer. "He keeps his head down, and he's very serious about what he does. He thinks about it all day long, every day."
Voltaggio is driven, though fame isn't something he seeks. "I didn't go on TV to be a TV personality," he says. "And I didn't get involved in the drama—I went on to cook. I was a cook before I went on the show, and I'm a cook now." (Still, with more than 235,000 followers on Twitter and almost 14,000 followers on Instagram, there's no question that the Top Chef has an army of admirers.)
While he's a talented chef, Voltaggio—who met his wife, Jennifer, in a Frederick high-school cafeteria—is, first and foremost, a devoted family man whose face lights up when he talks about his brood—Thacher, 7; Piper, 3; and Ever, 1. (He also has the ink to prove it: Thacher's and Piper's names, along with their corresponding Chinese zodiac animals, are tattooed on his forearms to commemorate their births.) "I try to create a balance between work and play," explains Voltaggio, who lets loose at the skateboard park with Thacher on Sundays, his sole down day in an otherwise punishing 60-plus-hour work week. "My family sometimes saves me from overdoing it."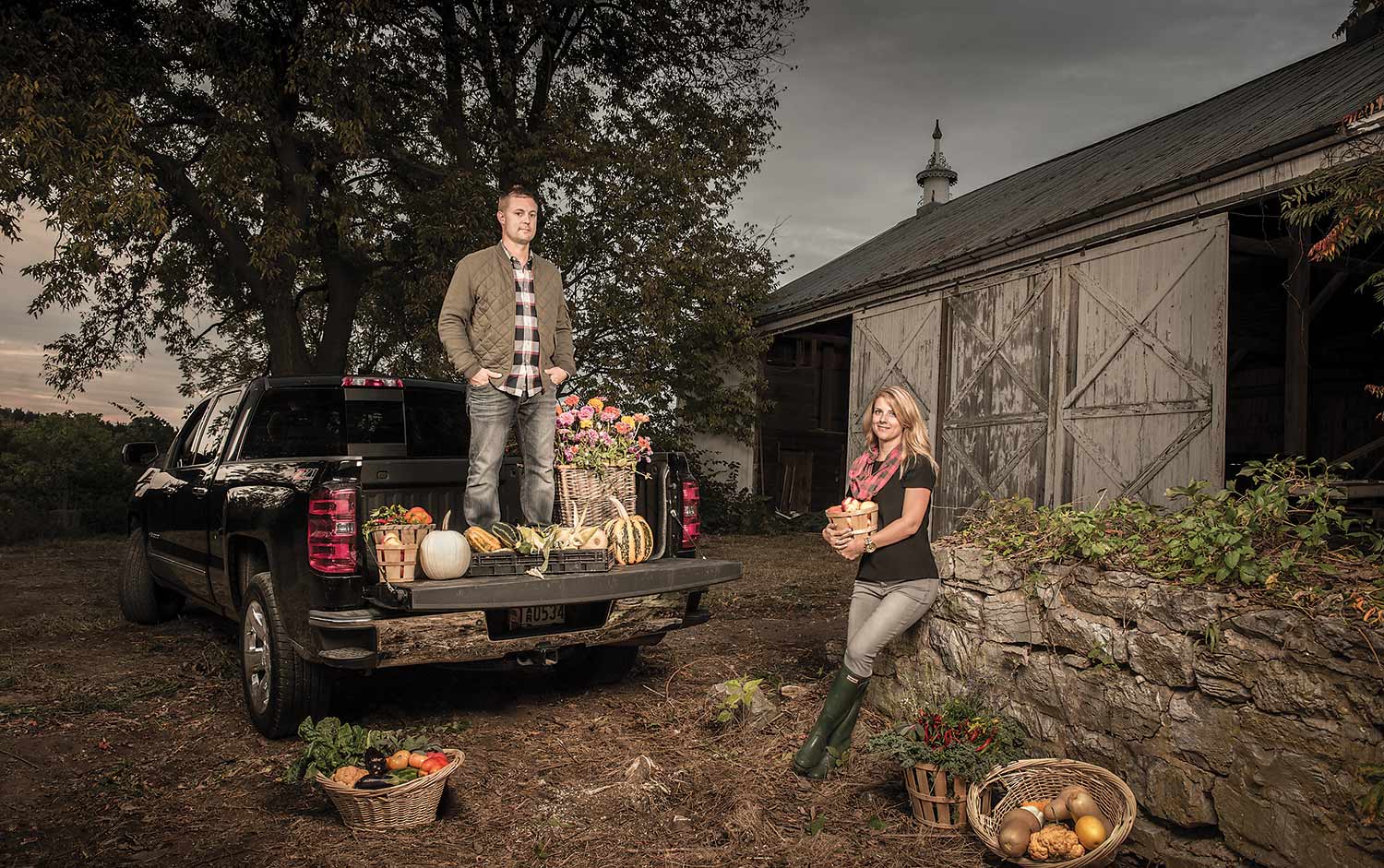 Old high-school buddies also keep him grounded. "My high-school friends could give a shit about the fact that I was on TV," says Voltaggio. "They will still tell stories and embarrass the hell out of me, sometimes even in my restaurants, about the time I did this or the time I did that."
Voltaggio's own childhood, with parents who divorced by the time he was seven, set the stage for what was to come. He once had hopes of getting a soccer scholarship to University of Maryland, but repeated ankle injuries dashed his dreams. And without the promise of scholarship money, college was not in the cards. With no other obvious options, he entered a vocational program for culinary arts in his junior year.
---
---
At the same time, Voltaggio's dad, John, a Maryland state trooper who moonlighted as a security guard at the Holiday Inn in the Francis Scott Key Mall, helped his son land a busboy position. "I wasn't necessarily thinking of cooking as a profession, but I asked the chef, 'If I get through this program, will you let me cook?,' because what he was doing was much cooler than busing tables," recounts Voltaggio, who eventually worked his way up to sous chef, holding down a full-time job six days a week after graduating from high school. For Voltaggio, the kitchen provided the stability and structure he didn't have at home, as he bounced between his parents' separate residences. "The chef made me do my homework every night before I got on the line," he remembers. "At a young age, I learned about running a restaurant."
After meeting Jennifer, and wooing her with his chicken Chesapeake (chicken with crabmeat, asparagus, and béchamel), he started to think more seriously about the perks of the profession. "I started learning that food was more powerful than just getting a paycheck," says Voltaggio, smiling. "It could actually lure women. And that's when I started paying attention to this as being a career." (Ironically, it was Jennifer who first cooked for him. "He would sit with me at lunch, and I would always give him a half of my sandwich because he never packed one," recalls Jennifer.)
His mother, Sharon, who cooked simple, homemade fare, was also an early influence. "My mom always made sure we sat down to something prepared," says Voltaggio. "We had pizza night just like any other American family, but mostly it was from-scratch cooking, and that was instilled in me and shaped my love and passion for food."
"I KNOW WHOSE PLAYGROUND I'VE STEPPED INTO. . . . STILL, I FEEL LIKE I BELONG HERE, TOO."
By 1997, at the age of 20, Voltaggio wanted to hone his kitchen skills further. He applied—and was admitted—to the prestigious CIA. With Jennifer's support, weekend kitchen jobs, and a bank loan, he was able to scrape by and attend. "Jennifer, who was just my girlfriend then, co-signed on a loan," recalls Voltaggio. "Her parents were really angry."
His time at the Holiday Inn more than prepared him. At the outset, Voltaggio set himself apart in the culinary classrooms of the storied school. "I was far ahead of the pack," he says. "In a knife skills class, I had to sit there and chop parsley all day—it was a joke. I was like, 'Can I just skip this class and get a refund?' But when they said, 'No,' I was like, 'Fine. If I'm going to be here, I'll be the best I can be.'"
Toward the end of his second year, Voltaggio interned (or "externed" as it's known at the CIA) at Aureole, Charlie Palmer's much-decorated, contemporary New York kitchen. Though Voltaggio had been living about an hour outside of New York City on the CIA's Hyde Park campus, going into the heart of the Big Apple was another story. "I was a Frederick cow-town boy going to visit the big city," he recalls. "I thought I was going to cross the bridge and there were going to be burning barrels and I'd get shot or something. The first time I drove across the Queensboro Bridge, I was really nervous."
Even so, he soared. With his ironclad work ethic, Voltaggio parlayed his internship into a plum job after graduating in 1999. While at Aureole, Voltaggio started to develop his concept about the importance of local sourcing and cooking with the freshest and finest available ingredients. "It's where I was introduced to the idea of honing in on local products," he says. "Charlie was a partner in a farm called Egg Farm Dairy and they made their own cheese. I spent a few days there and learned to make cheese. It made me think about what it really meant to cook—it wasn't just about cooking a great dish, but working with ingredients. I learned you have to pay attention to the materials to make something that's great."
Also at Aureole, he learned how to succeed in the fickle restaurant business. "I remember Charlie picking up a mop and mopping his own floor," recalls Voltaggio, who says the memory sticks with him still. "There were no celebrity chefs back then, but those of us in the industry were like, 'This is the man. And the man is mopping the floor?' It made me realize that, as a business owner, he cared about every aspect of the restaurant. I do the same thing in my restaurants. I don't ask anyone to do anything that I wouldn't."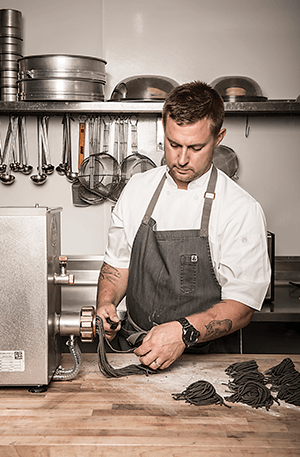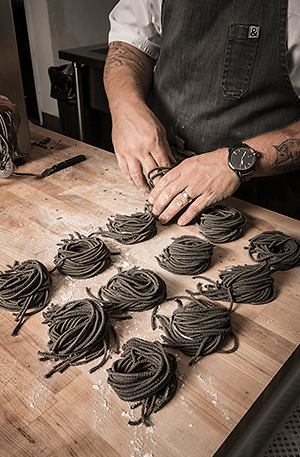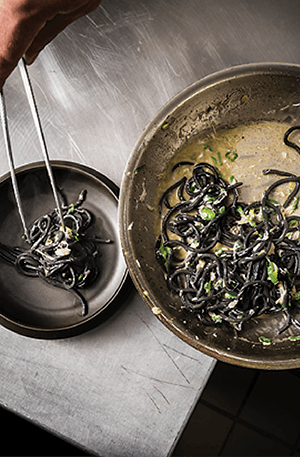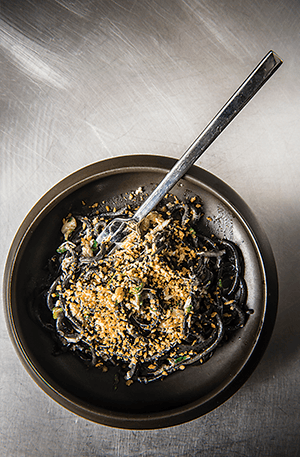 That sense of humility plays out at Aggio as well. "Bryan is very hands-on," says Aggio's chef de cuisine, Dan Izzo. "He's very involved in every aspect of this place and he has a full understanding of what happens inside the kitchen, which makes us better chefs—there's nothing he doesn't do here."
By 2007, Voltaggio, then an executive chef at Charlie Palmer Steak in Washington, D.C., began thinking about opening his own restaurant in Frederick. Coincidentally, he got a cold call from his now-business partner, Hilda Staples. Staples was also a Frederick-area resident with an interest in opening a place in her hometown. "She wanted to open a champagne bar that served paninis," says Voltaggio, laughing at the memory. "I was not going to leave Charlie Palmer to open a champagne bar." But the young chef was open to the idea of having Staples help him realize a concept he had hatched while still a student at the CIA. "For a class project, I had to come up with a restaurant concept," he says, "and I based the idea on a brownstone in downtown Frederick. It was very progressive American cooking, basically identical to what I opened 10 years later with Volt."
When Volt opened in July 2008, it was hailed by The Washington Post as "one of the most interesting restaurants in the state," but the high-end dining establishment with a pricey prix-fixe menu got off to a rough start as the economy slid into a recession.
Then, about seven months after opening Volt, Top Chef came calling. "I told Michael that I wouldn't do Top Chef without him," he says of his younger brother, who owns the trendy Ink in Los Angeles. "And he said he wouldn't do it without me. In the end, we decided to do it."
In addition to his concerns about leaving his fledgling business for six weeks, he worried about leaving Jennifer and Thacher, who was 18 months old at the time. "I had worked my entire life to open this restaurant," says Voltaggio, knowing that even if Top Chef co-host Padma Lakshmi told him to "pack his knives and go home" after the first week, he couldn't really go home until the season wrapped. "We had no cell phones. No Internet. No newspapers. They even filmed our phone calls to make sure we weren't getting recipes or telling people whether or not we had been kicked off. People who are incarcerated probably get more time talking to the outside world than on Top Chef."
The gamble paid off. After the show wrapped, Volt became a fine-dining destination and Voltaggio was an instant culinary darling, nominated for a James Beard Foundation Award for Mid-Atlantic Best Chef in 2010 and named Chef of the Year, both by the Washington D.C.-based non-profit Share Our Strength (for which he has helped raised many thousands of dollars, in a fight to end child hunger in America) and the Restaurant Association of Maryland. Some fans were so ardent, they even ascribed him with a higher power. While dining at Volt, one patron asked Voltaggio to bless her unborn child. "I was certainly taken aback," he says, smiling at the memory. "The entire [cook's] line was covering their mouths to keep from laughing. I was like, 'Absolutely, of course.' I guess she wanted her child to be a chef."
Voltaggio's mentor, Charlie Palmer, says he's not at all surprised by his protégé's success. "Bryan was similar to a lot of young people who come out of the CIA," he says. "He was really inspired and passionate about what he was doing and really believed in what he was doing as a career. Bryan epitomized that drive and ambition and was always soaking up knowledge. He was one of those guys who never stopped asking questions and was always trying to be the best."
Despite the hosannas, the driven chef has never been one to rest on his laurels. "Restaurants are tough businesses," he says. "Their margins are small, and, to grow a business, there's only so may diners you can have in any one single location. I'm not opening eight Volts."
With Aggio, the chef wanted to create a restaurant concept distinctly different from Volt. "I fell in love with the idea of doing Italian food," he says—and he channeled Palmer with his progressive, unexpected combinations on a plate. "I love the simplicity of the cuisine, even though it's very complex in some realms."
Aggio's modern sans serif menu is a brilliant, deceptively simple, riff on classic Italian fare, and also draws on local ingredients. A kale and collards Caesar salad employs oysters instead of anchovies; a pasta dish is comprised of Maryland blue crab, jalapeño, pepperoni bread crumbs, and squid ink tonnarelli, and a house version of Old Bay. "We're trying to take inspiration from classic dishes and represent them using ideas from the Mid-Atlantic," he explains. "You've got approachable Italian food, but with a little bit of the whimsy that you get out at Volt—it's the best of both worlds."
While Voltaggio is eager to make his mark on Baltimore's culinary landscape, he admires those who've transformed Charm City into a foodie's paradise. "I know whose playground I've stepped into," he says. "This area is very much Cindy Wolf and Tony Foreman—they established themselves a long time ago in Baltimore and they are iconic to Baltimore cuisine—and [Voltaggio's friend] Spike Gjerde [who] is a leader in celebrating not only Mid-Atlantic cuisine, but what it means to dine in Baltimore. Still, I feel like I belong here, too."
And though he's been invited to open restaurants in Los Angeles, Las Vegas, and other far-flung spots, his heart remains close to his rural Frederick roots. "I've got a little bit of country in me," says Voltaggio, laughing. "I hunt. I fish. I have a truck. I love driving on two-lane roads to nowhere, and I have an American-made pickup truck. . . . I guess you could say I'm a country song without the dog."
More Food & Drink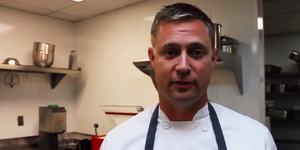 Video: Behind-the-Scenes with Bryan Voltaggio
The Aggio chef shows us how to make and plate a pasta dish.