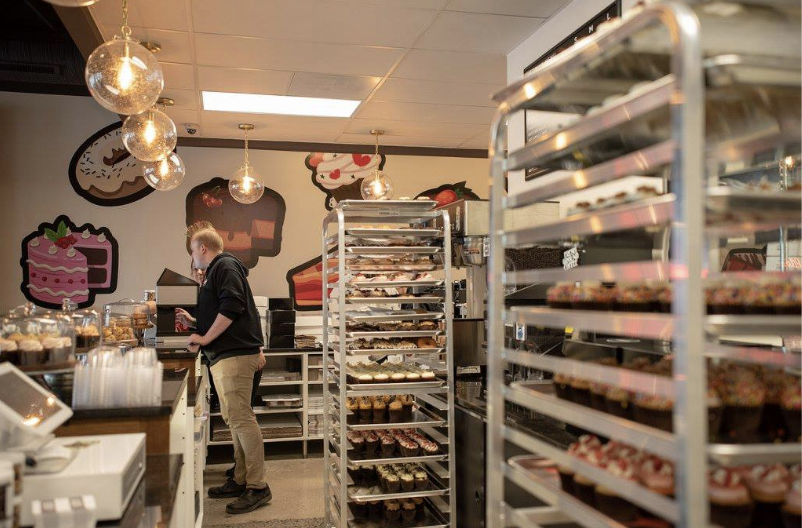 Courtesy of Cake by Jason
Though Jason Hisley has been baking confections since he was 5 years old, this spring marked the first time he has truly found his sweet spot.
After adventures in TV and owning few shops around town, Hisley has opened Cake by Jason Hisley in Timonium—offering both tall-tiered cakes and grab-and-go pastries—to get back to his small-batch roots.
"We want to position ourselves as the place you can come and get high-end, insanely boutique cakes, like with rockets coming out of the top or pouring into a teacup," Hisley explains. "Or you could come and just get a dollar coffee and hang out in the lobby. The most challenging thing is being able to balance those two worlds."
Combining a modern vision with traditional family-friendly values proved to be easy, too. Hisley himself comes from a family of foodies, he said, and if kids want to come in and smash donuts on the floor, he wants them to do just that.
"As a kid, I just remember always working with [my grandmother] and my aunt, being 5 or 6 up on a table mixing these big bowls of bread dough," Hisley said. "I just thought it was the most fascinating, coolest thing ever. A combination of a science experiment and food."
His grandmother was born in Czechoslovakia, and was a baker herself. She would bake for her community and sold bread to locals. Those ideals stuck with Hisley throughout his life.
He recalls first being trained in making heavier, European pastries like those of his grandmother's. But adapting to people's palettes has been a task he's taken on head first.
His passion for baking landed him a job at the high-end Flavor Cupcakery in Cockeysville after high school. While working there, he caught the attention of the Food Network and ended up competing on—and winning—an episode of Cupcake Wars in 2011.
With a newfound confidence, Hisley opened his own boutique store La Cakerie in Towson when he was just 22. Then, the Food Network and the Cooking Channel began to build a narrative around the young baker and business owner—who has since appeared on 10 shows.
Six years after opening La Cakerie, the shop had gained considerable national attention and expanded to a bigger space in Towson, along with two new locations and a food truck venture. But the fame, he says, cost him small city charm.
"What I lost was standing behind a register and saying 'Hello,' and giving a customer a cup of coffee every day," Hisley said. "Or working with a cake designer directly, one-on-one, making a crazy elaborate cake, and then delivering it and getting to see a customer smile ear-to-ear. I missed that."
And so he set out on a new journey with La Cakerie's then-wedding and events coordinator Kelly Sokolis. Hisley sold his ownership in La Cakerie, and Sokolis joined him as a co-owner and wedding and event director for Cake, which officially debuted in April.
From there the duo began to form their team, or as they refer to themselves on their site, "the gaggle of misfits, artists, experts, perfectionists, and friends."
Hisley speaks highly of his staff, like cake designer Elena Fox, who could paint a museum-style painting on a pastry. His production manager Jeff Courtney is "a jokester," and will have everyone laughing while he's simultaneously stirring 200 pounds of frosting and mixing chocolate cake batter.
They have a like-mindset, to put out a quality product, which has been well-received by the community, Hisley said. Numbers and sales have doubled what he originally anticipated and customers appreciate the experience of visiting the neighborhood bakery, which hosts frequent workshops and fundraisers.
With help from interior designer Stephanie Bradshaw, Hisley created a homey store, mixing high end elements without being stuffy, as he puts it. A bright neon sign reads, "Celebrate the Sweet Life," and reclaimed woods tables stretch across a brushed concrete floor.
"When you walk in it's like nothing else," he said. "It has this industrial chic vibe."
From Flavor Cupcakery, to La Cakerie and now Cake, Hisley has watched himself, his co-workers, and his businesses grow. And that reward has been sweeter than anything.
"I love what I do," said Hisley. "When people talk about work, I feel so spoiled because 95 percent of my day I have a huge smile. I love going into work, I love the people I work with, I don't know how to put into words how happy I am."