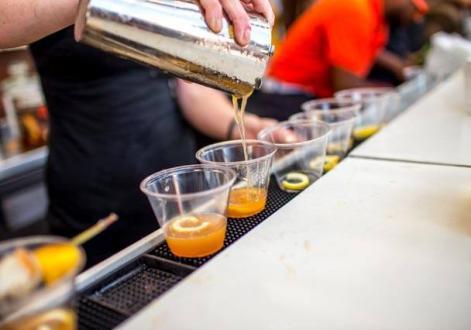 Courtesy of No Kid Hungry
Though chefs normally do their work behind the scenes, six of the area's top talents are stepping into the limelight next week, posting up behind the bar to pour cocktails for an important cause.
Now celebrating its second year in Baltimore, Chefs Behind Bars—a cocktail competition which pits six of the area's most creative chefs against one another to benefit Share our Strength's No Kid Hungry campaign—will take place on Wednesday, June 1 at 6 p.m. on Wit & Wisdom's outdoor patio at the Four Seasons Baltimore.
Returning competitors Zack Mills of Wit & Wisdom and Bryan Voltaggio of Aggio and Family Meal will be joined by chefs Patrick "Opie" Crooks of Woodberry Kitchen, Ben Lefenfeld of La Cuchara, Chad Gauss of The Food Market, and Josh Brown, executive chef of Fox Boys Hospitality Group, which operates Annapolis hotspots Level, Fox's Den, and Vida Taco Bar.
On the heels of his recent triumph over Crooks, Lefenfeld, and Gauss in The Supper cooking competition to benefit the St. Agnes Hospital Foundation last month, Mills says he's excited to face off again.
"It will be nice to see all of the guys together again next week," he says. "It's just another thing that we get to do that's a little outside of the box and a good excuse to have some fun."
From whiskey to moonshine, all of the chefs have been given a specific spirit that they are required to fuse into their drink recipes—but other than that, there are no limitations. Mills, for example, will use Barr Hill gin as a starting-off point.
"I like how gin lends itself to a lot of classic cocktails," he says. "So I've been looking back at old-school recipes and seeing how I can maybe twist them and do something of my own."
Brown, a newbie to the world of food competitions, says he hasn't worked behind the bar since his college days at Roanoke College in Virginia.
"I bartended about 20 years ago, but it was such a college bar, so it was basically popping tops and pouring Jack and cokes," he says. "But I figure that, once I create a recipe, my job is just to follow it. I do that on a day-to-day basis anyway."
Although he's still toying with ideas, Brown says that he hopes to integrate sweet, sour, and salty components into his drink, which will feature Papa's Pilar dark rum.
"The rum is super sweet, like almost syrupy sweet, so what I'm trying to do is figure out how to mellow out that sweetness and make sure I'm hitting all of the different flavors," he says. "Advice I was given a long time ago that I always carry with me is, 'It's just food, so don't take it too seriously.' It's all about letting good ingredients speak for themselves."
In addition to a front-row seat to all of the action, attendees will be able to taste each cocktail and graze light bites such as Shake Shack chicken sandwiches and dishes off of Wit & Wisdom's spring menu. Tickets are $45 in advance and $50 at the door.
No Kid Hungry, an organization dedicated to ending childhood hunger, reports that 19 percent of children in Maryland don't have adequate access to nutritious food. All proceeds from the event will help fund the foundation's various programs, which provide breakfast, after-school, and summertime meals to students in need.
"It's working," said Share Our Strength founder and CEO Billy Shore, in a press release. "Thanks to work from incredible partners in Maryland, more than 94,000 students across the state are now starting their days with school breakfast."
Mills, a stalwart supporter of the cause, is excited to be hosting the competition once again.
"No Kid Hungry is so important in making sure that our future is fed and fed properly," he says. "It's always worked out that the cause has lent itself well to a lot of different culinary events, and that our city takes it so seriously."