Slice of Life
Crab pie sums up the story of 75-year-old Matthew's Pizza—and, just maybe, Baltimore itself.
If ever there were a dish that crystallizes the crazy complexities and contradictions of this city we all know and love, it's crab pie. Never had it? Well, then shame on you, and perhaps it's time you questioned the depth of your allegiance to this beautiful mess of a town. Crab pie is the invention of Matthew's Pizza in Highlandtown, the signature item of a beloved neighborhood joint that celebrates its 75th anniversary this year. It's one of those rare, magically right dishes that so thoroughly encapsulates the essence of a people, a place, and a time that you just assume it's been on the menu since the very beginning. In fact, though, the history of crab pie reaches back all of 10 years, or, in other words, decades after the last days of FDR, and sticky nights sitting out on stoops, and everybody all up in everybody else's business because, well, that's what a neighborhood is. Or was.
In other words, what we have here, in this untrendy agglomeration of jumbo lump, chopped onion, and two kinds of cheese, baked in a cast-iron cake pan until it achieves a perfect balance of chew and crunch, is a curiosity, a conundrum: a dish that tastes old, but isn't. A dish of sentimentalized, ritualized nostalgia that, not unlike Camden Yards, takes you back to a time without being at all of that time. A dish that can thus be read as a kind of cultural hinge, a touchstone linking past and present. Which is, yes, a lot of baggage to lay on a simple pizza.
But if you want to know where the city is going, then you need to know where it has been. And crab pie can tell you both things simultaneously.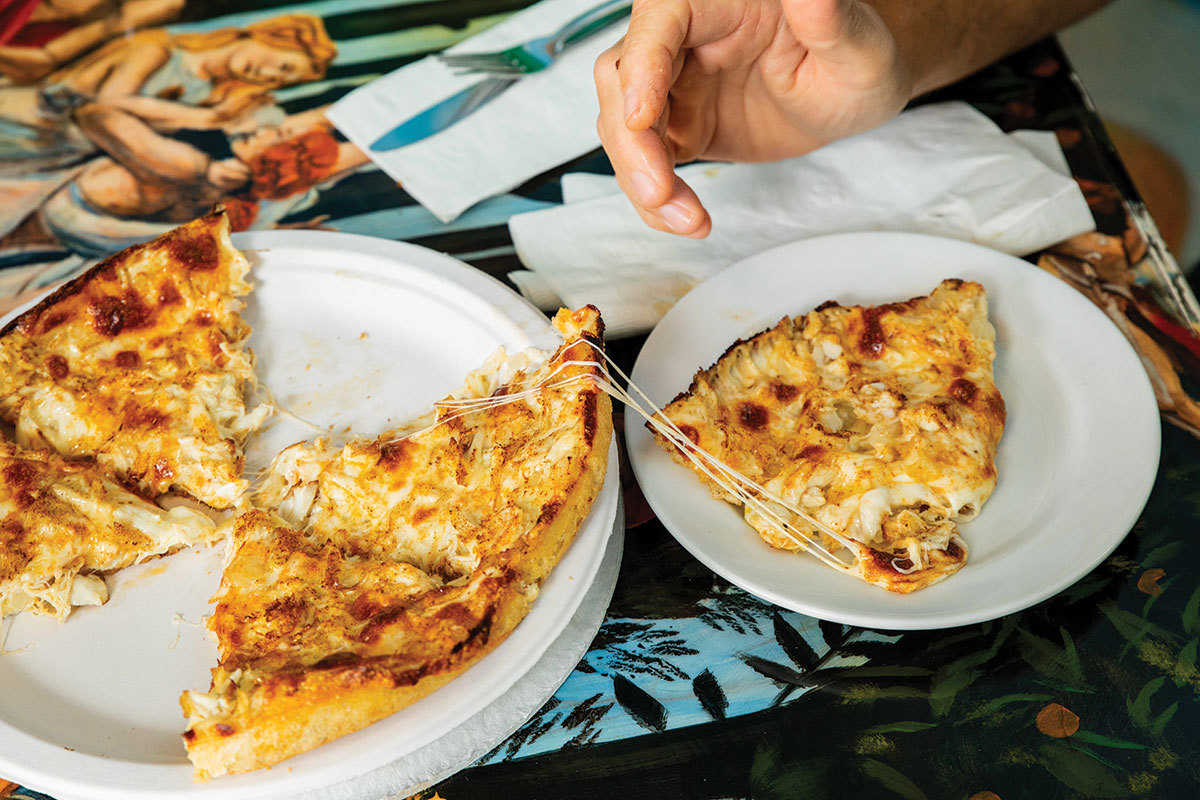 The crab pie. -Justin Tsucalas
The creation story is as memorable as it is offhand. "Oh, gosh, I don't know what year we came out with it," Chris Maler says, before going and doing some digging into his own history.

Maler, who, with his uncle, Jesse Cox, co-owns the restaurant, was experimenting with some uncracked crab in the kitchen at Matthew's one Saturday afternoon in 2008. But the pie just wasn't coming out right.
He rang up his childhood friend, Bill Hughes, today the owner of Barracudas in Locust Point, but at the time the chef at Pimlico. It was May, and the running of the Preakness was imminent. "Dude," he implored his buddy, "I'm catering, I've got 35,000 people here."
Maler quickly rattled off the contents of his experiment, a mix of jumbo lump, chopped onions, tomato sauce, mozzarella, and Parmesan. It took just seconds for Hughes to diagnose the problem: the strong, acidic sauce, which was obscuring the delicacy of the crab.
"Take your white pizza, add the crabmeat and onions, add the cheeses, then sprinkle on some Old Bay," he said. Then he hung up.
Maler made a new one, according to his pal's dictates, and took a bite. The difference was dramatic: rich, cheesy, sweet, coherent, the very dish he had seen in his head. Maler knew he had come up with a good addition to the menu. He had no idea that he had inadvertently created a symbol.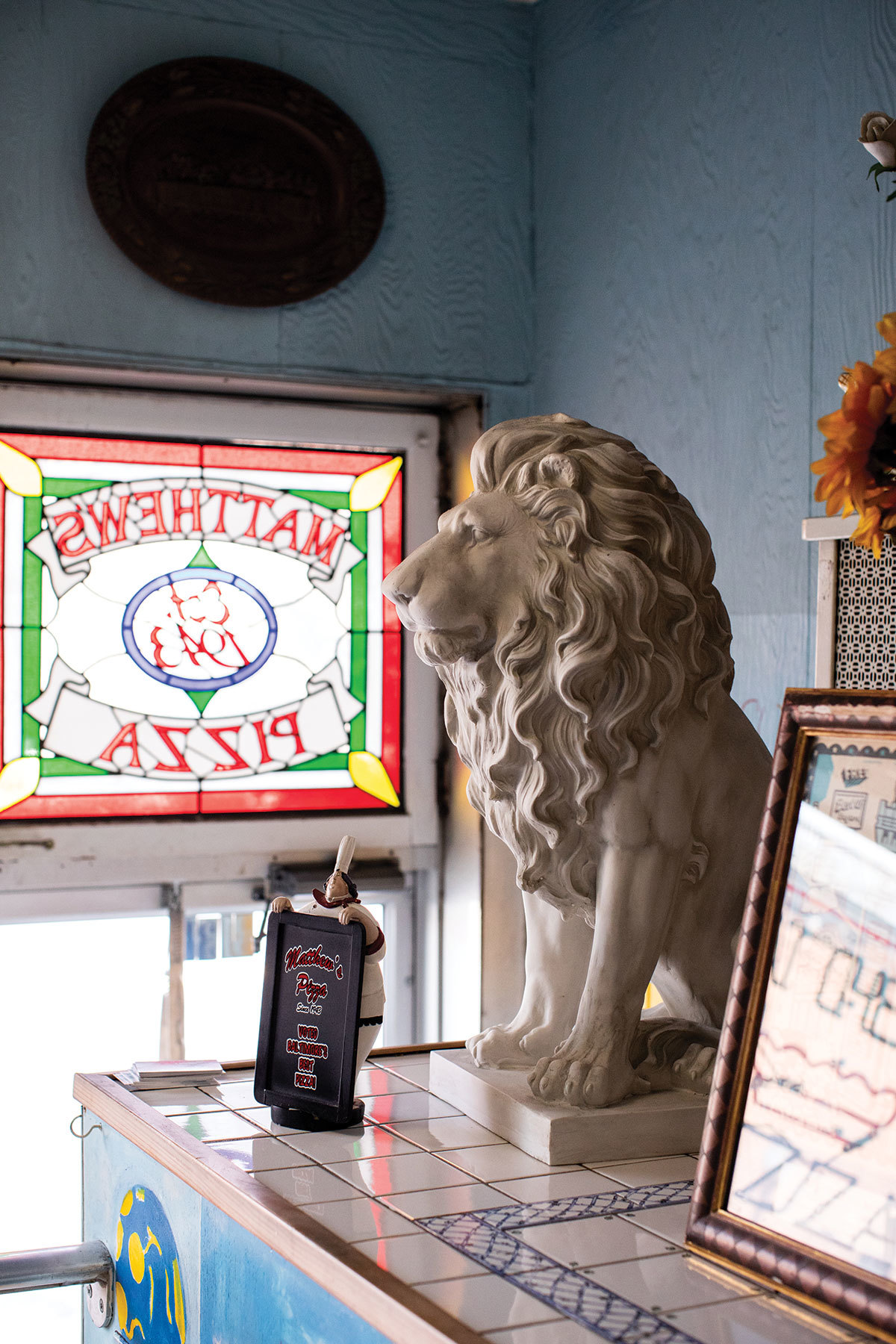 A lion statue sits on the counter.
To walk into Matthew's
is to turn back the clock. And not by a little, but by a lot. In an era when restaurateurs install pressed-tin ceilings and hang Edison bulbs to try to impart character to their designer-conceptualized spaces, Matthew's comes by its throwback appearance naturally (mural-painted walls, framed newspaper clippings, a vintage soda machine, mirrors).
The 36-seat dining room is Theresa Castagna's stage. Castagna is the manager—she's the dark-haired woman with glasses and a den mother's bearing. She has overseen the floor for the better part of two decades. Her recall of names and faces is impressive, but what astonishes is her ability to talk about people's personal histories—their anniversaries, their deaths, their milestones. Most nights, you can almost forget that you're in a restaurant, because Castagna has created an atmosphere in which one family reunion has spilled over into another.
If you're new, however—and there are more and more of those every day—you will need to be taken in and briefed. The history, the legend, the pies, and the pie. It's almost assumed that if you're a first-timer, you're here for the crab pie.

Talk to the restaurant's many regulars and they will tell you that it tastes like times past—even if the pizza itself was not around then. It brings you back, they will say. Or: It makes me feel that this is what my grandparents might have eaten.
You could chalk this up to the nostalgic sentimentalism of people who, wanting to believe, make themselves believe. But then again, crab pie does not look or taste like any other pizza being made commercially today, not in Baltimore, and not in the rest of America, either.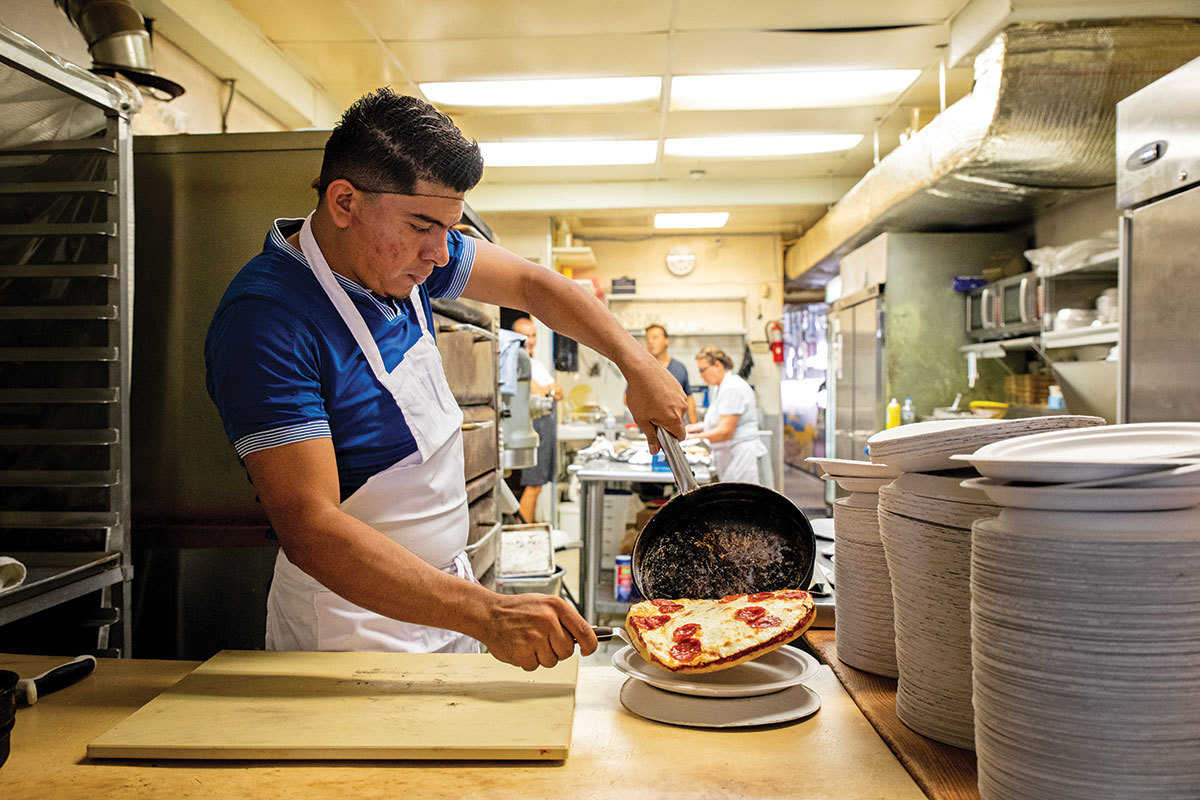 Plating a pizza. -Justin Tsucalas
The story of pizza over the past 75 years is in many ways a story of literal rags to riches, the evolution of something humble into something haute; a story of class, of cultural divides that have grown and deepened. In one world, pizza became fetishized, became fine dining. In another, it became corporate, and cheap.

Matthew's pizza, and particularly its crab pie, exists outside these developments, as if it evolved in a vacuum.
At a glance, it looks to have more in common with the mass-market pizzas that make up the low end. The crust is thick and puffy and deep, not nearly deep enough to qualify as deep dish, but thicker, puffier, and deeper than anything you are likely to find at an upscale or boutique pizzeria.
This has everything to do with its pan, which, like the recipe itself, has varied not at all since its founder, the Neapolitan immigrant Matthew Cacciolo, opened his doors 75 years ago—a well-seasoned, cast-iron cake pan with an inch-high border. Its diameter is small, too: just 10 inches, in marked contrast to the 14 that constitutes a large at Pizza Hut or Papa John's, and a reminder of the gigantism and affluence that have marked post-war American life.
After being mixed and rolled and tossed and fashioned into a ball, the dough (in the pizza writing community, there is speculation that it's made with lard, but no one at Matthew's will confirm or deny that), is punched down into one of the Pam-sprayed pans. As the pie bakes, the sides bloom and spread.
The other thing you notice right off about the crab pie is its cheesiness. This isn't a cheesy pizza—it's a gooily cheesy pizza. (And a clear-cut violation, it would seem, of the Italian rule of never mixing seafood and cheese.)
At a glance, and even at first bite, nothing in the pan appears to have been imported. If any pizza was made with commodity ingredients, you think, this is it. The answer, as I discovered on a recent visit to the kitchen, is more complicated.
The Parmesan isn't just imported but hand-grated fresh every day. Though, unlike nearly every hipster pizzeria that can't wait to boast about its sources, the menu doesn't bother pointing that out to you. The crab is real crab, jumbo lump, from Art's Seafood, right here in Baltimore, and every pie comes with four ounces of it or, to put that another way, about equal to what some restaurant's crab cakes contain. The dough isn't trucked in—it's made twice daily (at 8 in the morning and at 4 in the afternoon) on the premises. After a 15-minute stint in a 700-degree oven—no wood or coal here, but an old-school steel contraption that can accommodate up to 40 pies at a time—the pie emerges hot and bubbling, the perimeter spotted in places where the grated Parmesan has stuck.
It might not look lovely, and it certainly is not sexy, but it also is not the cheap commodity product slung by the chains. To eat it is to be reminded of a time when there was not pizza for the elites and pizza for the masses —a time when food was not a referendum on your status in the culture.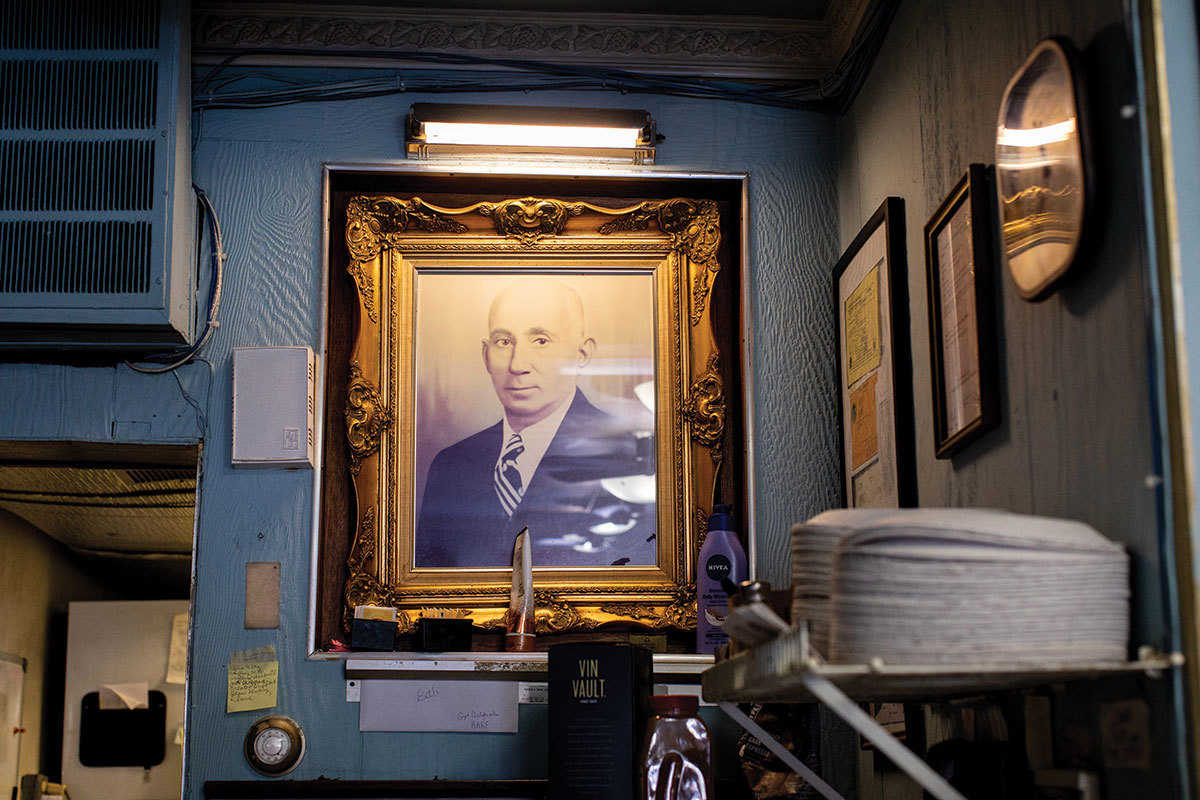 Matthew's founder Matthew Cacciolo. -Justin Tsucalas
The crowd at Matthew's today is not the crowd of Matthew's 10 years ago. Crab pie changed that.
The restaurant had long been a fixture on the city's annual Best-Of lists, its name invoked by politicos and celebrities alike.
"I had my first date at the Patterson Theater and my first pizza at Matthew's Pizza," former Senator Barbara Mikulski told the crowd at the Highlandtown Festival in 1998.
David Simon, the creator of HBO's The Wire and Treme, told The Sun that whenever he is showing off his city to New Yorkers "who have the pick of some of the greatest pizza in Christendom," he makes it a point to stop at Matthew's. "It could not exist outside of Baltimore." But crab pie has been nothing short of a viral sensation and has earned with it an altogether different degree of attention. Four years ago, Travel Channel came and did a crab pie segment. Last year, The New York Times included Matthew's in its "36 Hours in Baltimore" feature, calling the crab pie an "experience not to be missed."
Suddenly, as a result of a dish hatched essentially over a phone call, a restaurant that opened before the end of World War II went from being a neighborhood fixture to a touchstone of the city, a national destination. Quite literally, a taste of Baltimore.
Maler and Cox love to tell the stories of all the many pilgrims who have turned up at their stoop, who fly into BWI, hail a taxi or Uber out to Matthew's, tear into a crab pie, and then—sometimes with a second one in tow—hightail it back to the airport. All of them coming out to Highlandtown.
That's the part that astonishes. All of them coming out to the close-knit, working-class neighborhood they grew up in. "It was a village," Maler recalls. "If you knocked on the neighbor's door, it was, 'Chris, why are you knocking and making me get up, come in, come in.'" He and Cox both lived within walking distance of the restaurant when they were growing up. When they bought the place in 1995, they did so with the idea that they were preservationists and that Matthew's must remain what it was. "A safety zone," as he puts it.
The restaurant has always served an "emotional or psychological need," Cox says. "It gives them a warm memory of knowing, well, 'Here's a place that I came, and I proposed to my wife at the table by the Pepsi machine.' An anchor, where they can say: 'This was something I remember, and I want to go back and have that feeling again, that emotional satisfaction and happiness.' And you can count on it. Maybe the one thing in your life you can count on. It's not gonna change."
A dish hatched over a phone call has made Matthew's a city touchstone.
Except that it did. It has. Crab pie unintentionally initiated it. And with this nationalization of Matthew's, a new sort of person has entered the daily mix—no one will say hipster, but "fancier people," is the way Castagna phrases it.
It has also brought younger people, people outside Highlandtown. In the dining room, on any given night, the various constituencies mix, if not mingle: old-timers from the neighborhood, surgeons from Hopkins, bikers with tats, Jews from Pikesville temporarily abandoning their vow to eat only kosher. Some are here for the homey simplicity of it all, some for the handmade, non-chain experience, but all of them are gorging happily. And there are all the newcomers, who come with their new concerns. "They want organic, they want whole-wheat dough," Castagna says. "They have more complex tastes."
She worries that the stellar reviews on Yelp and others will work against them, that the newcomers will come in expecting not just excellence, but the look of something excellent. So far, at least, those fears have proved unfounded. Still, like the den mother she is, she worries.
Cox and Maler
For their part,
Maler and Cox sound more philosophical than anything about the changes, which happen to be playing out alongside other, deeper changes in the culture.
Across the street, Patterson Theater (now home to the Creative Alliance) still stands, but little else from that era survives. Down the block from Matthew's, a sign in the window of the State Farm alerts potential clients: Se Habla Español. Three doors down, a blue awning above a row house business advertises an immigration service. At the same time, heading toward Canton on Eastern Avenue, the presence of a Charm City Fitness is a sign of encroaching gentrification.
The crowd may be changing, but the mere fact that, after 75 years, there still is a crowd—and not just on weekends, but nightly—obviates some, if not all, of their worries about the fraying of the weave they have long depended upon. Not that they care to contemplate the future. "It makes you contemplate your death," Cox says, by which he means not just the death of the business, but his own death.
Cox is 65; Maler is 49. It's not yet time to think about lining up the next link in the chain. But neither is it a time to be complacent. A few bad reviews on Yelp and they could have a crisis on their hands. In the Internet Age, reputations can be ruined overnight. And the city, and not just Highlandtown, is changing. Harbor East is booming, Hopkins' expansion continues apace, and the patch of land stretching from Boston Street to Eastern Avenue is percolating. With each new development project, each wave of new arrivals, it is turning into a new city.
Ask Maler and Cox how Matthew's plans to survive the changes, however, and you are met with a shrug. Survive? They will survive as they have always survived. Leaning on an excellent and trusted staff and a loyal and passionate base. And leaning, too, on the durable charms of crab pie. Which is not merely a staple and draw, no, but also a compass point to direct them through an uncertain future. An attempt to adapt and remain relevant in a time when there is more competition than ever. An emblem of continuity, in other words, that is also an emblem of change.
The pie of yesterday that is also the pie of today, and, it would appear, of tomorrow, too.