City Hall
We answer your burning questions about the newly renovated Cross Street Market.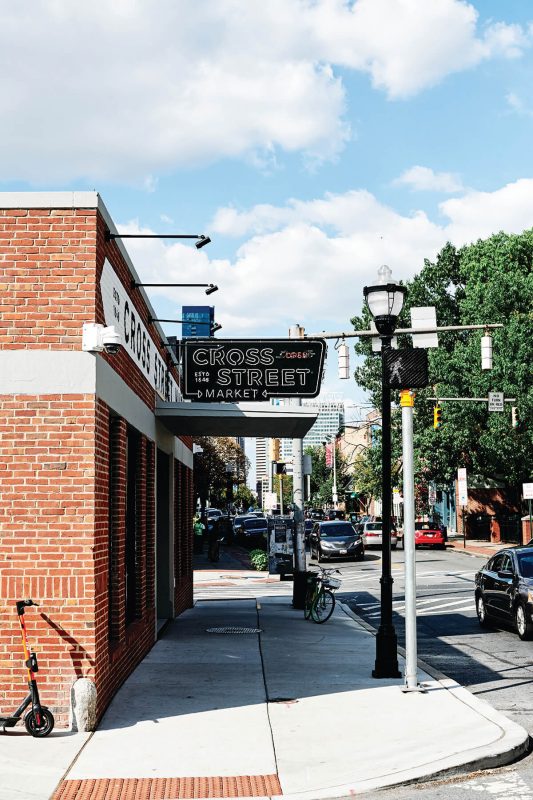 Bulgogi Bánh mì, al pastor tacos, or Baltimore's biggest jaw breaker? Can't make up your mind? We're here to guide you through all the decisions that need to be made at the newly revitalized Cross Street Market. You're up next, Lexington.
What's the history of Cross Street Market?
Thanks to the growing population of Federal Hill in 1838, residents petitioned for a new market. At the time, the closest market was the now-defunct Hanover Market. In 1846, a long open-air shed was built between Charles and Patapsco Streets, where vendors sold meat and poultry, seafood, and vegetables. By 1871, the market was rebuilt as a two-story Revival-style building, with the market space on the first floor and a meeting hall (with a basketball court!) on the second floor. After a fire in 1951, the structure was rebuilt as the 31,800-square-foot structure that still stands today.
What's the story behind the sign outside?
The cool, retro neon sign outside of the market on Charles Street is a modern riff on the original neon signage that was part of the market after it was rebuilt in the 1950s.
Who's the oldest tenant?
There are three tenants who have occupied the space for decades, including The Sweet Shoppe and Steve's Lunch, but Fenwick's Choice Meats, founded in 1952, has been there the longest.
Where should I go if I'm a vegetarian?
Cross Street Market has numerous vendors with vegetarian-and vegan-friendly fare, including Annoula's Kitchen and Sobeachy Haitian cuisine. For diehards, Gangster Vegan features an exclusively vegan, organic, soy-free, gluten-free menu, including juices and smoothies, as well as salads and bowls. (Try the beet burger.) There's also Annoula's Kitchen with its artisan salads and sandwiches. What's the difference between a food court and a food hall? A food court consists of chain restaurants and is often located in a mall. A food hall is typically a more upscale version of a food court, with artisan restaurants and other food-related vendors under one roof.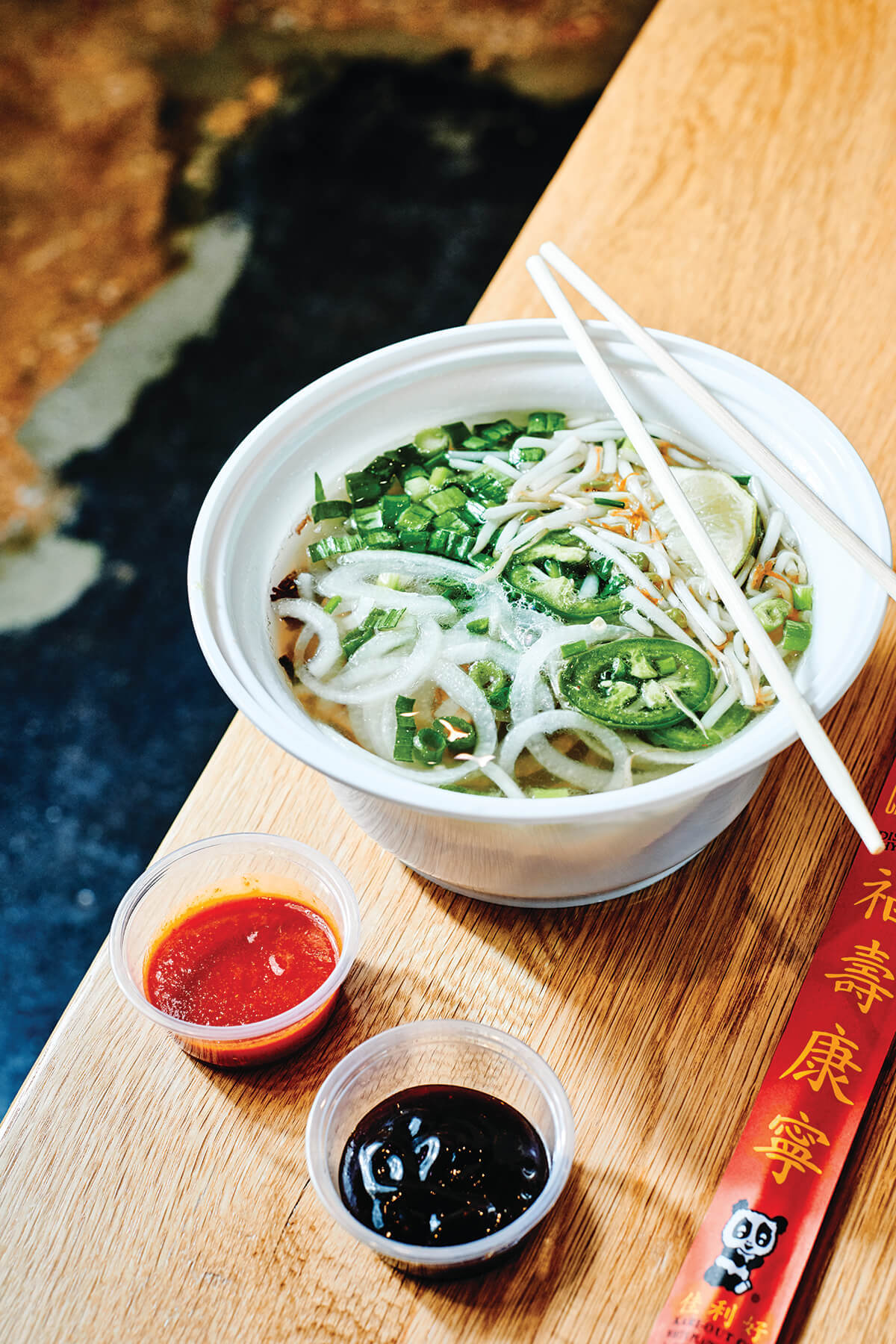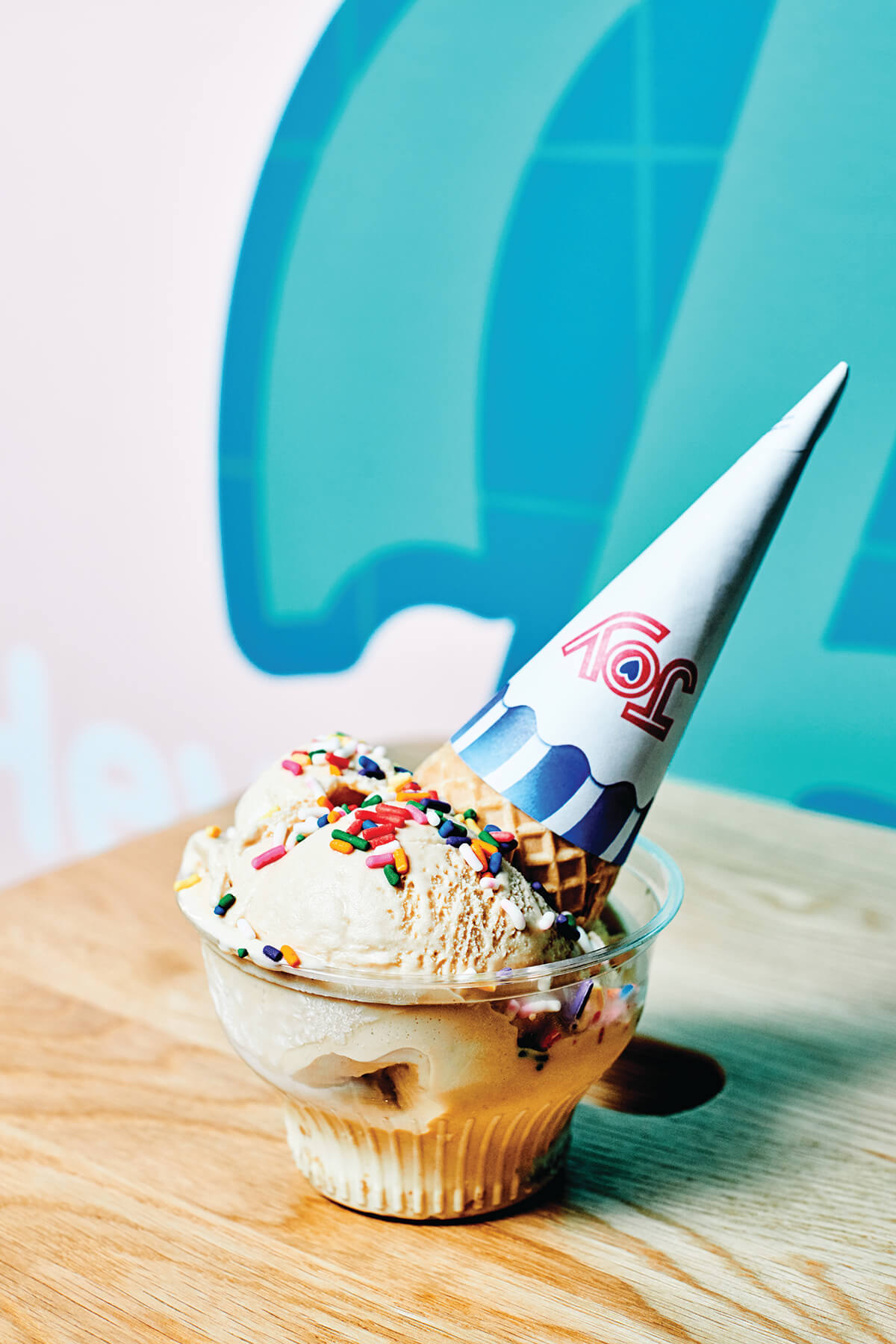 If I want something to-go, what do you suggest?

Most food is eaten better on-site, not so The Cross Street Grinder at Annoula's Kitchen. Stuffed with ham, pepperoni, chicken, greens, hot peppers, and roasted garlic mayo, the sub roll improves with age and is best consumed an hour or so later, after all the fix-ins have had time to saturate the roll.
Is there alcohol for sale?

Yes! Cans Filling Station will, well, fill all of your imbibing needs. There's a large selection of craft beers, wines, on-trend hard seltzers, kombuchas, and ciders. Drink it there or get it to-go in a reusable can (with a $2 per can refill credit). The market boasts many other spirits-serving vendors, too. Highlandtown's Old Line Spirits recently debuted its satellite cocktail bar, where you can sip local beer and wine, as well as classic cocktails using the distillery's acclaimed whiskeys and rums.
Where can I go if I just want to hang out on my laptop?

Ceremony Coffee Roasters has two other locations in the city, but this locale has tons of sofa seating, and you can always pick up something from the food hall if you plan on parking yourself there all day.