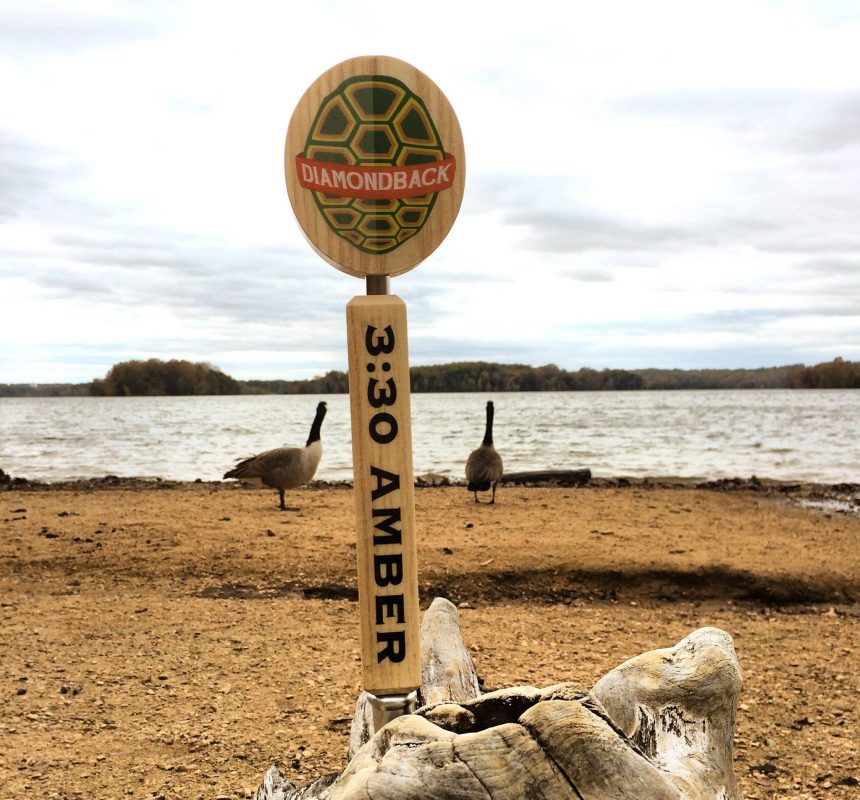 Courtesy of Diamondback Brewing Company
Since we're in a Terps kind of mood this week, we wanted to shed light on a fairly new local brewery, Diamondback Brewing Company, which launched in November 2014.
The Maryland-themed company prides itself on sessionable beers and is launching its second release, a gold ale, on April 6.
According to its founders—Loyola Blakefield alums Colin Marshall, Francis Smith, and Tom Foster—the brewery had some pretty humble origins on the University of Maryland campus.
"We were coming into legal drinking age during the craft-beer boom," says Smith. "So we started home brewing with kitchen pots and a stovetop out of Tom's crammed, falling down house in College Park."
Once they graduated in the spring of 2013, the prospect of applying to corporate jobs didn't excite Smith and Foster as much as their home-brewing passion, so they hooked up with their longtime friend Marshall and began to ramp up production.
"We took it to our parents' garages and started messing around with a bunch of recipes," Marshall says. "Our business plan centered around drinkability. We think the market is oversaturated with strong IPAs, so something approachable, like an amber ale, would differentiate itself."
Soon the 3:30 Amber Ale was born, which Marshall describes as a "smooth drinking beer with a crisp, caramel flavor and a citrus hop on the end." The amber ale clocks in at just 5-percent ABV. They launched their beer at the 2014 Turkey Bowl (while rooting for the Dons, of course).
Now the brewery—which is currently contracted out of Eastern Shore Brewing Company—is getting ready to launch its second release, the 24K Gold Ale.
"The gold ale will have a bit more maltiness and hopiness to it, but will still be a great all-around drinkable summer beer," Smith says. "We want to appeal to everyone, from the beer enthusiast to light beer drinker. Those crazy styles aren't for everyone."
Currently, Diamondback's beer is available at various bars around town, including Liam Flynn's Ale House (on cask), Alewife, Nickel Taphouse, Abbey Burger Bistro, Ryleigh's Oyster, Rowhouse Grille, Portside Tavern, and, fittingly, Diamondback Tavern in Ellicott City.
The brewery will also be featured at various spring events, including WTMD's Brews & Bands festival on April 18, the Frederick's Beer Bacon Music festival on May 16, and St. Michael's Brew Fest on May 30.
"We hope people are excited to drink sessionable beer started by local guys," Smith says. "They can see it on tap somewhere and say, 'I know the guys who are behind this.'"