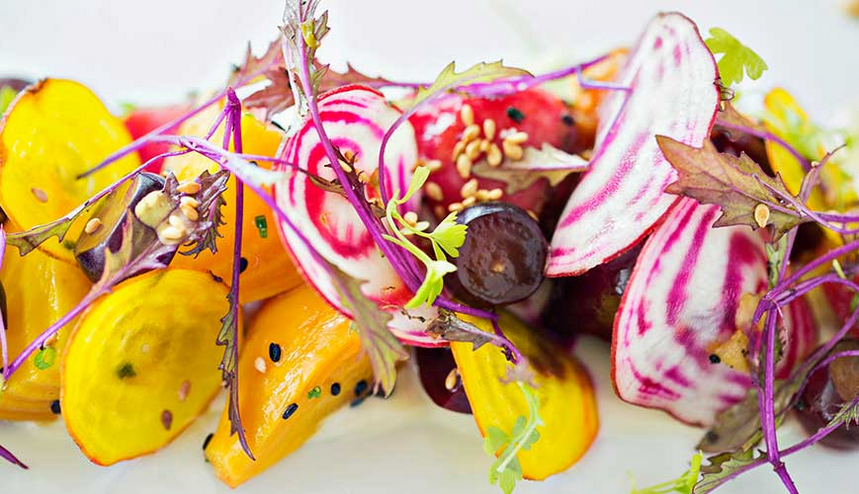 Courtesy of Cunningham's
[Editor's note: See our roundup of the most current 2017 Easter brunch specials here.]
If you're still recovering from entertaining this past holiday season, ditch the oven mitts and make reservations at any one of these spots around town for a seasonal family meal to celebrate the upcoming holiday.
Whether you're looking for a hearty leg of lamb to celebrate Easter the old-fashioned way, or for some pre-order items to accompany the unleavened eats at your Passover seder, the Charm City restaurant scene has got you covered.
Easter Eats:
Langermann's: Nothing says tradition like some Carolina-style comfort food, and this Canton restaurant will be serving up all of the classics as part of its special Easter Sunday brunch from 10 a.m.-4 p.m. Offerings will include creamy southern grits, home fries, fresh fruit, Carolina gumbo, blackened catfish, and even a D.I.Y. omelet station. 2400 Boston St., 410-534-3287, $21.95.
Fleming's Prime Steakhouse and Wine Bar: If you're interested in a front row seat to some Harbor views, this upscale Harbor East steakhouse is the way to go. Fleming's will be hosting brunch on April 5, with a three-course prix-fixe menu featuring everything from eggs benedict with sliced filet minion and smoked salmon to prime rib with a trio of different sauces. 720 Aliceanna St., 410-332-1666. $39.95
Donna's Cross Keys: This restaurant's modern flair is reflected in its fancy furnishings and its modern menu full of New American cuisine, making it the perfect spot to celebrate any special occasion. Donna's will be offering a unique brunch buffet on Easter Sunday from 10 a.m.-3 p.m., highlighting offerings like roasted lamb, honey-glazed ham, kale salad, steamed shrimp, pancakes, and made to order omelets. 5100 Falls Road, 410-532-7611, $34.
Hersh's Pizza and Drinks: Italian-inspired small plates and wood-fired pizzas are featured daily at this well-known Riverside haunt, but when it comes to Sunday brunch, guests are in for a real treat. Beginning at 11 a.m. on Easter Sunday, Hersh's will be featuring some festive specials, like wood-fired leg of lamb, alongside its regular brunch menu which includes dishes like Belgian waffles, roasted cauliflower panino with walnut-arugula pesto, and lamb sausage gravy with polenta biscuits. 1843 Light St., 443-438-4948, a la carte.
The Manor Tavern: Dress up your tykes in their Sunday best and head to this Monkton favorite for some all-day family fun on April 5. Not only will The Manor Tavern be serving up holiday-inspired eats for brunch and dinner service, but it will also be hosting an Easter egg hunt following the 10:30 a.m. and 1 p.m. brunch seatings. Buffet offerings will include tomato mozzarella caprese, bacon-wrapped scallops, mini crab cakes, peanut butter and jelly French toast, and brown-sugar glazed ham. Easter dinner will be served at 3:30 p.m. and 6 p.m. with buffet-style options like crab tortellini with Old Bay alfredo, roasted baby lamb chops over mint cous cous, shrimp cocktail, and oysters on the half shell. 15819 Old York Road, Monkton, 410-771-8155, $29-$36.
The Milton Inn: Historic charm permeates this 275-year-old fieldstone building where sophisticated entrees and a variety of fitting wine pairings reign supreme. A three-course prix-fixe brunch menu will be featured on Easter Sunday, featuring appetizers like baked half-grapefruit with honey and brown sugar and chilled gazpacho, entrees like a crabmeat omelette or pan-seared Atlantic salmon, and a variety of hand-crafted holiday desserts by The Milton Inn's in-house pastry chef. 14833 York Road, Sparks, 410-771-4366, $42.
Wine Market Bistro: As its name denotes, signature bottles of wine are plentiful at this trendy space, which doubles as a wine shop and a bistro featuring upscale New American dishes. From 11 a.m.-3:30 p.m., Wine Market Bistro will be offering a three course pre-fixe menu alongside a limited a la carte menu on April 5. The prix-fixe will include dishes like house-made biscuits with rhubarb jam, grilled apricot salad with aged balsamic, country-fried steak with black pepper tomato gravy, potato hash, and eggs benedict. 921 E. Fort Avenue, 410-244-6166, $26.
Cunningham's: What better way to celebrate the coming of spring than with some locally sourced ingredients at this Towson farm-to-table spot. Cunningham's will be featuring Chef Jason Lear's seasonal brunch specialties on a three-course prix-fixe menu. Guests can expect offerings like yogurt parfaits, crab fritatas, cauliflower steak, steak frites with farm eggs, and a radish salad with blood orange vinaigrette. 1 Olympic Place, Towson, 410-339-7730, $29.
B&O American Brasserie: This well-known restaurant in the Hotel Monaco has a longstanding reputation as the home of contemporary dishes paired with superior craft cocktails. On Easter Sunday, B&O will be hosting an early bird breakfast buffet from 8-10 a.m., and some signature brunch options like fennel apple salad and herb roasted fingerling potatoes will be added from 10 a.m. until 2:30 p.m. Bottomless mimosas and Bloody Marys are also included in the fixed price. 2 N. Charles St., 443-692-6170. $25-$30.
Passover Picks:
Parts & Labor: Remington's hottest new restaurant and butcher shop is preparing for the upcoming holidays by adding some seasonal pre-order products to its menu. Whether you're in need of some mouthwatering brisket to accompany the unleavened eats at your Passover seder, or you're seeking a hearty rack of lamb for traditional Easter entertaining, Parts & Labor has all of the essentials. 2600 N. Howard St., 443-873-8887.
Eddie's: This Roland Park grocer will be offering catering options for both Easter and Passover, making it a one-stop shop for all of your holiday needs. The pre-order menus include kosher for Passover dishes like kugel, roasted vegetables, matzoh rolls, and flourless chocolate brownies, and Easter options range from herb-roasted leg of lamb to spinach and feta cakes. Multiple locations including 5113 Roland Ave., 410-323-3656.
Atwater's: Stop in to any one of this local chain cafe's multiple locations to order some scrumptious takeaway items for the holiday. For Passover, Atwater's will be offering entrees like apple and matzoh stuffing, matzoh lasagna, and vegetarian tzimmes, and desserts like honey almond cheesecake with matzoh crust, and chocolate-dipped macaroons. For Easter, enjoy some traditional treats from the Atwater's bakery like hot cross buns and decorated shortbread cookies in egg and bunny shapes. Multiple locations including 3601 Boston St., 667-309-7146.
Gourmet Again: This Pikesville market and cafe is a go-to catering spot for any special occasion, its kosher for Passover options are endless. Stuffed chicken breast with herb-flavored matzoh stuffing, grilled salmon filets with orange-ginger glaze, noodle kugel, and chocolate chip mondel bread are all featured on the holiday catering menu. 3713 Old Court Road, Pikesville, 410-484-9393.
Lenny's Delicatessen: Flourless fare can be tricky to pull off on your own, so stop in to this local favorite for some delectable kosher for Passover desserts that will provide a sweet finish to your family's seder. Holiday offerings from the in-house bakery will include chocolate macaroon pound cake with coconut swirls, mondel bread, matzoh rolls, sponge lemon and raspberry rolls, and traditional vanilla and chocolate macaroons. 9107 Reisterstown Road, Owings Mills, 410-363-3353.