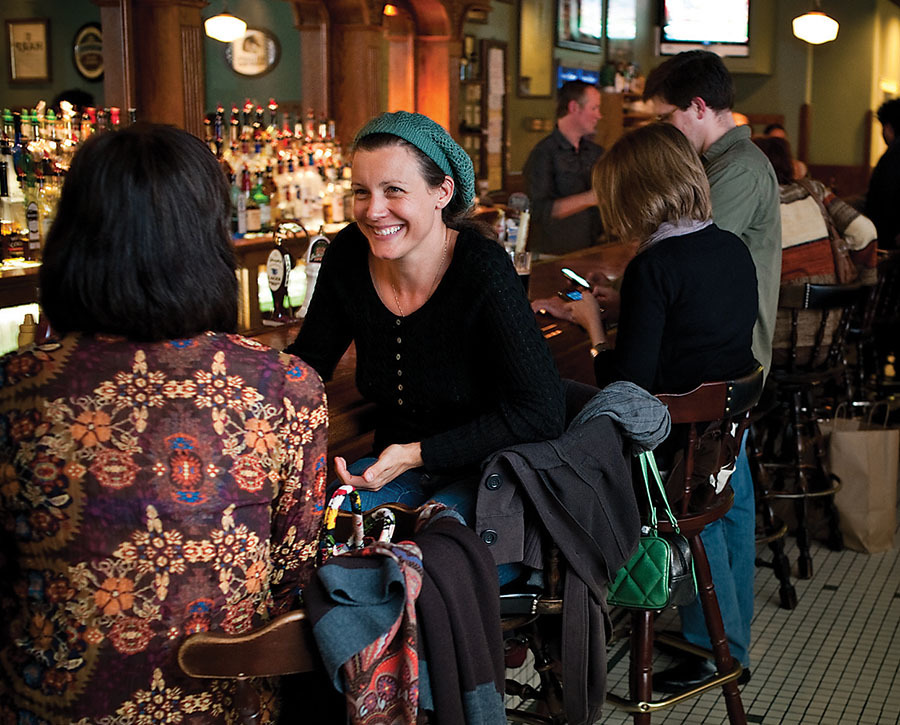 Photography by Daniel Bedell
There are certain bars in this town that don't require much explanation. "Want to meet at Dougherty's?" has been, more or less, a rhetorical question for decades. After all, it's located in a central part of the city, is affordable and consistent, and invariably makes everyone feel comfortable.
But, after a combined 33 years on Chase Street, the owners of Dougherty's Pub have decided to sell. Their last day will be December 19.
"My husband is 65, he's just done," says Sherry Dougherty with a laugh about her husband, bartender and co-owner, Bill. "But really any business is for sale at anytime for the right price. We started being serious about selling a year or so ago."
The new owner, Sherry says, is a MICA grad in his early 30s, who is going to completely renovate and modernize the space.
"We keep saying he's going to make it hipster," she says. "I've heard plans of a cocktail menu and locally brewed beers. They may even put some brew tanks where the pool tables are now."
Back in 1994, people thought it was a little nutty that Bill and Sherry were moving The Irish Pub, a Baltimore landmark since the '80s, down the block into an old warehouse he was renovating. Not only that, but they were changing the name. That was more than 20 years ago and, since then, Doughtery's has become a staple in its own right.
The handmade copper-top bar has been a meeting place for all sorts of people in the city—whether it was civil servants from the nearby State Center office, art students from MICA, future lawyers from University of Baltimore, or neighborhood locals alike. The clack of pool balls from the back billiards room became as ubiquitous as the local art on the walls. You came for one drink, but stayed for many more. In 2010, we quoted a regular at the bar who said, "This is more like going over to someone's house."
"The tears have been flowing daily for us," Sherry says. "We've known the same people for more than 30 years now. They, quite literally, helped us move down the street by picking up barstools and walking them over to the new location. They helped us paint, strip furniture. We've had this amazing customer loyalty. It's like a death in the family for us, so it's extremely emotional."
We have long been a fan of Dougherty's, whether it's scarfing down a Pub Burger at the bar or playing a round of pool in the back. In fact, we named it one of the 25 best bars in the city in our December 2011 issue. The following sentiment still hold true:
Dougherty's sits at a very interesting cross section of the city. It's sort of a MICA bar, but also attracts Mt. Vernon locals. It's near the Lyric, but also MLK Boulevard. This diversity is reflected in the patrons on any given night—and the place always feels welcoming and relaxed. While the pub is technically Irish (we had a Magners and a Reuben the night we went), it means more to regulars than just that. There are couples here on dates, a girl by herself at the bar, friends catching up over pitchers, a professor grading papers in the corner, and art students playing pool in the back. Dougherty's doesn't try hard to be anything, except just comfortable. And everyone—on any end of the spectrum—can agree it succeeds.
While there's no planned party, per se, in true Dougherty's fashion, its loyal regulars are all banning together for one last hurrah on December 19. The new place, Sherry estimates, won't be open for at least two months.
"A lot of our old customers, even some who have moved away, are going to come back for the last night," she says. "It will be packed, which seems fitting. We've had all walks of life come in here—from government workers to hookers and drug dealers. We've never cared what people do, as long as they're cool while they're in here."