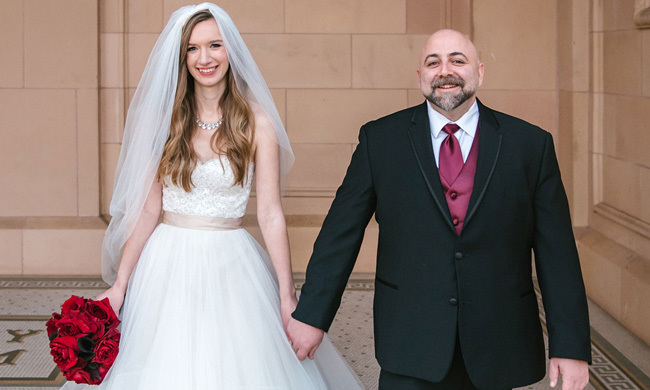 Amy & Stuart Photography via Martha Stewart Weddings
On Saturday, our own pastry chef-turned-Food Network star Duff Goldman tied the knot in his new home of California. He married writer Johnna Colbry at the Natural History Museum of Los Angeles County.
According to Martha Stewart Weddings, the couple exchanged vows in the museum's Dinosaur Hall before cutting into five wedding cakes, including a traditional white six-tier, an underwater-themed confection suspended from the ceiling, and a savory, meat-filled groom's cake with mashed potato "icing" and bacon roses.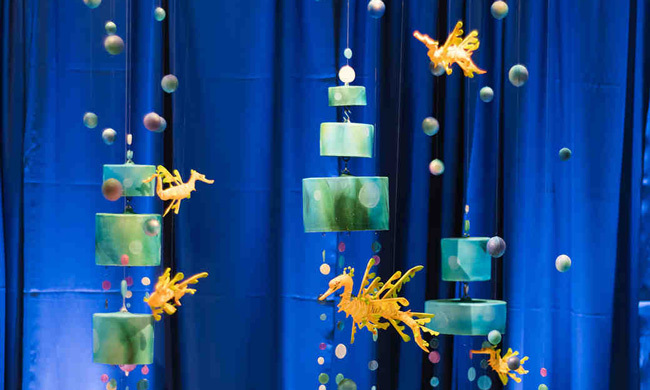 Though the wedding was a few time zones away, some important members of Goldman's Baltimore family were able to make the trip out west to celebrate.
Among them was chef Cindy Wolf, Goldman's mentor whom he credits with jumpstarting his career: "Cindy is 100 percent directly responsible for my success," Goldman told us in a 2015 preview of his cookbook Duff Bakes: Think and Bake Like a Pro at Home, which he dedicated to Wolf. "She changed my life. If I hadn't met her, who knows where I'd be right now."
Wolf, the James Beard-nominated executive chef of Charleston in Harbor East, took to Instagram to share well wishes after attending. "One of the best weddings ever!" Wolf captioned her post. "Duff—I am so very happy for you and I love you!" In response, Goldman commented: "Thanks for being there chef. You mean more to me than I think you know."
"Duff's wedding was just as creative, beautiful and loving as anyone could wish," Wolf later told us. "It was an honor to be included, and I could not be more happy for him."
The chefs first met in the late-'90s, when Wolf hired Goldman to bake biscuits and muffins at her now-closed restaurant Savannah in Fells Point. Back then, Goldman's only relevant experience was working at fast-food eateries.
"I didn't even know what a pastry chef was," said Goldman, who later rose to fame when the Food Network decided to produce a show about his Remington bakeshop, Charm City Cakes. "Thanks to Cindy, I started to understand baking fundamentals."
Goldman's career came full circle in 2015 with the release of his book, which features an adaptation of the cornbread recipe that he began his career making for Wolf at Savannah.
"She took a chance on me when I really didn't know how to cook, like, at all," he writes in the introduction. "She made me bake the cornbread for the restaurant, and it taught me that no matter what you're doing, do it the best you can. To be honest, every time I open the oven, I'm doing something that Cindy taught me how to do."
Right after the wedding, Goldman and his new bride jetted off to Thailand. They'll return so the chef can film for a few weeks before their second honeymoon takes them around the world.
"I'm excited to go on adventures with my best friend," Colbry told People magazine. "I think that's going to be fun."