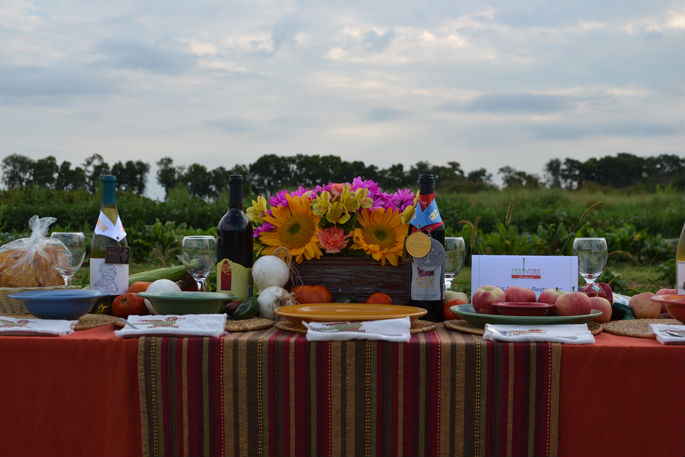 Courtesy of Farm-to-Fork Frederick
Summer Restaurant Week might be over in Baltimore, but Frederick's culinary event of the season is just beginning.
Now celebrating its third run, Farm-to-Fork Frederick brings together some of the county's best chefs, farmers, brewers, and vintners to deliver locally sourced meals at a handful of area restaurants from Aug. 28 through Sept. 7.
Founder Miriam Nasuti says that the idea for the project was inspired by the 2008 documentary Food Inc.—an Oscar-nominated film that delves deep into the effects of factory versus family farming.
"We watched it as a family and it instantly changed the way that we eat," Nasuti says. "[Now] we go to local farmers markets, buy a quarter of a cow per year, and eat local chicken. After a few months you can really begin to taste the difference."
In keeping with the initiative's all-things-organic motto, 14 Frederick restaurants will use the products of local farms, wineries, and breweries as the inspiration for the eats on their special a la carte menus.
Old favorites like La Paz Mexican Restaurant and The Wine Kitchen will once again participate, while Farm-to-Fork Frederick newbies like Family Meal, Café Nola, and LeParc Bistro are joining the project for the first time this year.
Although the eateries are still finalizing their offerings, diners can expect to sample fare that uses the bounty of sustainable spots like Thanksgiving Farms, Caprikorn Farms, Gude Brother's Greenhouses, South Mountain Creamery, Big Cork Vineyards, and, the initiative's first participating farm brewery, Mad Science Brewing. (As an example, Nasuti notes La Paz's flan fused with local peaches as one of last year's standout dishes.)
Also new this year, the program has expanded beyond downtown Frederick and now includes restaurants like Vintage and The Carriage House Inn, both located in different parts of the county.
Nasuti says that in order to follow through with her mission, there are strict guidelines—such as making sure all menus feature at least 60 percent locally sourced ingredients—that all of the participants must follow.
"It's really not a project for the faint of heart," she says. "We're not looking for restaurants that love all of the marketing but don't want to follow the protocol."
In addition to seeing the program surpass its city limits, Nasuti says that she's most excited for the initiative to continue to foster long-lasting connections in the local food community.
"It creates a domino effect," she says. "Some of the relationships between the farms and the restaurants have sustained well beyond the scope of the project. It has a lot of authenticity and the community realizes that."