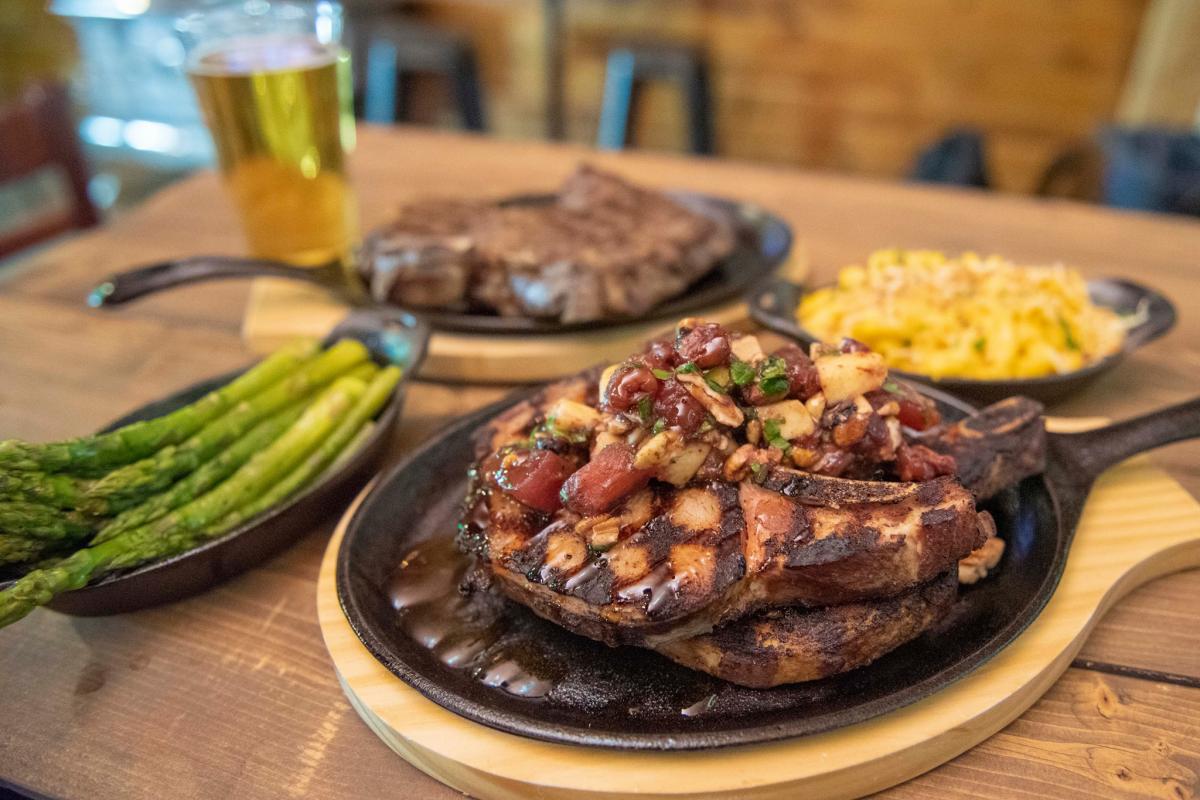 Woodstock Inn is celebrating with drafts and meats sourced from its sister-operation Braglio Farms. --Courtesy of Woodstock Inn via Facebook
Aside from gifts and cheesy Hallmark cards, arguably the best part about Father's Day is what's on the menu. This weekend, treat your food-loving father or father figure to a special experience at one of the following spots: 
Cake by Jason: If your pops has a strong sweet tooth, this Timonium bakery is the place to be. Act fast and preorder a special cupcake six-pack that chef/owner Jason Hisley has curated for the big day. Clever–and expertly decorated, we might add–flavors include "The Sharpest Tool," a screwdriver drink flavor that tops orange cake with vodka-orange buttercream; "No Butter Pop," vanilla cake with buttered popcorn buttercream; and "Dad Yolks," a take on an egg custard snowball that fuses vanilla cake with egg custard filling and marshmallow buttercream. $25
Guinness Open Gate Brewery & Barrel House: We can only expect that this Halethorpe haven is going to be packed to the gills this weekend–and for good reason. On Sunday, the brewery is honoring dads with eats, drinks, guided tastings, and live music by local rockers Great Train Robbery from 12-5 p.m. Menu highlights will include a 32-oz. Tomahawk steak, 16-oz. New York strip, and the special-release Rice Lager. $55 
Manor Mill: This Monkton hub for workshops, events, and community performances is hosting a pizza-making class led by Keepwell Vinegar owner–and former Woodberry Kitchen chef–Isaiah Billington. Grab your father figure and roll up your sleeves to make your own pies from 12:15-1:45, while also learning the ins-and-outs of cooking with vinegar. Stick around to snag your king some Keepwell products as an extra gift. $40
Old Line Spirits: If this Highlandtown distillery has been on your bucket list of places to visit with dad, here's your perfect opportunity to cross it off. This Saturday, June 18, Old Line is offering visitors a chance to bottle their own whiskey. After sampling from three unique barrels, you can choose your favorite blend and add a complimentary custom etching from 2-5 p.m. Of course, no Father's Day excursion is complete without a filling meal, so be sure to get your fix from the folks at Soul Smoked BBQ before you head home. The pop-up smoke shop will be slinging their fingerlicking fare (think: ribs, mac and cheese, and pulled pork) in Old Line's courtyard from 1-6 p.m. $55
Knotty Pine Baltimore: Sometimes, the key to a classic Bawlmer Father's Day only requires two ingredients: crabs and beer. At this Canton mainstay, crack steamed crabs (medium males start at $48/dozen) beginning at 2 p.m. Bring the whole family and enjoy a laundry list of other specials throughout the day, including a pound of steamed shrimp or 20 wings paired with a pitcher of Natty Boh for $26. Plus, orange and grapefruit Crushes will go for $7.50. If that's not enough to convince dad, let him know that his first draft beer is on the house. 
The Woodstock Inn: This roadside haunt in the Woodstock area is bursting with neighborhood charm. Swing by with dad to ring in the holiday with live music by Baltimore's own funky blues rocker Ruben Montoya from 2-5 p.m. All the while, sip beers while enjoying barbecue bites sourced from the inn's sister-operation Braglio Farms. 
And, we'd be remiss without acknowledging that Father's Day overlaps with Juneteenth this year. Find even more cookouts, block parties, and events that are meant to celebrate both holidays, here.