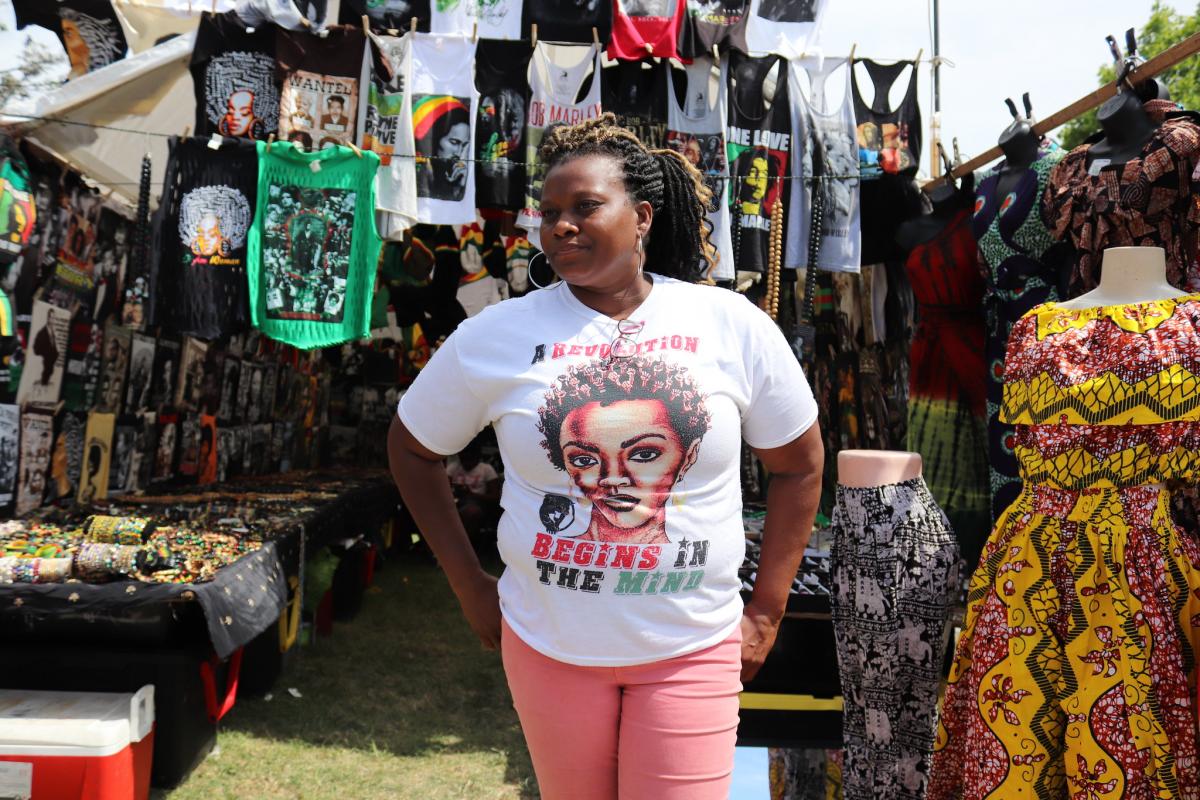 A vendor at AFRAM in 2019. —Photography by Elvert Barnes via Flickr Creative Commons
Since 1976, the city's annual AFRAM Festival—which honors Baltimore's Black culture with art, vendors, and big-name acts in Druid Hill Park—has always taken place in August. However, this year's blowout—returning to full capacity in the wake of 2020's cancellation and last year's scaled-down hybrid event—is making its big return two months early to coincide with Juneteenth. Made in conjunction with Mayor Brandon Scott, the decision followed last year's push to recognize June 19, the day in 1865 when Texans finally learned of the end of U.S. slavery, as a federal holiday. 
With two whole days of festivities planned from June 18-19, AFRAM will highlight national names like The O'Jays ("Love Train"), Ne-Yo, Yung Bleu, and Le'Andria Johnson, as well as local comedians, spoken word artists, and DJs. Plus, aside from the shopping and food on site, the festival has inspired its own Black and women-centered restaurant week, which kicked off June 13 and lasts through Sunday. 
After hiccups caused by the pandemic, Baltimore City Recreation & Parks public relations officer Whitney Clemmons Brown says she and Scott's team are excited for the return to Druid Hill. 
"We're always excited for people to visit Druid Hill Park, which is historic in itself, especially for Black people in Baltimore," she says, adding that organizers agreed overlapping AFRAM with Juneteenth was a fitting choice. "Commemorating Juneteenth, while celebrating the best and the brightest of Baltimore's Black culture is something that we're really looking forward to. There's something here for everyone. The full Black diaspora is being represented, which is beautiful to see."
As excited as we are about AFRAM, there are also tons of other local events planned to honor the holiday, which has long been marked in Baltimore with cookouts, bright red foods symbolizing perseverance in bondage, and parades in the streets. Here are more ways to celebrate this week: 
June 16: Contextualizing Juneteenth in Maryland: Emancipation or Freedom?
Presented by the Maryland Center for History and Culture, this virtual deep-dive into the meaning of Juneteenth explores the Old Line State's unique path to Emancipation Day. Ours took place on November 1, 1864, roughly seven months before the rest of the United States would learn that slaves were free.
June 16: UMB Juneteenth Celebration
Head to Poppleton Street to ride ponies, graze free food, and score Juneteenth giveaways (while supplies last, of course).
June 17: Juneteenth at Homewood: Expressions of Freedom
Freedom Day festivities at Johns Hopkins' Homewood campus were designed to honor ancestors. Take part in a talking drum circle, grab free lunch, witness praise dancing, and hear spoken word poetry. 
June 18-19: AFRAM
The decades-old culture festival returns to Druid Hill Park just in time for Juneteenth weekend. Take in performances by local greats (including spoken word performer Lady Brion) and acclaimed national headliners like El DeBarge and Ne-Yo. Plus, through Sunday, enjoy festive food specials by Black and women-owned restaurants, including Cheezy Mikes, The Sporty Dog, and Next Phaze Baltimore, in conjunction with AFRAM's restaurant week. 
June 18: Black People Party Party
Hosted by Neru Thee Fourth Fugee, this Jubilee Day open mic performance at The Crown welcomes all walks of local talent, from comedians to dancers. 
June 18: Boundary Block Party
Now in its 15th year, this bash seeks to unite Central West Baltimore through food trucks, live performances, and DIY art.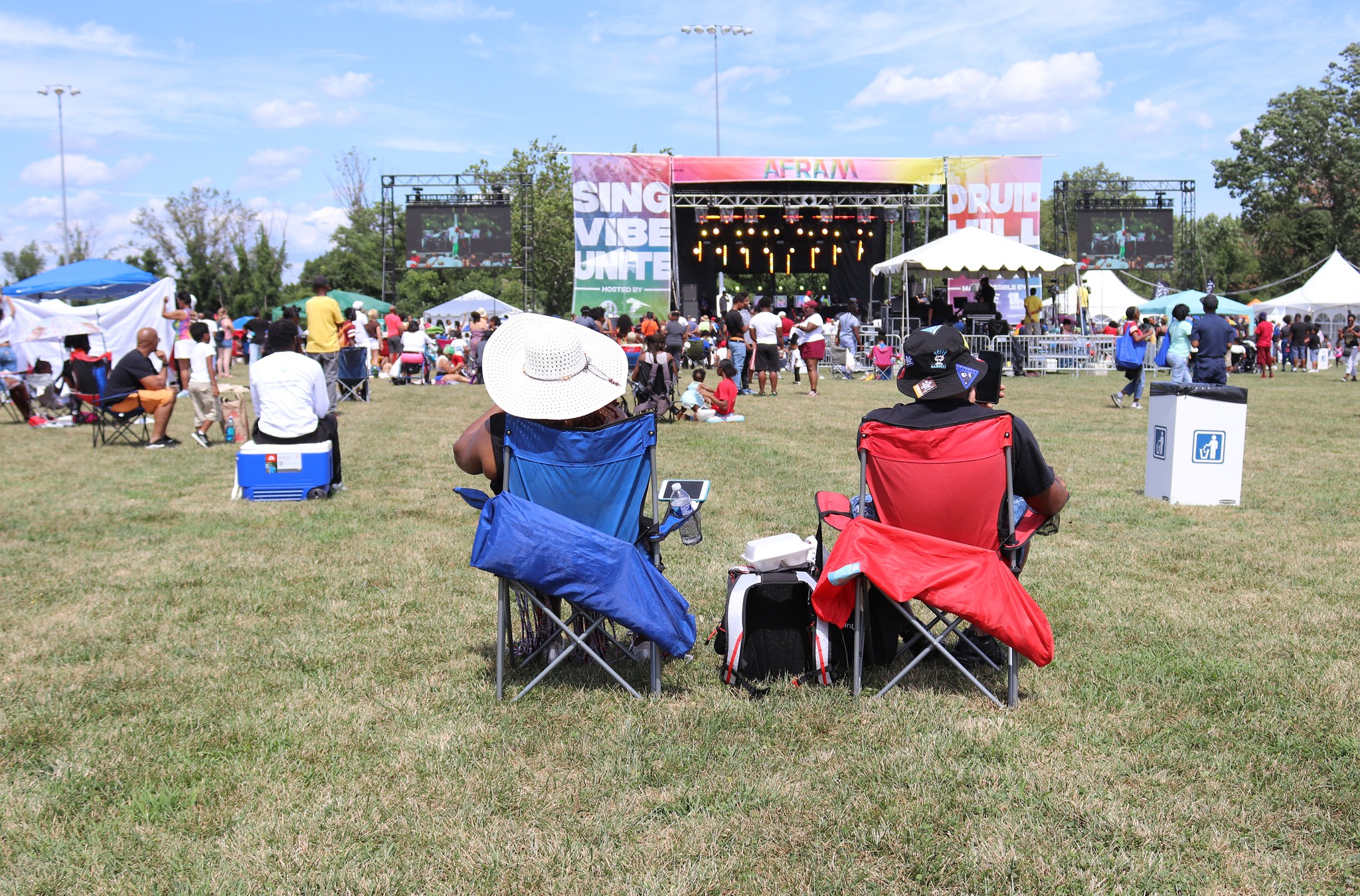 June 18: Juneteenth Celebration at Benjamin Banneker Historic Park and Museum
This Catonsville institution plans to ring in the holiday early, with family fun, live music, free food, and goods by Black makers.
June 18: Juneteenth Community Walk
Celebrate Juneteenth on Pennsylvania Avenue with an excursion to raise funds for city education resources in neighborhoods like Upton.
June 18: Juneteenth Expo Event
Show up for small Black businesses on Eastern Avenue at this community event. Munch on free hors d'oeuvres, jam out with DJ Dizzy, catch an African wear fashion show, and shop goods from a slew of local vendors.
June 18: Juneteenth Festival
This weekend, Dovecote Cafe's beloved annual blowout totes performers such as Omina Lazar, Alex Vaughn, and APoetNamedNate. Stick around for groovy sounds by Queen HD the DJ, and check out a lover's lounge by clothing brand, Nubian Hueman.
June 18: Juneteenth Father's Day Kickback
This Saturday in White Marsh, chef Carl Shipp of Sizzle Eat Drink Dance rings in two holidays at once with an array of festive dishes. (Look out for his famous Soul Rolls.)
June 18: Juneteenth Jamboree
In honor of the holiday, West Baltimore health staples Be More Green and City Weeds are doling out adult elixirs. Sip "Jubilee" and "Jamboree" juices while soaking up performances by artist Eze Jackson.
June 18: Juneteenth at R. House
As to be expected, the Remington food hall plans to ring in Freedom Day with live performances and Black-made bites. Bust a move as artists like Saxl Rose step to the stage. And score $5 cocktails from R. Bar by supporting Black-owned vendors, such as Noisy Burger and Taharka Brothers.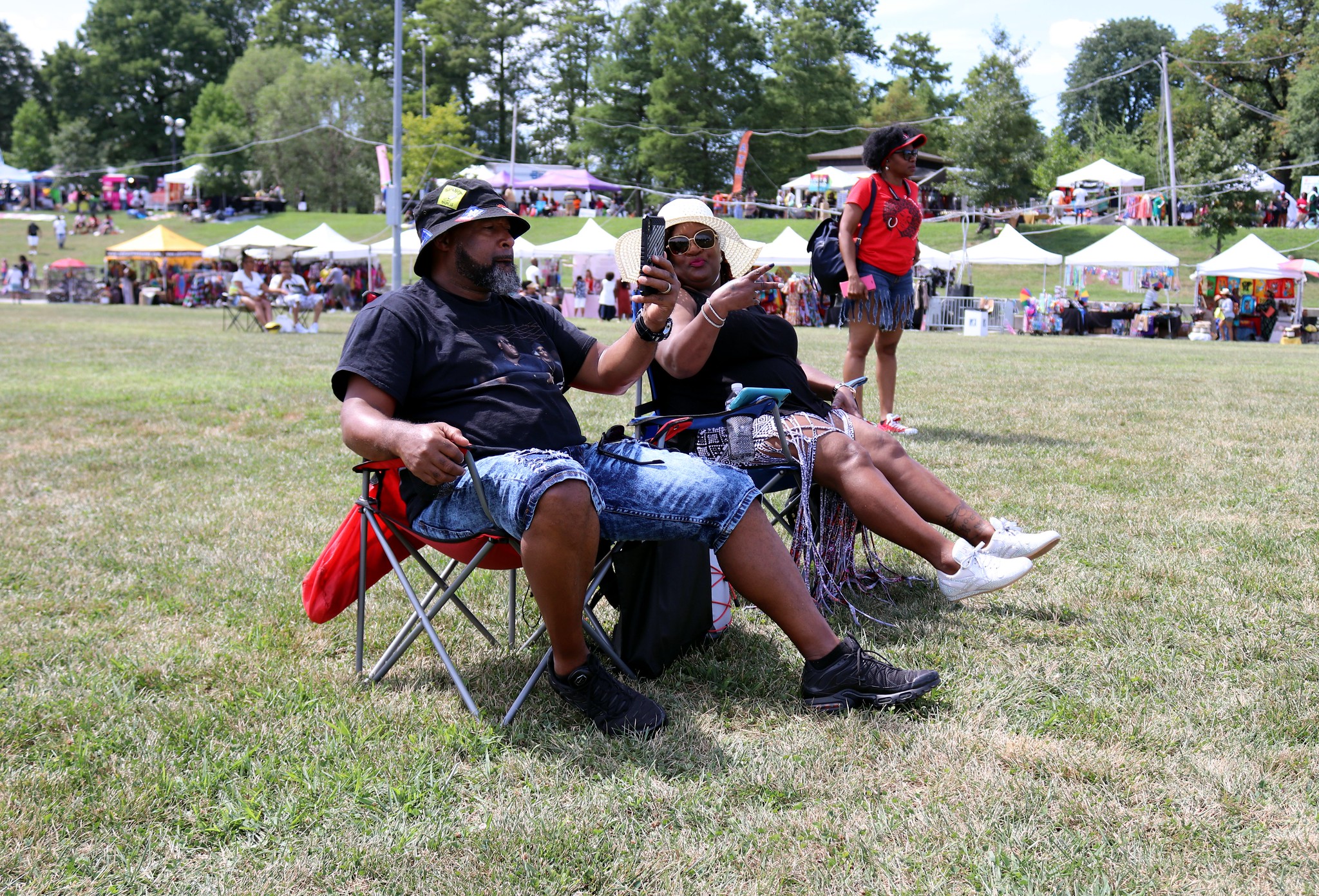 June 19: Father's Day and Five Year Anniversary Concert Party
On East Pratt Street, ring in Father's Day and Juneteenth with side-splitting jokes, smooth tunes, and an array of tasty eats (think catfish nuggets, chicken satay, rice pilaf, and mini salmon cakes.)
June 19: Juneteenth/Father's Day Jam Explosion
Freedom Day and Father's Day festivities collide at Patapsco Arena. Spend the evening in Annapolis with boozy sips, buffet eats, and performances by artists such as DJ Terry Tee and Kenny K.
June 19: Juneteenth Father's Day Soul Marathon
Set to shake up Chesapeake Employers Insurance Arena, this soul'd out Juneteenth concert features old-school favorites such as Freddie Jackson (of Mystic Merlin), The Manhattans, and The Temprees—all the tunes your dad is sure to get a kick out of.
June 19: Paul Carr Quartet: Songs of Hope and Freedom to Celebrate Juneteenth
Tune in as Houston native saxophonist Paul Carr and his quartet take the Keystone Korner stage to offer melodies of freedom.
June 19: So Amazing: Luther Re-Lives
This Juneteenth and Father's Day, late singer Luther Vandross receives his flowers, thanks to vocal doppelganger William "Smooth" Wardlaw, accompanied by saxophonist Isaac Parham.
June 21: Greater Baltimore One Water Partnership Juneteenth Celebration
Be sure to pack a waste-free picnic dinner for this Jubilee Day bash on North Franklintown Road. Delight in fishing lessons, storytelling, guided woodsy treks, outdoor yoga, and African drum music.