Culture Club
Baltimore businesses get in on the fermentation fad.
The blob-covered jar of swill looked so odd, Meaghan Carpenter (then Meaghan Harrrison) had to risk a sip. It was so sour it made her cheeks ache. And so tonic, her internal organs shouted, "thank you." High praise for tea fungus, a fermented drink also known as kombucha. Today, 20 years since that first slurp, fermentation is Carpenter's career and her calling. In that time, she's learned to tone down the tart, while science has caught up with her assessment, finding that fermented foods are essential to a healthy gut—and healthy body.
No wonder ferments are finding fame. Kimchi, kraut, and kombucha bulge from supermarket shelves. Once left-coast imports, they're increasingly brewed here in Baltimore. House-made pickles peer from the plates at Of Love & Regret. Local sauerkraut smiles from the reuben at Artifact Coffee, and kombucha glows from the cocktails at W.C. Harlan. Fermented foods—an ancient culinary tradition—are conquering Baltimore's markets and menus, and are even recommended at local medical practices.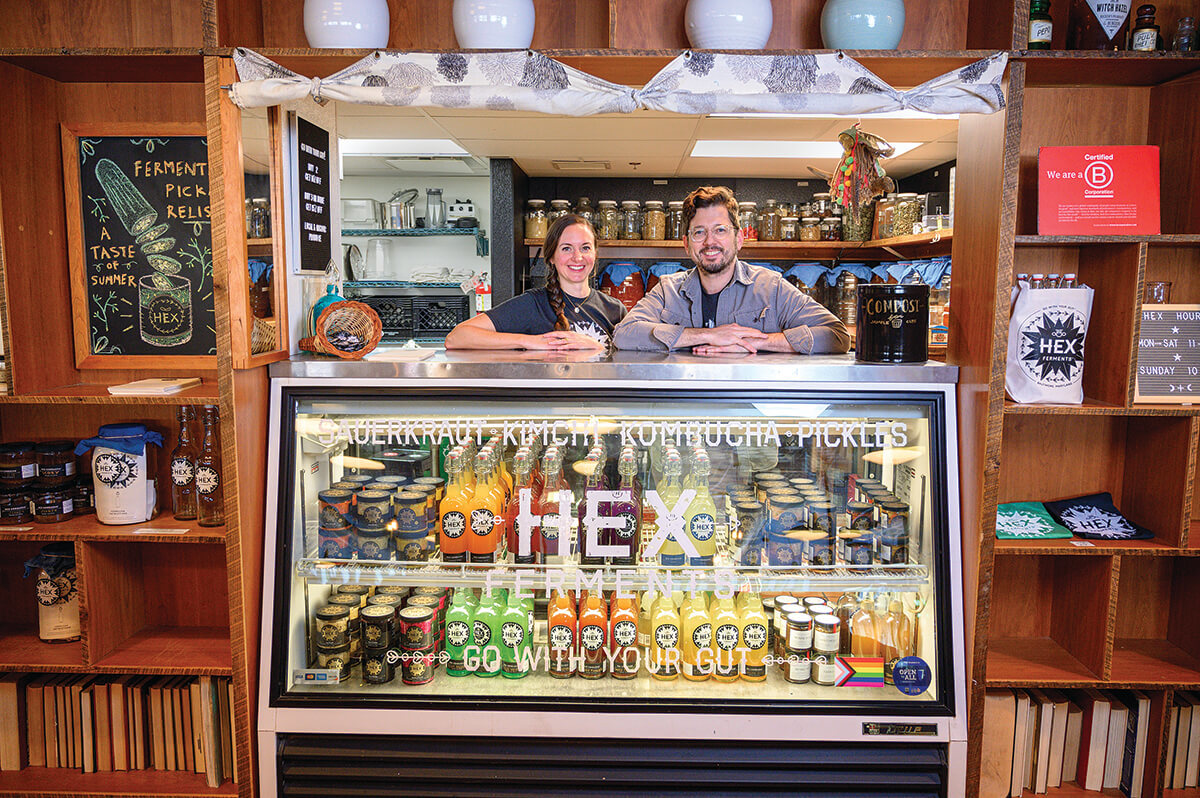 Back in 2000, Carpenter was a junk-food vegan who shook packs of Oreos from the vending machine. During a student trip to Ireland, she ventured that first taste of kombucha. Back home in Minneapolis, she tried brewing her own, hewing to the flavor profile she'd learned abroad: awful. Before starting grad school at MICA in 2006, she met a photographer named Shane Carpenter. Peering into his fridge, she noticed a bottle of kimchi. He liked funky ferments; she liked funky ferments. Could love, marriage, and a fermentation business be far off? The couple settled in Mt. Washington, grew vegetables at the Eric Waller Community Garden, and taught their neighbors preservation techniques. Soon friends were stuffing money in the mailbox along with pleas for refills. Carpenter remembered the advice of her director at MICA: Don't just make art, make a meaningful life. Was she meant to ferment?
In 2011, the newlyweds took their first trip to rural Tennessee to study with self-described fermentation revivalist Sandor Katz. Four days of harvesting bok choy, inoculating rice, and bottling mead convinced Carpenter to rethink her trajectory.
House-made pickles peer from the plates at Of Love & Regret. Local sauerkraut smiles from reuben at Artifact.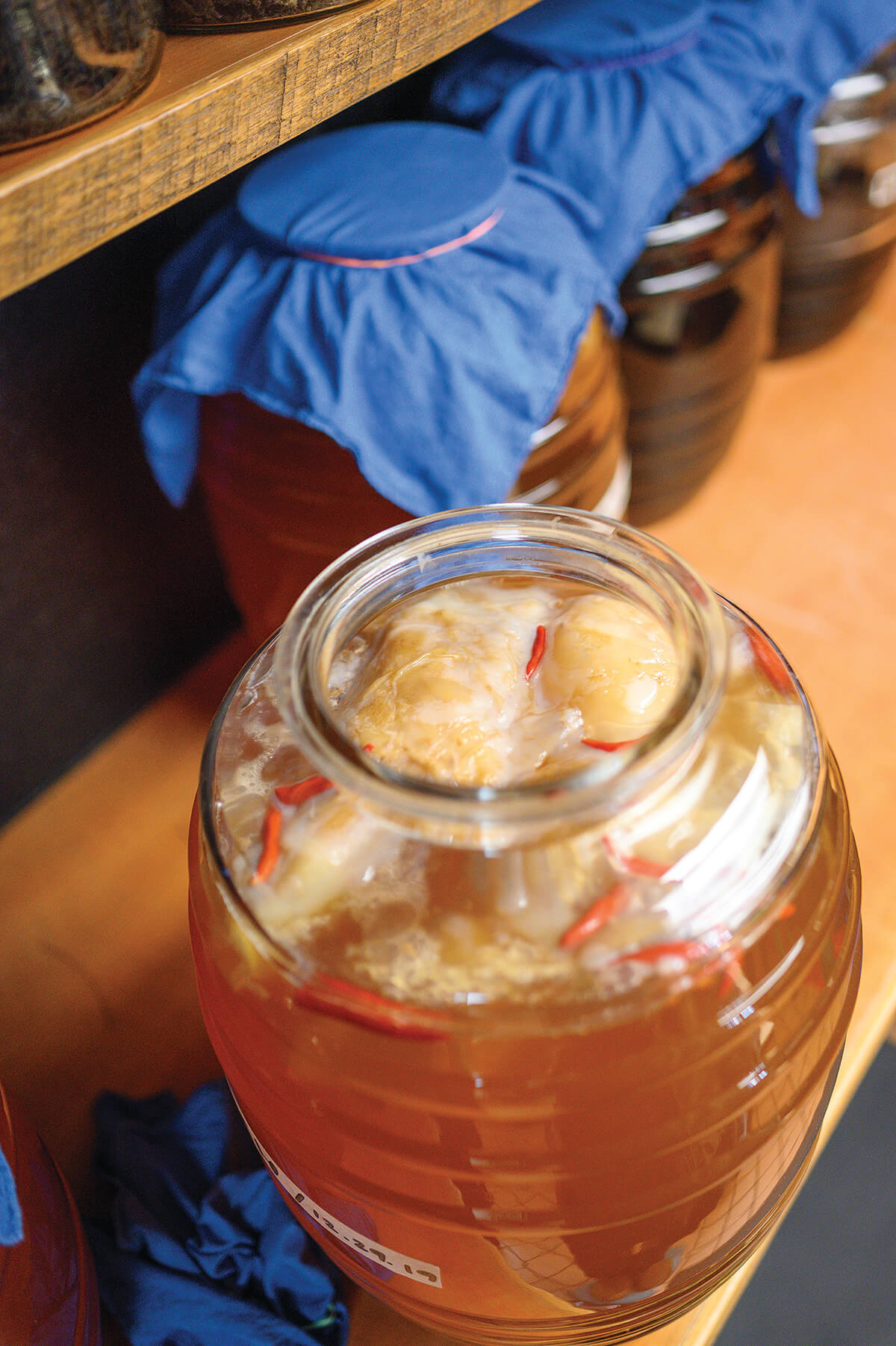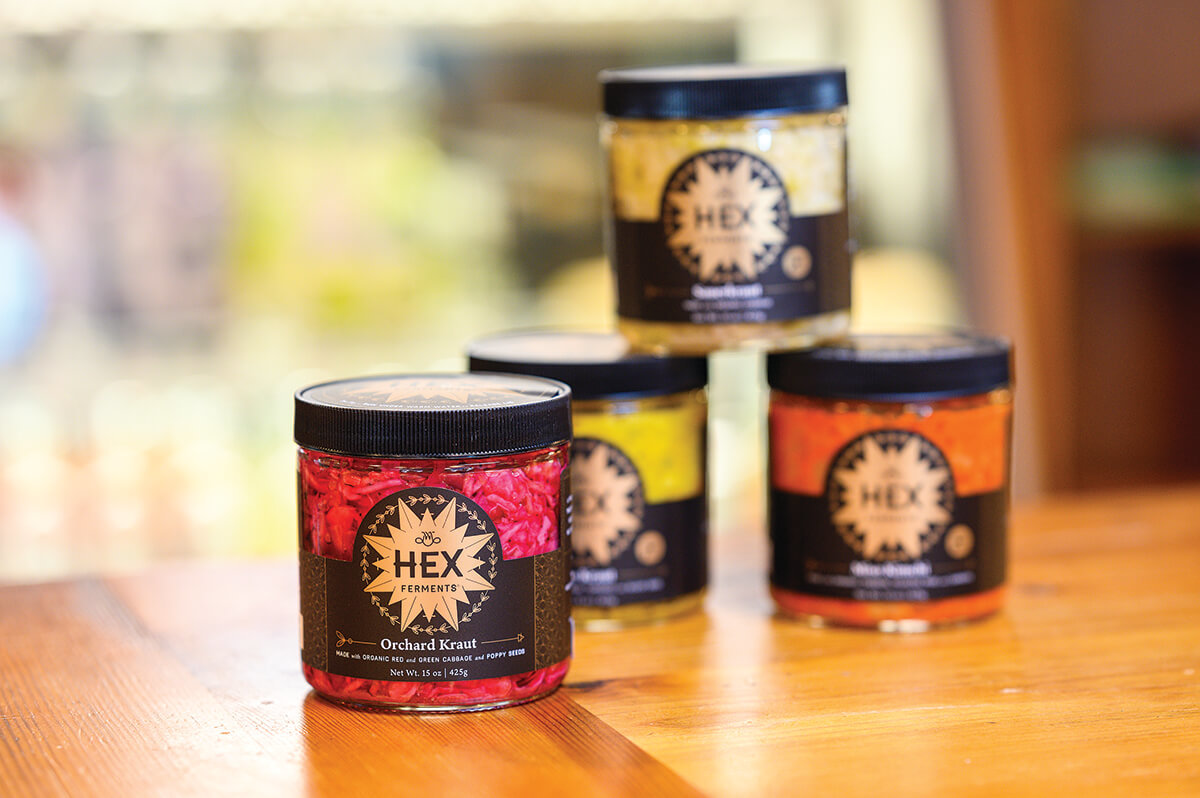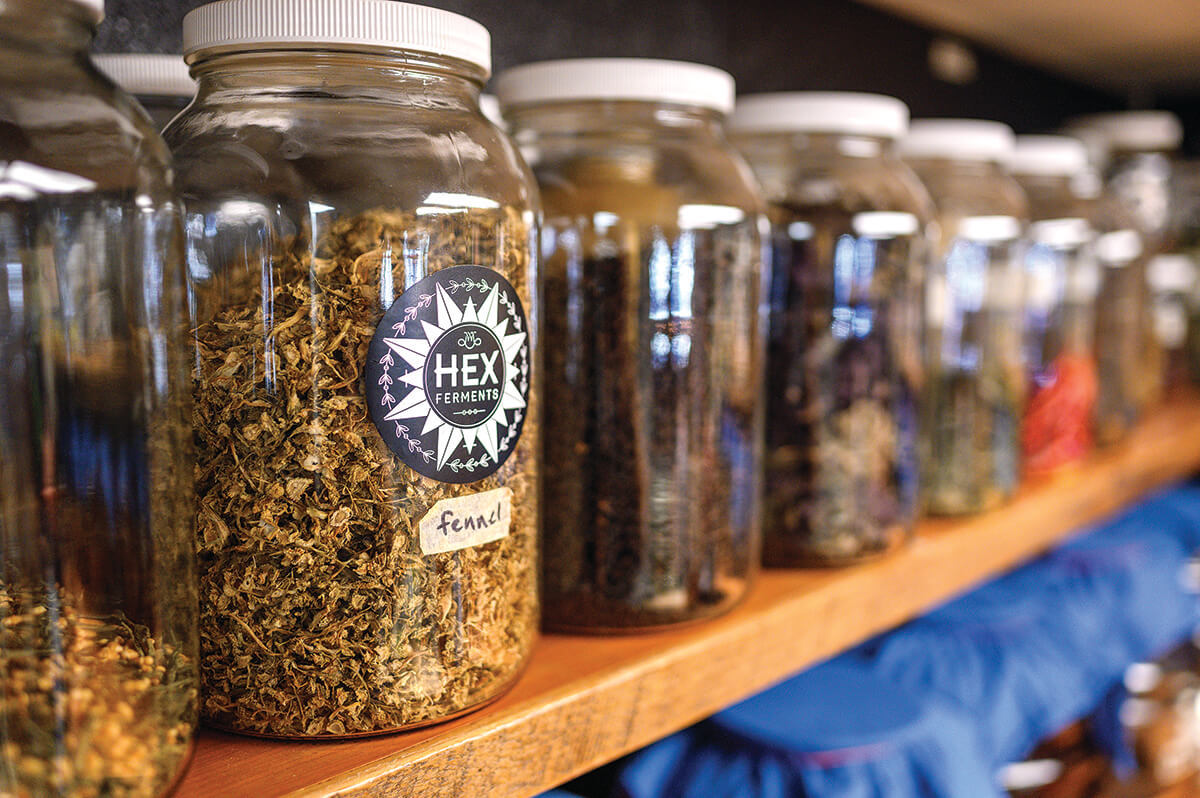 She spent three years brewing in a church basement by night and battling bureaucracy by day. Once she pleaded to a city licensing official: Ferments can change the world. He hung up. Hex Ferments opened in 2014. The 90-square-foot shop, formerly a hotdog stand at Belvedere Square, resembles a bookstall/apothecary/candy store. Tall bottles of kombucha—now sweet and satisfying—glow lavender, amber, and gold. One night, so late that she'd already closed the curtain on the stall, Carpenter heard someone stop to read the paint job on the cold case. "Sauerkraut?" the voice scoffed, "Good luck!"
Last year, Hex fermented 30 tons of produce in its 1,300-square-foot facility at B-more Kitchen's Accelerator Space. Hex recently purchased its own building with double the space. The beet pickles, miso kimchi, and a variety of krauts are available at farmers' markets and Whole Foods. Hex kombucha (in returnable bottles) is stocked at MOM's Organic Market.
Unscrewing a squat jar of Glow Kraut (about $10) reveals vibrant yellow flakes of cabbage, brilliant disks of carrot, and black flecks of nigella seed. According to the label, it's a certified organic, probiotic-rich, nutrient-dense, living food, made in a 100-percent wind-powered facility. Those are some crunchy bona fides. The crisp, tangy, tart condiment can punch up pizza, eggs, or, swears Carpenter, anything else.
Making kraut calls for magic—much like making art. As a painter, Carpenter once poured acrylic on Styrofoam; now she tosses salt on cabbage. The transformation—revealed over weeks, months, even years—unfurls first as scent, then sound, flavor, and finally, a sense of well-being. The process brings to mind the work of Medieval healers, or hexens (which, along with the folk art tradition hexology, inspired the company name). The job has appealed to Carpenter since her adolescent days, when her mother succumbed to cancer. She sees fermentation as part of a continuum: grow, harvest, preserve, nourish.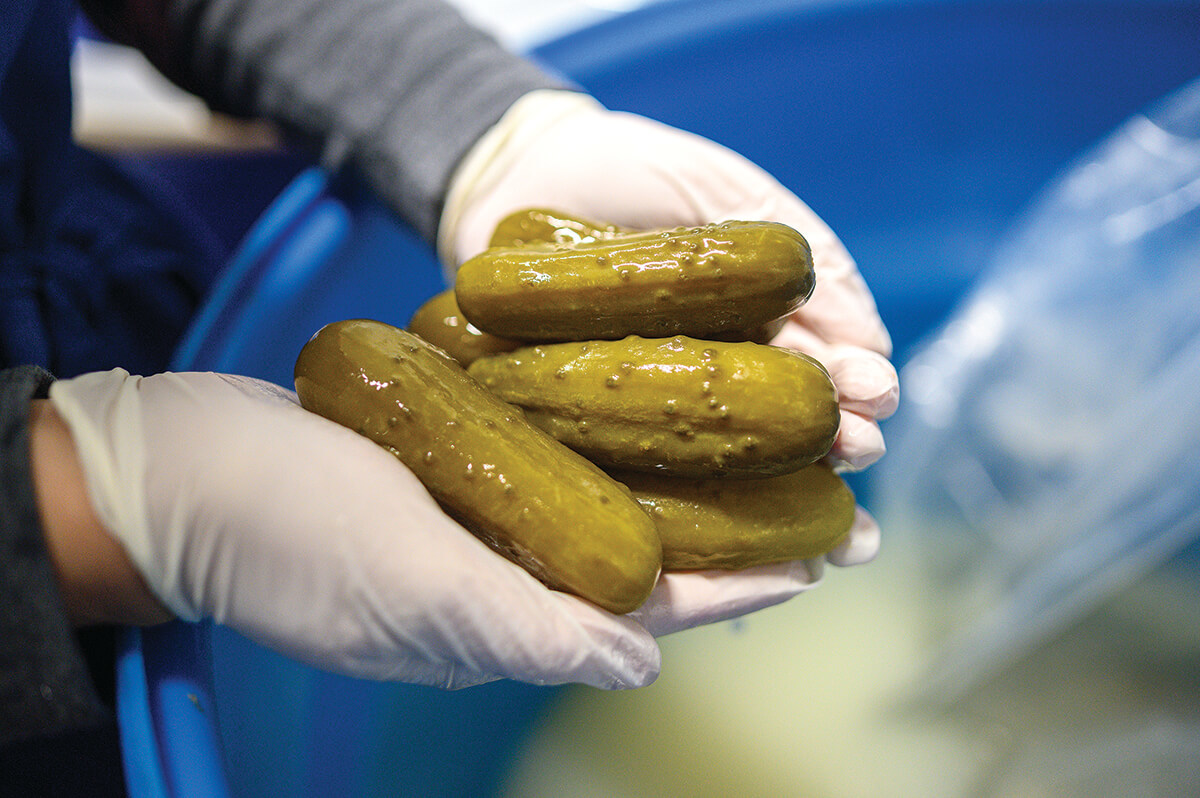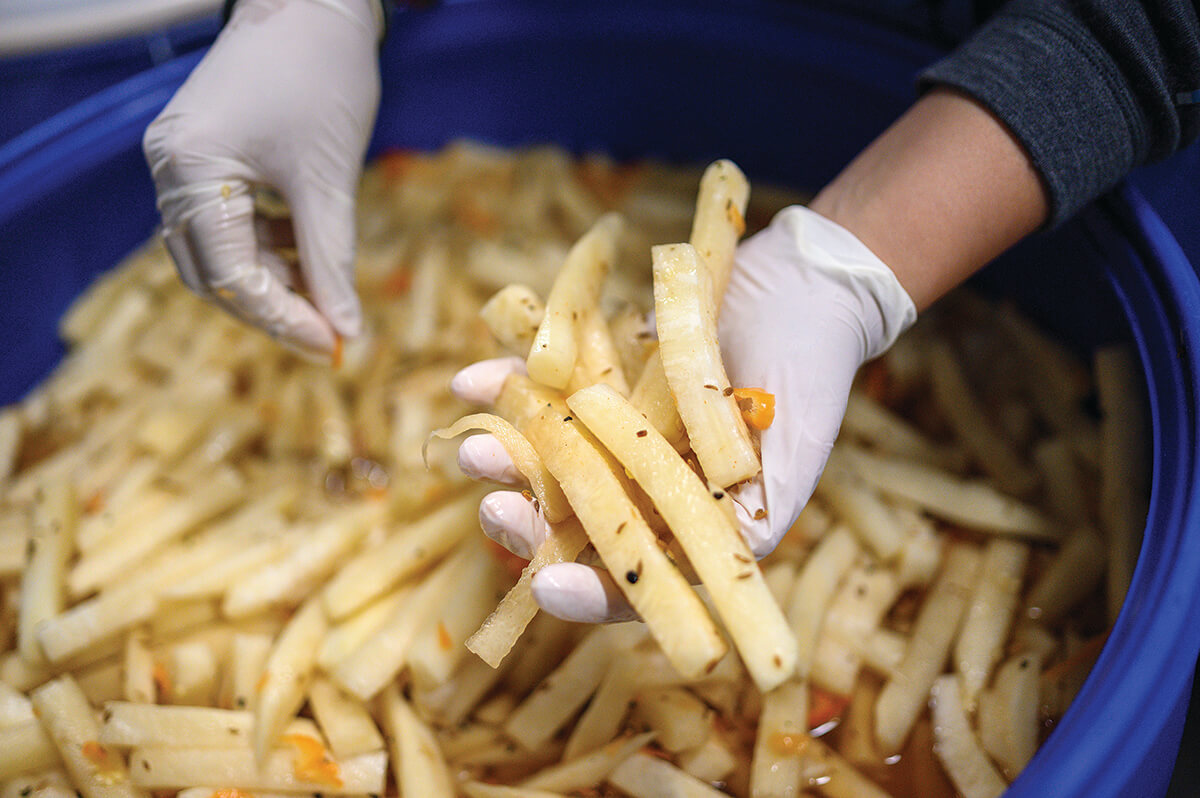 Culturing food is about as old as human culture itself. It can extend shelf-life, improve flavor, and—in the extreme—intoxicate. Of course, the heavy lifting is actually handled by bacteria—though it took humans a good while to figure that out. In the 1670s, a Dutch scientist named Antonie van Leeuwenhoek cobbled together a microscope, finally witnessing microorganisms, or as he put it, little eels-a-squirming. French chemist Louis Pasteur, in 1857, figured out what they were up to: fermentation.
Bacteria come across a snack, say, a jar of milk. They feast on the lactose, breaking it down into lactic acid, changing fresh milk into tart kefir. Fermented foods tend to be sharp (like pickles), stinky (like cheese), or salty (like sauerkraut). Also tasty. Part of their appeal, says Yi Wah Roberts, co-owner (along with his sister Caitlin) of Number 1 Sons, pickle purveyor to the JFX market, may be their echo of our ancient—pre-refrigeration—diets. When Caitlin digs into a bowl of kimchi, she considers how she, her lunch, and the microbes it sustains all evolved together. Deep thinking for a business dreamed up, in 2012, under the influence of fermented rye.
Since then, Number 1 Sons has grown. The company sells to 35 markets in Baltimore, D.C., and Virginia. Last year, it fermented 45,000 pounds of modern kimchi using ancient ingredients: salt, time, and microbes. The microbes don't just ferment and flee. They linger in our guts. Trillions of them at a time. More of them than we have human cells. Disturbing, but true, concede experts such as Bill Sullivan, author of Pleased to Meet Me: Genes, Germs, and the Curious Forces that Make Us Who We Are. Once, these microbes were considered mere bystanders. Now science suggests that they exert control over the immune system, cardiovascular system—even behavior, personality, and mood. In other words, you really are what you eat.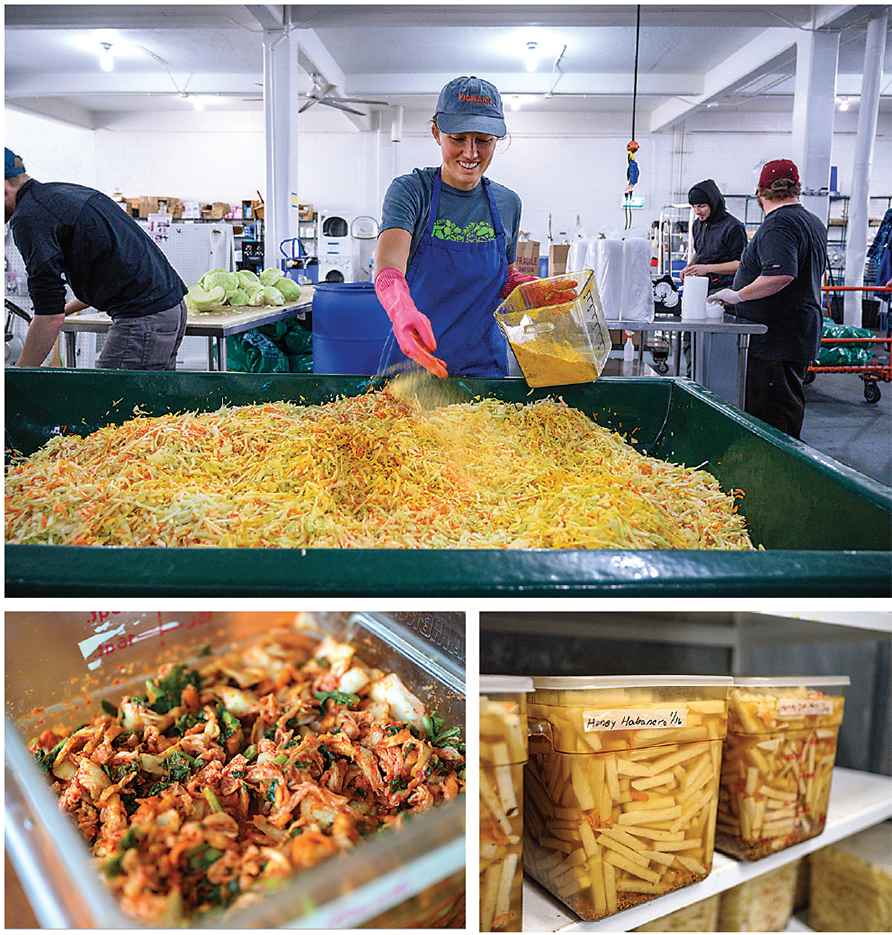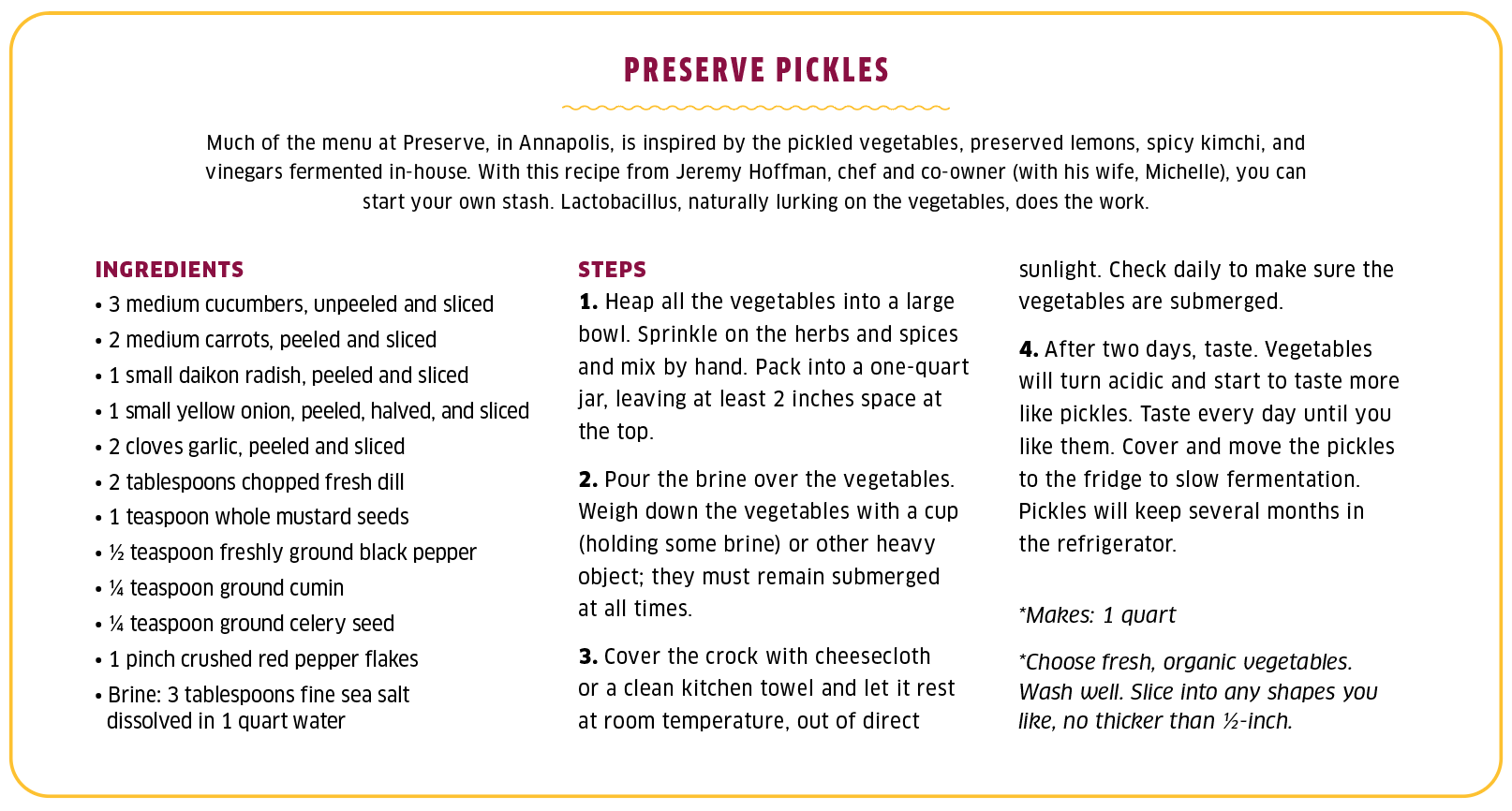 Sergio Malarin learned that lesson early. Hungry after third grade at The Waldorf School of Baltimore, he found the kitchen crammed with his mother's idea of a snack: milk congealing into yogurt, sourdough bubbling beneath its skin, sauerkraut sulking in its brine. None of the contraband he craved: Lucky Charms. Then again, too much sugar gave him that sickly sweet feeling he expressed best in Spanish: empalagoso.
Wild Kombucha ships to 900 stores in nine states, earning revenues last year of $1.1 million.
The family fixation with health food had been growing for years and eventually extended to vats of kombucha—green tea hissing through a raft of blobs, called SCOBY—a symbiotic culture of bacteria and yeast. His mom handled the research. His stepdad tinkered with the equipment. The kids cleaned the glass bubblers. By the time they were graduating from McDonogh, in 2008, Malarin and his best friend, Sid Sharma, estimated that one in 10 batches went down sweet, like soda. Nine left an earthy, acidic aftertaste. When Malarin's mom and stepdad moved to Peru in 2009, they needed a place to stash the brewing equipment. Malarin was crammed in a dorm room, but his stepbrother, Adam Bufano, had space at his place in Hampden. Soon Bufano took up the family hobby, applying a new technique—taking notes. Soon he had tastier kombucha—albeit too much. Bufano posted a note on Craigslist; Hopkins students stopped by at odd hours, cash in hand. What did the neighbors think he was dealing?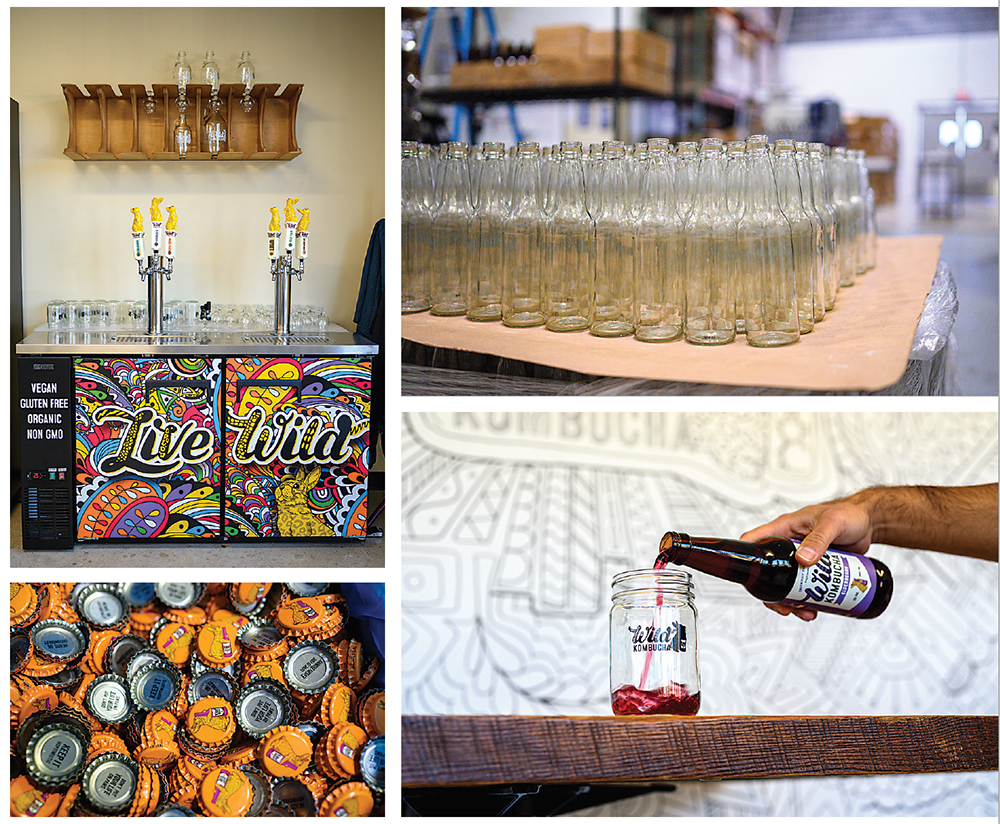 In 2014, Malarin—post-college, mid-breakup—crashed in Bufano's attic and during weeks of brooding made some discoveries: 1) Kombucha eased his hangovers, 2) Bufano's recipe was reliable, and 3) Brewing with his stepbrother was fun. Why not start a business together? Malarin wrote up a plan but needed a partner proficient in Excel. He called his buddy Sharma. On the upside, Sharma was finishing a graduate degree at Duke. On the downside, he remembered the high-school kombucha: nine out of 10 fails.
By February 2015, the three were leasing space from a juice bar in Hampden, brewing tea, pressing fruit, and fermenting kombucha late into the night. They took samples to yoga studios and coffee shops in the neighborhood, making their first sale to Harmony Bakery on Chestnut Avenue. Six months later, Whole Foods placed an order. All three quit their day jobs to ferment full-time.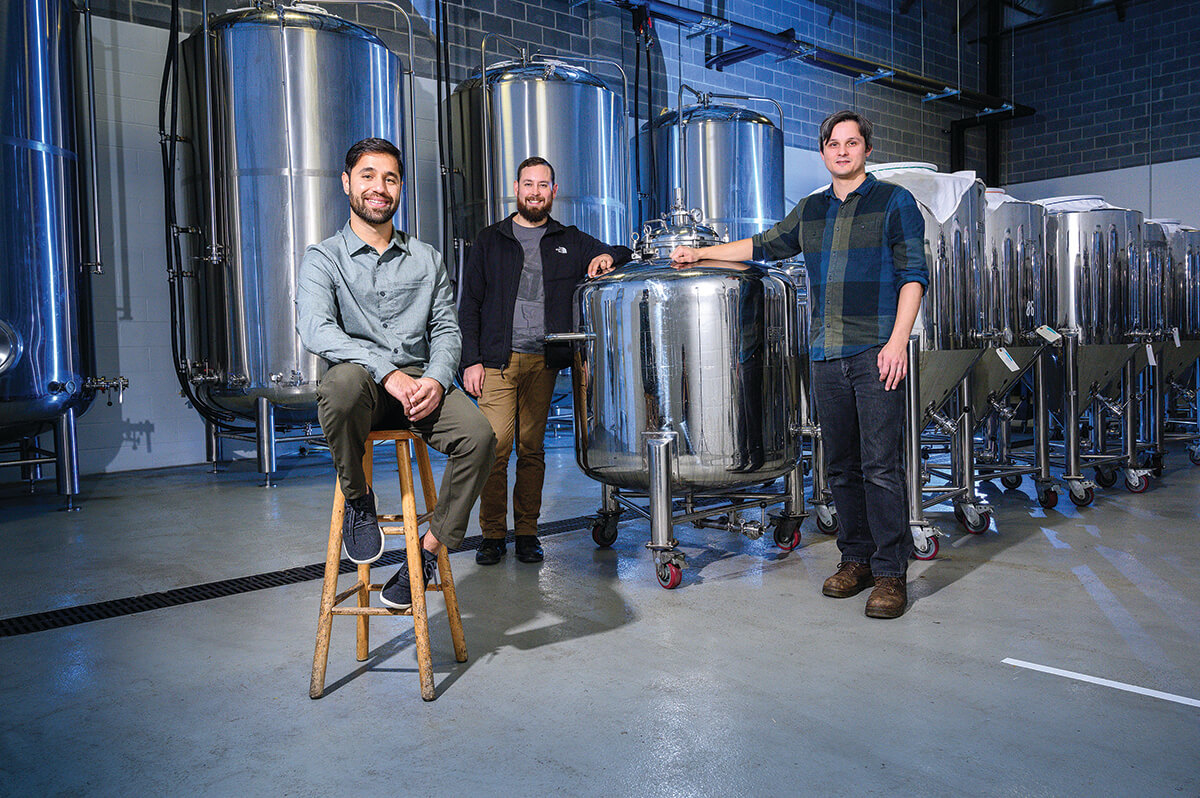 Wild Kombucha (a nod to the wild cultures that ferment the product and the wildlife habitats the company supports) now occupies a 13,000-square-foot industrial space in Northwest Baltimore. It's tricked out with a tap room that offers elderberry, ginger grapefruit, and mango-peach. Gleaming 1,300-gallon kettles brew tea; monster SCOBY—like some deep-sea creature, a descendant of the original family blob—bobs atop massive fermentation tanks. In keeping with a national trend that sees kombucha moving from natural-food niche to conventional grab-n-go, the company ships cases and kegs to 900 stores in nine states, earning revenues last year of $1.1 million. Twisting open a cold long-neck (about $4) is much like cracking into a beer. The first whiff is sharp vinegar. A gulp offers light fizz, sweet fruit, hint of tea. It can serve as an alternative to guzzling soda, a nonalcoholic option on tap, or cocktail mixer to the hipster set.
The partners hope their success can help their hometown nudge its image from crime scene to business hub. And they hope to spread the lessons, learned in their school days, of health through fermentation.
Like all modern fermenters, the team keeps on hand a copy of Sandor Katz's book Wild Fermentation: The Flavor, Nutrition, and Craft of Live-Culture Foods. In it, he notes that the word ferment is related to fervor, to fervent. It means, at heart, to change.
Fermenting, in other words, can change the world.