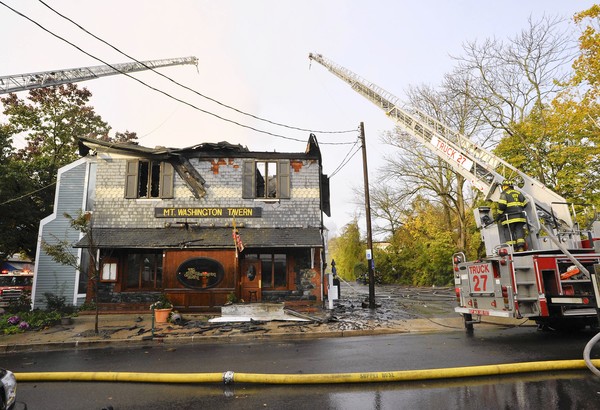 http://www.bmoreinterested.com
At 4:30 this morning, a two-alarm fire broke out at beloved neighborhood bar Mt. Washington Tavern. Fifty fire fighters were called to the scene and, when they arrived, they were unable to enter the building because of the dangerous conditions. The cause of the blaze is unknown, but visible fire has been extinguished and there have been no injuries reported.
The tavern's owners, Rob Frisch and Dave Lichty, posted a note to their Facebook page today:
"To our valued customers, friends,

What a morning. We may be down but we are certainly not out. The fire has taken the Tavern for now but we look very forward to rebuilding and being better than ever.

We are so thankful for the outpouring of support already and even more so that our customers and employees were unharmed. The cause of the fire is still under investigation. We will keep you posted as news develops and look forward to celebrating with you at our grand re-opening.

Rob and Dave and the whole MWT team"
I also got a chance to speak with Rob over the phone this morning. "Obviously the wound is still very fresh," he said. "But we've been talking to contractors and insurance people and we're absolutely going to rebuild. I have a couple of [fundraising] ideas I can't get into, but we're hopefully going to do something down the line."
When asked if the bar's design and layout will still be the same after the rebuild, he said "It's going to depend on how bad the damage is. The tavern is such a unique building inside with all its original woodword. We'd like to keep it very similar."
Open for 32 years, the tavern is a staple in the Mt. Washington community and Baltimore at large. Our thoughts are with the owners and employees of the tavern and we wish them luck and suppport as they rebuild.
[Image: courtesy of Mt. Washington Tavern]