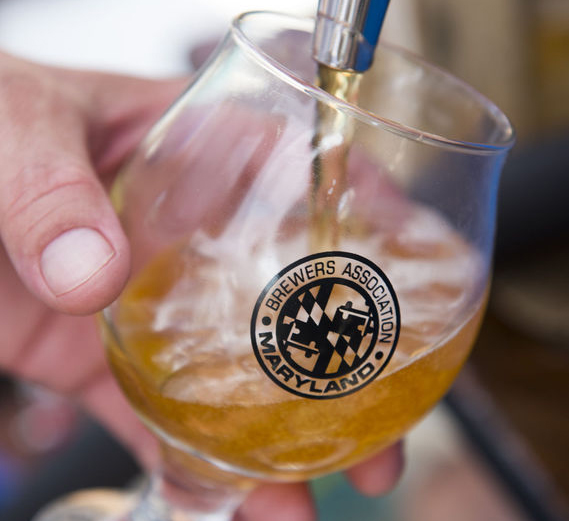 Courtesy of the Brewers Association of Maryland
While it seems kind of crazy, given the sky-rocketing popularity of microbrews, October 24 will mark the first-ever Baltimore Craft Beer Festival. Not technically apart of Baltimore Beer Week (which is a week earlier), the festival will be put on by the Brewers Association of Maryland (BAM) and have very a similar mission—to spread the word about the region's best local breweries and home brewers.
"There have been a number of small events that have been very focused on specific bars or breweries," says Kevin Atticks, BAM's newly hired executive director. "But we felt compelled to kick it up a notch."
In fact, with 33 regional brew houses and counting, this will be the highest amount of Maryland craft brewers at one event in the state's history. Of course, there will be old standbys like Heavy Seas, Flying Dog, and Brewer's Art, but the organizers are also excited for up-and-coming outfits, like the Waverly Brewing Company and Suspended Brewing in Rockville, to be making their debut at the festival.
"Our whole goal as an organization is to help new breweries with zoning, permits, and figuring out who they should be getting to know," Atticks says. "We've heard too many horror stories about breweries giving up because something didn't turn out. We help them find a way through it."
The festival will also feature a home-brew competition sponsored by Woodberry-based Nepenthe. Roughly 40 different home brewers will submit their recipes for a harvest ale to be reviewed by a panel of local experts, and the crowd can even buy a $10-ticket upgrade to submit their votes, too.
"That's a cool aspect you don't see at many other festivals," Atticks says. "This gives the average Joe a chance to taste all these experimental brews."
Of course, there will be plenty of ways to soak up all that beer with local food options from BricknFire Pizza, Kooper's Chowhound,
Smoking Swine, Gypsy Queen, and Pie Time. The live music is also all Baltimore-based with the acoustic stylings of Chris Diller, rising folk stars Big Hoax, and rock/funk group Greasy Hands.
A general admission ticket gets you unlimited samples in a five-ounce tasting glass, while VIPs can sample out of a Belgian-style mug and be let into the festival two hours early. This will also be the time when breweries will showcase their version of harvest ales made exclusively for the festival.
A portion of the proceeds will benefit Strong City Baltimore, which was formerly the Greater Homewood Community Corporation, whose mission is to strengthen city neighborhoods through safe streets, desirable housing, quality schools, a robust workforce, and community engagement.
"The idea is to embody all things Baltimore," says event assistant Pete Brock. "People have so much pride for this city in general and this festival gives them a way to support so many local people all at once."