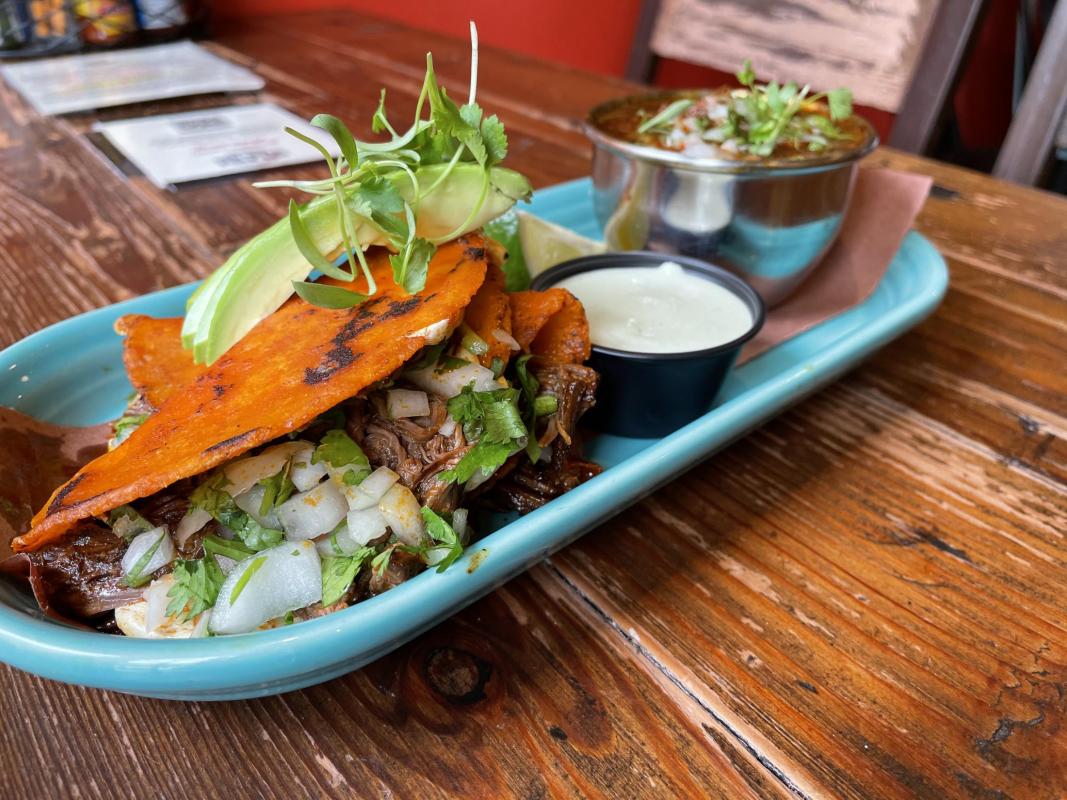 Courtesy of Papi's Tacos
Currently, there's no shortage of places where Baltimoreans can find quesabirria tacos—a dish that has seen a major boom in places like Los Angeles and New York City.
So what are they, exactly? It all starts with birria: a traditional Mexican dish of slow-cooked goat or mutton in a flavor-packed stew. Variations have abounded since its inception in Jalisco, Mexico, and now it's popular to see birria made with beef or lamb.
"I grew up eating birria," says Jimmy Longoria, owner of local food truck Mexican On the Run. "It's a wedding kind of food. It's also traditional for baptisms and quinceañeras."
Tijuana-style birria—which typically stews beef in a chili adobo sauce to give it that reddish, dark brown color—has been famously served there in the form of tacos. Los Angelenos of Mexican descent, Longoria says, added cheese to create quesabirria tacos. Tortillas are either dipped or drizzled with the birria's broth (or consomé), then loaded with cheese, birria, cilantro, and onion before frying. Any remaining consomé can be served on the side like an au jus for dipping.
A Los Angeles native himself, Longoria returned home for a visit in 2019 after a few years of being away.
"I spent three or four days there just kind of figuring out what had changed in Los Angeles, and my cousins and family members were telling me how birria had taken off," he says, "and how the style from Tijuana, which borders California, had really taken off, not just in the birria but in the tacos and how they're prepared."
Longoria added quesabirria tacos to the menu at Mexican On the Run in September 2020 and says that they have been a gamechanger, with 20 or more people now typically waiting in line for them during the winter months. Some customers have even traveled from D.C. and Philly just to get their hands on the crispy tacos. "It's changed my business," he says.
Below, we round up five local spots—including Mexican On the Run—where diners can indulge in quesabirria:
Cocina Luchadoras owner Rosalyn Vera began serving quesabirria tacos at her Fells Point restaurant at the end of January, and since then orders "have taken over," she says.
The first day Vera offered them was a Wednesday, and she soon sold out: "I did not know that it would get to the point where I would have to close several times for a few hours because it was way too many orders for my small kitchen," she says.
Now, customers must pre-order them online for pickup on Fridays. "I want to be able to offer customers a good product and not get too busy," Vera says. "That's why we have to do pre-orders…I just want to bring the best food that I can bring to Baltimore."
Vera had been thinking of adding birria to her menu for some time, but had to tinker with her recipe first. Now, her quesabirria tacos feature slow-cooked birria of beef (seasoned with cinnamon and different types of chili peppers), Oaxaca cheese, onion, and cilantro. All ingredients are tucked into her handmade tortillas and served with consomé for dipping.
Be on the lookout, too, for Vera's new quesadilla birria and birria burritos, both of which come with consomé.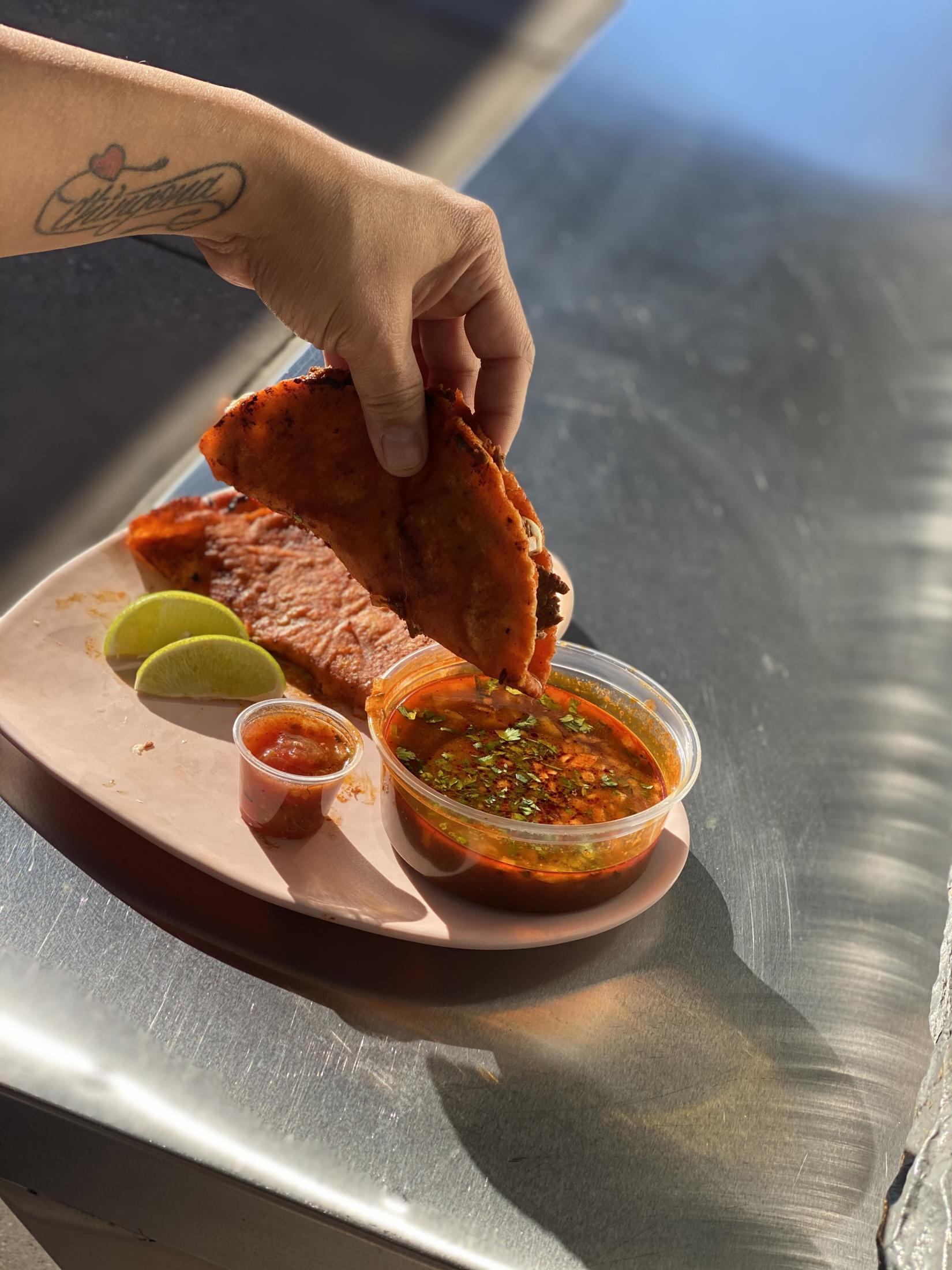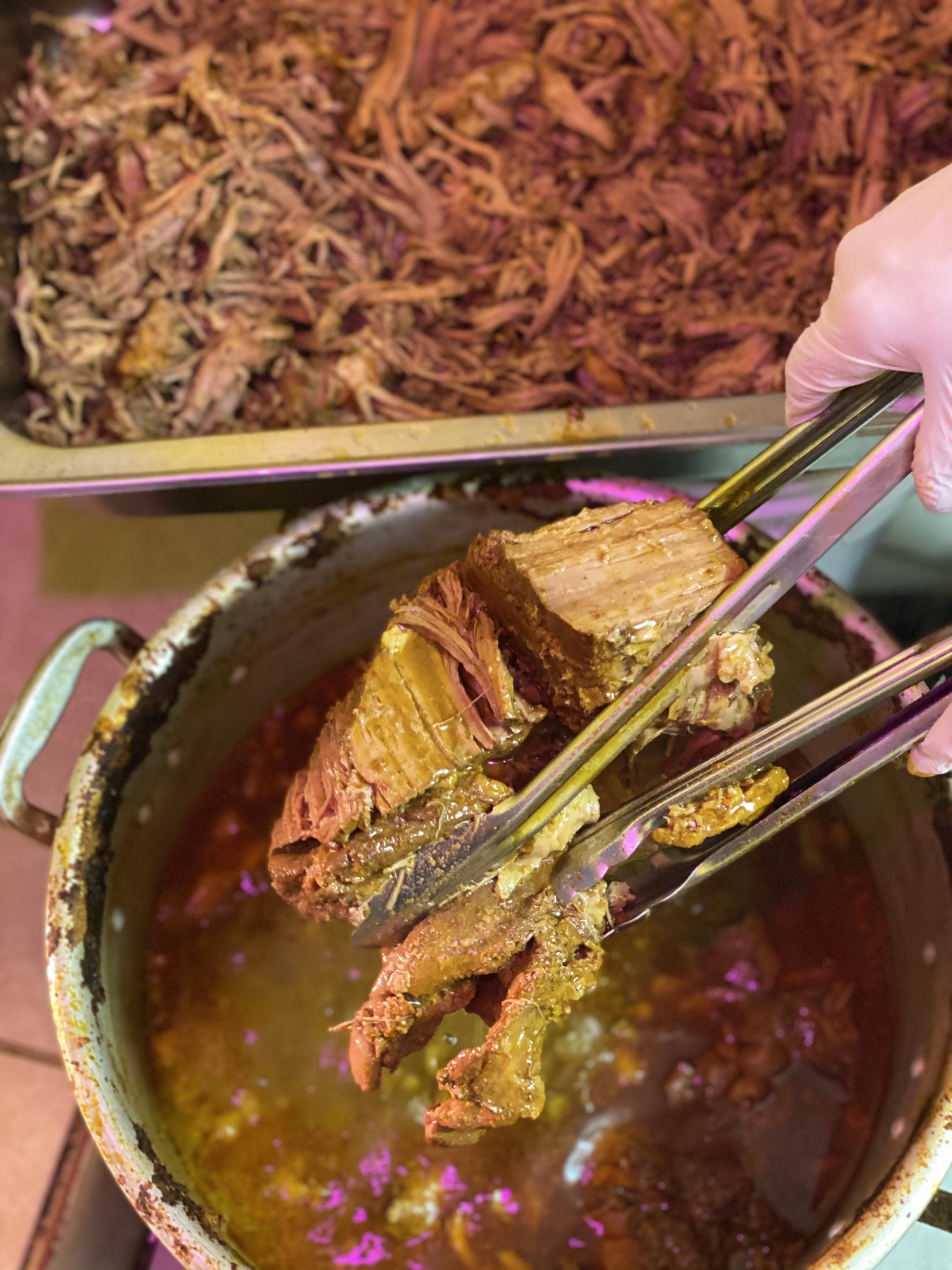 At La Food Marketa in Pikesville, birria-seekers will find executive chef John Bedingfield's take on the dish with pork. "It was something different," he says, "I had been seeing a lot of beef, and pork just has so much depth and flavor. It can taste more moist and tender."
Bedingfield's pork quesabirria tacos debuted on the menu in November 2020 as a Taco Tuesday special, and the demand quickly skyrocketed. They're now available daily, and Bedingfield says he doesn't see the dish leaving the menu anytime soon.
"The trend has definitely spiked," he says. "It's great seeing how people can make it their own."
La Food Marketa's variation consists of slow-braised pork in a broth of different dried chili and chipotle peppers. Bedingfield saves the fat cap from the meat to dip the corn tortillas in before frying, which he says "takes it to the next level." The tortillas are also loaded with cheese, onion and cilantro. The braising liquid, which is saved for dipping, is made with cinnamon sticks and poured over fresh cilantro, scallions, and basil.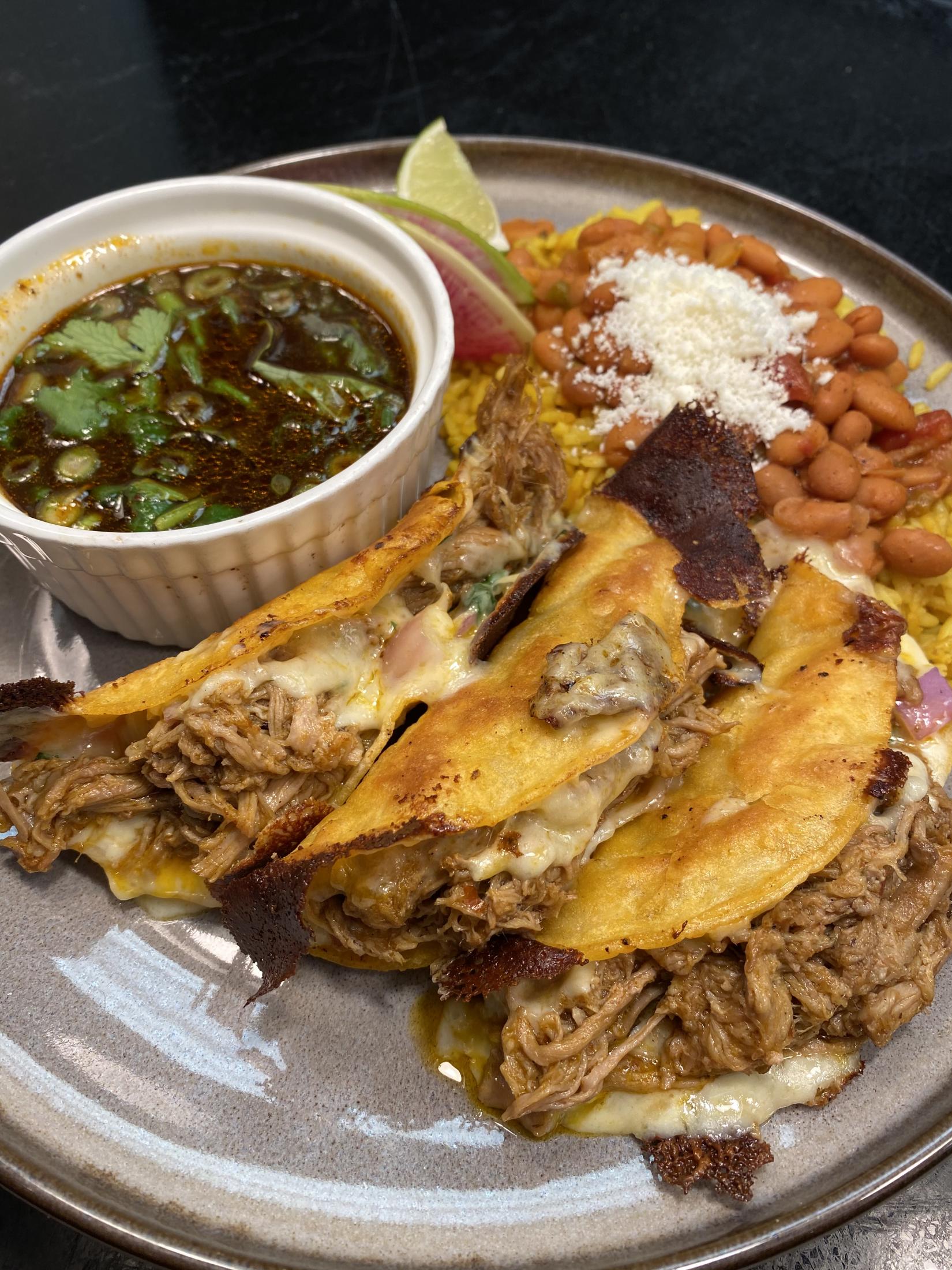 The food truck, currently parked for the winter outside of its commissary kitchen in Towson (6318 Sherwood Road), serves up its quesabirria tacos for a six-hour duration, typically three days a week. (Follow the truck on Instagram and Facebook for the most up-to-date hours.)
Longoria works alongside his mother and brother to prep the Tijuana-style quesabirria tacos, which are made with different cuts of beef—such as short rib or chuck roast—and seasoned with chili peppers and other spices, plus garlic and onion. The beef is marinated for 24 hours, then braised for four to six hours on a low heat.
The corn tortillas are dipped in the consomé, then loaded with the birria, cheese, cilantro, and onion before frying. They're served with a cup of consomé for dipping. Longoria also offers his birria in the form of burritos, quesadillas, tamales (during the holiday season), and mulitas—a Los Angeles delicacy which Anthony Bourdain once referred to as a "taco sandwich." 
"I told my mom and my brother that I thought the best choice that we had to survive, not just COVID, but to survive the winter as a food truck, was to see how far we can take the birria," Longoria says of adding the dish to Mexican On the Run's menu back in September. "And obviously it's been a really big blessing."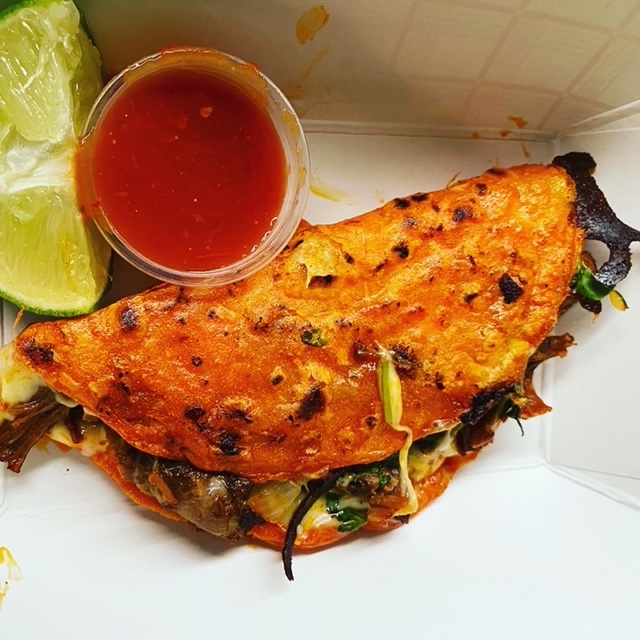 Although its Canton location is still temporarily closed, Baltimoreans can find quesabirria tacos on the menu at Nacho Mama's location in Towson, where Mama's On the Half Shell has also merged. 
For its birria, Nacho Mama's follows a traditional Mexican recipe and serves the tacos with an avocado verde sauce and consomé for dipping. The birria can be served as a taco or quesadilla and also comes with rice and black beans.
"They have that comfort food factor that other dishes might not have," says Jen Fedeli, Chief Marketing and Business Development Officer for Mama's Restaurant Group. "They've taken off right now because, not only are they still tacos and they're fun, but they also have that slow-roasted, comfort food taste."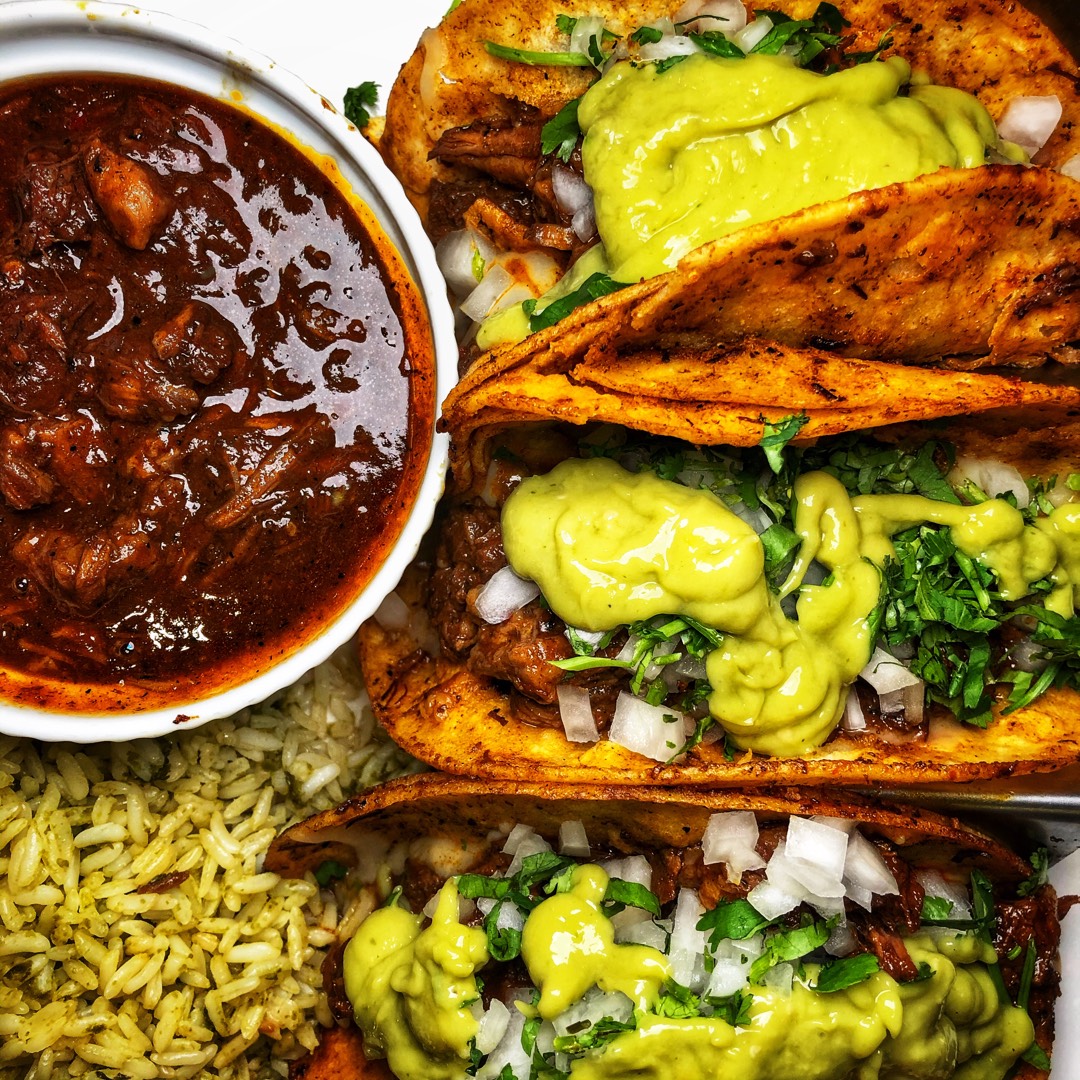 At both its Fells Point and Hampden locations, Papi's quesabirria tacos have been on the menu as a special since January. They highlight the slow-cooked beef, Oaxaca cheese, cilantro, and onion, which are loaded in handmade corn tortillas that are dunked in consomé before frying on a flat top. They're then topped with avocado and served with the consomé and a jalapeno crema. 
"We had been getting four or five calls a day asking if we had these kinds of tacos," says manager Sara Ghavidel Asgari. "We were getting high demand for tacos we didn't have. So we wanted to fulfill that need for people… As long as there's a demand, we'll keep it on as a special."