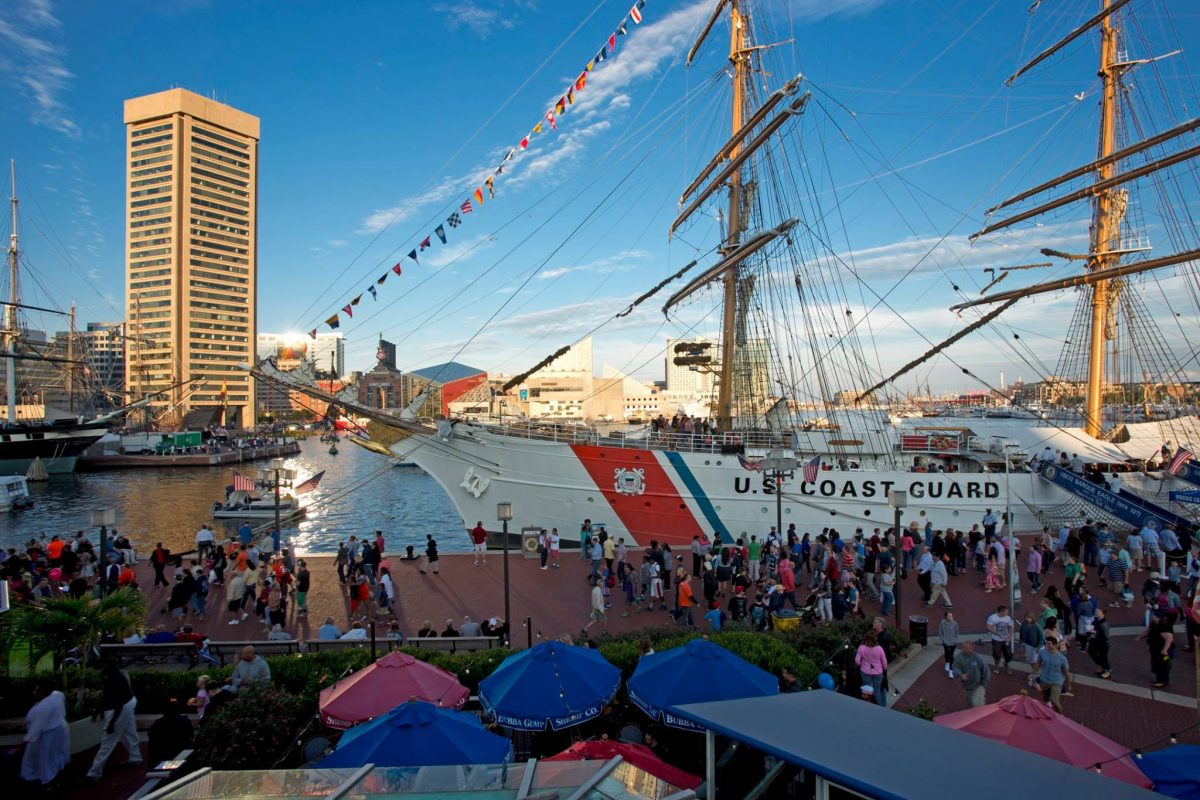 Maryland Fleet Week and Air Show Baltimore Facebook
Returning for a second year in a row, Maryland Fleet Week and Air Show will have Baltimore families flocking to the Inner Harbor to celebrate our nautical history. This year, more than a dozen ships and vessels will occupy our waters, representing U.S., Canadian, and British Naval fleets.
Tons of activities, can't-miss events, and entertaining performances will be perfect for tourists and locals alike. Plus, some of our favorite Baltimore restaurants are even offering special drinks and dishes in honor of the celebration.
Here's everything you need to know to make the most out of the seven-day maritime extravaganza.
Tour the U.S., Canadian, and British Navy vessels.
Take a special tour of the vessels on October 4-8 from 1-6 p.m. The vessels will be docked around the Inner Harbor, Fells Point, Tide Point, and North Locust Point, including the USS Tornado, a patrol coast ship, the Frigate, also known as the 'Black Duke', the USS Stout, a warship that has offensive and defensive capabilities, and the USS Torsk submarine. Military aficionados, history buffs, and maritime admirers alike are drawn to this one-of-a-kind experience.
Toast to Fleet Week.
Celebrate the beginning of Fleet Week and the arrival of our servicemen and women on October 5 from 5-8 p.m. Grab a cold beverage, take a selfie with a sailor, and enjoy the live music at this kick-off celebration. 401 Light St., 866-639-3526
Revisit Fort McHenry.
On October 5-7, Fort McHenry National Monument and Historic Shrine will be open from 9 a.m.-5 p.m. Listen to ranger talks, view living-history demonstrations, and grab some delicious food. A bonus? The park is a prime viewing location for the air show.
Run the Fleet Week 5K.
On October 7, test your speed against U.S., Canadian, and British sailors at the Fleet Week 5k run through the Inner Harbor. Runners will receive Fleet Week T-shirts, and those competitors who are over 21 will claim a free post-race beer. Visit this site to register now.
Browse local breweries.
Fleet Week will add local Baltimore flavor by incorporating a brew selection from Heavy Seas Beer, Atlas Brew Works, and Union Craft Brewing. These regional breweries will offer signature beers at Rash Field and West Shore Park. Red and white wine from Pier 1. will also be available.
Drink a cocktail at Wit & Wisdom.
This chic bar, located in the Four Seasons Hotel, will join in on Fleet Week festivities with a special Tavern Menu, including Fleet Week themed-items like the Go Big. Go American! Burger and the First in Flight cocktail. The Four Seasons Hotel will also feature a special Fleet Week room package. 200 International Dr., 410-576-5800
Tour the distillery at Old Line Spirits.
This taproom and distillery is honoring service men and women with 20 percent off all drinks as well as free tours and tastings to all customers with military IDs. And on October 6, the taproom will host a special screening of Hot Shots, and the bar director, Steve Lamb, will suit up in a real flight suit. 200 S. Janney St., 443-218-9984
Sip stouts at the new Guinness brewery.
In honor of Fleet Week, the new Guinness Open Gate Brewery and Barrel House in Relay is offering a 10 percent discount on taproom tabs for patrons with valid military ID. Now through October 9, make your way toward to the 62-acre parcel of land to tour the brewhouse, snack on pub grub at the 1817 restaurant upstairs, and sip Guinness Blonde lager—which is now brewed exclusively at the Baltimore County brewery. 5001 Washington Blvd., Halethorpe, 800-909-2645
Catch the air shows from Sagamore Spirit in Port Covington.
The Sagamore Spirit Distillery is celebrating accordingly with Clipper City whiskey-and-cider cocktails named after the famed replica of the nineteenth-century cargo schooner. Free samples of the cocktail will be available to anyone who tours the distillery through October 9. Plus, the waterfront campus is the perfect place to catch the air show on Saturday and Sunday. 301 E. Cromwell St. 410-624-7488
Check out the Martin State Airport.
On October 6-7, you can view unique aircraft at the Martin State Airport Open House and Free Festival. Watch aviators take off and land, meet real-life pilots, view military vessels, and hit up local food vendors. The festival runs from 10 a.m.-5 p.m., and the Thunderbird crew will be sign be present to sign autographs after their performances on Saturday and Sunday.
Watch the Fleet Week Air Show.
On October 6-7 from 12-4 p.m., you can catch the largest air show in Baltimore, featuring the USAF Thunderbirds. The best places to watch include Fort McHenry National Monument, the Inner Harbor Area, as well as on different water cruises and tours. The show will feature a variety of talented performances, including a demonstration by the Royal Canadian Air Force, an appearance by the Geico Skytypers in vintage WW2 aircrafts, as well as features from the U.S. Coastguard and the Black Daggers Parachute Demonstration Team.
Rock out with festival entertainment.
On October 5-7, there will be live music and entertainment on three stages that'll be sure to amp up the party. Check out the Amphitheater Stage to view U.S. Navy Band, Moody Goose, and the U.S. Navy Drill Team. Head to the West Shore Park Stage to hear tunes from the U.S. Navy Band Commodores and the By & By Bluegrass Band. Or head to Rash Field Stage to catch performances by the USS Constitution Sailors, Eastport Oyster Boys, and the USS Navy Band Cruisers. Visit the Fleet Week website for the full performance schedule.
Listen to the Salute to Schooners.
Bid Fleet Week farewell at this patriotic send off. On October 9 from 9 a.m.-12 p.m., Schooners from the Great Chesapeake Bay Schooner Race will fire off a cannon salute toward Fort McHenry while students sing spirited songs. This is certainly a flashy farewell.