Dazzle Your Family with These Dishes That Scream Summer
Try your hand at these four recipes from local chefs.
Corn Soup
DAVID ZAMUDIO, ALMA COCINA LATINA
SERVES 4
If you're not cooking with corn, it just isn't summer. "Growing up, my grandmother would make me soups," says David Zamudio, executive chef of Alma Cocina Latina. "This corn cream soup is inspired by one that she often made." As soup recipes go, this one is incredibly basic, says Zamudio. "Boil all of the ingredients first, then blend and strain. It's as easy as 1, 2, 3!" And if you want to turn this simple soup into more of a meal, you can do that, too. "The soup goes great with crispy cassava [yuca] bread," he says. To finish it off, "Brush the cassava with butter and herbs to complete the flavor profile."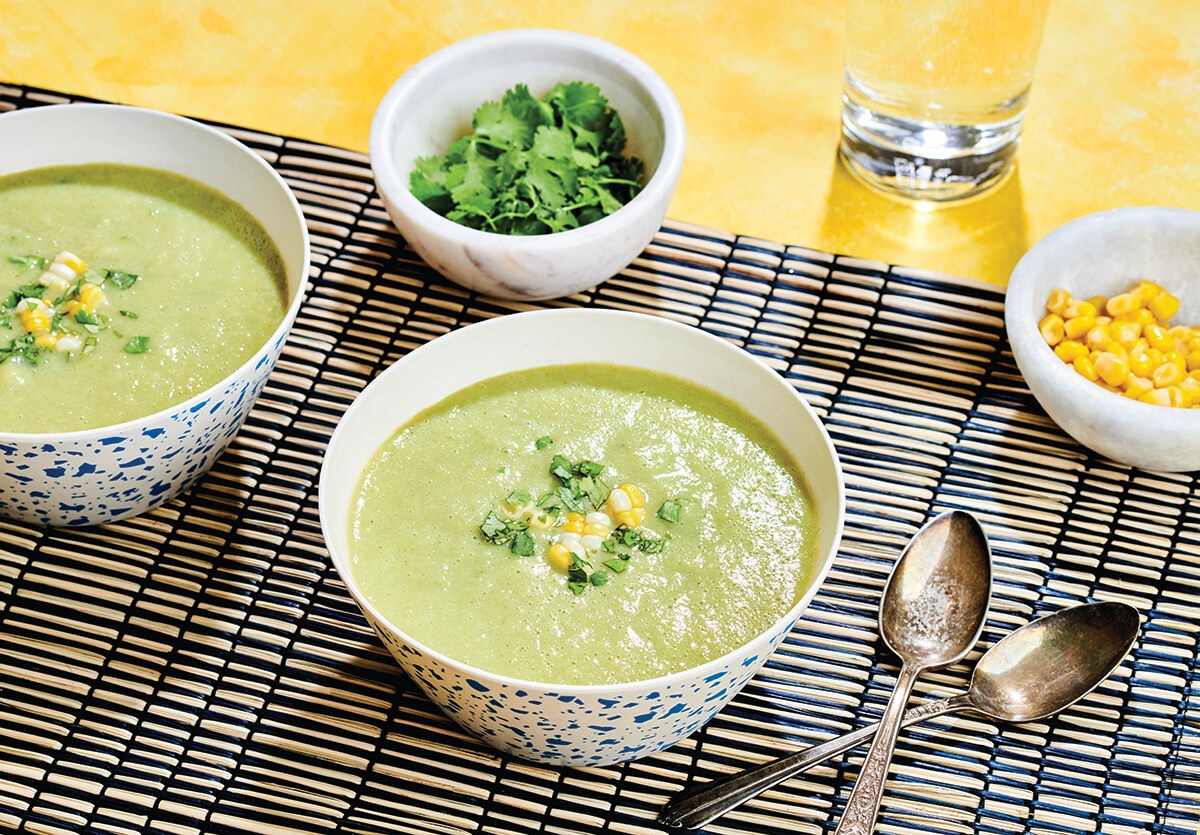 INGREDIENTS
1⁄2 large onion
1 leek (white part only)
1 clove of garlic
4 cups of water
1⁄2 tablespoon salt
1⁄4 teaspoon pepper
1⁄2 teaspoon onion powder
1⁄2 teaspoon garlic powder
1⁄2 teaspoon Old Bay
7 ounces corn kernels, preferably cut straight from the cob
1 bunch cilantro, reserving some for garnish
DIRECTIONS
1. Dice the onion.
2. Slice the leek.
3. Boil all ingredients for about
30 minutes over medium to high heat, with exception of cilantro.
4. Add the cilantro, blend, and strain. 5. To garnish, add additional
cilantro leaves.
---
Hottest Day on Record
CHELSEA GREGOIRE, DRINKABLE GENIUS
SERVES 1
"At first I thought about making a cocktail that
could stretch into fall, but then I remembered: August in Maryland is an absolute swelter!" says Chelsea Gregoire, who grew basil during quarantine. "My basil was immediately gigantic. To use some of that beautiful basil, I crafted this summer refresher."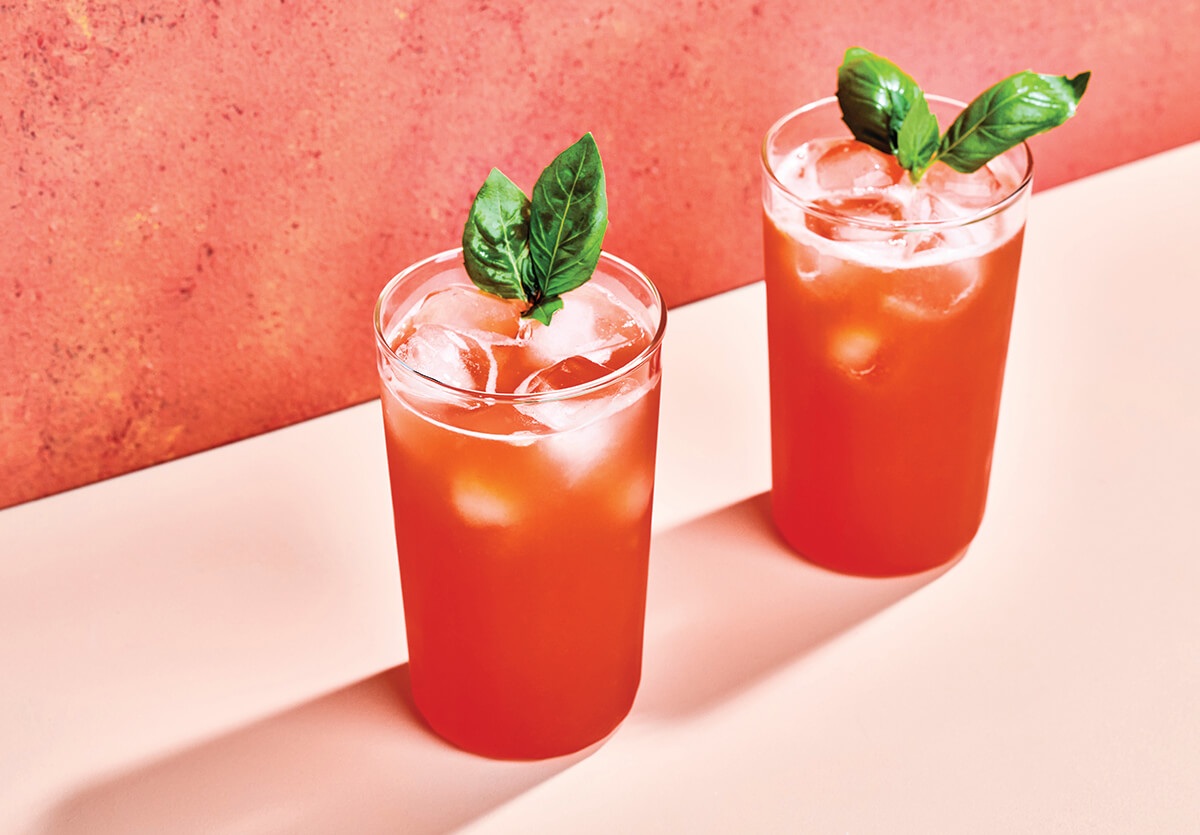 INGREDIENTS
2 ounces light rum (or any light spirit: vodka, gin, tequila)
1 ounce peach liqueur or peach juice
3⁄4 ounce lemon juice
3⁄4 ounce Campari
1⁄2 ounce green tea syrup, (see below)
2 large or 4 small basil leaves
3 dashes of Peychaud's bitters
For Green Tea Syrup: In a small saucepan, bring 16 ounces of water to boil. Once hot, remove from heat, and add two green tea bags. Once steeped, remove tea bags. Put saucepan on low heat, and add 16 ounces of sugar. Stir until dissolved. Cool and store in refrigerator for up to three weeks.
DIRECTIONS
1. Add all ingredients to a shaker
or Mason jar with ice.
2. Close, and shake vigorously.
3. Pour the shaker contents into a Collins glass, adding more ice, if necessary. 4. Garnish with fresh basil.
---
Rigatoni with Lobster, Eggplant, Burrata, and Pistachios
JULIAN MARUCCI, TAGLIATA
SERVES 2
For this recipe, Julian Marucci, executive chef at Tagliata, says he decided to focus on the combination of lobster and eggplant. "Eggplant has a natural bitterness that goes well with sweet flavors," he says. "The remaining ingredients complement the lobster and eggplant."
INGREDIENTS
Extra-virgin olive oil
2 tablespoons shallot, minced
1 teaspoon ginger, minced
1 teaspoon garlic, minced
1 tablespoon celery, minced
2 small eggplants, peeled and medium diced
1 tablespoon capers 1 ounce pistachios, toasted and chopped
11⁄2 ounces honey
11⁄2 ounces aged sherry vinegar
13 ounces rigatoni
2 lobsters, 1 pound each
1 lemon
1 piece of burrata
2 sprigs of fresh basil, small leaves
1 teaspoon chives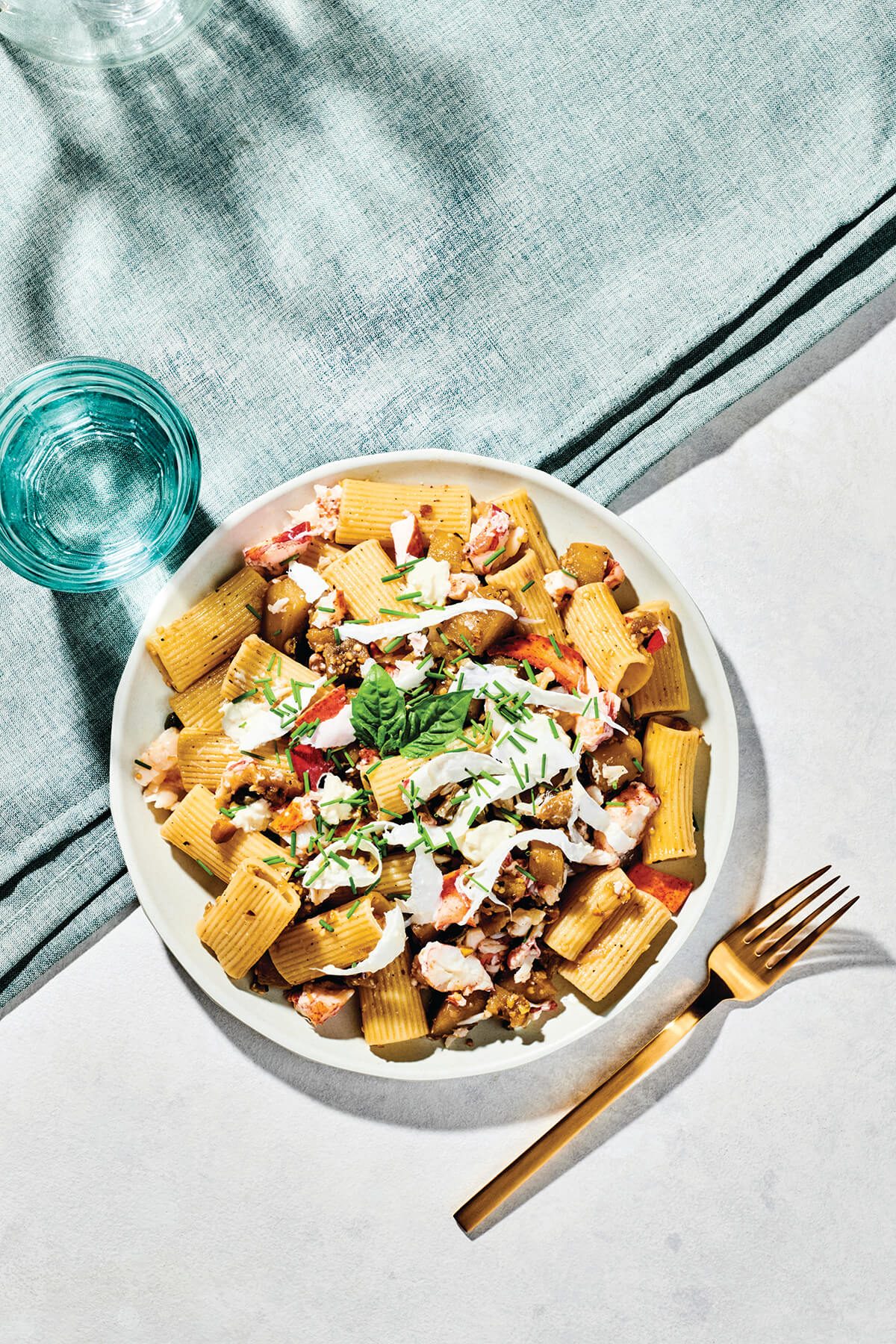 DIRECTIONS
1. Sauté shallots, ginger, garlic, celery in extra-virgin olive oil, carefully cooking to just sweat the vegetables without color. 2. Add eggplant to saute pan. Season with salt and pepper stirring frequently, cooking on low to medium heat.
3. Once the eggplant is soft and tender, add capers, nuts, honey, and vinegar. Taste and set aside
to be mixed with pasta.
4. Boil roughly five quarts of water, season with salt. Cook pasta according to package. Strain pasta and mix with eggplant mixture in a large bowl. (Don't rinse pasta with water). Add some olive oil and stir. 5. Cool pasta in refrigerator.
6. Cook lobster in boiling water
for 9-12 minutes, depending on size of pot and lobster. Once cooked, chill in ice water, then clean and dice meat.
To Serve: Toss pasta with more olive oil, if needed. Add lobster meat, lemon juice. Plate in a large bowl, garnish with torn burrata, a drizzle of oil, basil leaves, and chives. Save tail meat to use as garnish.
---
Chipotle Honey Chicken Tacos with Street Corn Salad & Bacon Guacamole
JOHNTAY BEDINGFIELD, LA FOOD MARKETA
SERVES 6
"This is an easy, approachable dish that's clean and light," says Johntay Bedingfield of his recipe. "I like to use one ingredient, like cilantro, in more ways than one. You can use stems for marinade and the leaves for the corn salad and guacamole." And if you want to make the dish a little lighter, he sometimes swaps the mayonnaise for yogurt in the corn salad. "It's tangy and adds a nice cream component," he says.
INGREDIENTS
2 lbs. chicken (preferably thighs)
Chicken Marinade (yields about 12 ounces)
2 cans chipotle peppers
1 tablespoon adobo liquid (from chipotle peppers)
1 bunch cilantro stems
5 cloves garlic
1 tablespoon paprika
1 tablespoon Mexican oregano
1 tablespoon cumin
2 tablespoons honey
1 tablespoon brown sugar
1⁄4 cup white vinegar
2 limes, juiced and zested
1⁄2 cup extra-virgin olive oil
DIRECTIONS
1. Place all ingredients in blender or bullet. Mix well until smooth.
2. Use 1⁄3 of marinade to coat chicken. (Set aside remainder of marinade.) Cover and let chicken rest in refrigerator for 1 to 4 hours.
TO GRILL CHICKEN:
Heat grill. Oil or spray grill as chicken will stick a little because of the sugar and honey. Season chicken with salt and pepper. Grill for about 7 minutes on each side, depending on the thickness of the chicken. Allow chicken to rest 10 minutes before cutting. Dice chicken and toss with about
1 tablespoon of reserved marinade.
Street Corn Salad
4 ears corn (in husk)
1⁄4 cup mayonnaise or Greek yogurt
2 tablespoons chipotle honey marinade
1 teaspoon salt
2⁄3 bunch cilantro tops (minced)
DIRECTIONS
With corn still in husk, place corn in a container large enough to submerge in water. Allow corn to soak as long as the chicken.
TO GRILL CORN:
I like to grill my corn in the husk so it steams and keeps the corn tender while picking up charred notes from the grill. You want to burn the husk when grilling. Grill corn for 12-15 minutes, turning every few minutes. Allow to rest for 10 minutes to cool down before shucking husk off the corn. Once cooled and shucked, cut corn off cob. In a mixing bowl, mix mayonnaise or yogurt, marinade, salt, and cilantro. Fold in corn. Set aside for assembly later.
Bacon Guacamole
1⁄4 pound bacon
4 avocados
1⁄4 cup small diced red onion
1⁄3 bunch of cilantro tops (minced)
1⁄4 lime juice
DIRECTIONS
1. Cook bacon at 350 Fahrenheit for 14-16 minutes until super crispy, almost burnt! Once cooled, dice bacon into bits. 2. In a mixing bowl, add avocado, red onion, cilantro, lime juice, and bacon. Mix well. Cover with plastic wrap.
Tortillas
1. Place tortillas (double stacked) on grill for about 30 seconds on each side. Don't be afraid of a little color. Wrap tortillas in a kitchen towel to keep them warm until ready to serve.
ASSEMBLY: Start with your tortilla, place a smear of guacamole, add chicken, and top with street corn salad.