Gin o' Clock
The long-awaited gin boom is here, and it's about time.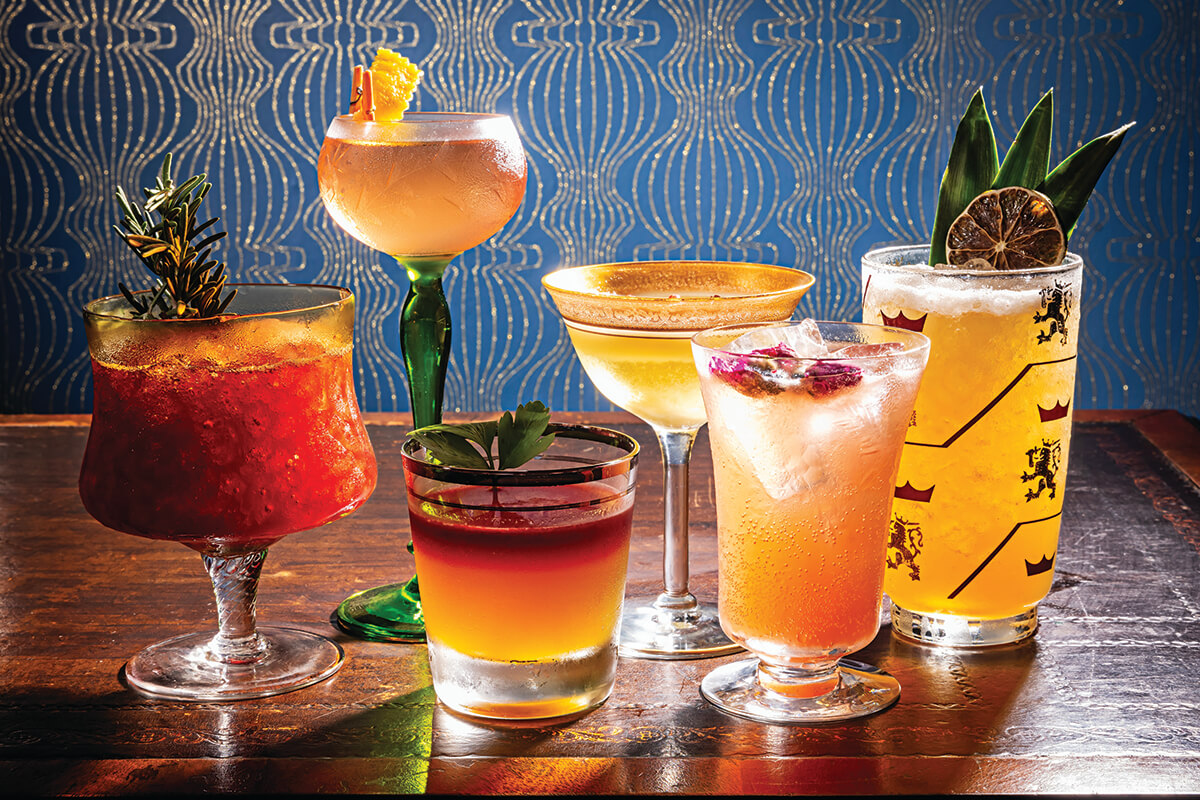 For better or for worse, when we think of gin, we often conjure images from across the pond, from the moralists who condemned a lawless, drunken London to the precision of James Bond's Vesper martini. The spirit was so tied to the British identity that, in 1808, as tensions rose leading up to the War of 1812, Baltimoreans even staged their own version of the Boston Tea Party, burning 720 gallons of that other beloved British beverage at Hampstead Hill.
"The proscribed [sic] liquor blazed to heaven amidst the discharge of cannon and the applause of fifteen thousand citizens met to show their love for independence, and to burn gin that had paid tribute to England," wrote historian John Thomas Scharf. Luckily, in the 200-plus years since that terrible waste, locals have changed their tune a bit.
Gin has experienced a series of meteoric rises and a few steep falls from grace. It's been demonized and celebrated, made secretly in dubious bathtubs and proudly in shining copper stills. And now, at the dawn of the second Roaring '20s, it's back again. Perhaps better than ever.
But first, a quick history lesson. Gin as we know it today is a far cry from its roots, which are firmly planted in Dutch, not British, soil. It all began with a distilled beverage flavored with juniper called genever, the first record of which comes from the Netherlands in 1552. Juniper is still the most prominent botanical in today's gins, though some distillers have gotten more creative with the flavoring in recent years. And genever itself has been making a comeback. This malty precursor tasted more like a young whiskey than the clear spirit we know today, but it laid the groundwork for several hundred years of innovation.
Genever made its way to England during the 80 Years' War, and it was dubbed "Dutch Courage" because it was given to soldiers to steady their nerves before battle. When a Dutchman, William of Orange, took the English throne in 1688, all things Dutch came into fashion. The king began encouraging his new countrymen to produce a version of his home spirit.
"So then we have what becomes the first sort of English gin," says spirits historian Al Culliton, who also runs an online program for home bartenders called Al's Cocktail Club. "They start calling it 'gin,' which obviously comes from genever. Usually it was sweetened, but still made on a pot still and based in grains. It's always going to be based in grains, but how that grain is distilled is what changes. We've got the whole William Hogarth 'Gin Lane' period, where basically people that are used to drinking beer and ale across England start drinking genever in copious amounts. We have this sweetened form called Old Tom…and then finally we have London dry style. You don't really see this super clean spirit take hold, especially in the U.S., until the very late 19th century."
Today, many different styles of gin are flourishing, from classic Dutch-style genevers to New Western styles, which stray from the unwritten rules. The basic definition of gin is "a colorless alcoholic beverage made from distilled or redistilled neutral grain spirits flavored with juniper berries." But tell that to the pink gins, the tea-colored gins, and the gins that veer way off course from the traditional juniper notes.
The aptly named Dutch Courage in Old Goucher alone stocks 140 styles, and includes tasting notes for each. Some exciting options include Corgi "Earl Grey" (black tea, brisk bergamot, and juicy citrus), KI NO BI Dry Gin (yuzu, orange oil, pine note, and eucalyptus), and Catoctin "Watershed" (caraway, faintly floral, woody, and white pepper).
"The cool thing is, we have so many options up there that people just want to try different stuff," says Brendan Dorr, who co-owns Dutch Courage with Eric Fooy. "If you wanted to come in and just make your own sample, our spirit menu has those little descriptors under all the gins so you can get an idea of what flavors you might be getting or what you might get off the nose of it before you enjoy it."
While some enthusiasts enjoy just sipping on the spirit, gin on its own isn't everyone's cup of tea. And that's no problem. Gin has been essential to cocktails for as long as folks have been making them.
"Since the word cocktail was created and defined as a mixture of bitters, water, sugar, and spirit, gin has been in that mix. That's kind of why we opened Dutch Courage. We wanted to pay homage to a spirit that has deep roots in cocktail history," says Dorr. "Whiskey bars are out there, but in this city, there definitely weren't any gin bars. So for us to open Dutch Courage was to be like, hey, here's a whole other category of spirit that people probably didn't realize is as vast as it is."
There are currently around 6,000 gins produced worldwide, and Nielsen data shows a rise in U.S. gin consumption. Last summer it managed to outpace bourbon, rum, and even vodka in sales.
It's a trend that's been a long time coming. An August 2020 episode of The VinePair Podcast asked, "Is the Gin Boom Finally Here?" and, for once, the answer seemed to be yes. Gin's rampant popularity across Europe appears to have finally made the leap across the pond, much to the delight of distillers.
GIN'S RAMPANT POPULARITY ACROSS EUROPE APPEARS TO HAVE FINALLY MADE THE LEAP ACROSS THE POND...
Max Lents, CEO of Baltimore Spirits Company, has been watching that particular needle move with a keen interest for years. In 2015, BSC began distilling the first legal gin in Baltimore since Prohibition, Shot Tower. These days their lineup includes two other varieties, Barreled Shot Tower Gin and Skeleton Spirit Gin. The distillery's recently opened Cocktail Gallery features all three offerings alongside other house products in both new and classic drinks.
"Gin seems to be having a moment, which has been predicted for many years. Europe had this gin revival over the last decade and Spain I might say was ground zero," says Lents. "People figured because it was having such a moment there that eventually it would come over to the U.S. Normally, liquor trends happen the other way [America to Europe], but this seems to have happened the other direction, and I couldn't be more thankful for it."
The boom has come on the heels of another couple of trends, the revival of cocktail culture and the consumers' desire to be more educated about the products they choose, making it an ideal time for both spirits enthusiasts and the curious casual drinker.
"I don't think we would be having an amaro revolution, or a vermouth revolution, or a gin revolution without the reemergence of cocktail culture in America," says Lents. "I think it's the finding of the old cocktail books, it's the reemergence of the [pioneering bartender] Jerry Thomas recipes. I think it's their application in cocktails that's driving the resurgence of these spirits."
Culliton, who studies cocktail history and recreates many once-popular drinks for their cocktail club, has seen the same. Europe may have birthed gin, but cocktails made their journey across the Atlantic from the United States in the 1800s. From the earliest bartending guides to more recent history, gin is at the center of that story.
"We see a lot of gin in those recipes, and gin is always at least a variation, so we know that it had a huge foothold," says Culliton. "And then I think the dry martini is very emblematic of the second half of cocktail history and the staying power of the American cocktail across the world. It supplanted a lot of drinks as the emblem of our cocktail culture. [The cocktail] is one of our first and greatest exports."
The martini in particular has taken on dozens of iterations. Its original recipe included London Dry, sweet vermouth, orange bitters, simple syrup, lemon peel, and an olive, a veritable kitchen sink compared to the current standard.
Then there's perhaps the most famous drink order ever uttered, James Bond's vodka martini, "shaken, not stirred." The movie Bond may have snubbed his home spirit a bit—vodka was booming when he first hit the silver screen—but the novels have plenty of nods to gin. Bond author Ian Fleming had 007 invent the Vesper ("Three measures of Gordon's, one of vodka, half a measure of Kina Lillet. Shake it very well until it's ice-cold, then add a large slice of lemon-peel. Got it?") and enjoy a variety of other gin classics, including the gin martini, pink gin, and negroni.
Culliton also counts the pandemic among the reasons people have renewed their interest in the classic spirit. When bars closed, the bar cart and liquor cabinet got more use than ever before, and simple options like the gin and tonic thrived. People also expanded their home bartending skills.
"The pandemic has given people time to invest in learning more about the cocktails they've been drinking for years," says Culliton. "There's an extra aspect of people wanting to know what's behind the drink and how to make it at home. I taught 60 Zoom classes this year. People are really into it."
Whether it's in a simple gin and tonic mixed at home, a historic recipe followed to the letter (try an Aviation, originally made with El Bart Gin distilled right here in Baltimore, from 1916), or an entirely new creation, experts advise taking note of what you like. There are thousands of international options and plenty of regional producers to try.
"Gin deserves attention, and the more people that drink gin and really start to love it, the more people are gonna understand the differences and what they like," says Lents. "It's a whole culture of understanding. Understanding your own consumption and the provenance of it."
Not into that strong, Christmassy hit of juniper? No problem. McClintock Distilling in Frederick's Gardener's Gin leads with cucumber, hibiscus, and lavender for a refreshing, floral option. More of a dark liquor person? Seek out a bottle of Genever Inspired Gin from Tenth Ward Distilling Company, also in Frederick, for a malty, earthy flavor that looks to gin's roots while winking at Maryland's love of rye. Feeling adventurous? BSC's Skeleton Spirit features an herbaceous blend of eucalyptus, aloe, and avocado leaf that begs to be the star of something simple that will let its unique flavors shine.
And if you don't know what you like, well, that's what those experts are for.
"It's a fun, exciting spirit that's finally seeing the light of day in the most positive way. The sky's the limit for flavor combinations, so there will always be new combinations coming out by different distilleries," says Dorr, glancing over at the hundred-plus bottles behind his bar. "It's an exciting time. I don't have enough shelf."
Whether you're working with years of experience or trying out gin for the very first time, our experts have a cocktail for you.
Brendan Dorr, Dutch Courage
When it comes to introducing the unfamiliar to the joys of this juniper spirit, Dorr recommends this easy cocktail, a variation on a gin sour, that probably doesn't even require a special trip to the store. Just whip up the syrup, combine your ingredients, and enjoy the fruits of your minimal labor.
Bee's Knees
1 oz. honey syrup
1 oz. lemon juice
2 oz. gin
Make a quick honey syrup (50/50 water and honey); add it to a shaker with ice, one part lemon juice, and two parts gin; then shake, strain, and enjoy. It's the bee's knees.
Max Lents, Baltimore Spirit Co.
Barreled Shot Tower Gin, which spends 9 months hanging out in Epoch Rye barrels, and Averna Amaro lend some citrusy, caramely notes to this gin option that may just convert the dedicated whiskey and rye drinkers out there. 
The Black Tuesday
2 oz. Barreled Shot Tower Gin
1 oz. Averna Amaro
5 shakes Black Walnut Bitters
Stir over ice and strain onto a large ice cube. Express an orange peel over the top of the glass and garnish with the expressed orange peel.
Al Culliton, Al's Cocktail Club
Culliton's study of cocktail history has led them to all kinds of historic drinks and their many variations. Follow a condensed timeline of gin history by making these gin, Old Tom, and genever drinks.
Fall Martini
¾ oz. gin (Neversink)
¾ oz. unaged apple brandy (Laird's)
¾ oz. dry vermouth (Noilly Prat extra dry)
½ oz. Manzanilla sherry (La Guita)
¼ oz. Gentian liqueur (Salers)
¼ oz. "brine"*
Combine all in a mixing glass. Fill with ice and stir for 20 seconds. Strain into a Nick and Nora glass. Garnish with a Castelvetrano olive on a pick.
Improved Holland Gin Cocktail—Java edition
1½ oz. oude genever (Bols)
½ oz. Batavia arrack (van Oosten)
¼ oz. oloroso sherry (Hidalgo "Faraon")
¼ oz. crème de banane (Tempus Fugit)
¾ teaspoon lime-ginger syrup*
4 drops chocolate bitters (Fee Brothers "Aztec Chocolate")
Coffee bean, for garnish (BCRC)
Combine all in a mixing glass. Fill three-quarters with ice and stir for 20 seconds. Strain into a small, stemmed cocktail glass. Grate coffee bean on top using a microplane.
Band of Horse Thieves (serves 4-5)
9 oz. Old Tom gin
3 oz. Sweet vermouth
3 ¾ oz. Water
Absinthe for spritzing/rinsing
Combine Old Tom gin, sweet vermouth, and water in a ~20 oz. jar. Freeze for 6+ hours. Freeze single rocks glasses 2+ hours ahead of time. Before serving, spritz or rinse frozen glasses with absinthe. Pour 3-4 oz. of mixture in each. Serve immediately.