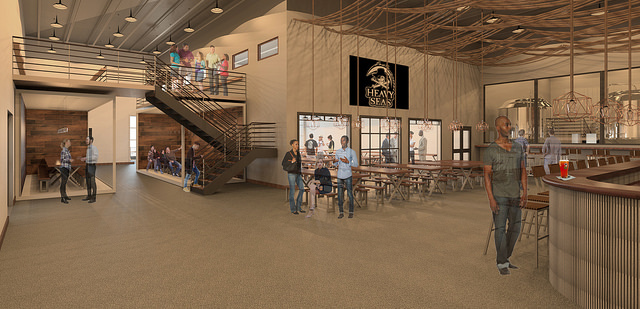 Courtesy of Heavy Seas Beer
Last week, it was announced that Heavy Seas Beer had abandoned ship at its alehouse in Harbor East, which will soon transition into a brick-and-mortar location for local catering company Blue Dog BBQ. But the brewery is full steam ahead with another project.
"While Heavy Seas Alehouse has enjoyed serving some of Baltimore's best craft beer and food to the local community and visitors alike, this is a great opportunity to give Blue Dog BBQ a chance to realize their dream," Heavy Seas founder Hugh Sisson said in a statement. "It will also allow the Heavy Seas team to continue focusing on executing the expansion and renovation of the new tasting room at the brewery."
Though diners are sad to see the alehouse go, big things are on the horizon for Heavy Seas' brewing facility in Halethorpe, which will gradually unveil an expanded taproom and new small-batch brewery over the next year.
"We've been around for 23 years, and with any business you're always looking to stay current and change with the times," says Heavy Seas brewmaster Chris Leonard. "Taproom visitation is an enormous part of the industry as a whole. So we've known for a couple of years that in order to increase our fans' experiences, we have to give them a better one here at the brewery—along with the quality of beer that they get in their homes and at bars."
Another influence in the decision to expand was Guinness' recent move to the neighborhood. Leonard hopes that together, the two breweries will put Halethorpe on the map for craft beer lovers.
"Certainly, Guinness opening up 1.4 miles away from here was exciting for us," he says. "Our neighborhood is growing as a beer destination, so we want to make sure that everyone can have the best experience possible when they come spend some time here."
The new taproom will be seven times larger than its current configuration and feature an additional space for private parties—something that Leonard says they've always seen a demand for but could never accommodate. Though the building itself isn't expanding, Heavy Seas has relocated its shipping and office spaces off-site to accommodate the larger tasting area.
The new taproom's modernized design will highlight local artwork, communal tables made from reclaimed wood, and plenty of recreation space for visitors to play games like foosball and corn hole. Plans also call for nearly doubling the size of the facility's outdoor patio.
But perhaps the most exciting aspect of the expansion is that it will welcome a new, 15-barrel innovation brewhouse that will allow the team to create limited releases exclusively for the taproom.
"We're going to be able to experiment and do some more freeform, hybrid-type things," Leonard says. "It's going to give the taproom anticipation and exploration—all of those things that you want in an experience that makes it similar but different every time you come. And we're hoping it will keep people interested to see what's on deck."
Separate from Heavy Seas' main production facility, the smaller operation will create limited IPAs, hazys, and sour beers. It will increase the number of taps from 10 to 20, providing a more diverse tasting experience.
The facility remains open throughout the renovation process, which is expected to wrap up in June 2019. Leonard, a veteran brewer with 25 years of experience in the industry, says he's most excited to be able throw some creative releases into the mix.
"Most people know Heavy Seas for its reliability and consistency," Leonard says, mentioning standbys like the Loose Cannon IPA. "But this will allow us to show fans of craft beer that we also do a lot of unusual things they maybe haven't seen in the past. They'll be able to see how far we can really stretch the boundaries."