Courtesy of Food Network
Few things signal the start of the holidays like Food Network's series of sweet competitions. Each year, shows like Holiday Baking Championship and Christmas Cookie Challenge pit hopefuls against one another to craft tinsel-filled treats and festive confections in cutthroat settings. This time, among them are two of Charm City's own.
Last month, Aubrey Shaffner, Executive Pastry Chef for Foreman Wolf Restaurant Group, competed on the seventh season of Food Network's Holiday Baking Championship, while Alexis Nicole, owner of Alexis Nicole Cakes in Ellicott City, remains in the running in the network's premiere season of Candy Land, hosted by Kristin Chenoweth.
We caught up with Shaffner and Nicole about what it was like to compete on the shows, holiday memories, and their favorite winter baking recipes. 
Aubrey Shaffner, Executive Pastry Chef at Foreman Wolf Restaurant Group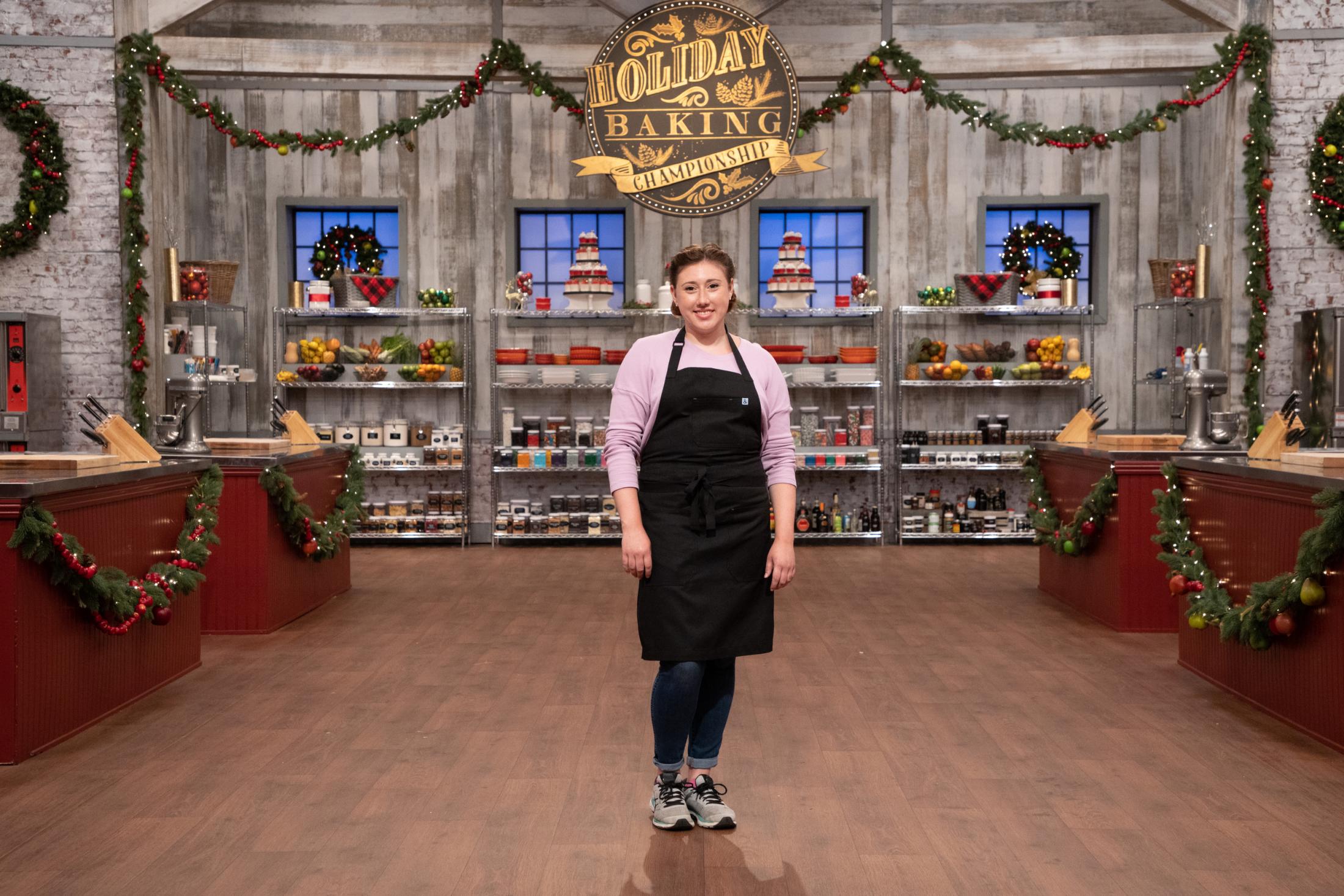 How long have you been working in the Baltimore food scene?
I was born and raised here in Baltimore. I left for school and then came back with my then-boyfriend, now-husband who is also in the industry and we just really wanted to re-invest what we had learned at school and from other jobs back into our city. So I've been back for about six years. I worked my way up from a pastry cook to a pastry chef at the Four Seasons Baltimore and Cinghiale—and now work as the Executive Pastry Chef for four properties for Foreman Wolf [which operates locals spots including Charleston, Petit Louis Bistro, and newly opened Cindy Lou's Fish House.] 
How did you find out you'd be competing in this season of Holiday Baking Championship?
It was kind of a long process. I actually interviewed last year and unfortunately didn't make it the first time. But I was so beyond excited when they called me this year. It was like, "it's happening!" I was in quarantine when I got the phone call. And then, of course, the way the timing worked out, I had just started this job at Foreman Wolf two weeks prior to leaving to go shoot the show. It was kind of a whirlwind of being furloughed because of COVID, then getting on a Food Network show, starting a new job, and then the show happening. It was such a crazy, crazy experience, but also a nice bright light despite all the chaos of 2020.   
On the show, you raced against the clock to make holiday treats like quick bread wreaths and winter hat cakes. What were some of your favorite and most challenging moments throughout the competition?
I really like being challenged in general, so that was really cool to keep pushing myself. Learning the kitchen and how to work with all the cameras around you was definitely a little more intense than I had given it credit for. There are so many cameras looking at you and everyone is asking questions and it's like, "Wait, what am I making again?" It's such an intense environment, but that's what made it exciting.  
One of the judges is fellow Charm City sweets master Duff Goldman—who also got his start working in a Foreman Wolf kitchen. What was it like having the chance to bake for Duff and represent Baltimore?
Duff and I joked a lot because we realized that we had a lot of similarities. Our birthdays are both near Christmas, we're both from Baltimore, we're both Jewish, we hate white chocolate—it was so funny how we just had so much in common. But it was also intimidating because we know a lot of the same people and we've been through similar circles in the industry. So it was really important to me to not only represent those other professionals that we know really well and that we've both worked with, but to also represent the city really well.
Absolutely. He sounds like a super easy-going guy.
He definitely takes stuff very seriously and he's not afraid to tell you what he's thinking, which I respect. But it was really funny—one of the times that I was serving one of my dishes to the judges, somehow Duff and I started talking about baking with our Jewish grandmas. It was just really funny to reminisce about, not only where we both live and people we know, but also the culture that we both came from. It was really fun to just kind of joke and be people—to be professionals together.
In the show's first episode, you shared that your family celebrates both Christmas and Hanukkah—not to mention your birthday, which falls on Christmas Eve. Growing up, what was a typical holiday season like?
Oh my gosh. Holidays were truly insane. Hanukkah overlapped with Christmas was—I don't wanna say the worst—but like, the most intense. There'd be some years where it was like "Okay, we're gonna light the menorah. Now we're gonna blow out the birthday candles. Now open your Christmas Eve pajamas so we can get ready for Santa Claus." I was just mind blown, but it was fun. It kind of sucked as a kid, you know, not being able to have birthday parties or take cupcakes to school for your friends. But my mom and my dad always did such a great job trying to separate the holidays and make my birthday still feel special.
Tell us a bit about your favorite holiday dessert recipe?
For me, Christmas dinner dessert was a birthday cake. So I'm pulling a little bit more from my in-laws' side. I remember when I first became part of the family, there were a couple of years where we'd actually go to my in-laws' super late on Christmas Eve and spend the night so we could be there for Christmas morning. So we would wake up at my in-laws' and do Christmas morning there. And every year, my sister in-law made cinnamon rolls for the whole family. 
Aubrey's Favorite "Cinnabon" Cinnamon Rolls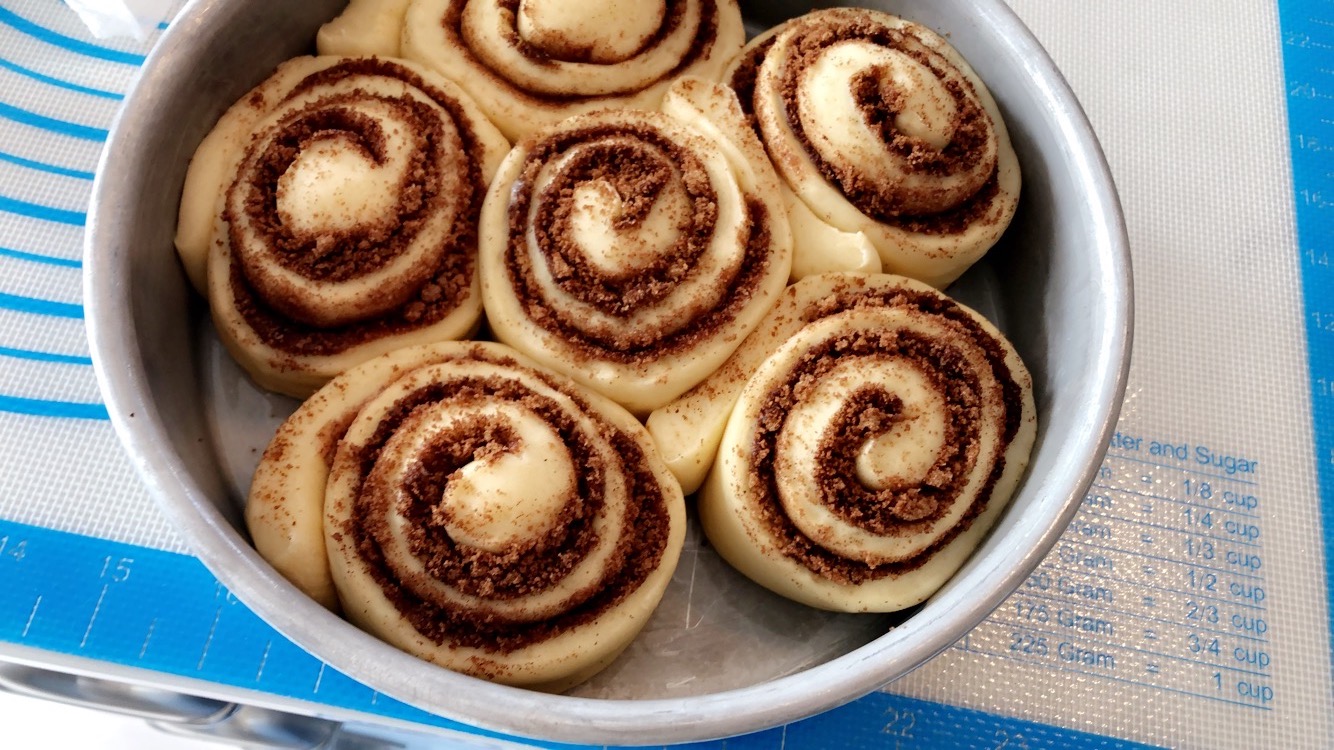 Ingredients

For the rolls:
1 ¼ ounce package active dry yeast

1 cup warm milk (105 degrees)

½ cup sugar

⅓ cup margarine, melted

1 teaspoon salt

2 eggs

4 cups flour
For the filling:
1 cup packed brown sugar

2 ½ tablespoons cinnamon

⅓ cup margarine, softened
For the icing:
8 tablespoons (1 stick) margarine, softened

1 ½ cup powdered sugar

¼ cup (2 ounces) cream cheese

½ teaspoon vanilla

⅛ teaspoon salt


Instructions
Dissolve yeast in warm milk in large bowl.

Mix together sugar, margarine, salt and eggs. Add flour and mix well.

Knead the dough into a large ball using your hands, dusting lightly with flour. Put in a bowl, cover and let rise in a warm place about one hour, or until the dough has doubled in size.

Roll the dough out on a lightly floured surface until it is approximately 21 inches long, 16 inches wide, and about ¼ inch thick.

Preheat the oven to 400 degrees. 

For the filling, combine the brown sugar and cinnamon in a bowl. Spread the softened margarine evenly over the surface of the dough and then sprinkle the cinnamon and sugar evenly over the surface.

Working carefully, from the top (21-inch side) roll the dough to the bottom edge.

Cut the rolled dough into 1 ¼ inch slices and place six at a time, evenly spaced, in a lightly greased baking pan. Let the rolls rise again until doubled in size (about 30 minutes.) Bake for 10-15 minutes or until light brown on top.

Combine icing ingredients. Beat well in a mixer until fluffy.

 Coat rolls with icing.
Alexis Nicole, Owner of Alexis Nicole Cakes in Ellicott City
Tell us a bit about yourself and what inspired you to enter the competition
I'm from Ellicott City, Maryland and I own Alexis Nicole Cakes. I really was inspired to go after Candy Land. I mean, I always dreamed of being on the Food Network, so any opportunity I saw to apply and get in there, I took. But this one kind of fell into place and obviously, candy and sweets are my shtick. Just having the opportunity to be around all that candy was pretty appealing to me. 
I know a lot of the contestants mentioned that they played Candy Land growing up. Was that you as a kid, as well?
Me and my sister used to play Candy Land all the time. I wasn't very good at it, so I was hoping to be a little bit better at cooking it.
Did the game prepare you at all for what you were about to step into?
Absolutely not. It prepared us to know the lands, I guess. But the amount of twists and turns that this show has thrown at us is a lot. I don't think that anything could have really prepared us for that.
For the competition, real candy was used to recreate Candy Land's whimsical regions, like Gumdrop Mountains and Lemon Lime Springs. How did it feel stepping onto a set that's completely edible?
It was pretty magical. The amount of work that went into that set—it was incredibly immersive. You could just walk around and pick things up off of the ground and eat them. It felt kind of Willy Wonka-ish. You watch the movies and stuff growing up, and then to have that experience in real life is pretty incredible. I'm definitely a snacker, and a stress eater, so having snacks on hand 24/7 in stressful situations was a huge plus.
On the show, teams are challenged to craft sugary confections inspired by the board game. What have been some of your favorite and most challenging moments throughout the competition thus far?
In the first episode, a lot of it was just about adapting to the situation. It was my first time being filmed, so overall the stress of it being new, being in this land, and then also having to dive into a working environment, it was  challenging. I was working with people that I had never worked in a kitchen with, and six hours is not a lot of time to complete a big thing. You get very overzealous with what you're going to do, and you think "Okay, I've got four very talented people working with me. We can definitely whip out this crazy thing." And time gets away from you very fast.
But then there's also that fun, exciting competition aspect there, too.
Yeah. I mean, the entire thing was just a blast. We tried not to take it all too seriously. We wanted to put all of our imagination into it and to dive back into this kind of childlike place in our minds. 
The show brings 20 of the world's best bakers and sugar artists together. What was it like being able to work with The Pink Team?
I absolutely love every single person on my team. We became like family throughout the entire experience. I noticed that, in this industry, when you're thrown into stressful situations, you rely on those people that are closest to you, and it makes it so that you become a lot closer a lot faster. We kind of like to think of ourselves as a little bit like The Breakfast Club because we were just so opposite in so many ways. But at the end of the day, we knew that we were each other's support system. We knew that it was stressful and that everybody deserved to be there for a reason, so when one person was falling behind, we tried to pick them back up. In that regard, I could not have asked for a better team. 
They made my first Food Network experience incredibly enjoyable. I know that in a competition, and in this industry, that's not always the case. You can get a little bit taken over by that competition and the stress, and it makes it not as enjoyable. But with them, it was every single second—we were laughing and we were just having a good time. Andrew [Fuller] was my best buddy. We were complete opposites on the exterior, but we clicked. Every single thing that came out of his mouth, I was like "Oh my gosh. Me too!" We were like fraternal twins.
What did it mean for you to have the chance to represent for Ellicott City?
It was really fun. I have a lot of people rooting for me in Maryland, so when that first episode came out, my phone was blowing up. I don't really think that I would be where I'm at without the support of my hometown, so I'm glad that I can give them something back [in the form of] an entertaining show.
The Holiday season wouldn't be complete without sugary treats like the ones found in Candy Land. Tell us about your favorite holiday dessert recipe.
I would probably say my apple cider bread pudding. I know that it's not cake, and I do dwell towards cake, but I'm a big sucker for bread pudding and I'm a big sucker for apple cider. I just take a regular old bread pudding recipe, add some diced Granny Smith apples to it, and then drizzle it with an apple cider reduction. It is to die for.
Alexis' Apple Cider Bread Pudding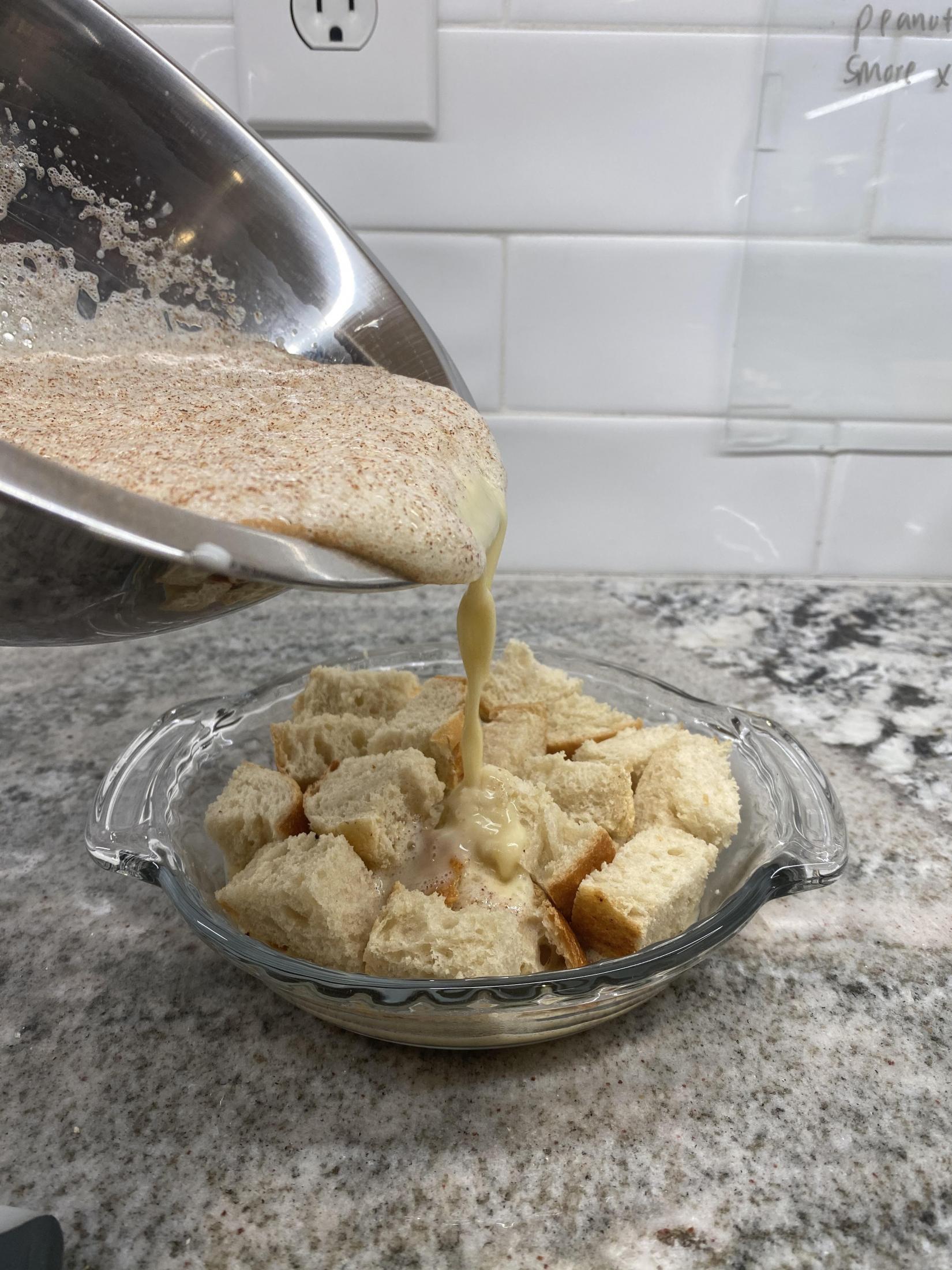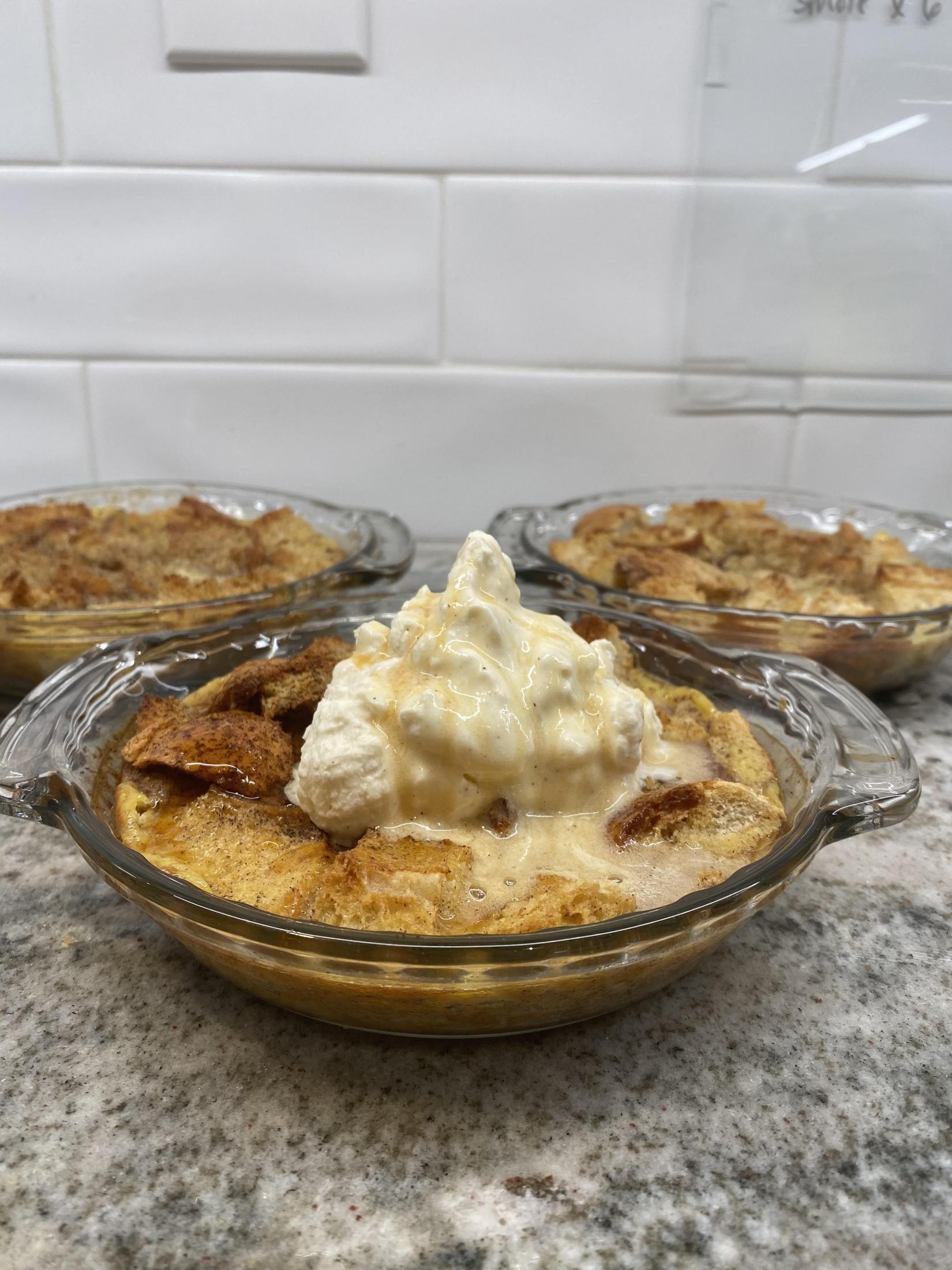 Ingredients
For the pudding:
3 eggs

½ cup milk

¼ cup sugar

Vanilla bean

½ teaspoon pumpkin pie spice

Cubed brioche (about half a loaf)
For the apple cider reduction:
3 cups raw apple cider

1 cinnamon stick

About 5-6 cloves
For the eggnog mascarpone topping:
1 cup heavy whipping cream

¼ cup eggnog

1 ½ tablespoon sugar

½ teaspoon pumpkin pie spice

½ cup mascarpone

Vanilla bean
Instructions
For the pudding:
Whisk eggs, slowly add milk while continuing to whisk.

Whisk in sugar, vanilla bean, and pumpkin pie spice.

Place cubed brioche in separate ramekins.

Pour egg mixture over the brioche.

Allow bread to soak up the mixture.

Bake at 350 degrees for about 45 minutes.
For the apple cider reduction
Place all ingredients in a pot. Simmer until thick
For the eggnog mascarpone topping:
In a mixer, whip heavy cream, eggnog, sugar and spice together to get a soft peak.

Add mascarpone and vanilla bean. Whip to stiff peak.
To finish the dish: 
Remove cinnamon and cloves from reduction.

Top bread pudding with mascarpone cream.

Pour apple cider reduction over the dish.

Serve immediately.